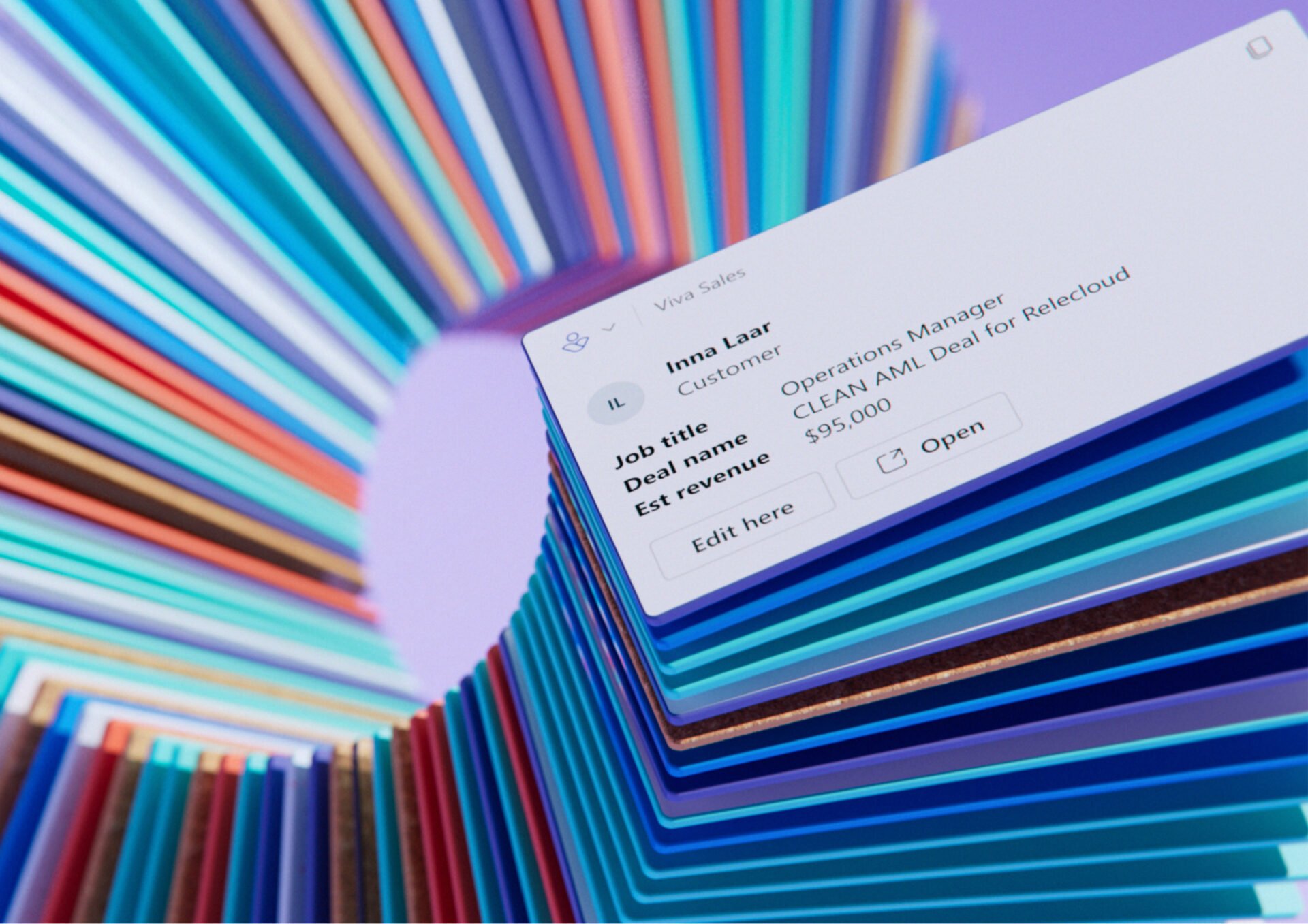 Microsoft Viva Sales is a new modern way of selling that brings together any customer relationship management technology (CRM), Microsoft 365, and Teams to provide a more streamlined and Al-powered selling experience.
Time is money, and relationships are crucial for sellers. However, most vendors only spend a third of their time really talking to clients; the other two thirds are occupied with busywork. Microsoft Viva Sales delivers all the tools sellers require directly to their desks, logs and tracks everything automatically, allowing sellers to concentrate on their clients and more importantly, close deals.
Overall Microsoft Viva Sales can:
Cut the forms – Viva Sales helps with mundane tasks like data collection and entry, so you can focus more on building relationships.
Connect The Data – Get more done with insights delivered to each interaction. A clear view of customers' status lets you make the most of your conversations.
Close The Deal – Keep the momentum rolling with Al-driven follow-through suggestions and reminders designed to close the sale.
Add customers to your list and manage relationships more easily than ever
In the past two years, we have completely changed the way we work. Employees are demanding more from their employers in today's hybrid world – from the tools they use to the hours and the places that they work.
For sellers, the hybrid work environment means spending more time in video conferences, chats, emails, and documents to connect with customers and close deals.
Salespeople also need to access their CRM system – as well as multiple applications and databases-several times a day to stay on top of their accounts. This adds up to dozens of interruptions as they navigate among these disparate applications and the collaboration and productivity tools, they're using to accomplish administrative tasks, collaborate internally, and work on deals. Yet, all sellers really want is to spend more time with their customers.
But what if everything a salesperson needed to do their job was brought together in one place – where they already spend most of their day – in calls, meetings, and chats?
What if their customer records, data, and tasks were intelligently organised and accessible in the tools they use every day? What if the collaboration environment sellers use to talk to customers automatically provides the next best action and sentiment analysis?
How much more impact could sellers have, and how much more time could they spend with customers? How would it improve their selling experience? And how much more revenue could they drive for their company?
This is what led Microsoft to develop Microsoft Viva Sales, a new seller experience application.
Microsoft Viva Sales enriches your CRM and brings intelligence back to the seller
Microsoft Viva Sales is a new modern way of selling. As a smart CRM companion, Microsoft Viva Sales makes sellers' lives easier while enriching their CRM.
Think about all the customer and deal insights that are already in Outlook, Teams and Office applications like Word, Excel and PowerPoint, but never make it into the CRM system. These insights are hard to capture because the seller is tasked with entering data manually.
But by enhancing the CRM system with customer engagement data from Microsoft 365 and Teams along with the power of artificial intelligence (AI), Microsoft Viva Sales empowers sellers to be more connected with their customers, resulting in more personalised customer engagements and closed deals faster. 
This happens through a simple customer tagging feature, which automates the data capture, saves the seller time, and provides their organisation with a more complete picture of deal and customer status.
With AI embedded throughout, Microsoft Viva Sales is like a sales coach to move deals along with recommendations and reminders. This intelligence layer provides sellers the information they need to help them be more productive.
"With this being said the future of selling isn't a new system. It is bringing the information sellers need at the right time, with the right context, into the right tools they know, so their work experience can be streamlined." – Judson Althoff, Executive Vice President and Chief Commercial Officer at Microsoft said.
He also said "Empowering sellers to spend more time with their customers has been our goal — and we've done that by reimagining the selling experience with Viva Sales."
Now with Microsoft Viva Sales, we're delivering the first role-based Viva application specifically designed to meet sellers' needs.
Reimagining the seller experience
Viva Sales builds on Microsoft Viva, which was launched last year. Viva Sales provides an integrated employee experience platform that brings together communications, knowledge, learnings, goals and insights to empower every person and team to be their best from anywhere in the world.
Microsoft Viva Sales delivers the first-role-based Viva application designed specifically for sellers:
1) Viva Sales provides tools for sellers to do their jobs, while providing the insights that sales leadership needs. As sellers are working, they can tag customers in Outlook, Teams or Office applications like Excel, and Viva Sales will automatically capture it as a customer record, layered with all relevant data about the customer. Being able to automatically capture this level of customer engagement data was not available previously. This data can easily be shared with team members while collaborating in Office and Teams without retyping or looking it up in a CRM.
2) Powered by data and AI, Viva Sales recommends next steps to progress a customer through the sales funnel, prioritises work and next steps, and enables sellers to access full history and customer interaction materials. Real-time customer insights provide a deeper understanding of where each customer is in their purchase journey, and how to guide the relationship.
3) Viva Sales also provides AI-driven recommendations to enable sellers to enhance their customer engagement — optimizing follow-through with next best steps, actionable reminders, and recommendations to accelerate and close more sales.  Viva Sales is using Context IQ, announced last fall, to ensure relevant content is connected across Microsoft apps and services — like Dynamics 365 and Microsoft 365 — so sellers save time and stay in the flow of work.
How much does Microsoft Viva Sales Cost?
If you currently already have Microsoft 365, Viva Sales will be offered to you for free as you are already a Microsoft 365 customer.
If you don't have Microsoft 365, Viva Sales would be £6.80 per month.
Get in touch
Looking to revamp the way you sell? Are you in need or a more cohesive method of managing customers and leads? Then Microsoft Viva Sales might be for you. For more information about Microsoft Viva Sales or if you're looking for a demo of the product, then email us at [email protected] or simply fill in the form below:
Share
Related Posts