Over the past few years, we have seen our ways of working become more hybrid as a result of the pandemic. Organisations and employees have had to adapt to a brand-new world and at the forefront, there has been a big shift to focus on the employee experience – ensuring everyone feels well supported, valued and don't burn out.
Employees now want to feel more connected, aligned to their organisation's purpose/mission, and they want to grow, make an impact and a difference. A recent Microsoft study found 77% of employees said it is important to feel a sense of purpose and meaning within their company, while 69% said it is important to be rewarded for impact instead of hours worked.
Alongside this, an organisation is more successful when their employees can understand and collaborate on their goals to help achieve business targets. With this in mind, Microsoft has announced Viva Goals, which will be available to all Viva subscribers later in 2022, following its acquisition of Ally.io (an OKR – objectives and key results – tracking software start-up).
It is currently only available as a private preview but will help bring more purpose and alignment to Viva customers. It is a great new addition to the Viva apps, which are Connections, Learning, Topics and Insights. These existing apps deal with culture, communications, wellbeing, knowledge, growth and development and more. With the added ability to create better goals, organisations can become the best version of themselves with ease.
What is Microsoft Viva Goals?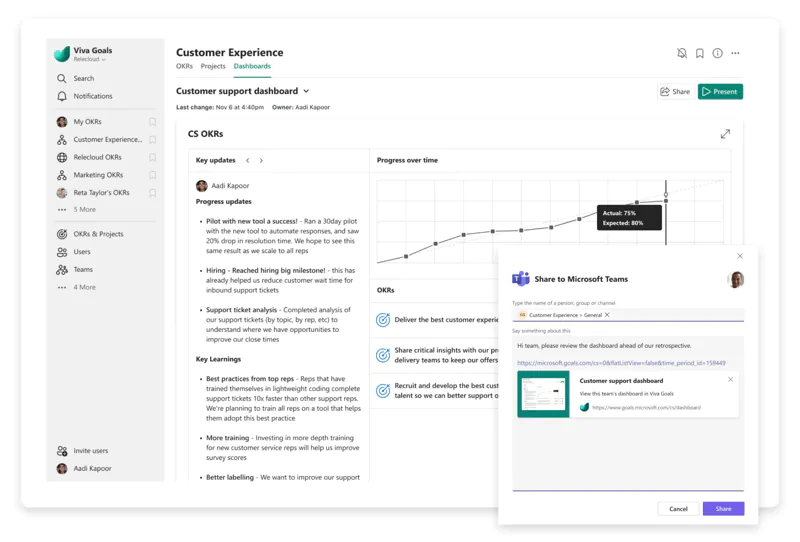 Viva Goals allows you to align your organisation's strategic priorities with individual teams, uniting the entire company around both vision and purpose. It will let employees see how their work impacts the business on a real level, allowing them to focus and make the right choices to get the right results.
The main features of Viva Goals will include:
Allowing you to list key businesses goals, visions and objectives  

Track goal progress  

Include a list of tasks to achieve goals 

Assign owners to tasks and goals  

Visualising how close you are to achieving business goals through data and graphs

Allow you to celebrate successes
These features will bring goals into the everyday flow of work, providing data and reminders, while sharing OKRs on the dashboard.
And like the rest of the Viva apps, it will be fully integrated into Teams, so you don't need to change screens/apps, saving you time and streamlining processes. All OKRs are now a more natural and accessible part of the employee experience.
Why Viva Goals?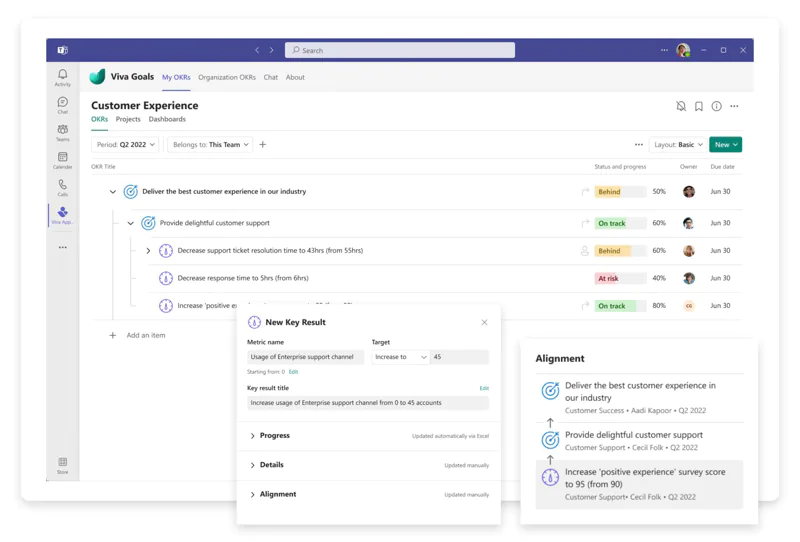 If you have clear goals for your organisation, allowing all colleagues to share in the overall company vision and feel included, connected and valued as an overall part of the company. It also allows individual teams to align their goals with the rest of the organisation, with everyone working to the same goal.
As part of this, employees will feel more empowered and, ideally, will collaborate more with one another. It keeps things flexible and helps everyone, at all levels, be as successful as possible.
It is also more likely to make you feel confident to take a risk (73% – according to an Ally.io survey) and help innovate. 
Why not read more about the employee journey and experience at Microsoft itself in its blog 'Focus and Alignment: How Microsoft uses OKRs to achieve business goals'?
And don't forget to keep your eyes peeled for more news on this exciting new app, coming soon!
Before its release, why not consider adopting Microsoft Viva in your organisation? It can help boost your employee experience and make working life a lot easier. Reach out to us at [email protected] or fill out the form below. In the meantime, why not read some of our blogs about Microsoft Viva?
Share
Related Posts