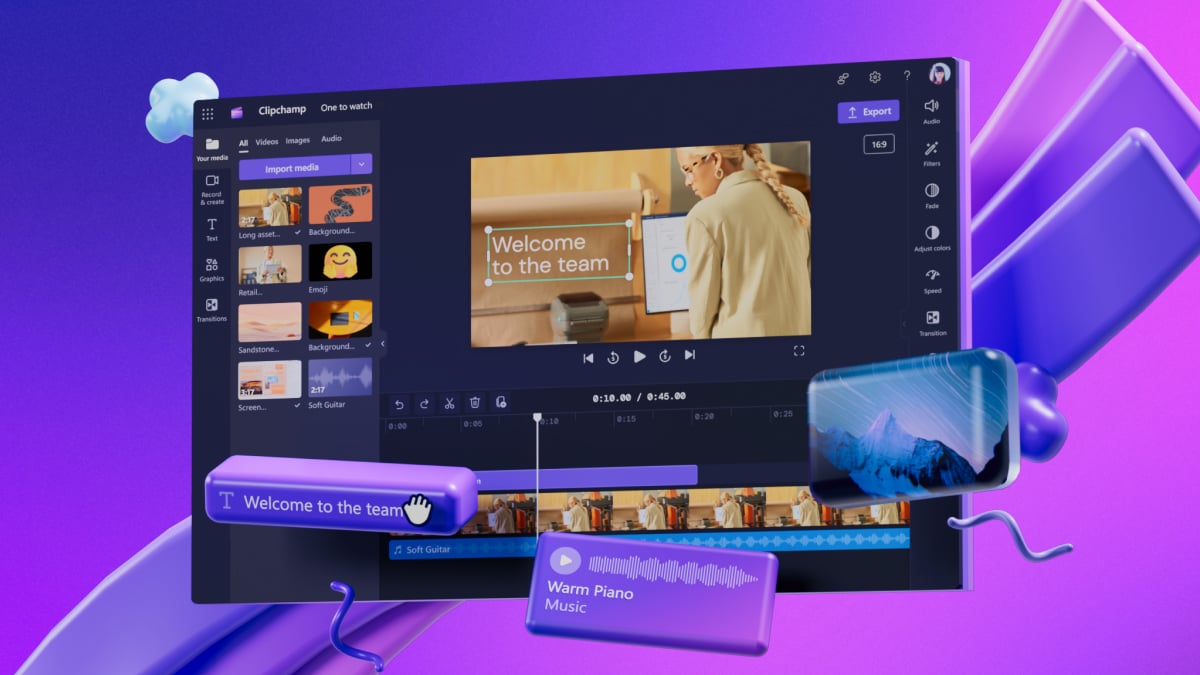 The Microsoft suite is getting an exciting new addition in the form of Clipchamp! With tools that boost productivity, provide actionable insights and more, Clipchamp is the answer to inspiring your creativity.
With a user-friendly landscape, a wide range of editing tools and flawless integration with other Microsoft applications, Clipchamp turns anyone into an artist!
Let's dive into your new favourite tool for turning your video dreams into a reality!
Your Top Video Tool
High-quality, aesthetically focused videos are a great way to communicate your ideas and information! Whether you're looking to engage visual learners or add dynamic content to a presentation, Clipchamp helps you create and publish videos with confidence.
Accessible from within various Microsoft applications and your browser, Clipchamp lets you get creative from within your flow of work. As one of the most imaginative applications within the M365 suite, the Microsoft stack is your comprehensive and well-rounded collection of applications for every professional need!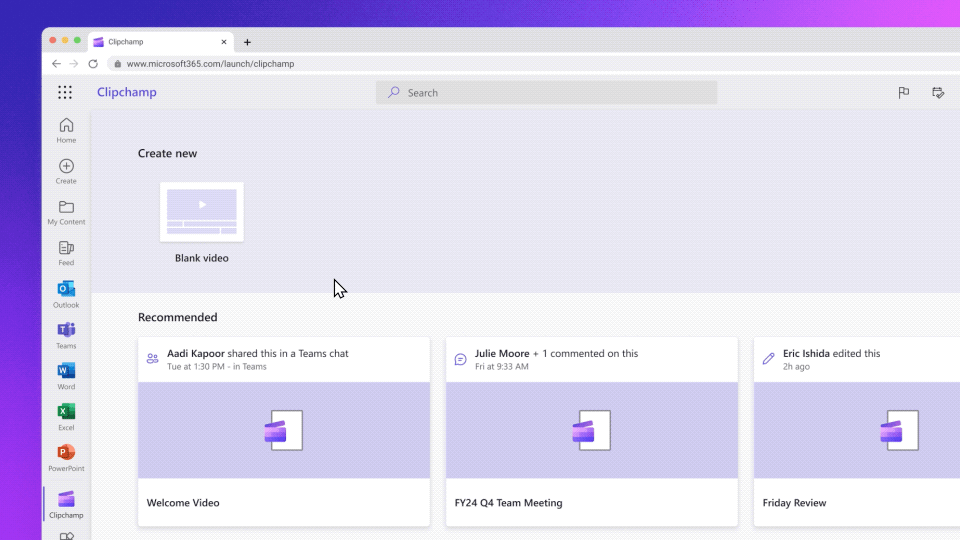 The Best Creative Features
Clipchamp is very user-friendly and allows everyone from seasoned editors to first-time video makers to create incredible content!
With it's easy to navigate 'drag-and-drop' interface, editing your videos becomes a lot less scary! The multitrack editing timeline helps you clearly see the images, text, videos and audio you're working with, and adjust where they overlap.
The integration with OneDrive allows users to import media and edit any existing content safely and securely, or you can capture fresh content with the screen recorder and webcam feature within Clipchamp.
The simple, precise editing tools help you create videos that look professional: you can trim unwanted footage, adjust the timing of certain scenes, use gap removal to merge videos and crop videos to fit the frame!
When it comes to creating visually stunning video content, Clipchamp has the top tools for your aesthetic needs. To customise your video to achieve the look you want, try using effects, filters and text overlays to dazzle your audience! Even your backgrounds can be personalised with the green screen filter, and using the transitions feature elevates your content to a new professional level.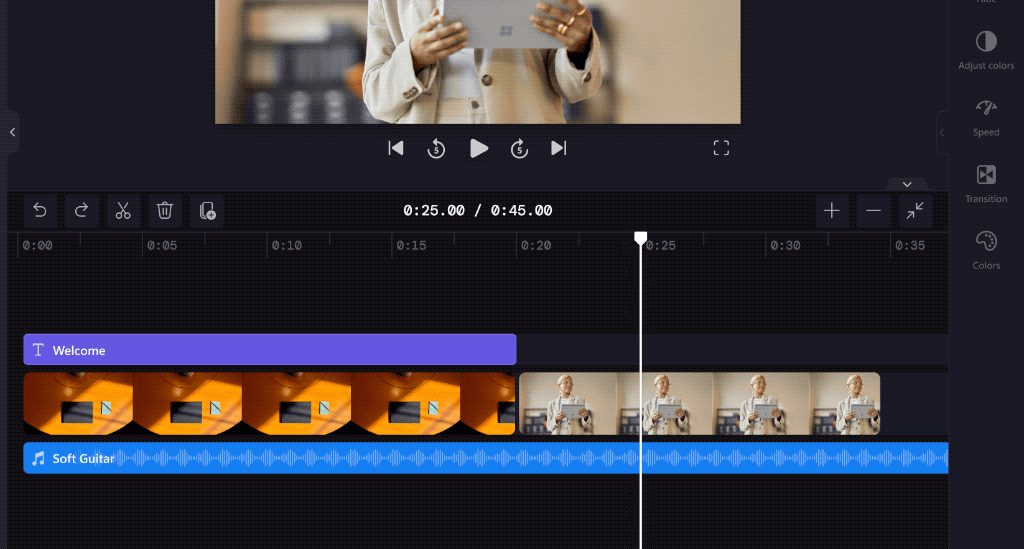 A Video Editor Designed For You
Clipchamp flawlessly integrates with the Microsoft applications you already know and love such as SharePoint, Stream and OneDrive! Designed with the same centralised controls and security as its counterparts, Clipchamp works seamlessly alongside your familiar Microsoft tools.
Built using the top tools OneDrive and SharePoint, Clipchamp is designed with Microsoft in mind! Videos exported form Clipchamp can be shared via Microsoft Stream and immersed and played within Teams, Viva Engage and Outlook. Your creations can be used to wow clients in a PowerPoint or share demos with team members from the OneDrive cloud – the possibilities are endless!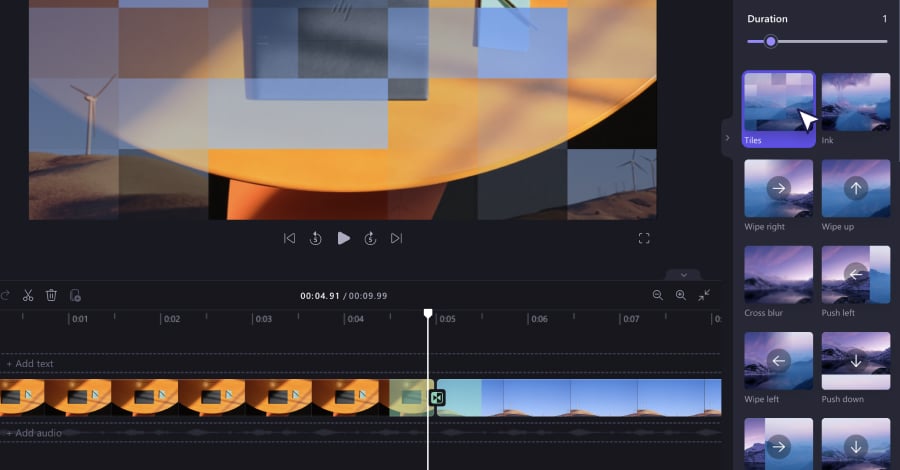 Although not generally available yet, we're so excited for the content we'll produce using Clipchamp! It's creative capabilities are endless, and the way it works within the Microsoft stack ensures seamless distribution of your professional videos. What will you create with Clipchamp?
If you're looking to make the most of the Microsoft suite, then let Changing Social help you! As a leading Microsoft consultancy firm and Microsoft Gold partner, we ensure that organisations are making the most of their Microsoft licencing. Be it bespoke training, custom-built apps or personalised change & adoption strategies – we've got you covered! To find out more, fill out the form below, or email us at [email protected]
Share
Related Posts