In the ever-evolving business landscape of today, it's very important that organisations make employee experience a priority. An increased employee experience and engagement can lead to a 23% increase in profitability! That's where the Microsoft Viva suite comes in.
The Microsoft Viva suite is the top platform for providing your employees with a well-rounded employee experience, helping to boost productivity, collaboration and overall well-being.
In this article, we'll be taking you through the four pillars of the Viva suite that can help your organisation; Viva Insight, Viva Topics, Viva Connections and Viva Learning! We'll also be talking about Viva Engage, the app formerly known as 'Yammer'.
So, let's see how the Viva suite can provide your employees with the best experience possible!
Viva Connections
Viva Connections is a simplified, personalised intranet that helps your employees connect, no matter where they are in the world!
Sitting in Microsoft Teams so you can access it from within the flow of work, Viva Connections is your hub for interacting with your colleagues, accessing organisational news and building employee communities.
This level of connection helps your team feel in-the-loop no matter if they're in the office or working remotely, increasing collaboration and ensuring your team feel like part of a community!
Administrators can also build out the Viva Connections dashboard with 'Dashboard Cards' to help share organisational information and role-related updates. For example, admins can make shift calendars visible for frontline workers as soon as they open Teams, helping them prepare for their day. They can also highlight tasks assigned to users within Connections to make sure that employees stay on top of their work.
As our Account Manager Katherine Dixon says, "Working in Sales and often being on the road, Connections has helped me get quick access to the resources I need. Whether it's travel policies, submitting expenses or needing to get to quick links that allow me to find the documents I need. It has become a vital tool as part of my job".
For staying in touch with your team, it has to be Viva Connections!
Viva Insights
One of the most important parts of creating a good employee experience is making sure that your team feel that their well-being is supported, which in-turn helps them boost their productivity. Viva Insights has been developed with employee welfare in mind, and is also an amazing tool for helping users understand how they perform best.
From protecting your time, completing daily feeling reflections, making use of the de-stressing resources from the Headspace app integration and much more, Insights is the part of the Microsoft Viva suite that fosters a healthy relationship between you and your work!
Insights also helps you improve your performance by taking data from your Teams and giving you key information into how you can work smarter. It can break down your collaboration network, showing you the colleagues that you work with the most and least, highlighting areas you may need to collaborate on more. Insights breaks down your meeting behaviour to show you how you can participate more effectively. Viva Insights can even track how you communicate with your team, helping you understand how best to work with colleagues moving forward.
To become the best version of yourself at work, why not give Viva Insights a try!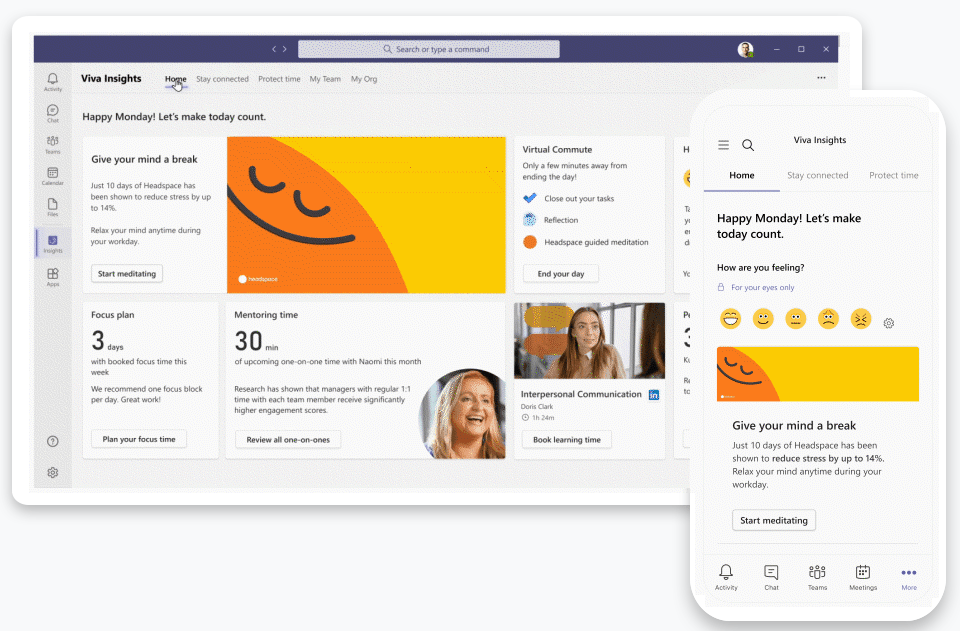 Viva Learning
Creating a culture of learning is essential to personal and professional growth. Investing in the untapped potential of your team is important now more than ever, helping you reduce costs and increase the knowledgeability of your employees. Viva Learning fosters your education journey, making learning not only a priority, but also a natural part of your day!
There's a vast array of courses provided by Viva learning, so you're sure to find something that helps further your knowledge and foster knew skills! Be it courses on Microsoft, accessibility, writing and much more – there's something for every learner. Administrators can also upload their own content onto Viva Learning, helping you build your organisational knowledge and complete courses relevant to your business.
Viva Learning is not just about supporting your learning journey, but creating an employee community of students. With features such as assigning courses to an employee and recommending a course to colleagues who can benefit from certain content, you can easily scale knowledge throughout your organisation.
If you want to upskill your employees and invest in your team, Viva Learning can help you do just that!
Viva Engage
Powered by the familiar and well-loved app 'Yammer', Viva Engage is the key to creating the same social community online as you would have in-person. The social connection you experience in an office is essential to creating a strong and united team of employees, laying the foundations for easy collaboration and communication.
It can be hard to make connections online; you may not necessarily start the same casual conversations with colleagues over teams as you would in person. Chatting with your team about your weekend, the shows you're watching and the music you like is how a lot of great working relationships are started!
With Viva Engage, employees can explore a dedicated platform that encourages them to communicate in a more fun, social way. This part of the Microsoft Viva suite lets you start conversation threads, discussion groups and ask questions on the things that may not be work-related, but are just as important in terms of building your organisations community.
You can also use Viva Engage to help with operational processes like onboarding, sharing company-wide updates and hosting internal events!
If you need help fostering a happy and healthy work environment, look no further than Viva Engage!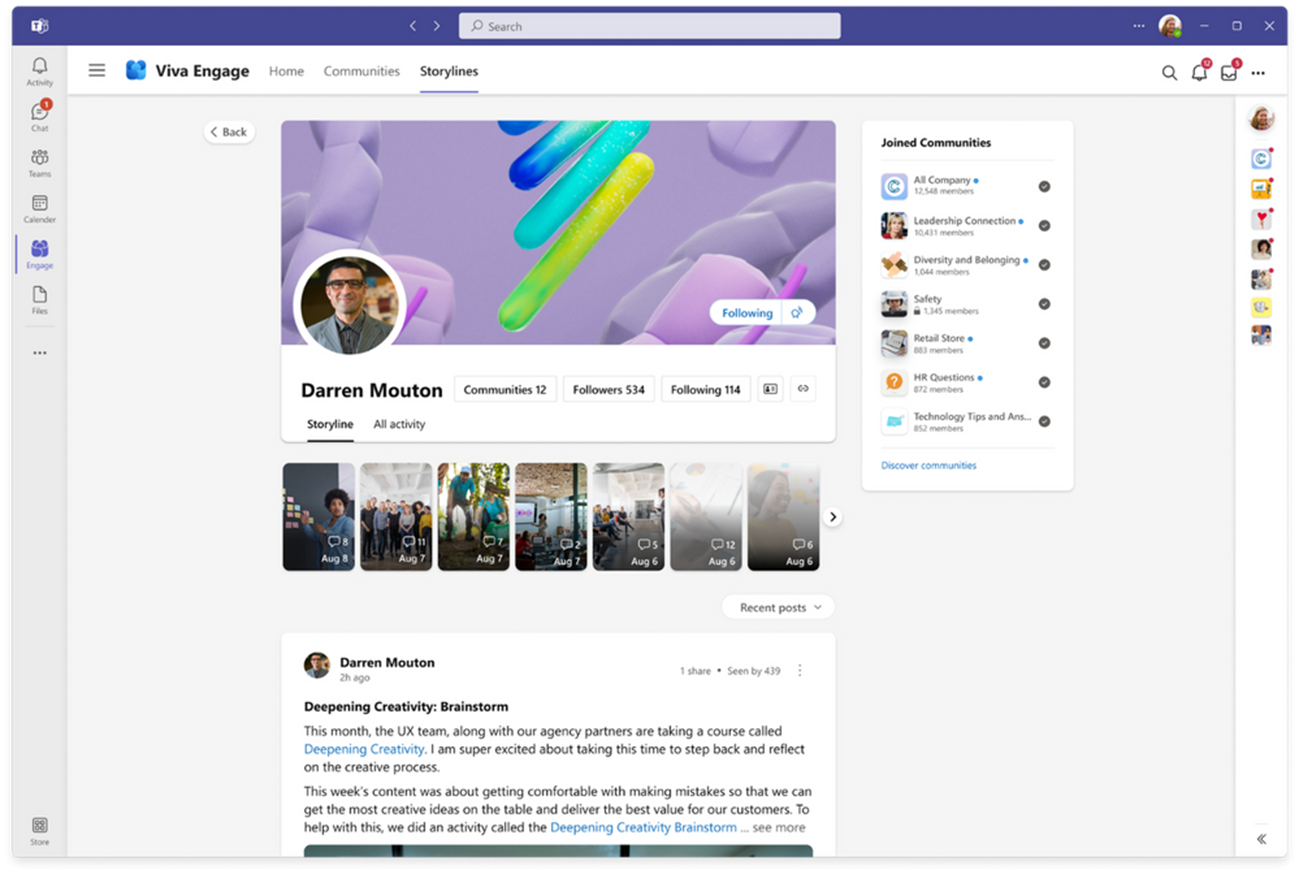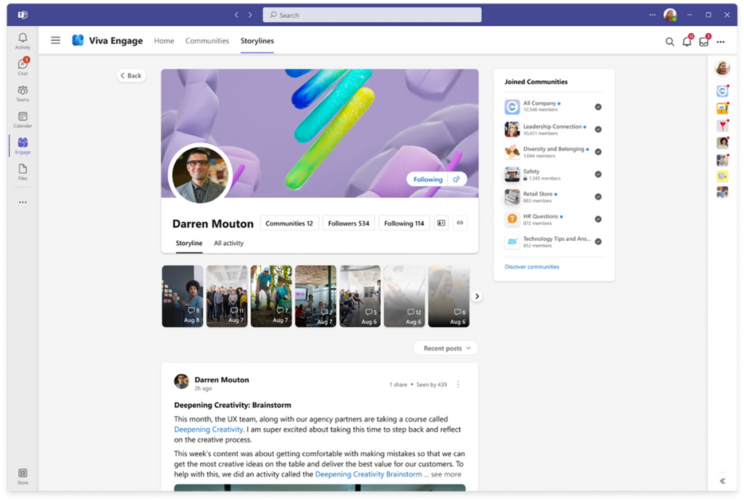 Viva Topics
When creating something that requires facts and data, stopping to sift through search results for the information you need can completely disrupt your flow of work. Viva Topics combats this by offering an AI driven search experience from right within your hub of work!
Acting as a centralised location for organisational knowledge, Viva Topics is essentially an internal search engine for information and data from your organisation. Populated by administrators, Topics lets you create 'cards' that pop-up when you hover over a topic highlight, giving you the information you need whilst cutting down lengthy search times.
Additionally Viva Topics helps you group information together into topic 'pages' which can be categorised by the content, and even assigned to colleagues that are connected to that topic!
With all this knowledge sharing, Viva Topics have also increased the governance around who can access what. Admins can restrict and permit access to information where necessary, and can nominate who they choose to be editors on Topic cards and pages.
When you need to find and share knowledge, Viva Topics is there to support you!
The Microsoft Viva Suite is the key to making sure your employee experience is the best it can be. A team of engaged employees are proven to be more productive, perform better and help your organisation grow beyond belief! Now, more than ever, the key to success is building a community of happy and supported employees.
If you think the Microsoft Viva suite can benefit your organisation, then let Changing Social support you! As a Microsoft Gold partner, we help organisations make the most of Microsoft 365. If you're looking for custom training, adoption strategies, apps and much more – Changing Social do it all! To find out more, fill out the form below, or email us at [email protected] 
Share
Related Posts