It's clear that Microsoft Teams is the top platform for conducting business online, but what if we told you there were Teams app integrations that could make you work even smarter?
With communication, collaboration and continuous innovation at the core of Teams, these apps only add to your online working experience!
From easy expense tracking and seamless Adobe integration, to HR task management and an organisational information hub – these apps give you everything you need to create the best virtual working environment.
So, let's discover the top Teams apps for 2023!
App #1: Adobe Acrobat
Collaborating on PDFs has never been easier with Adobe Acrobat!
Working within your Teams app, the Adobe Acrobat app integration makes PDFs from your chats, channels and OneDrive centrally accessible for you to edit and change with your team.
You can organise pages, convert the PDF to other formats, compress and protect the PDF and much more, all from within the familiar Teams environment!
Adobe Acrobat makes collecting feedback from colleagues effortless, promoting collaboration by making the commenting, reviewing and editing process much simpler.
For secure, centralised and simple PDF editing, it has to be Adobe Acrobat!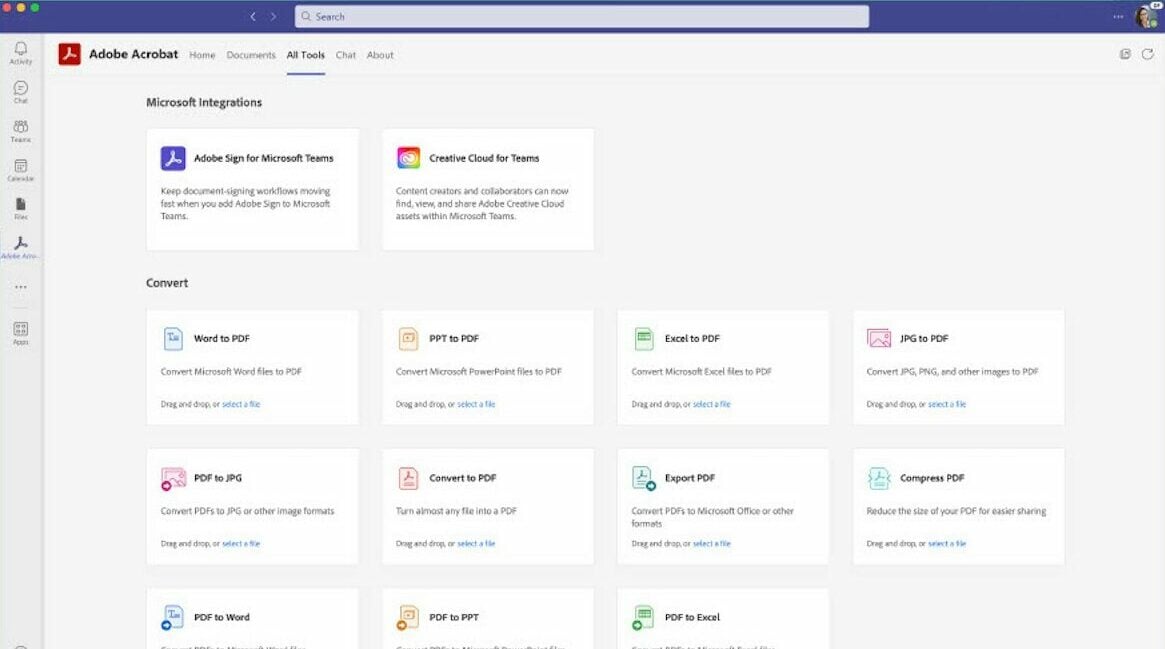 App #2: UKG Pro
The HR teams best friend, UKG Pro makes completing HR tasks seamless!
Using simple keyword command capabilities, employees can review and complete HR tasks in an instant, helping your workforce stay connected and informed.
Be it checking current and previous pay details, requesting time off, moderating requests or accessing your To Do inbox – UKG Pro ensures your team are always engaged and in the loop!
App #3: Guru
Do you ever have trouble remembering and finding specific company policies? Guru is here to help!
Bringing your organisations information and embedding it into Teams, Guru acts as a centralised hub for all the business knowledge you need.
You can search and share 'Guru Cards' from within a chat conversation, giving you the information you need right away. The Guru bot allows users to search for company policies, past and current OKRs, any changes to practices and policies, information decks and so much more! You can even ensure that your colleagues are updated with company information by requesting they 'view and verify' a Guru Card.
Why not try Guru, and see how it can help your team stay informed!
App #4: Culture Amp
A favourite of the Changing Social team, Culture Amp helps you stay connected with your team!
Create clear lines of communication and boost the productivity of your employees by using Culture Amp to give and receive regular feedback, stored securely in Culture Amp ready for upcoming performance reviews.
Alongside the Viva suite, Culture Amp is the best app for personal development; it lets you request feedback, share feedback with your managers, complete engagement surveys, write self-reflections and set goals.
If you want to learn and grow within your working environment, let Culture Amp support you!
App #5: Fyle
It can be hard to keep track of multiple expense reports, and that's where Fyle comes in to help!
You'll receive real-time notifications about the status of your expense report such as when a comment is made, a report is approved, when it gets sent back and, most importantly, when a reimbursement has been processed.
Approval admins can also get instant notifications when an expense report is submitted, and approve it from within Teams.
Fyle makes tracking expense reports easy as can be!
App #6: Kudoboard
To make sure no occasion goes unnoticed within your team, use the Kudoboard e-card app!
Celebrating birthdays, onboarding, anniversaries and goodbyes improves employee experience, and connects your team even in a virtual work environment.
Kudoboard lets you create beautiful cards that you can invite colleagues to contribute to, tag your team in and deliver to users at the perfect date and time.
Use Kudoboard to make everyone feel special!
By downloading these top Teams apps you can create an engaging, collaborative and efficient online workspace! Working alongside the environment you're already familiar with, these teams apps allow you to build a community that's just as productive online as in-office!
If you're looking to make the most of Microsoft, look no further than Changing Social! As a Microsoft Partner and one of the top Microsoft consultancy firms, we help organisations make the most out of their Microsoft licencing. From app building and training programmes, to adoption strategies and funded workshops – we do it all! To find out more, fill in the form below, or email us at [email protected]
Share
Related Posts