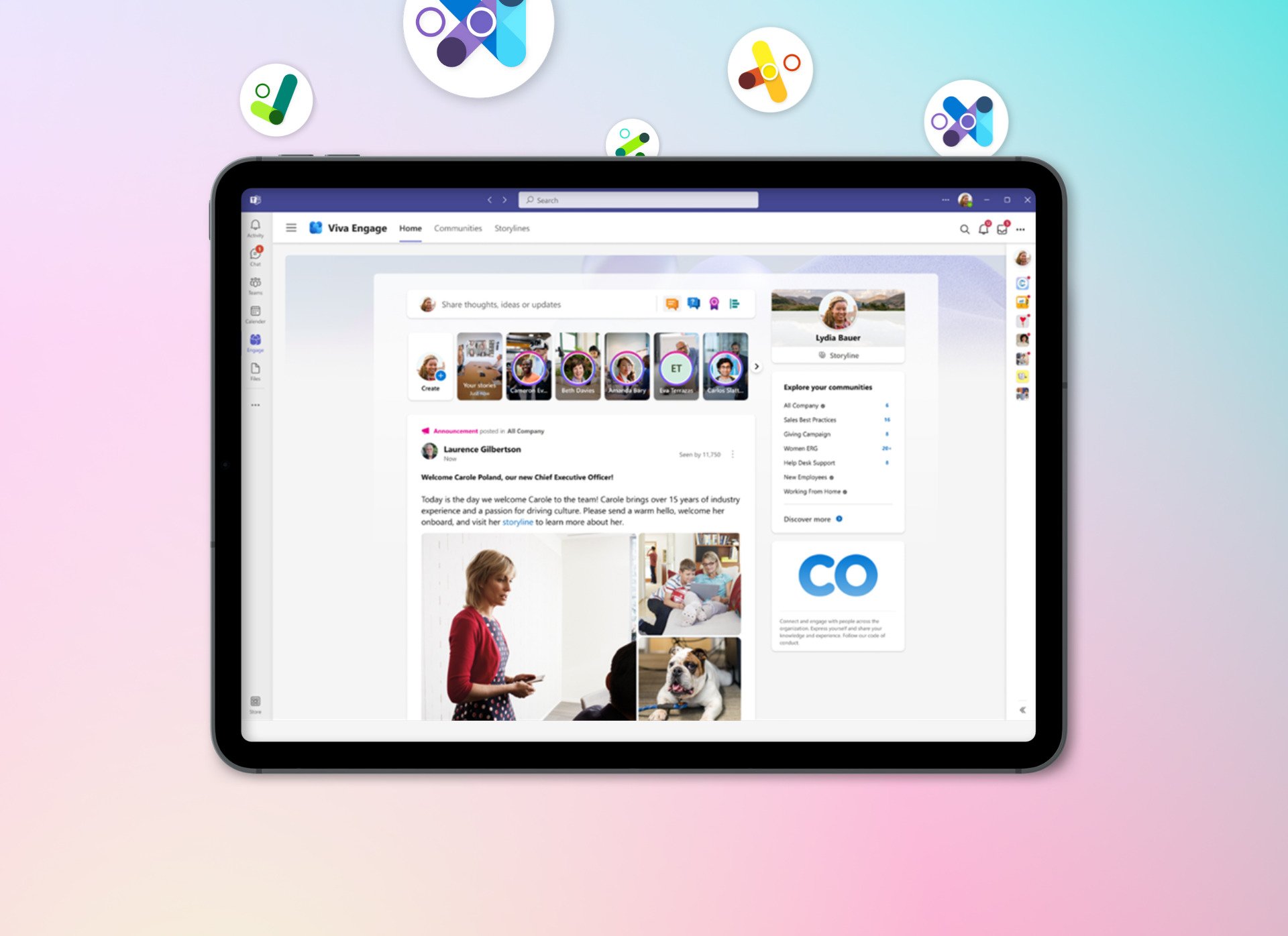 Viva Engage is a social app for digital communities, conversations, and self-expression tools that builds on the existing capabilities of the Communities app for Teams and Microsoft 365 to connect employees and empower everybody to contribute and express themselves by meeting people where they are in Microsoft Teams and Microsoft 365.
As an integral part of the Microsoft Viva suite, Viva Engage contributes to Viva Connections and Viva Topics, over time will extend the community, conversation, and knowledge experiences into other areas of Viva.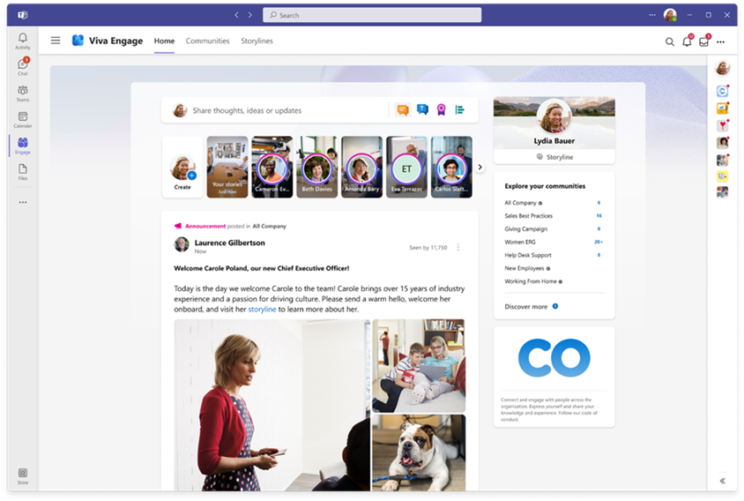 Engage has new offers in which there is new ways to connect, share and find belonging at work.
For leaders, Engage is the go-to place to share news and strategy, model culture, speak with employees, and weigh in on the conversations. With the different features, it has virtual events, pinned conversations, and announcements with notifications across Teams, Outlook, and Viva Connections.
Engage is great for employees, Viva Engage enables people to build communities and professional networks, share their work and perspective, and find answers to their questions. It also features like storyline and stories, Best Answers, @mentions, and topics that help drive participation and build communities and relationships amongst co-workers.
Express Yourself With Storyline And Stories
Engage introduces a new way to share your unique perspective at scale through your storyline.
There are two ways to share your storyline:
posts

stories
Create good-quality posts that include links, files, photos, and videos. The better the posts are the more people they will reach and engage followers and colleagues in Microsoft Viva Connections, Outlook, Teams, and Yammer. A feed of storyline posts from people you follow and recommended colleagues can be found in the new Storylines tab.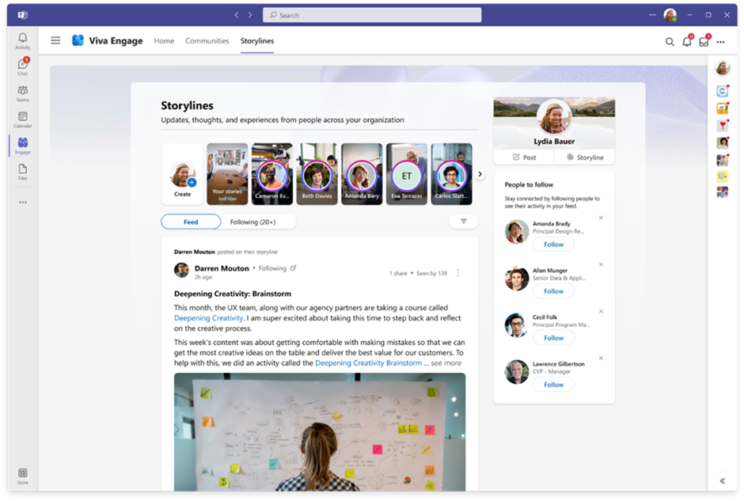 The Storylines tab in Engage offers an Al-powered feed of storyline posts from your network. Another feature is you can share stories – short videos or photos – that deliver a similar and nice way to catch up and stay connected with the people you work with.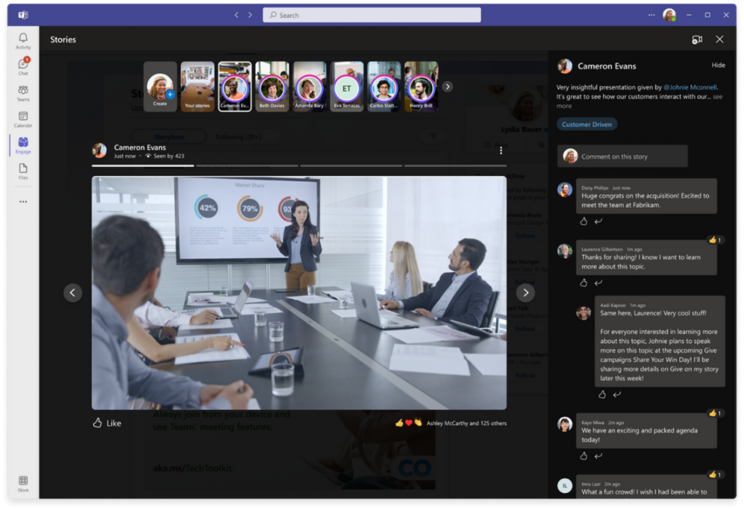 You can also create or upload a story to share any quick updates you have. It is so easy to create and upload stories from the web or your mobile.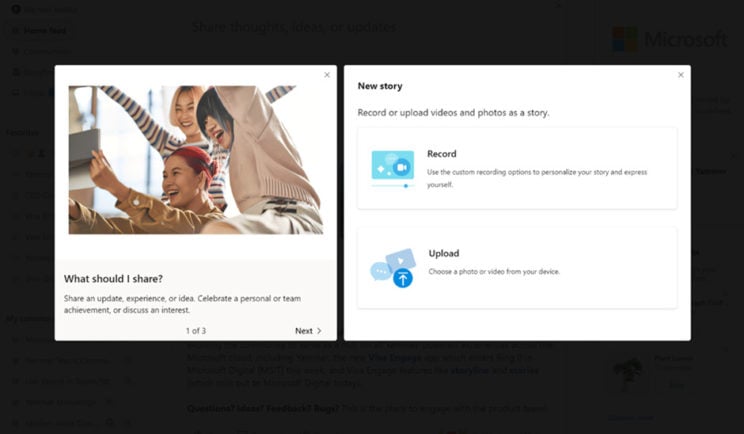 Stories land at the top of the storyline in a carousel. They also show up in popular Microsoft apps like Outlook, Teams, and Yammer for easy discoverability.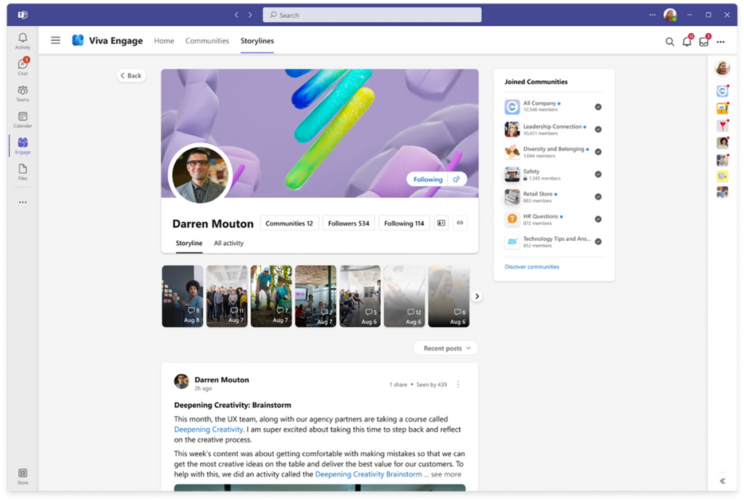 You can join the discussion from anywhere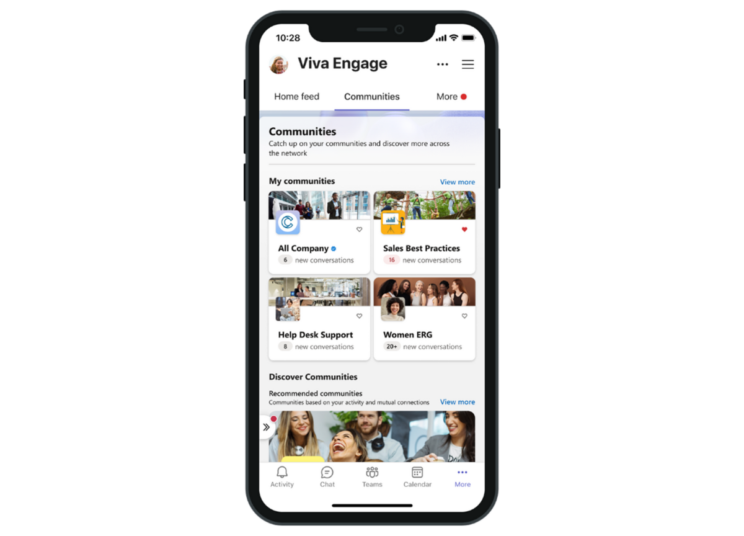 Engage easily brings your communities to your fingertips- No matter where you are and how you work, install and pin Engage to see it in web, desktop, and mobile versions of Microsoft Teams and start sharing immediately.
Viva Engage is available to download within the Teams mobile apps for IOS and Android.
Get ready for Viva Engage
Viva Engage is part of the Microsoft Viva suite for employee experience. Viva Engage will available to all current Microsoft 365 commercial customers will no added costs, very soon.
All users must have a Yammer license to use the app.
The Communities app for Teams will be rebranded by Viva Engage towards the end of August.
There is no required action from admins, and in late August storyline will begin public preview.
Get Started with Viva Engage
With extensive knowledge of everything Microsoft Viva, Changing Social is a pioneer in Microsoft adoption. We can assist your organisation with training, app development, messaging, and more.
Would you like to know more about Microsoft Viva Engage? Would you want to schedule a free consultation? Fill out the form below or send an email to [email protected].            
Share
Related Posts