These days we're no longer confined to office walls; we're not bound by the average 9-5. Over the last few years, we've had to drastically change our working methods. Remote and hybrid working has become part of our new normal.
Businesses have had to accommodate this by finding collaborative solutions to allow employees to work remotely without losing productivity and efficiency.
We're going to be looking into two of the most popular collaborative and communicative platforms, Microsoft Teams and WebEx, that enable group messaging, meetings, calls, and file sharing, and how they help businesses improve collaboration between employees and departments, and business productivity.
If you still need to set yourselves up with a collaborative platform, here are a few things you need to know in this Microsoft Teams Vs WebEx article. 
Where Microsoft Teams Started
Microsoft Teams was launched in 2016 as a new app to coincide with Office 365, to enable people to communicate as part of the Microsoft Office 365 hub of products. The flexibility of Microsoft Teams has allowed employees to improve their productivity and efficiency when it comes to hybrid and remote working. As time progressed, the app became open to collaboration within workforces using Office 365 applications such as Word, Excel and PowerPoint. It increased productivity and efficiency as more updates and additions to Microsoft Teams were implemented.  
What is Microsoft Teams?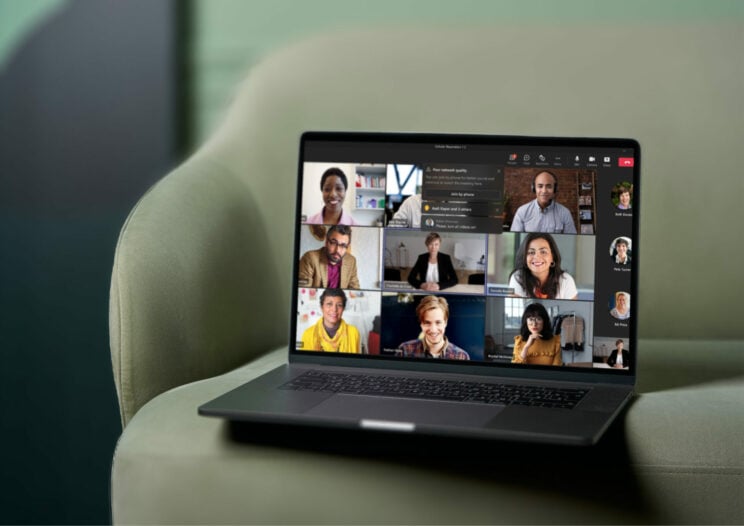 Since its initial launch, Microsoft Teams has become one of the most popular apps for team communications and collaborations. The idea was to create a platform to allow easier collaborations within working teams, no matter where they were.
Microsoft Teams has become the leading solution for communication, collaboration and automation within a company – all from a single app. Naturally, Microsoft Teams is integrated with Office 365 apps such as Word, Excel, and PowerPoint (and even Microsoft Power Apps), alongside numerous others to enable seamless collaboration and file sharing.
The Microsoft Teams free plan offers many features, such as one-to-one and group meetings that allow up to 100 participants and have live captioning capabilities. You can also have 5GB of cloud storage per user, which would be just right for individuals and small businesses. A paid version is more suitable for larger organisations and offers a more comprehensive solution, as you would have access to all Office 365 applications and services. 
When using Microsoft Teams, every user will have a SharePoint Online site. SharePoint Online contains a default document library folder, meaning all files shared across all conversations, chats, and channels will automatically save to this default folder unless stated otherwise. Permissions and security options can also be customised for sensitive documents.
Users can access Microsoft Teams and Office 365 apps and services via any device, as it's available on Windows, iOS, and Android systems – so no matter what device you're on, you'll have easy access and no complications!
What is WebEx?
WebEx is a communication and collaboration platform created by Cisco. It is a cloud-based suite of productivity tools that include WebEx Teams, WebEx meetings, and WebEx Devices to enable video conferencing and collaboration within the workplace. WebEx combines calling, messaging and meeting into a single application; so, you can streamline your work processes, allow your employees to work more efficiently, and communicate with your customers and clients easily. 
How Microsoft Teams works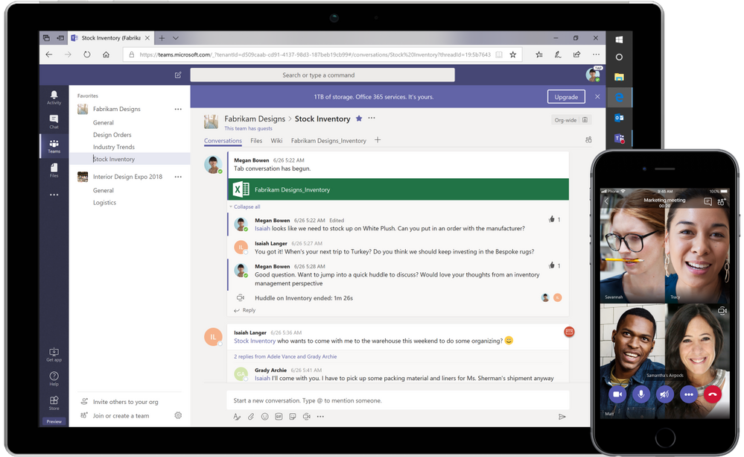 Microsoft Teams' shifted from a tool initially focused on collaboration, to an application that helps deliver business processes and automation to help employees' productivity whilst working remotely or the more recent hybrid working, both in-office and remotely. 
Microsoft Teams are made up of two types of channels; standard and private. The Standard channel is available for anyone and visible to anyone. The Private channel focuses on private conversations as one-to-one communication or to a specific audience.
Each channel is built around a particular topic, which could be by department or project. Within these channels, you can have meetings, work on documents, and have a department or team chats. 
Microsoft Teams is a user-friendly platform and can be used on all devices, so no matter where you are, you can access channels and chats on the go. 
How WebEx Works
WebEx has three main goals in the WebEx suite; call, meet, and message. Calling is a cloud phone system that allows users to make and accept calls across all devices.
Meetings enables meetings to be scheduled and joined no matter where your employees are. WebEx Meetings is an inclusive platform that allows real-time translation if needed, provide captions and noise removal from unwanted background noise, and can allow up to 1000 participants.
Messaging allows for constant workflow within team members and departments and has secure file-sharing capabilities allowing you to collaborate with anyone, anywhere, whether in one-on-one or group messaging. 
Being a collaboration tool, WebEx can help keep your team connected, communicate with your customers and partners, solve problems over meetings or calls, share files, and keep your team's productivity up. 
What can Microsoft Teams Do?
Microsoft Teams is constantly being updated and improved; it has become the staple product for our work lives. It's evolving to enable more advances to improve hybrid working, team collaboration and communications, as well as enhanced user experiences.
Going back and forth between applications when working can be annoying and time-consuming. It makes your employees less productive, inefficient, less focused and can create miscommunications.
With its integration with all Office 365 products and Outlook, Microsoft Teams and the ability to work on documents within these apps enables a seamless way of working. 
Having a dedicated team space is key when it comes to making decisions, bouncing ideas off each other, and coming up with solutions for business or customer problems. Microsoft Teams' platform makes this much easier to achieve, especially if it's a large organisation with numerous people in the department, whether they're remote, on the move or in the office.
What are the Best Teams Features?
Let's go through some of Teams features that make it stand out from other collaboration platforms: 
Group Chats: Employees and department heads can organise chats according to groups, such as their department team or topics/ projects they are working on. The chat history can be accessed from the previous day, week, or month, including images, files, links, emojis, and GIFs.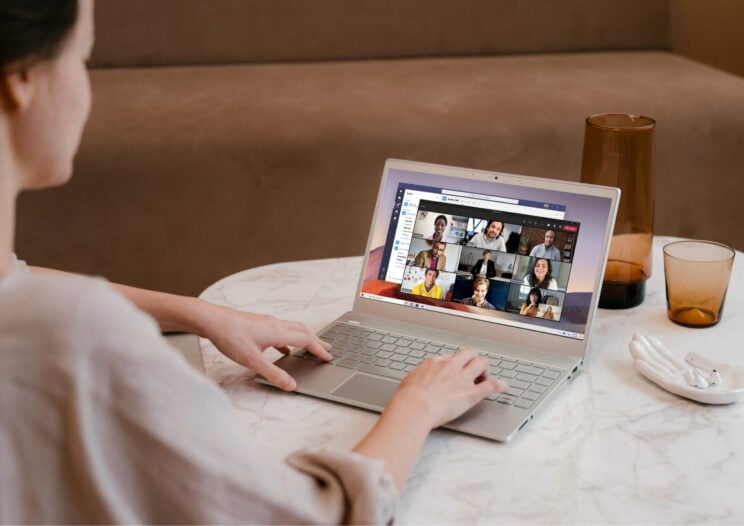 Meetings: Meetings can be scheduled or launched instantly between team members. There's a feature that allows for live captions during the meeting if connections are bad or you have difficulty hearing. If you're a remote worker at home, you can hide your background and apply custom backgrounds, so you won't have to worry about your messy room being on show!
You can also use a note-taking app so nothing gets missed, upload and share files whilst in the meeting, and use the chat messaging feature whilst in the meeting.
File Sharing: You can share, save, and organise files, however is best for you. You can also work collaboratively on Word documents or PowerPoint presentations inside the application and share files in several locations like Chat, Teams and Meetings.
Suppose you're worried about employees having access to all company documents. In that case, you can instil permissions and restrictions on who can access what and the extent of what they can do via the team admin centre, so there's no risk of lost documents or irretrievable edits. 
Document Storage: Any documents sent through chats are automatically stored in a SharePoint Online site folder by default. 
Video Calling and Screen Sharing: Video calls to other employees within your department or clients outside of the business have never been easier! Not only is this useful for those of us who have urgent questions that need answering, but it can also be a fast way to resolve any technical issues, or real-time collaboration with members of the team who are away from the office with the help of screen sharing.
Recordings: Microsoft Teams allows you to record and transcribe meetings so you can read over or listen to them again later. Additionally, Microsoft Teams can email the meeting recording to all who attended, which is saved in the meeting chat so you can find it instantly. The transcription of your meeting is also held in the chat and can be downloaded to a Word document so you can make edits and highlight key phrases. So, you don't need to worry about forgetting anything in the meeting; Microsoft Teams has you covered!
Whiteboards: Teams' Whiteboards are an interactive way for everyone to collate ideas. By adding Whiteboards as a tab to the chat, you can include shapes, reactions, images, templates and documents. Screen share allows multiple people to add to the Whiteboard in real-time all at once. 
Who w
ins? (Teams, obviously!)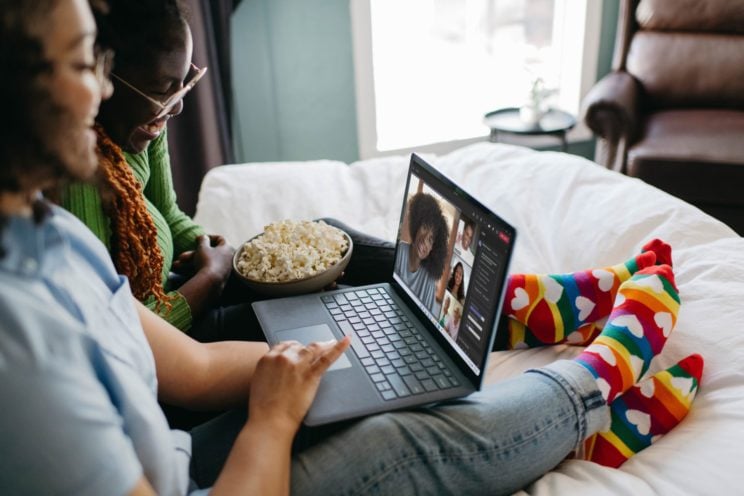 As a business, you look for a solution that can encompass multiple problems you have, that answers all the questions. A way to make employees work more productively and efficiently whilst keeping all documents and policies secure, organised and updated. An application that is user-friendly and enhances your employees working together with other departments. 
Both Microsoft Teams and WebEx platforms focus on the ability to embrace this new hybrid working that we're becoming more accustomed to, supporting the mix of in-office and remote working.
After the abrupt switch to working from home during the Covid pandemic, many companies scrambled to get their teams and departments working together whilst they were all at home. Microsoft Teams and WebEx were the solutions to keeping companies and their employees connected, keeping up productivity in an uncertain time. But who wins Microsoft Teams Vs WebEx? 
Businesses of all sizes use these platforms to connect with their employees, clients and partners. Each platform enables group chats, file sharing, and video conferencing, allowing for a more streamlined and efficient way of working between offices and remote workers. 
WebEx is a platform that focuses more on meetings and video conferencing. Its high-definition audio and visual features, real-time translation and captioning in multiple languages make it a successful and popular platform.
Affordability is always a factor businesses need to consider when deciding which platforms to use company-wide. In this instance, Microsoft Teams wins. Within an Office 365 plan for businesses, Teams is included as well as other apps and functions that can be used to help streamline your work processes. With WebEx, however, you will need to buy an Enterprise plan to have access to all of the suite's features. 
Another main point for businesses to consider is collaboration. Especially with hybrid working and remote working being popular choices for many, companies need to be able to have inclusivity.
With Office 365 and Teams, employees can work on multiple documents and be included in various chats to send, share, and receive documents to work on, singularly or as a team.
One size certainly does not fit all when it comes to collaboration, consider the scale of regular meetings; it will be completely different from a meeting of 5 to a meeting of 250. Finding a platform with the range of features your company needs is essential. 
For businesses and people that use Office 365 and Outlook on a daily basis, Microsoft Teams is the logical choice. Its Office 365 and Outlook integrations simplify processes, allowing employees to work more efficiently and productively as Microsoft Teams, Office 365 and Outlook all encompass each other. 
Why Should You Use Microsoft Teams?
Microsoft Teams is extremely user-friendly, and businesses should use it to facilitate remote workers and members within a large organisation. There are many add-ons in Teams your company can use to organise and plan your upcoming projects and time frames and keep departments on track with any ongoing tasks. 
There is minimal set-up when you choose Microsoft Teams, and therefore will be easy to get stuck in!
Training for Microsoft Teams can be provided for team members, as well as short user training videos available from Microsoft to show how to do certain things and use the different functionalities.
For all things Microsoft, it has to be Changing Social! We can support you in digital transformation, training, app building and so much more! To find out how we can help you, fill in the form below or email us at [email protected] 
Share
Related Posts