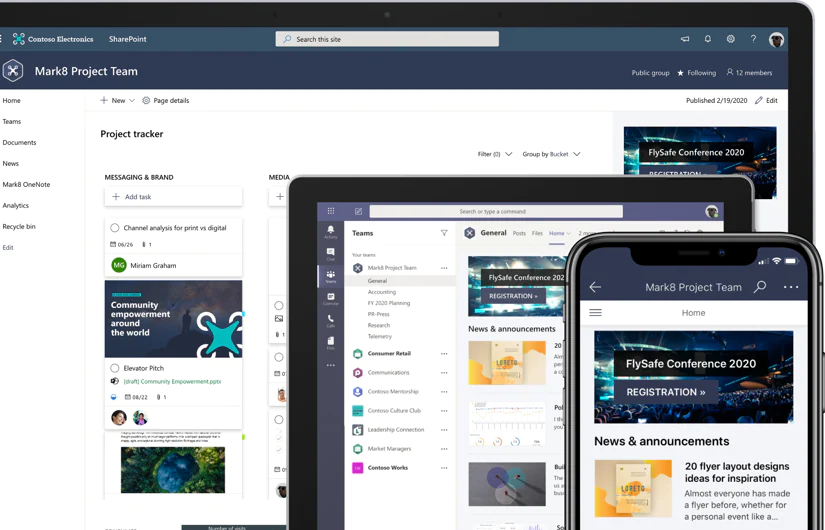 Microsoft SharePoint is a cloud-based service that serves as an intranet and helps organisations share and manage content, knowledge and applications to empower teamwork, find information and collaborate seamlessly across the organisation. It's a great location to store knowledge and encourage more engagement from employees.
SharePoint is designed to be compelling, flexible and performant – it allows anyone to create and customise attractive sites and pages to share anything from news, to documents, videos and more.
For the last 2 decades, it has served to increase productivity and efficiency thanks to its many features that make it easy for people to work together on anything from ad hoc projects to planned work, help establish business processes for sharing information, publishing documents and recording data.
Once you know how to set up and use SharePoint, it can be used for a variety of means. You may want to share company news, HR updates, briefings, work.
You will likely have heard of it or noticed that your organisation has set it up but may not know how to use SharePoint. This blog will explore the basics of how to use the software and benefit your organisation.
Create your site
First things first, you will want to create your SharePoint site. Using your Office 365 account, login as an administrator, click on SharePoint from the app menu in the top left-hand corner and select 'Create Site'.

You can then choose if you want a Communication site or a Team site. Communication sites are for sharing and finding HR updates and company announcements etc., while Team sites are for collaborating with employees.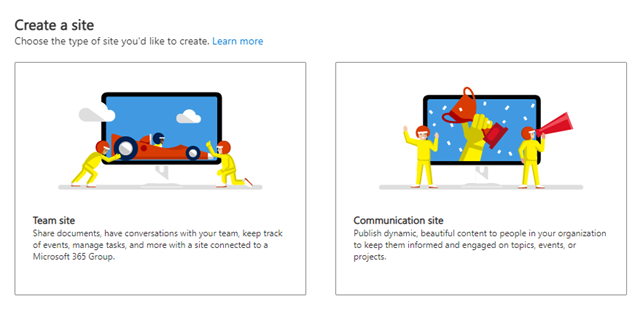 Perhaps you are going with a Team site – once you select this, you can go ahead and design your site. Add the site name, email address, web address, description, and set privacy settings and language.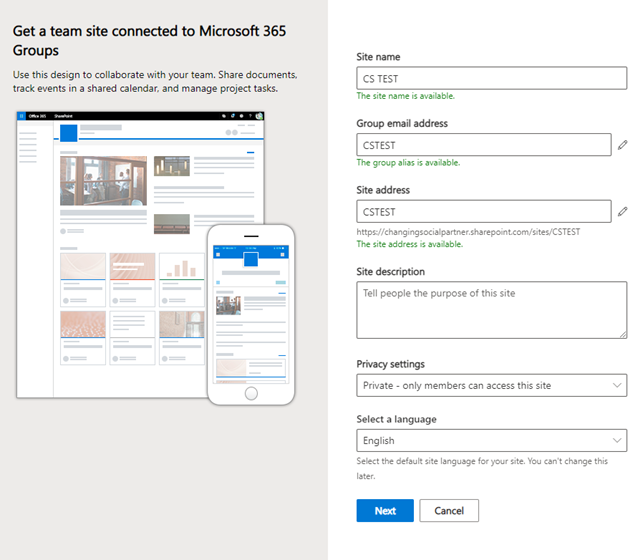 SharePoint is customisable to whatever branding or styles you want, however there are in-built layouts that you can use if you want to keep it simple.
You can also add additional owners and members to the site. Once you have done that, add a name and description and click 'Finish'.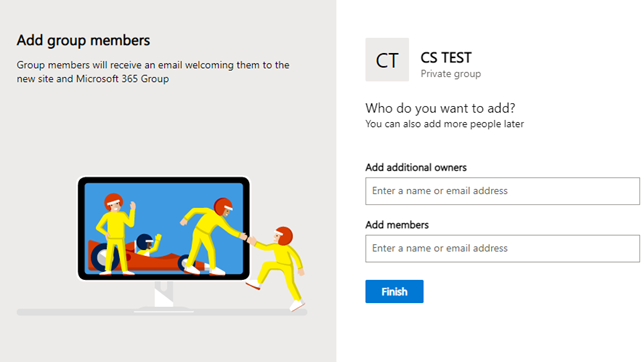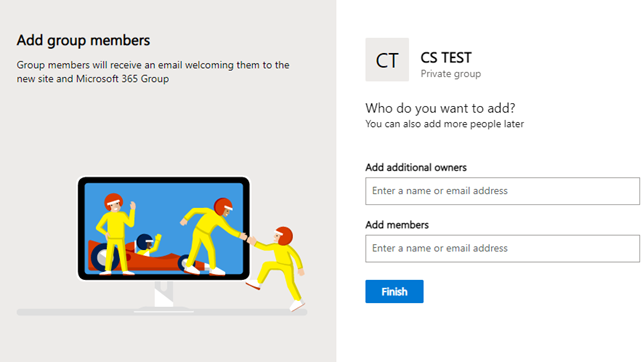 You now have a SharePoint site! A pop up will appear to encourage you to start designing your site via templates or skip it – this can be changed at any time.
You will notice some automatic functions:
Conversations: a private message board for those in the team

Notebook: via OneNote – a shared, cloud-based notebook to share ideas with one another

Documents: to store and share documents

Pages: Custom web pages for you and your team

Site contents: a list of all the folders currently on the site

Recycle bin

And the edit button to edit the site
There is also a list of next steps on the right-hand side that pops up to help you get the most out of your site:

Make SharePoint Site Pages
As aforementioned, site pages are custom web pages that can be set up as a mini-intranet for your team members. These can be created to be accessible and viewable for specific groups, rather than the whole organisation.
Just click 'Pages' in the left-hand bar, then click '+ New' and decide which page type you want: site pages (blank spaces to create with a title); Wiki Pages (a place to collaborate on content creation); or Web Part Pages (pre-designed layouts with dashboard features and widgets); or Link (to external sites)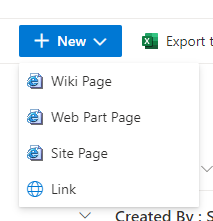 Click on the page style you would like and it will open ready for editing, for instance, a Wiki page looks like this:

As soon as you're ready, click 'Publish' and it will become viewable for all team members. The page will also appear in your left-hand menu.
Add apps
SharePoint offers the option to add apps that you already use or are part of the Microsoft tenant to make the site more dynamic and accessible.
They are flexible and functional, allow for a little more creative control and can allow for more data handling.
To add an app, simply head to the site's homepage, click 'New' and then 'App' and select the one you wish to use from the list – for example 'To Do', 'Shifts' or 'Forms'. Whichever app(s) you choose will appear in the 'Site Contents' tab.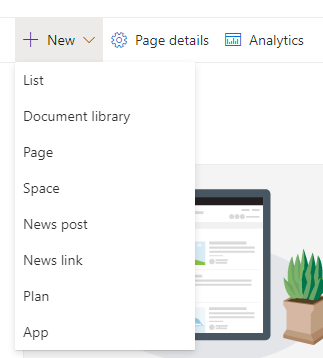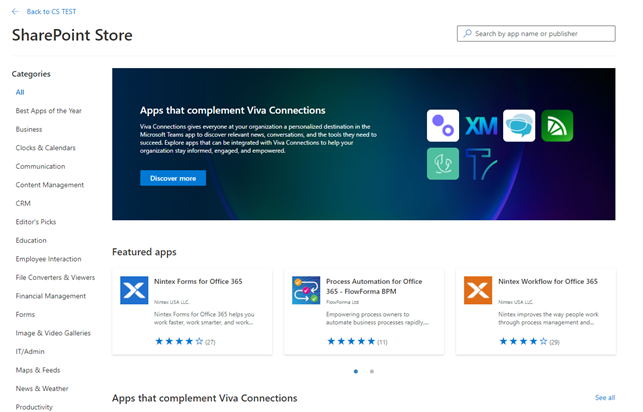 Alongside apps, you can also add news posts/links, a plan, a new document library, a list and more.
SharePoint Search

Sometimes, it can be frustrating to try and find the right files you need in a timely fashion. SharePoint does away with the outdated systems with its simple search tool. Just search for the keywords you're looking for and it will display the files you need in an instant – whether it be a Word document, a video, a slideshow or something else.
Why SharePoint?
Now you know the basics of how to use SharePoint, you may be wondering why you should use it? Will it be beneficial to you and your organisation?  
It increases productivity

You don't have to be tech-savvy to set it up and use it

It's safe and secure

It's a great one-stop-shop for content delivery and management

It is a multi-purpose tool, both flexible and collaborative and available via smartphone, laptops, desktops and tablets

It has a centralised administration, so easy to control and adapt

You can integrate all shared work environments in one location

It's customisable – either keep the default features or tailor the site to your organisation

It integrates with existing apps

Document management and collaboration is easy and stored in the cloud
Check out our previous blog on the 10 benefits of using SharePoint for more information on these benefits.
Now you know how to use SharePoint, you can deep dive into the site and explore its different aspects that can be utilised to make the site bigger, better and more appealing.
Want to learn more about how to use SharePoint and its features? Or perhaps how to make existing sites run a bit smoother? Fill out the form below or email us at [email protected] and we will be in touch.
Share
Related Posts