With its Teams platform, Microsoft has played a key role in driving new ways of working, fundamentally setting the tone for hybrid working.  
A single pane of glass, the 2017 launch of Teams gave employees a hub to house everything they need to get their work done, and more importantly, from anywhere. 
Meetings, chat, calls, collaboration, live events, and business process automation all come together in Teams.
With this platform, Microsoft has innovated to ensure that everyone has a natural and engaging experience, allowing people to connect and engage from anywhere at any time. 
So, how can Teams help employees thrive in a hybrid workplace?    
Connection and communication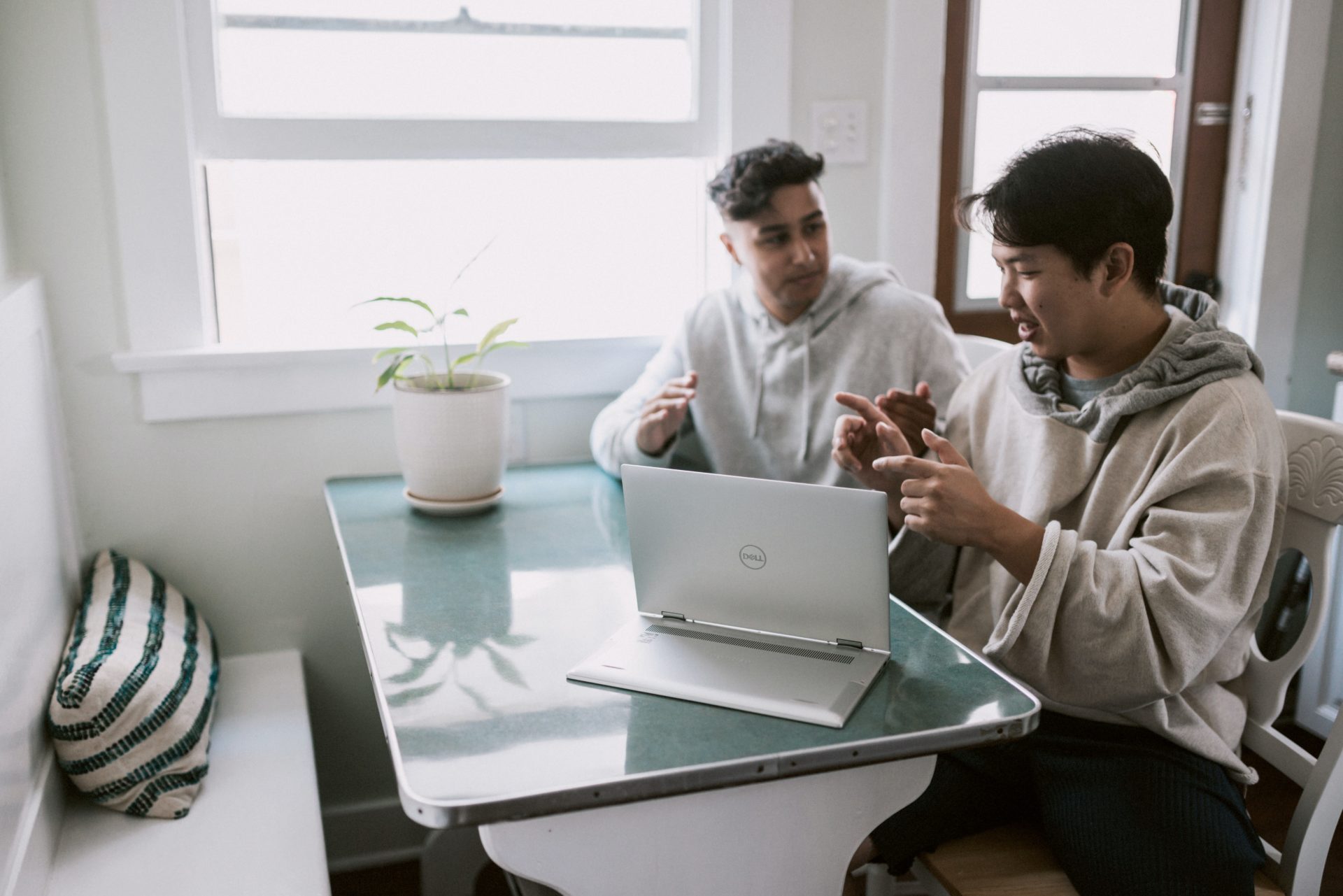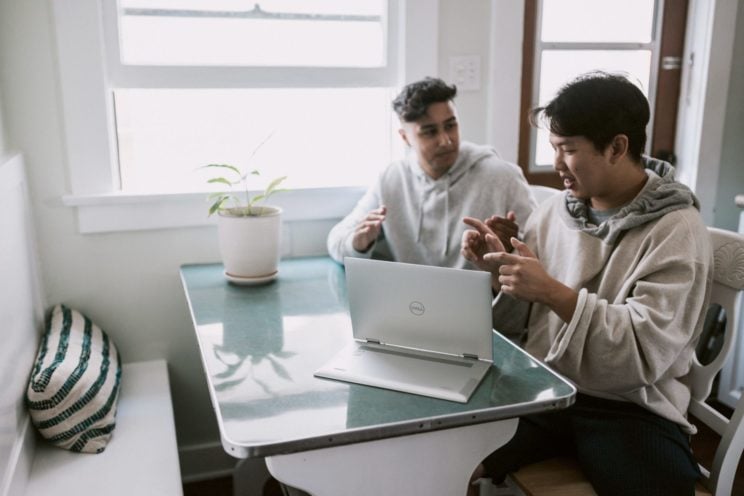 Managers should maintain consistency of what was the face-to-face team meeting, making them accessible and engaging from anywhere. There should be a sense of connection between remote workers and their office-based colleagues.   
That's why Teams was created. A tool that connects employees across an organisation.   
Colleagues can stay connected through chat, video calls, live events, virtual meetings, private and group conversations.   
• Video or voice calls, meetings, or events keep your organisation and external contacts connected.  Meetings can also be recorded, and notes made in the meeting chat can be saved. Even transcripts can be turned on, so your meeting is documented.    
• Chat messaging between groups of people within the organisation keeps employees well-informed of projects, tasks and schedules, all in one place.  
• To keep all the work happening on a particular project in one place, we can use Teams and Channels, keeping you focus on the task in hand. The storage of documents, as well as co-authoring of documents, makes it possible to collaborate on documents securely, meet compliance needs, and improve teamwork. Colleagues can work in real-time and collaborate on documents making project and teamwork more accessible.  
Ideation as a team in a hybrid workplace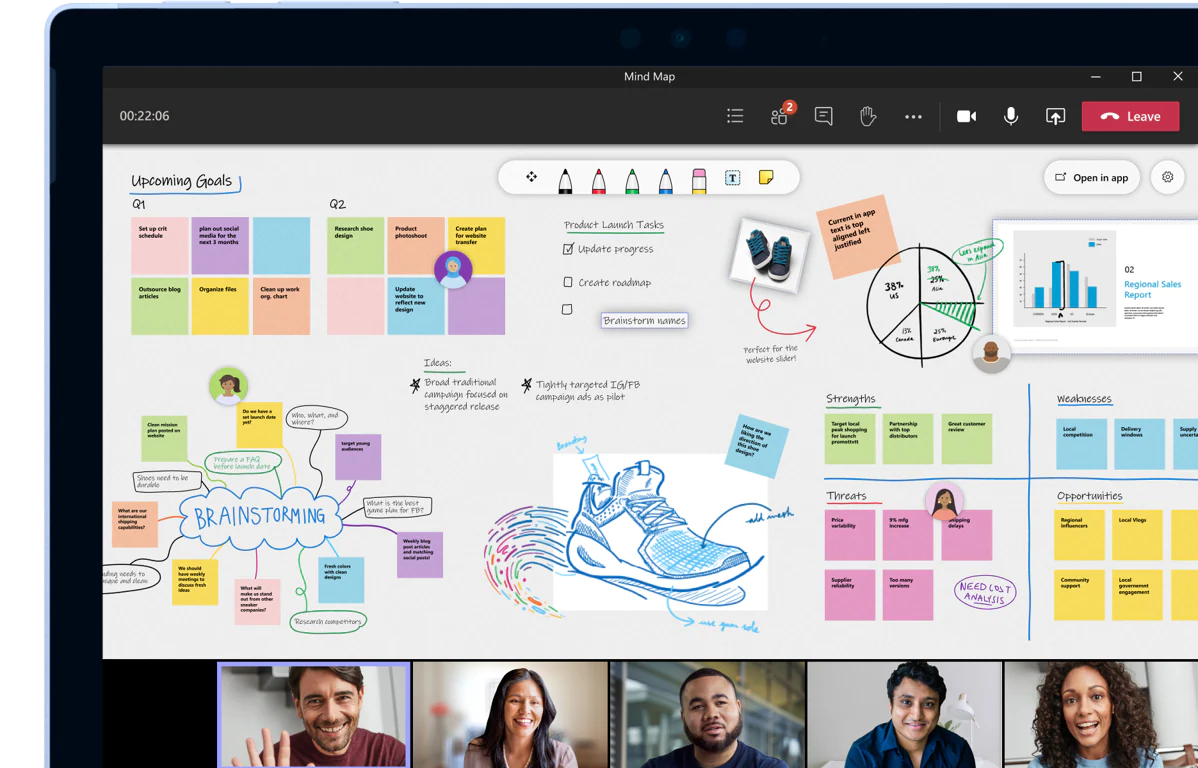 Microsoft Whiteboard is another great tool that fosters collaboration and co-creation as colleagues can draw on a shared digital canvas. Whiteboard enables colleagues to brainstorm ideas in real-time from anywhere. This co-creation keeps innovations alive, as you can harness peoples' ideas from anywhere in the organisation, enabling organisational and personal growth for your employees in your hybrid workplace.
Keeping you connected as one team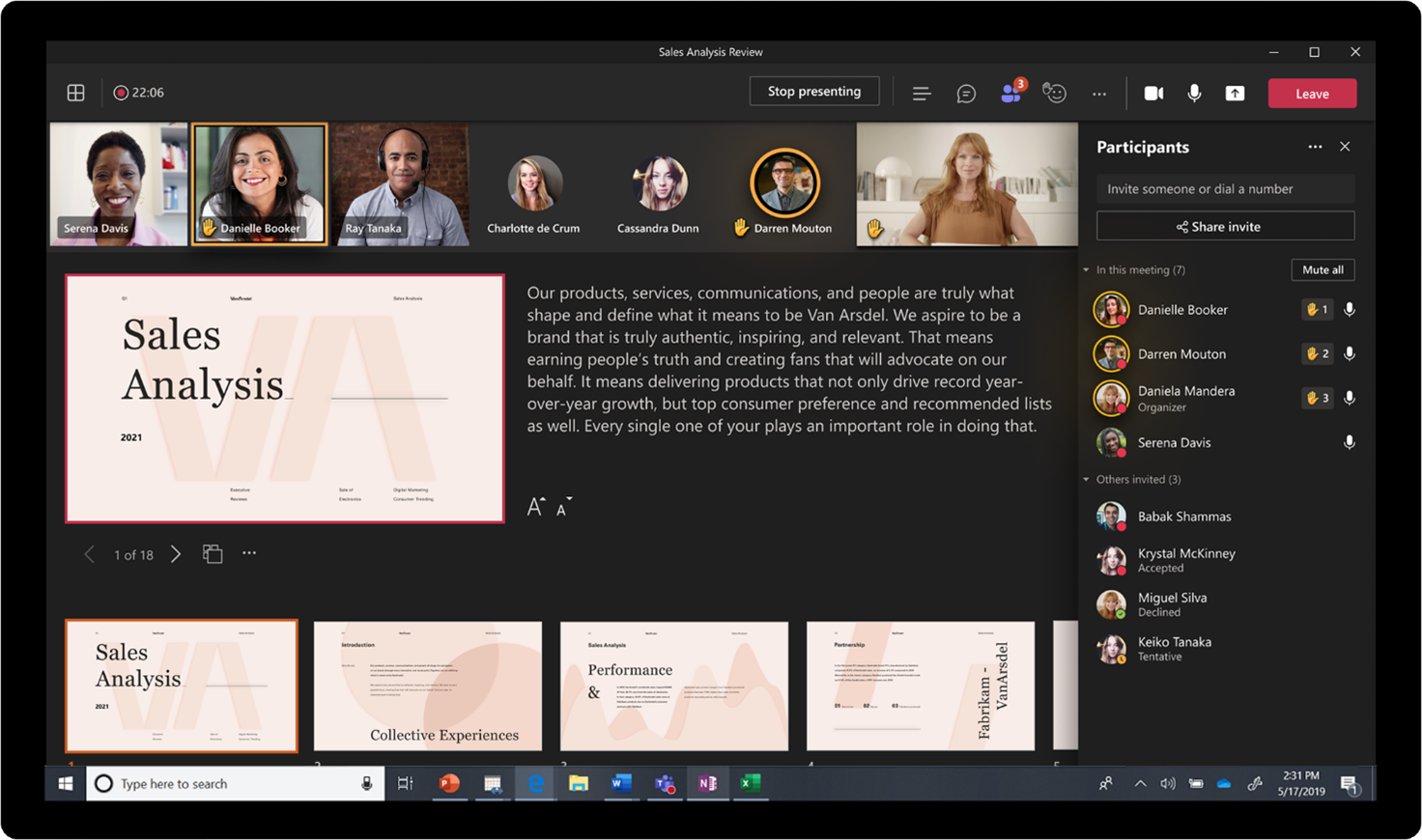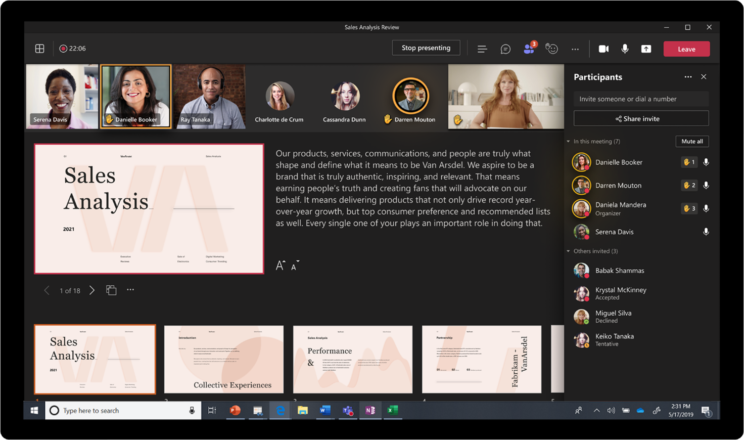 Remote or field workers often and difficulty linking in with their office-based colleagues, causing a disconnect and impacting their engagement with business updates.  
Virtual meetings are a great way of making sure all colleagues feel connected and valuable. Seeing leadership or management, even if virtually, also makes the experience more real and engaging.   
An immersive experience in a hybrid workplace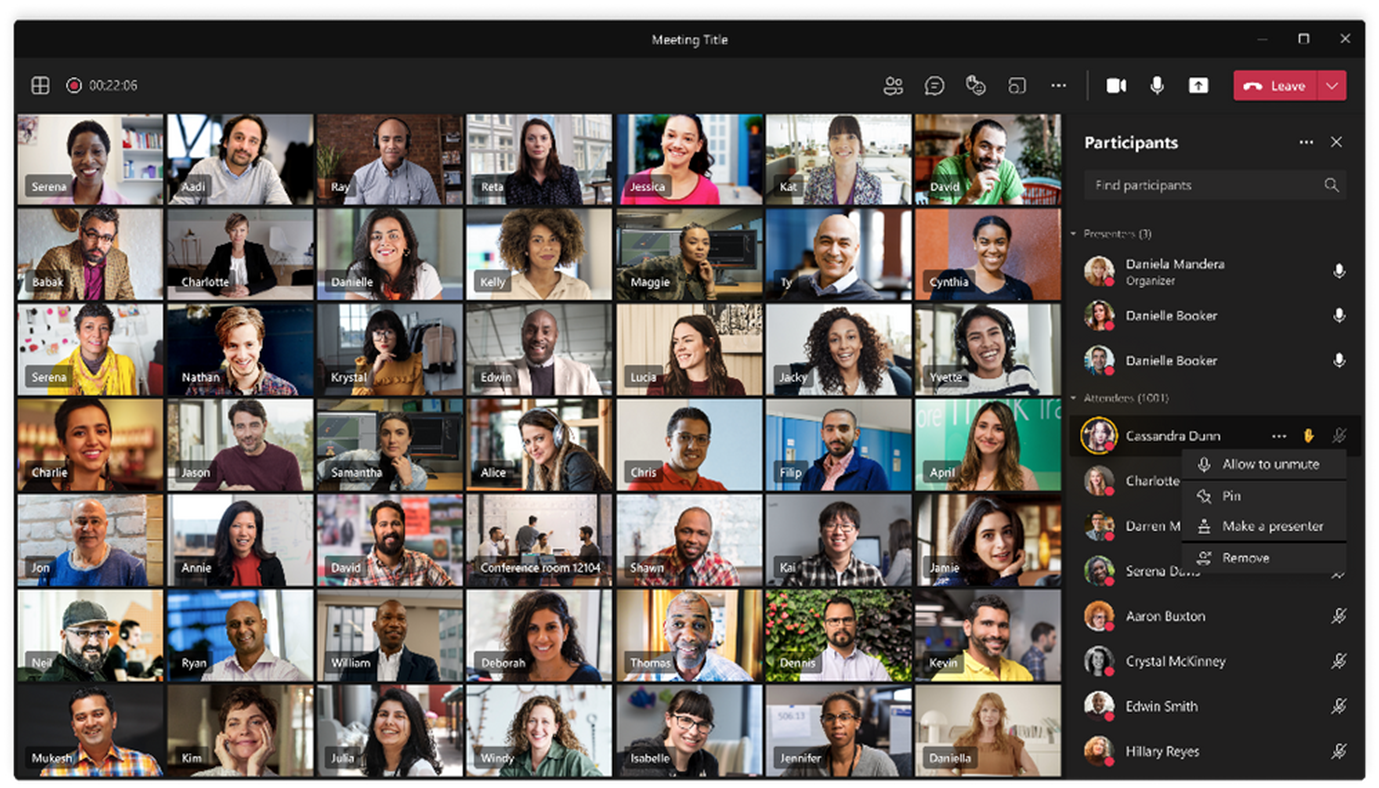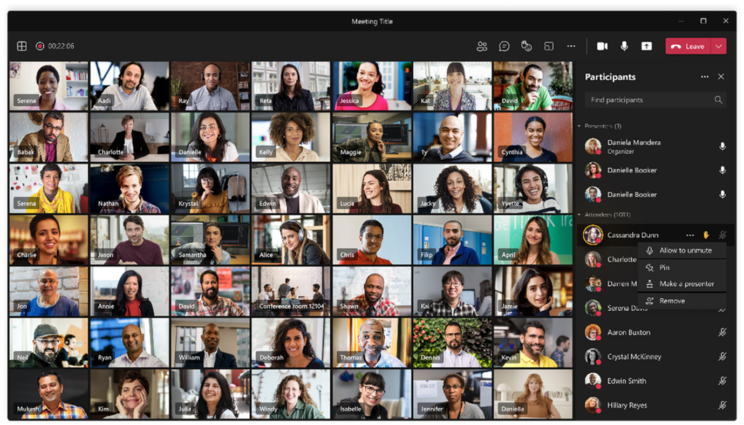 Live (virtual) events embody what it means to be digitally together. Organisations can now broadcast video and audio to up to 10,000 people simultaneously, perfect for town halls, annual conferences or all-hands meetings.  Presenters can share content easily and involve their audience with a Q&A.   
Teams has also announced recent improvements to their Teams Rooms to provide a more natural and immersive meeting experience. Microsoft describes it as 'bringing participants into the room' so all attendees can be seen and heard.   
New video layouts will give presence to those working remotely while intelligent cameras will optimise the view by framing the people in the room or following the active speaker. Inclusive features like live captions, live transcription, raise your hand, live reactions, and chat help people follow along and offer opportunities get involved and have a positive impact to the conversation without interrupting the speaker.  
Maintaining and growing company culture on Teams   
Being able to maintain a connected company culture without physically being present is very important to inclusivity. With Teams, you can take this a step further and mature your company culture by providing new levels of connection. Before the pandemic you may have only had access to a particular group of people whereas now, with the help of Teams you can connect to anyone in the business thus creating that hybrid workplace.   
You can incorporate Teams into your onboarding process, ensuring new joiners get a real feel for the company culture and the way things are done in the organisation. It also provides the opportunity to link new starters, or even people who've been in the business a long time with people they've never met before and making the wealth of expertise you have accessible. The Ice Breaker app connects colleagues by randomly pairing up people to meet every week, either in person or virtually.   
Teams has many features for promoting a respectful workplace from meeting etiquette where you can raise your hand if you have something to contribute, as well as a mute function to limit background noise. Meeting reminders and notifications that your meeting is about to start are a fantastic way of ensuring your always on time too.    
Teams is the master of collaboration and convergence, making it easy to share information, co-create and brainstorm. There's no need to upload documents and you can store the files in their relevant channels to make them easy to find. 
How Changing Social can help 
Many organisations have untapped technology, as they aren't aware, or don't know how to really make the most of their Microsoft investment.  
Changing Social provides Microsoft Teams training so, you can fully understand the features and benefits of Teams and how they can be best utilised to improve the way your people work.   
Our Microsoft Teams training improves user productivity and maximises return on investment through providing your users with a clear, practical and in-depth understanding of the key components and capabilities of the Microsoft Teams platform.  
If you're interested in speaking to us about transforming to a hybrid workplace, please use the form below or contact us at [email protected] for a chat. 
Share
Related Posts