As we begin 2023, it's important that we're prepared for the year ahead of us – and the latest Teams update has all the features to help us get started.
With new ways to collaborate, enhancements to your meeting experience and better organisational tools for your chats, Teams have a whole host of updates that we can't wait to try out!
Check out all the Teams December updates that we can't wait to use in 2023!
Chats and Collaborating
   
Delete Chats
You can now easily organise and remove certain chat conversations that you no longer use, without disrupting other members in the chat.
It's a great way to de-clutter your chat inbox and streamline your conversations!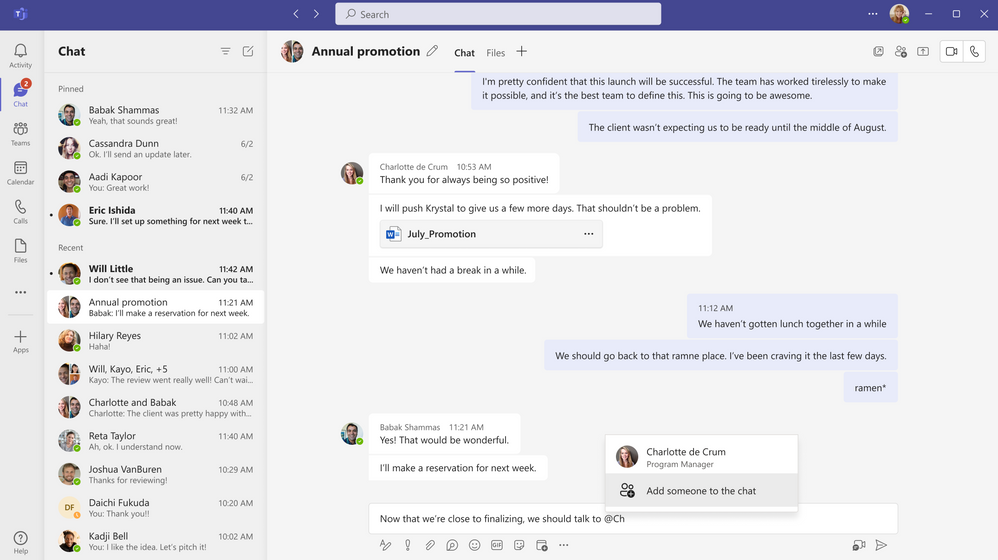 Adding people to a group chat using @mention
Want to save time and add important members of your team to group chats quickly? Try @mention!
You no longer need to use the add-dialog feature, simply @mention a team member and click 'Add Someone to the Chat'.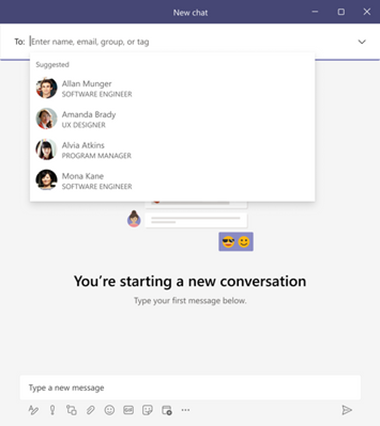 Recommended people when starting a new chat
Using AI, Teams can now assist you when starting a new conversation by recommending team members based on previous chats and collaborations.
No more wasting time searching for that specific person, Teams has found them for you!
Sign Language View and always-on captions for meetings
To make sure everyone can participate fully in meetings, Teams have released an update that allows you to set captions that remain on across all meetings.
Additionally, you can prioritise up to two team members video feeds for sign language in meetings. This ensures that they stay visible, even when someone is sharing other content.
Microsoft Teams Rooms update on Android
Microsoft Whiteboard
With the new Microsoft Teams Rooms on Android Update 3, using Whiteboard sessions is easier than ever!
By using Microsoft Teams Rooms on Android Displays, a Microsoft Whiteboard session can be started from a supported display home screen at any given time. Just one touch can launch a Whiteboard session, giving instant collaboration for admins with the 'Allow initiate Whiteboard' setting.
Use Whiteboard in an ad-hoc meeting
Switching from a local collaboration experience to an online co-creation space has never been so seamless with Microsoft Whiteboard!
By tapping 'Start meeting', the Whiteboard is automatically presented into the Teams meeting and is ready to use. Add remote team members into the meeting to collaborate and contribute to the Whiteboard, which can be viewed alongside the gallery for remote participants.
For spur of the moment brainstorming, give Whiteboard a try!
Redesigned Share Menu
Sharing content in your Teams meeting has become even more accessible with this Teams December update!
The redesigned meeting control bar makes it easier to find all the content options that can be shared, including Whiteboard which is now fully supported on resource accounts.
By tapping 'Share' you can choose the type of content you want to share with your Team Members, and get collaborating!
Chat Bubbles during meetings
Teams has taken away the hassle of checking a meeting chat by introducing the new chat bubble feature!
Microsoft Teams Rooms on Android can show chats during a Teams meeting in the front-of-room display. These will appear as chat bubbles over the current view, allowing in-room team members to engage with both the conversation in the chat and what's going on in the room.
Platform
Approvals as PDFs
PDFs have never been more accessible with the new Approvals update!
Approval creators are now able to save a completed approval request to a PDF file and print it if they wish.
This means customers can transfer their proof of approval in PDF from to either another system or store it as a file.
Simple!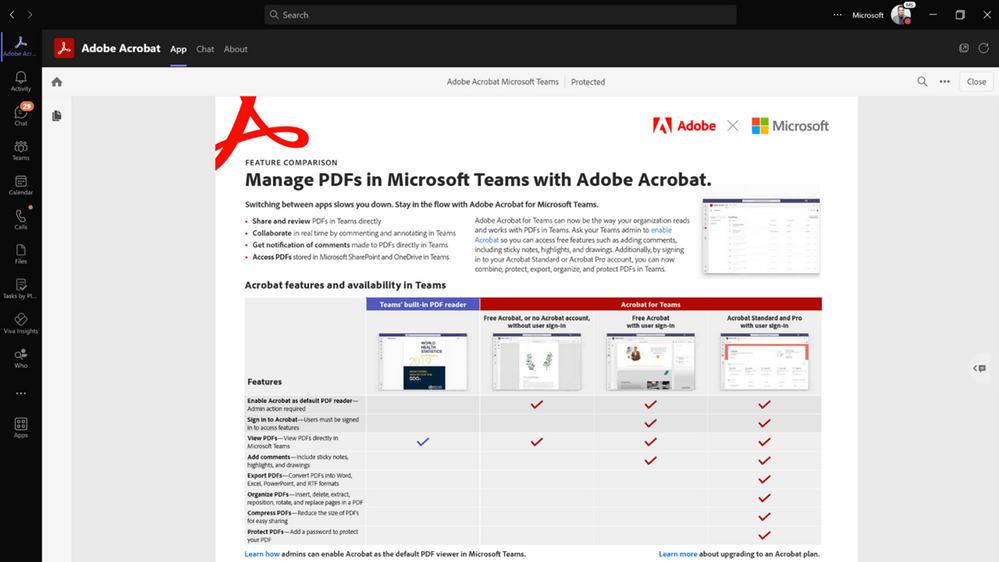 Adobe Acrobat in Teams
Joining the many collaborative apps in Teams, Adobe has launched the newest integration of Adobe Acrobat into Microsoft Teams – and you can even set it as your default PDF app!
Sharing and reviewing PDFs, collaborating with notes and annotations, easily accessing PDFs stored in Microsoft SharePoint of OneDrive is now efficient and easy thanks to Adobe Acrobat.
Frontline Workers
Shared Devices on Android
The shared device mode on Microsoft makes it much easier for frontline workers to authenticate their devices by signing users in and out of all apps that have allowed this feature.
This means frontline workers can access Edge and Yammer apps quickly, without wasting time on signing in and out on every device.
Get in touch
For more advice on how you can utilise these exciting Teams December updates, please get in touch. Changing Social are the go-to experts on all things Microsoft, from building apps to creating change management strategies – we do it all! To find out more, fill in the form below!
Share
Related Posts