The Viva suite is already a powerhouse collection of employee experience platforms, helping leadership develop a well-rounded, thriving, culture focused on employee engagement.
The latest addition, Viva Glint, is your dedicated assistant in employee listening, engagement and providing actions based on feedback.
Coupled with Viva Insights, Glint is the key to tapping into the power of feedback, and how it can progress your organisation!
Let's see what Viva Glint has to offer!
What is Viva Glint?
Glint lets you utilise organisation-wide surveys to fully understand how your organisation feels about organisational changes and updates, and take action from that feedback!
Capturing the true voice of your team through Glint helps elevate your employee engagement by creating actionable insights based off your organisational listening.
Surveys based on evidence help you track and measure everything from employee wellbeing, collaboration levels, process feedback, organisation-wide sentiment and much more!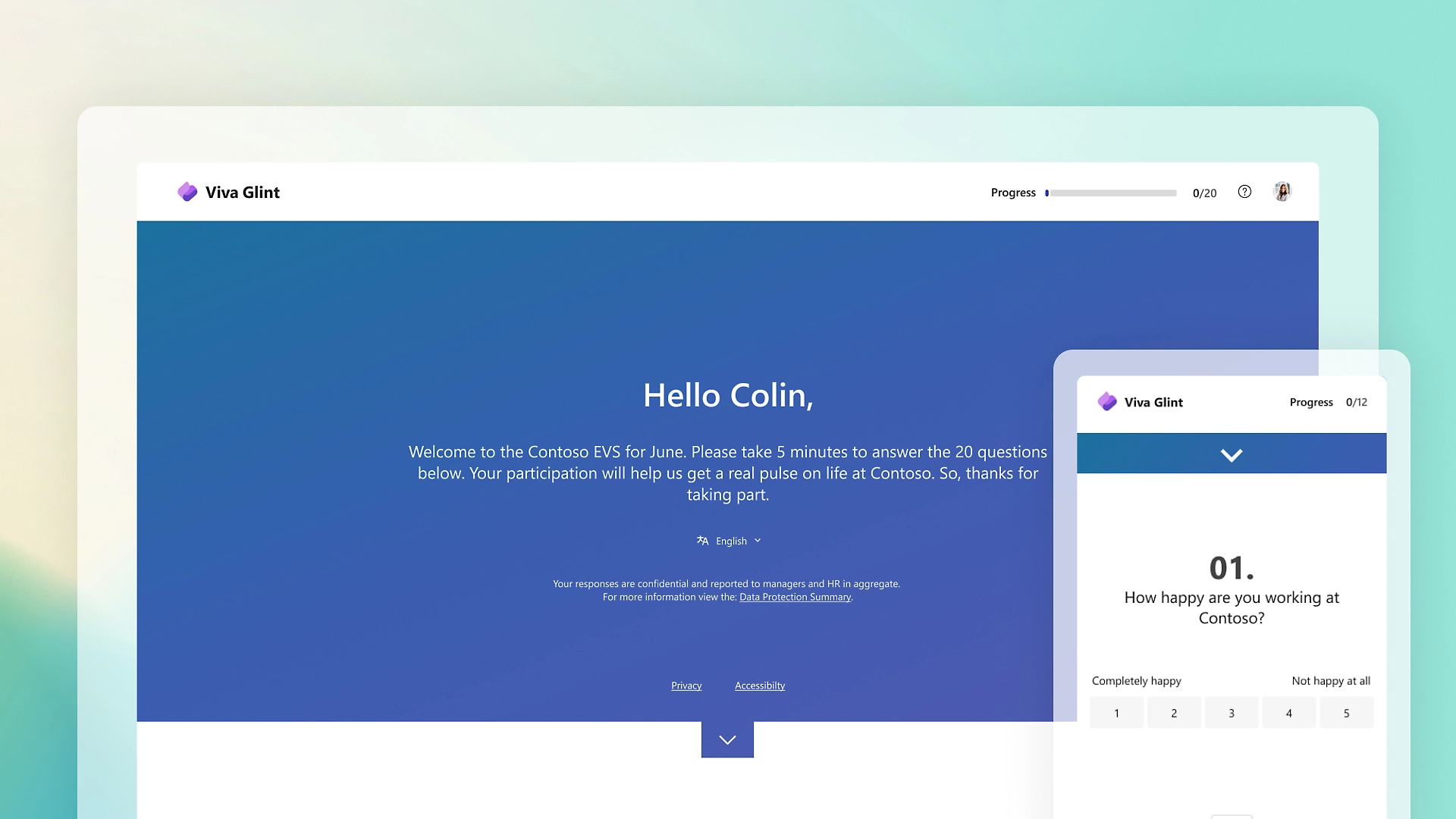 How Can it Help You?
With fully customisable templates for surveys, you can accurately take the temperature of your team! These surveys are vital in measuring how employees feel about important aspects such as diversity and inclusion, onboarding and exit processes, and other key topics that contribute to a healthy work environment.
With Glint, results are immediate! You no longer have to wait for your data after a survey closes, as Glint breaks it down immediately into heatmaps, results and trends. Along with Microsoft's innovative integration of AI, you can summarise thousands of comments and suggestions from employee feedback into one keyword mind map, helping you focus on the bigger picture. Similarly, AI can monitor and find patterns within survey responses, generating alerts for potential decreases in performance based on your data.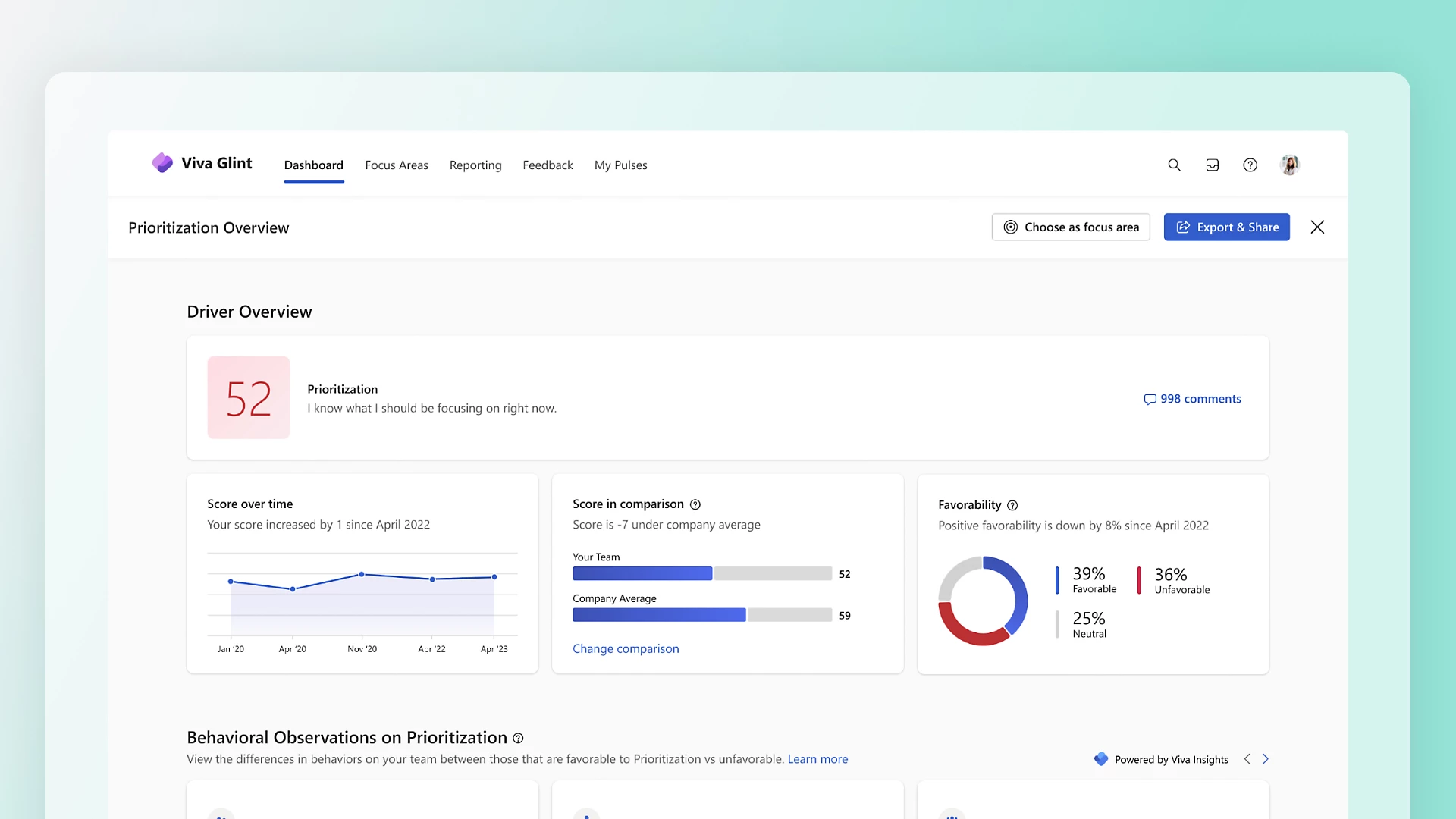 When presenting this data back to your team, Glint helps you turn it into positive actions. Not only does Glint create automated and personalised presentations that guide your audience through the data collected, but it also suggests actionable insights to improve results based on your survey data!
Glint and Insights – Perfect Together!
Glint goes above and beyond by combining feedback from surveys with workplace analytics and data from Viva Insights, giving you a holistic view of how your people are feeling and working!
Utilising the incredible analytics that Insights provides, users can see how working patterns may be influencing employee engagement and their response to survey questions, providing a deeper understanding behind their answers.
In turn, leadership can find hidden insights within Glint's data breakdowns that highlight the emergence of new working trends and shifting sentiments, helping them stay in touch with employee engagement.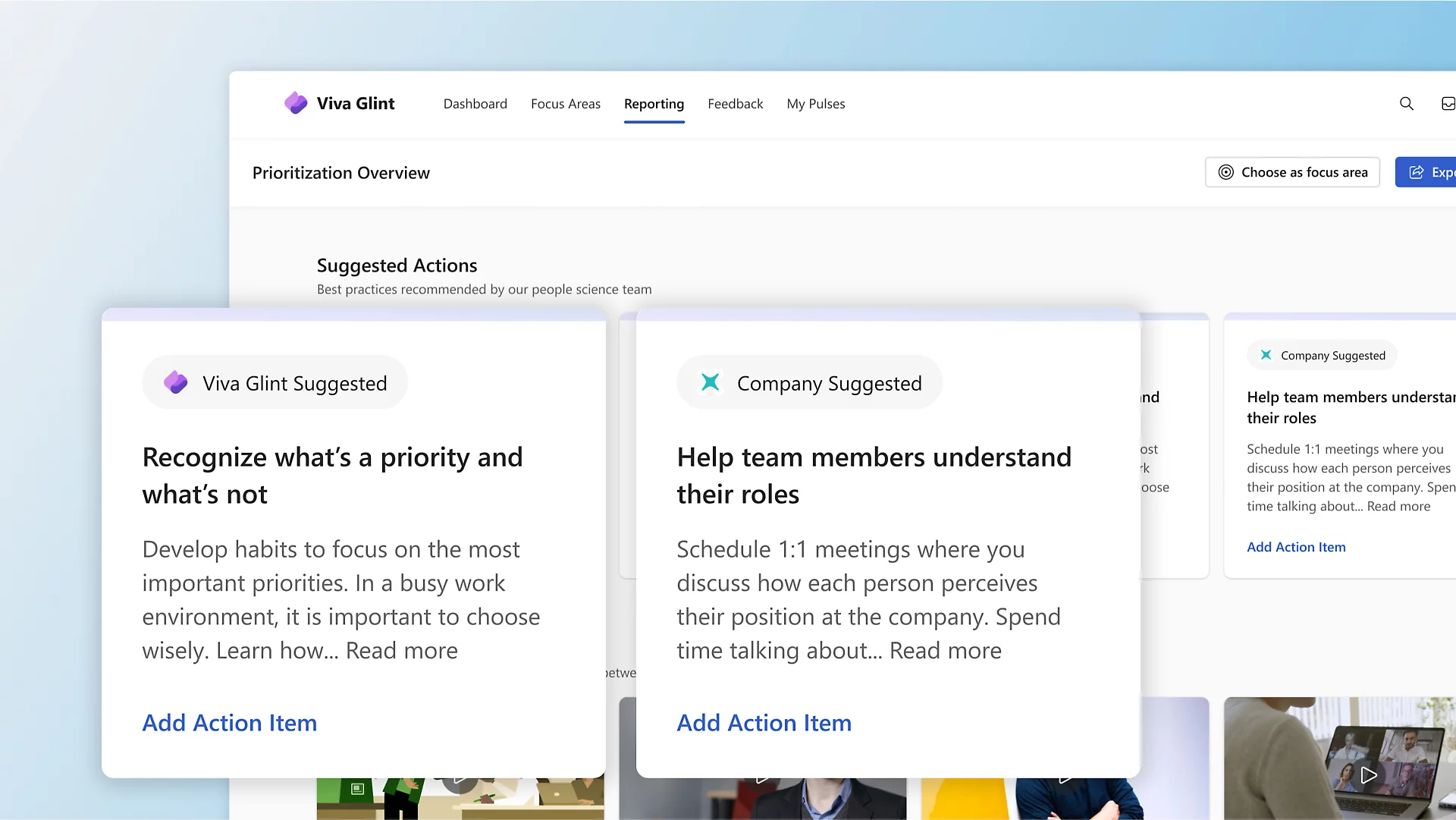 All in all, Glint is you top tool for fostering a work culture that champions an open dialogue of feedback, providing data and insights that help you elevate organisational performance! We think Glint is the perfect addition to the already amazing Viva suite, but what do you think?
If you're looking to make the most of the Viva suite, let Changing Social help you! As a top Microsoft gold partner, we help organisations make the most of their Microsoft licencing. We do everything from custom-built apps and bespoke training, to tailored adoption strategies and more! To find out more, fill out the form below, or email us at [email protected]
Share
Related Posts