Life has changed dramatically over the last 2 years – we went from working in offices every day to working permanently from home and now, for many of us, we are embracing hybridity – partial home working, partial office working.
This change has led to a lot of feelings of disconnect, unease and lack of motivation – causing a huge increase in burnout globally. A recent study found that 85% of workers say their wellbeing has declined, while 56% have found their job demands have increased. On top of that, around 60% of people feel less connected to their teams thanks to the shift to remote work.
This combined has a negative impact on the employee experience and, in turn, organisations themselves as they face huge losses in productivity as people are ground down.
These days, we are always on and connected, processing huge amounts of information from both internal and external sources, all whilst juggling multiple tasks. As many of us are at home, there is no disconnect between work and home life – there may be no commute anymore and it is easy to just keep working well past business hours. But this 'always on' mode is not sustainable in our new world.
A change is desperately needed. That is where Microsoft Viva comes in – it is a response to new demands and seeks to improve productivity, wellbeing, motivation and focus.
Changing Social's Employee Experience
Here at Changing Social, we have built our business on ensuring the employee experience is at the forefront. As studies have shown, a happy employee is a productive employee and that is of great importance to us.
Our CEO, Steve Crompton, says a positive employee experience should flow through the entire lifecycle of said employee – even from the initial stages of recruitment and interview, all the way through to them leaving the company and feeling encouraged to share knowledge.
The organisation has a good connection to recruiters, is able to send out files and welcome packages to new starters, prepares detailed onboarding and introductions to all staff – all of which ensure any new starter feels welcomed and prepared for their new position.
Once working for Changing Social, we have personal development time on a Friday, flexible hours to attend appointments if needed, regular 1:1's with managers, personal development reviews and goal setting, social events both virtually and physically, and there is always a colleague you can turn to if you need support or expertise. If a colleague needs to protect their time, the team will work together to ensure that is possible. Building this in from the outset aims to provide a positive employee experience throughout the entire employee lifecycle.
Steve added: "When we first started this company employee experience was very, very, important to me. So also ensuring that we all have some of the best kit was vital, such as making sure that we have like good quality headphones instead of going for the cheapest, even as a start-up."
Doing this prevents common issues of hybrid working – noise cancelling headphones, screens and up to date laptops ensure everyone has the option to connect and work comfortably wherever they are.
"I still think about how we can improve as well," Steve added, "It's definitely to make sure we consider where it is we're trying to get to you and then look at all of the different components of that employee lifecycle and think, 'OK, where can we actually use technology to make a difference? How do we have hybrid meetings? How do we communicate with people? And so on."
Steve also thinks it will be great to utilise Viva Connections going forward to enhance this: "We could build a whole section online around interviewing, interviewing techniques, interviewing questions and so on, and we can pull in something like LinkedIn Learning to look at how to conduct a good interview for new starters.
"So, when a new starter has their 'day one' experience that it's absolutely on point. For instance, understanding when people's birthdays are, understanding what their favourite snack is, what drink they like, what football team they support – the more personal aspects that are important too. We can then try to really enhance that experience when people join and connect people with similar interests."
As an organisation, we are constantly adapting and moving forward, trying out new ways of working or new apps to improve certain aspects of our day. As many employees have found that there is meeting after meeting, it can be difficult to get actual work done or decompress in between them, particularly if we are not in the office.
Recently, therefore, we have started implementing Viva Insights – a wellbeing and productivity app – to ensure everyone can set aside specific focus time to do their work. Insights looks into your calendar under it's 'Protect Time' tab and can book this focus time in empty slots on your behalf and mutes chat on Teams during that time so it's easier to get your head down, if it is needed. And booking in a virtual commute ensures the busy team switches off at the right time, protecting free time and cutting out too much work outside of business hours.  
Communication is key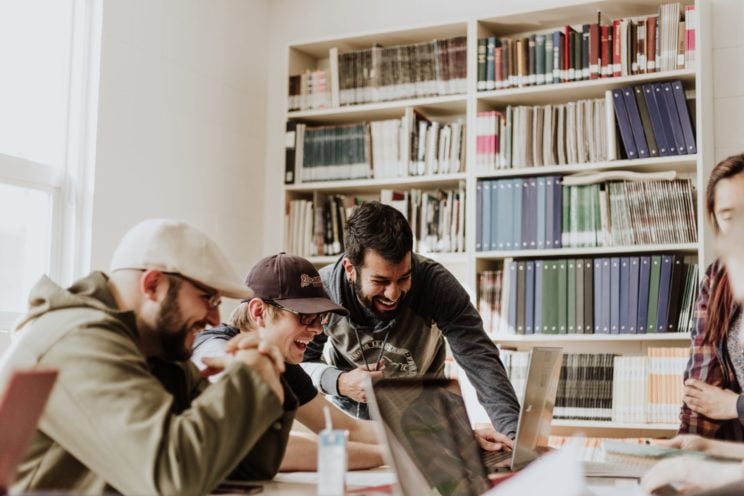 Change is not a bad thing and we are changing all the time – consider the 1990s, when news articles were calling the internet a 'fad', whereas now we have the internet in our pockets, accessible from anywhere in the world! What about the last time you opened a letter in the workplace? It's just not commonplace since we moved to email and now more and more people are now moving across to Teams and checking their emails less and less.
Technology is constantly moving and changing and growing – with Microsoft Viva we will now have everything in one space. But, ensuring that any changes are undertaken smoothly and as pain-free as possible is vital. Undertaking a good communication strategy when moving across will help employees feel confident and comfortable.
Kelly Orford, Head of User Adoption, places emphasis on communicating properly within the business as one of the key ways to improve engagement and ultimately improve wellbeing. She admitted: "I think we're good at communication and within that communication we see improvements in wellbeing as well. I do think Changing Social as a business really look after our employees and try and help out wherever we can."
As a manager, she acknowledges how busy she can get and how many meetings she has, and if she has to search for certain documents or topics, it can be quite time consuming. With Microsoft Viva, this issue is reduced as Viva Connections serves as a new intranet, bringing personalised dashboard cards to each employee. Information that is relevant to an individual will be placed at the forefront, and thanks to a global navigation, if a manager like Kelly needs to search for something, it will be quick, easy and not take her away from the main feed into multiple tabs.
Building this into ways of working streamlines the process, and the addition of Viva Topics allows everyone to find key information on company-specific topics in-app, offering a detailed description, links to documents, experts and conversations relating to what you are looking for.
Kelly is very excited about Viva and the changes it brings: "I actually think that it will have a massive impact on businesses. It will be like Teams all over again and there's so much to do and there's so many different components that all feed into employee experience. And it just brings everything together like a single pane of glass.
"I think that's what Teams did and why it was so successful… you never hear anybody talking about Skype for Business anymore, because Teams owns that market at the moment within Microsoft, and I think that Viva will now do the same.
"It will grow exponentially, and there will be a lot of work needed to help businesses with the change elements of the software and help the people that get on board with that, which is what Changing Social aims to do with our services."
Bringing in Viva services
As we have touched on, Changing Social is starting to take on all of the Viva apps – Connections, Topics, Learning and Insights.
Viva Connections will allow us to build out a new in-Teams intranet, personalised to each member of the team. Topics will bring up topic cards to explain company-specific terminology in-app, as well as suggesting experts on the subject and related files to explore. Learning makes knowledge growth a natural part of the workday and will allow our teams to expand their knowledge and further their careers. We are already using Viva Insights to keep on top of the organisation's wellbeing and ensure all of us are as productive as possible.
Does Viva sound appealing to you? Looking to improve the employee experience in your organisation but not sure where to start? Why not drop us an email at [email protected] or fill out the form below and we will happily get you started to help you boost your employee experience.
Share
Related Posts