Microsoft Teams has released a range of updates to make working more collaborative, productive and efficient in January 2023!
With new capabilities for Whiteboard, enhanced meeting experiences in Teams and exciting Power Automate updates, the new features in the January update are sure to take your work to the next level!
Let's take a look at what Microsoft Teams has to offer this month…
Viewing Video Recordings and Attendance Reports inside a Learning Management System
Attendance reports and video recordings will now be accessible to teachers and students inside their Learning Management Systems (LMS)! The Microsoft Teams Learning Tools Interoperability (LTI) app enable the recordings and attendance reports to be stored within an LMS, giving students and teachers the opportunity to access materials at any time.
Paging on Video Gallery View
Ever been in a meeting with more video feeds than can be displayed at once on the meeting stage? Not anymore!
Teams have introduced navigation controls that will appear underneath the Video Gallery, allowing users to see additional video feeds of meeting attendees.
Improvements to the Usability of the Meeting Toolbar
Users will now have dedicated buttons for raising hands and be able to switch between view modes far more easily! Try them out in your next Teams meeting!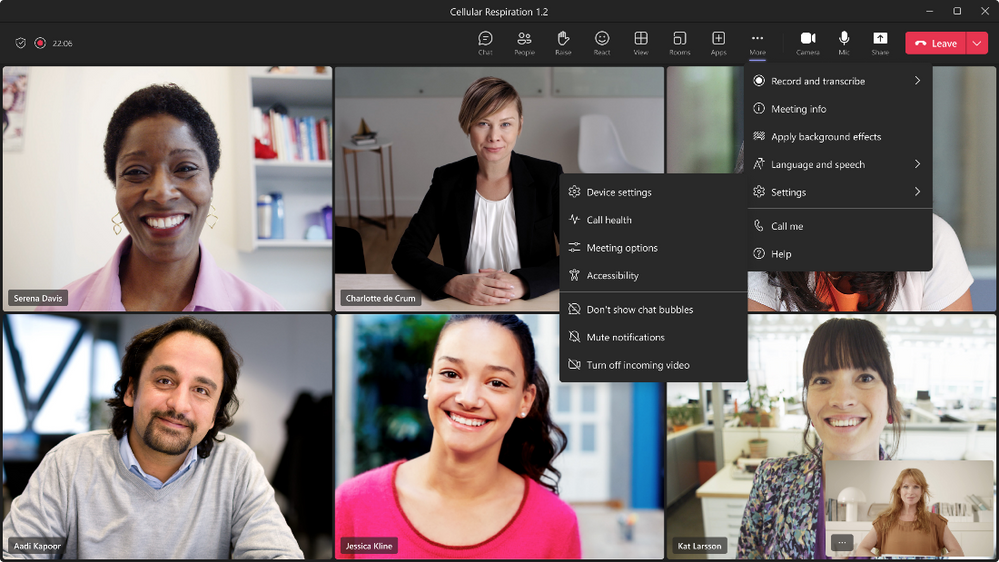 Live Stream Webinars and Teams Meetings to Meta Workplace Live
This new update allows users to live stream their Teams meetings or webinars directly into Meta Workplace Live, using the Workplace Live app integration.
Meeting attendees can watch webinars and live meetings within their Workplace groups, or catch up later by watching recordings on Workplace.  
Just add the Workplace Live app to your Teams meeting or webinar, sign up with your Workplace account, and select the Workplace event you want to live stream. Simple!
Customisable Options for an Enhanced Webinar Management Experience
The webinar template has been given a makeover!
When you select the webinar template, there will be a new structure and expanded options in order to customise registration details and specific settings for each event.
These enhancements to the management experience also offer the option to configure your webinar with the following capabilities:
Setup
Details: Designate co-organisers easily to support you in planning and delivering your event
Presenter bios: Each speakers professional headshot, company, title, LinkedIn profile, brief bio and more can be highlighted
Theming: Use a banner, logo and relevant colour scheme to showcase your brand and align with the theme of your event! This will be displayed on all webinar communications and the registration page
Registration
Configuration: Users will now be able to set the registration capacity for up to 1,000 attendees. You can also add custom questions to gather important information about prospective attendees, including a dedicated question to communicate terms and conditions and enable consent from attendees when they register
Attendee status: View who's registered for an event, who's cancelled their registration and important details for attendee status
Reports
Attendee reporting: Access existing reports and analytics with ease in one central location, giving you key insights into attendee participation
Federated Group Calling
Need to start a group call with federated colleagues from outside your organisation? Simply start a group Teams call from a chat and get collaborating!
Starting a Microsoft Whiteboard in Teams Meetings
Whiteboarding is essential in enabling collaboration across all meeting attendees, either in-room or virtually.
Using Teams Rooms on Windows, users can start a Microsoft Whiteboard within a Teams meeting using the in-meeting share content function from meeting room consoles.
When a Whiteboard is created from the room, it's attributed to the organiser of the meeting, allowing them to manage access to the Whiteboard.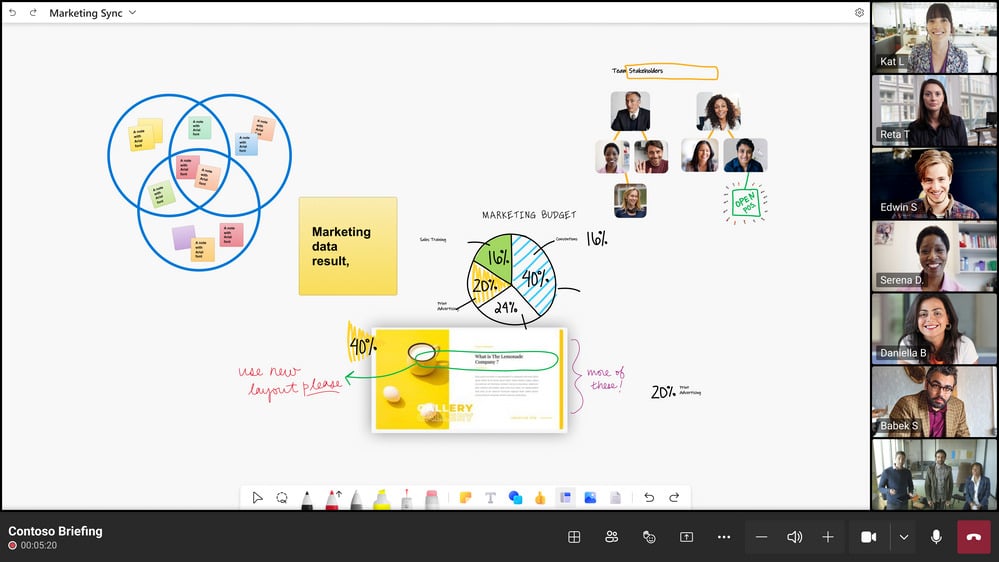 Meeting Chat Display in Teams Rooms
Do you get distracted by the meeting chat buzzing in the background of a Teams meeting? Alternatively, do you get bogged down by going back and forth between checking the chat and focusing on the meeting display? Well, now you have the choice to display or hide the meeting chat!
In-room attendees can use the meeting room consoles to hide or show the meeting chat on the front-of-room display, alongside meeting participants video feeds and content when in Together mode, Gallery or Large Gallery.
This capability can be accessed through the View Switcher on meeting room consoles, additionally, IT admins are able to configure the meeting chat to be hidden entirely for the room.
In-Meeting Notification Updates for Teams Rooms
Similar to the Teams desktop experience, critical notifications that require attention from an in-meeting user will continue to be available and actionable, whilst informational notifications will be displayed on the front of the room screen.
Viewing Chat Conversation Threads
Have you ever searched for a specific chat message and got multiple results, but can't tell which is the right one? Not anymore!
Users can now search for chat message in Teams and when they click on a message result, the full context of the conversation in relation to the result will appear.
Editing and Deleting Events Capabilities for Messages in User: Bot Chats
Message events can be accessed by developers, this update also allows them to edit or delete event updates on messages within user:bot chats.
Upload Files to Approval Requests via the Power Automate Portal
Files uploaded within the Power Automate portal will now be displayed within the 'View Details' window of an approval request in Teams.
Notification Granularity
Administrators can now use Intune to determine what type of content a user can view in notifications on the lock screen of their mobile.
Using Outlook and Power Apps on Shared Devices for Frontline Workers
Whilst still in public preview, this update for frontline workers is too exciting to not share!
In addition to Microsoft Teams and Manged Home Screen being available on Microsoft's shared device mode, this mode will soon be enabled for Edge and Yammer too. Furthermore, Outlook and Power Apps applications on Android are also in public preview, and will hopefully be available to frontline workers in no time!
If these updates sound like something that would benefit your organisation, contact Changing Social to implement them! Changing Social are specialists in all things Microsoft; from training, to digital transformation, to the Power Platform and so much more! To hear how we can help you, fill in the form below, or email us at [email protected]
Share
Related Posts