If working through a pandemic taught us anything about how we used the tools and software at our disposal, it was that the benefits of online communication and collaboration were invaluable and transformative.
This was because throughout that period, many people were only experiencing it for the very first time, and Microsoft Teams Online was up at the front.
Why should you use Microsoft Teams Online? What benefits are there? Here we'll list some of the best reasons for using this game-changing software so that you can decide if it's right for you.
What is Microsoft Teams?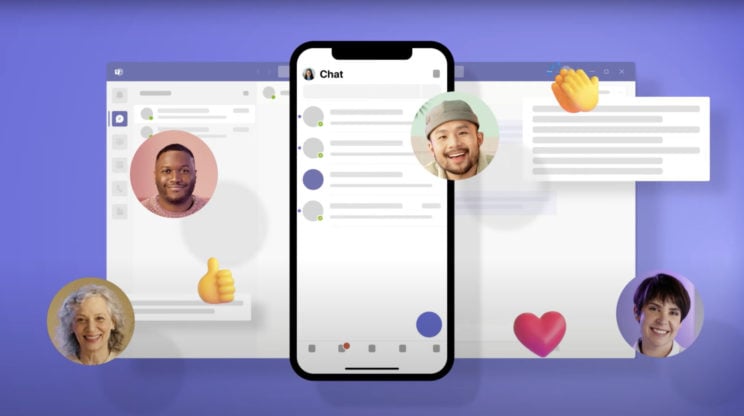 Teams is one of Microsoft's fastest-growing apps ever with (according to their website) over 330,000 companies and organisations worldwide adopting it as their communications platform of choice, using both the online version and the desktop client.
It offers:
Calls (video and/or voice)

Meetings

Collaboration

Chat 
It is available either as a web-based app or a desktop app for Mac & Windows.
Why should you use Teams Online?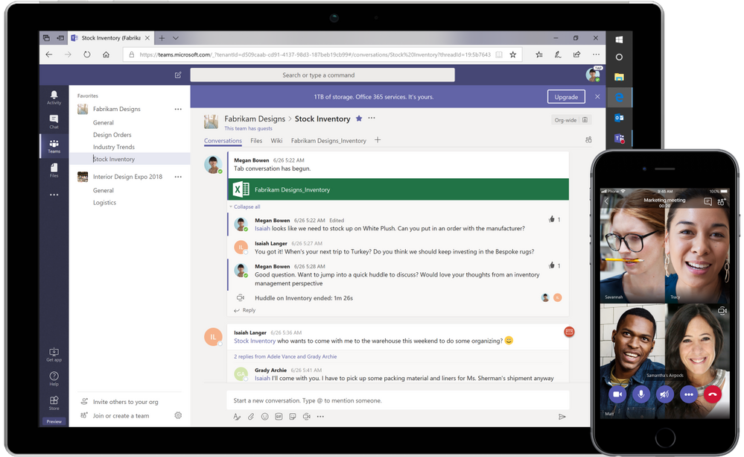 In a nutshell:
Better communication

Improve customer experience

Smoother collaboration and improved productivity

Better security

Integration with other applications and systems

Smoother, more productive meetings with less stress

Stay in touch with your team anytime, anywhere
Time to get into some detail.
Cut down on those emails and speed up decisions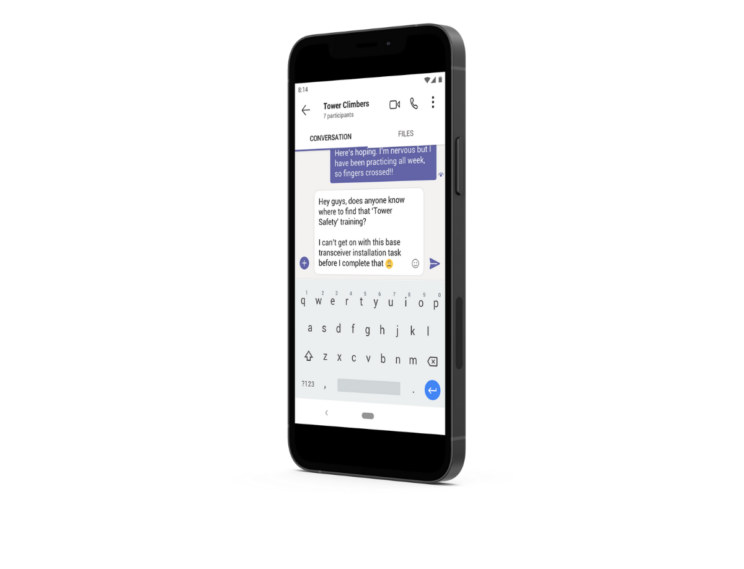 Nobody likes an overflowing inbox where the flow is relentless, and managing it can take you away from more productive endeavours. Need a quick decision? Need to remind someone to do something? Teams offers a chat facility, either on a one-to-one basis or as a group (like WhatsApp or Skype but better.) You can use emojis and GIFs to inject some personality, too and sharing files is a cinch.
Keep in touch
Microsoft Teams picks up where Skype left off by offering voice and video calls to colleagues. For an extra fee, you can use it to make calls to people from outside your organisation if you want to, replacing your existing phone system and potentially saving your organisation money.
Adding to the functions for keeping in touch, Teams can host meetings, but these meetings have hidden superpowers because you can collaborate (there's that word again) using screen sharing, work on documents, present using whiteboards and meet with 10 or 1000 or even host a live event like a product launch. More on that below.
By hosting virtual meetings, there's no need to travel, therefore helping to maintain a healthy work/life balance, and the potential financial benefits are there, too, without the need for accommodation, mileage claims or subsistence allowances. Plus, you get to keep your workforce where they should be – working for you.
Better Security
And this is why your IT geeks will love it. They can keep your data and your IT infrastructure safe using interfaces and tools that they already know and love.
Preparation, Execution and Results
Meetings are a lot of work before a word is even uttered. In the old days, there was always a flurry of emails for agendas, changes to agendas, minutes and action plans. Things were missed, deadlines became loose, and people were confused about what they were meant to do.
With proper implementation, Teams Online can eliminate all these issues, not forgetting that you can even record your meeting so that if anybody should miss it, they can easily play it back AND see all the relevant documents in one place, including any files that were swapped via chat.
Harness the power of Microsoft 365 (and others!)
As already mentioned, collaboration is one of Microsoft Teams Online's great strengths but it becomes even more powerful when allied to its sibling Office applications, OneDrive and SharePoint. Much more intuitive than Google Docs, especially when you can link the likes of Adobe Creative Cloud – and the list is growing!
Keep in the Loop
Business is no longer conducted just in the company offices – that was then.
Now, people need to get out and about, working with clients and customers in their offices, factories and shops. Decisions need to be taken, orders need to be placed, and questions need to be answered almost immediately. It's no longer appropriate to say, "I'll deal with that when I get back to the office."
Because Teams Online can be used either through the web or a native app on whatever device is available, mobile workers are as up-to-date as anybody in the office. More importantly, this happens securely, protecting your data and infrastructure.
Cool New Features
Translation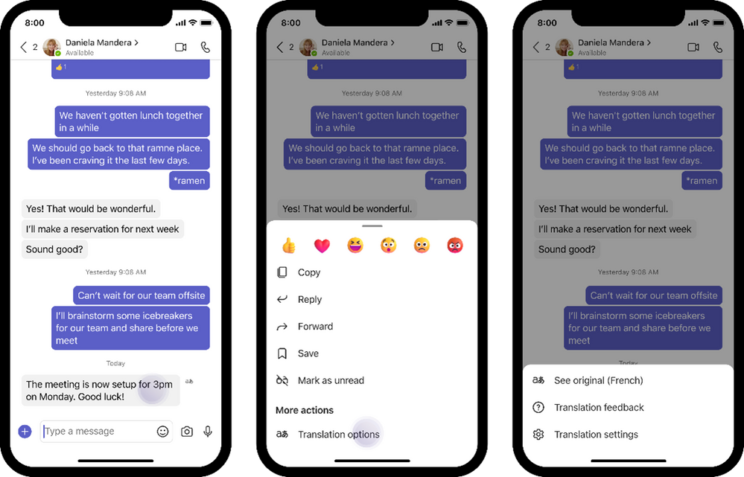 You can now communicate more effectively with people whose first language isn't English thanks to on-the-fly interpretation, an absolute game-changer for those conducting business or meetings with people from outside the UK. Teams Online can also translate chat messages for you. It will recognise when a message isn't in your preferred language and offer to translate for you. You can, if you wish, turn this feature off.
Automatic Transcription
Manual transcription of meetings is laborious, prone to errors and means the person transcribing will find it difficult to take part. Teams Online can now do the transcription for you automatically, leaving everybody free to concentrate on the meeting, with the added benefit of the transcript being freely available afterwards.
Next Steps
For many businesses, the buzz phrase 'digital transformation' is confusing, a little bit scary and frankly, bewildering because they worry about what it actually means, the perceived expense and how they will need to adapt.
Digital Transformation is 'using technology to create or improve business processes, culture and customer experiences, enabling business to adapt to changing. The benefits of implementing Teams Online for any business or organisation far outweigh any negatives, and as time passes, the value of these benefits increases exponentially.
There's also plenty of help and advice available from Changing Social. We're geared to help you grow and innovate using Microsoft 365, including Teams Online. Reach out to us using the form below or email us at [email protected]
Share
Related Posts