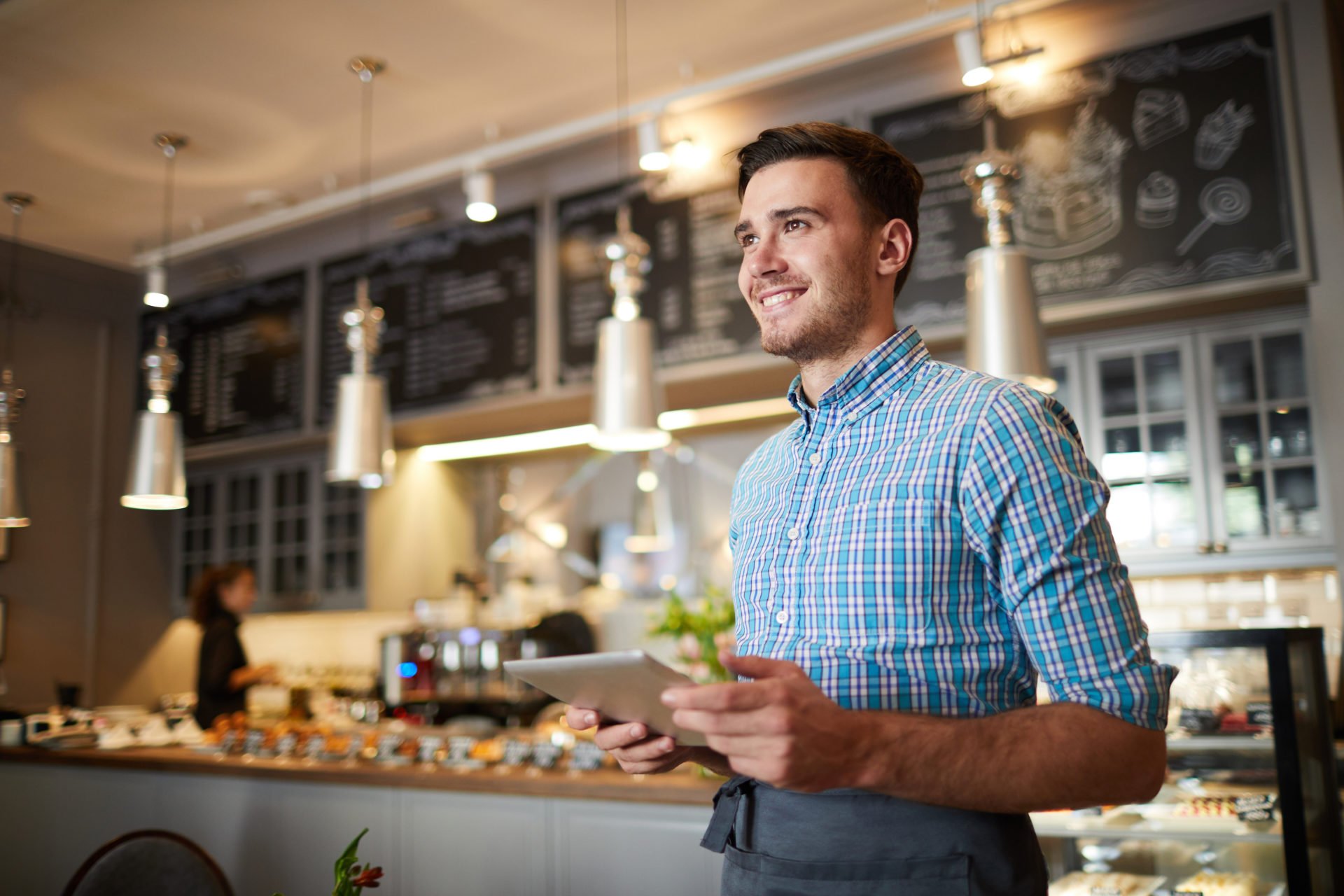 According to Deskless Workforce 2018, 80% of our global workforce are frontline.
That's more than 2.7 billion workers across the globe who are on their feet or in the field every day acting as your company steward.
These people are the deskless workers who have initial contact with your customers and are showcasing the products and services your company provides. They deliver the value, driving a compelling customer experience and have the power to turn your customers into advocates of your brand.
They cross a variety of industries from retail, manufacturing, hospitality to healthcare, transport and logistics. They are your task-orientated roles including customer services assistants, maintenance workers, healthcare workers, shop floor assistants…the list goes on.
Their first-hand contact with the customer puts them in a unique position to really make a difference with every interaction they have. This makes them an invaluable asset
This article focuses on how Microsoft Teams can transform the way organisations communicate and engage with their frontline workers, as well as some of the apps and features that can support them to operate more productively.
Challenges for our frontline workers
For years, communication professionals have struggled to engage the entire workforce, especially frontline workers who don't spend the day in front of a computer.
But with the digital revolution of the last twelve months, and the need to communicate with employees who are working from home, organisations have really stepped up a gear and started to introduce new ways to connect their entire workforce.
With shocking stats like 40% of employees experiencing burnout and stress due to Covid, 62% not knowing where to find information and 76% not feeling like they have the ability to provide intelligence or feedback to the corporate HQ, organisations really need to consider how they keep their people engaged and well-supported.
Reaching your frontline workers
If your organisation wasn't already undertaking a digital transformation, it's likely they are now. As businesses shut the doors to their offices, and kitchens became workspaces and bedrooms became boardrooms, organisations had to adapt to new ways of working. Many frontline workers have had to continue their work during the pandemic and it's unlikely they've had the opportunity to work from home.
Has the new digital tech that companies have introduced left frontline workers behind?
Organisations at the forefront of the digital transformation need to enable all of their people with the right technology and tools, including their frontline workers. Connectivity and collaboration are vital as we navigate through this digital revolution and that's why there's a movement underway to digitally empower people with tools like Microsoft Teams.
Teams for your frontline workers
Have you struggled to get messages to your frontline team? Share information in real-time? Hear their views and ideas? And have a space where you can collaborate, problem solve and work together? All of these issues and more can be solved through Microsoft Teams.
Microsoft Teams is your communications hub. Just as you can manage your emails, your diary, your contacts, create meetings, manage tasks and work with notes in Outlook, Teams takes a similar multi-feature approach.
Microsoft has worked hard to make Teams the one-stop-shop for collaboration, sharing and communication. Microsoft want to make it a seamless experience for employees utilising the entire O365 suite without having to leave the Teams application.
Teams has the added benefit of Microsoft certified, third party and customisable apps to really create a personalised employee experience. These include apps like Walkie Talkie, that turns your work telephone into a simple and secure instant voice communication device and the Tasks app where you can get all your 'to dos' in one place.
Now for a closer look…here are the features of Teams in a little more detail:
1. Targeting messages or to send company-wide comms.
With additional apps like Company Communicator you can send messages to the entire company or target a particular group. This is great for new initiative announcements such as employee onboarding, learning and development or company-wide broadcasts. It also provides analytics for how many people acknowledged or interacted with the message.
2. Holding video conferences or webinars with senior leaders.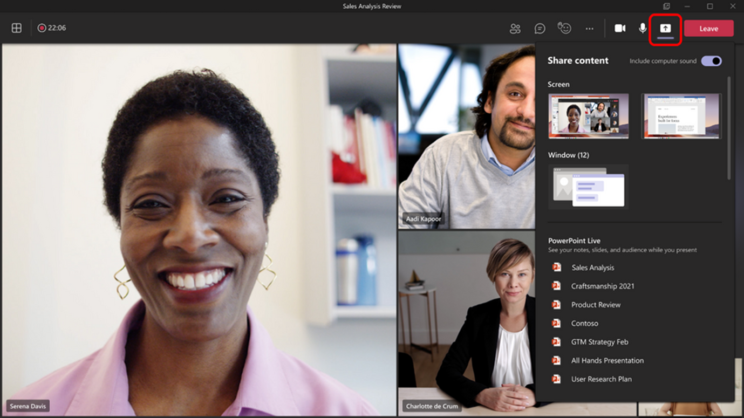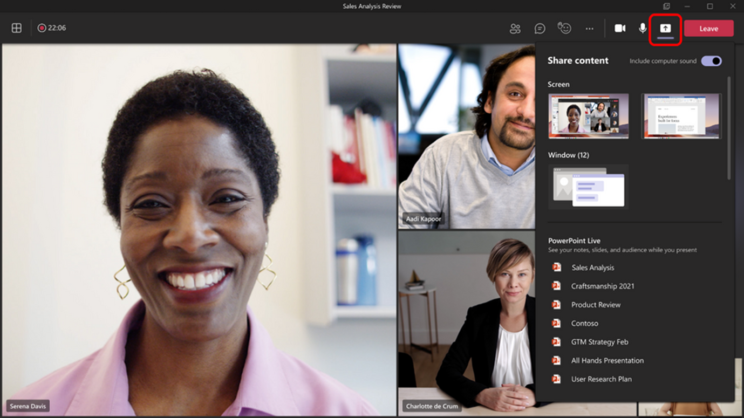 You can now have up to 300 people in a single video call making it a viable option for team or department meetings.
3. Asking quick questions or sharing thoughts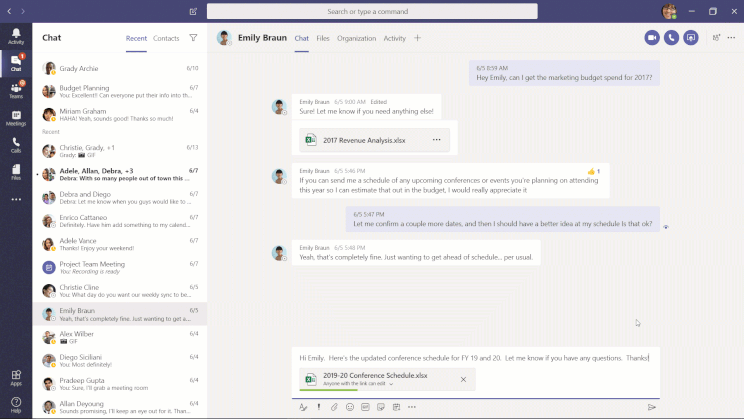 Ask questions and share thoughts with team members through the instant messaging function. You can send document links, emojis and gifs too!
4. Holding live events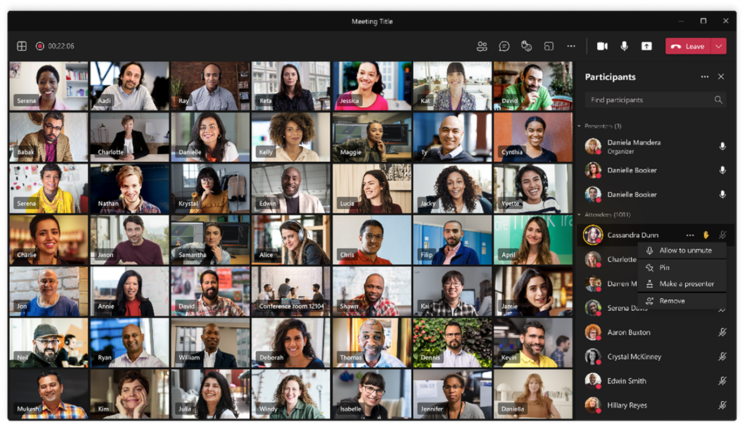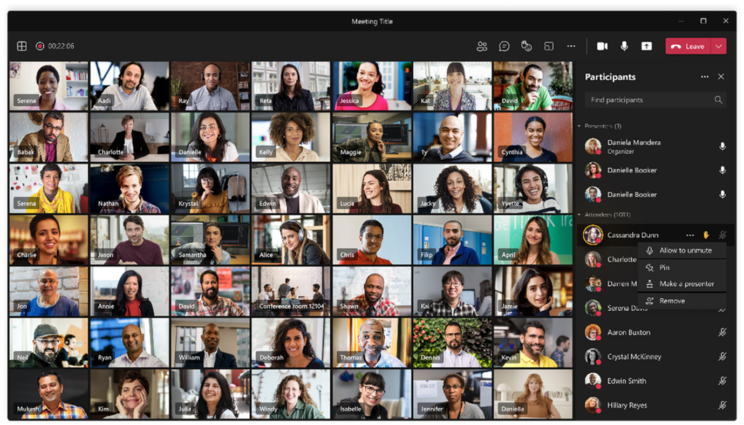 You can hold live events with up to 10,000 attendees. Meant for one-to-many events like conferences and Annual General Meetings (AGMs), they're the perfect opportunity to address your wider business.
Chat and collaborate
Microsoft Teams is all about connection and a major part of that is chatting with colleagues.
Chat is the core messaging functionality within Teams. When having a one-on-one chat you can message, call, screen share, and add other people to the conversation all from one place.
This is a fantastic tool for frontline workers to stay connected with dispersed colleagues or for managers to stay in touch with their teams out in the field. Giving truck drivers the power to stay in touch with their depot or shift workers a more appropriate time to handover so it's not rushed as one arrives and the other leaves.
It's instant so frontline can ask questions to colleagues and is simple and easy to use.
Read more about how to stay connected to colleagues using chat in our blog.
Task management
Knowing what's expected of you and by when goes a long way to staying productive. But also in having daily structure and deliverables. But how do you make sure your teams know what tasks they need to complete and what's the priority? How can you, as a manager, be confident those tasks have been completed?
Microsoft Tasks lets you create tasks centrally at the corporate level and publish those tasks to all locations or to specific audiences you define for your frontline teams such as size or type of department. This way frontline workers get clear, detailed directions from headquarters in the same app as the rest of the tools they need. They can drill down into task details and capture documents as proof of completion
For example, as a manager, you could send a task to certain warehouse locations to restock aisles 7-10 and attach a picture of how it should be done or send details of a breakdown to the recovery driver with the tasks they need to complete to get it back on the road.
Maximising value from your Office 365 investment relies on ensuring your users fully understand the features and benefits of all components of the applications available for use and how they can be best utilised to improve the way they work on a daily basis.
If you want to know more about how Microsoft Teams can help you reach and engage your frontline workers please contact us using the form below, or drop us an email at [email protected]
Share
Related Posts