The August Microsoft Teams update sees incredible enhancements to the chat feature, the introduction of the AI-focused app Typeface and even more opportunities for expression within a Teams meeting!
Microsoft are continuously improving the Teams we know and love, and we can't wait to make use of the updates being released this month.
So, let's see the best Teams updates from this August!
Animated Backgrounds
As we know, Microsoft Teams allows users to truly express themselves in meetings, offering customisations for backgrounds, audio and even the latest 'avatar' features.
Animated backgrounds let users replace their current background for a dynamic animation, giving a more in-depth and immersive meeting experience. You can tailor this virtual environment with multiple personalisation options to find a background that suits you.
To use an animated background, before a meeting starts on the pre-join screen simply select Effects and Avatars, and then Video Effects. From there you can select an animated background, found by the little video icon in the bottom-left corner of the preview screen. If you want to switch to an animated background during a meeting just click More, then Effects and Avatars, and then Select a Background.
To present your most authentic self in your next meeting, give animated backgrounds a try!
Chat Message Hover Menu
The hover menu has just received great updates to make it even more intuitive than ever!
When hovering over a chat message in Teams, alongside the usual emoji and reaction options, users will now see the reply button icon. This means you can quickly reply to a specific message you've received and make sure that your messages don't get mixed up!
Additionally, when you use the hover menu on a message you've sent, the edit icon will also now appear so you can easily make changes.
This August Teams Update is the key to getting important information, fast!
Compact Chat Updates
When you need to access key information quickly, try compact chat! Scanning your information to see the most important messages can help improve your productivity, letting you scan messages without getting distracted.
By switching to compact mode, automatic customisations appear that feature chat panes with time stamps, additional line breaks between messages and indicators showing who sent the message.
Compact mode also shows a compact chat list that hides the message preview content, letting you see more chats from the chat list.
This feature can be turned on by selecting Settings and More in the top-right corner of Teams, then selecting Settings and General. From there, go to Chat Density and select Compact.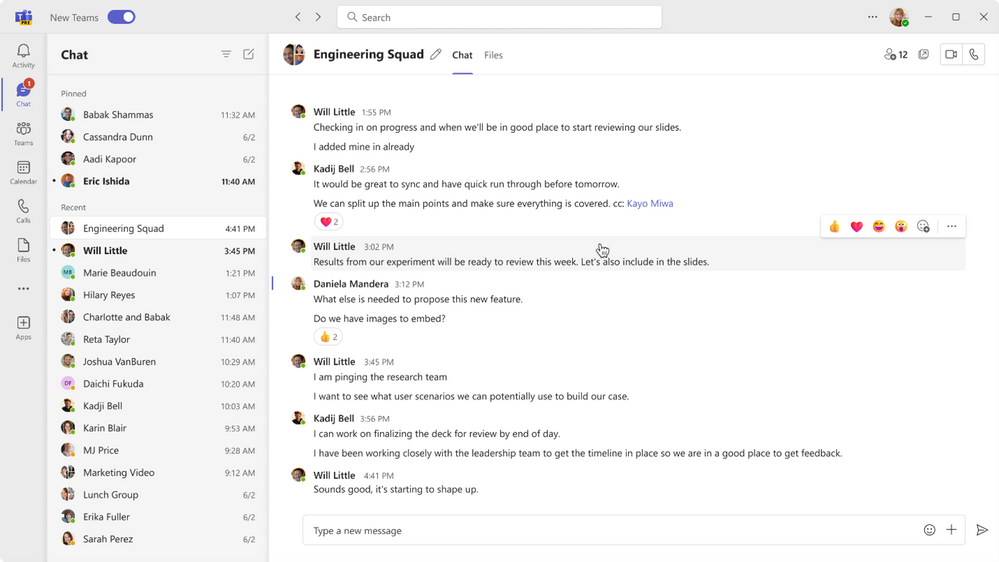 Task Lists in Microsoft Loop
Already one of the top tools for Microsoft-wide synchronisation, Loop becomes even more accessible in the August Teams update!
Tasks added to task lists in Loop components are now accessible in Microsoft Planner and To Do! Just edit your task list component from Outlook or Teams and your changes will sync across the apps, letting you stay on track with all your tasks!
Typeface
Want to create personalised, branded content at scale? Try Typeface!
Using the power of generative AI, Typeface can create blog posts, campaign briefs, ad images, meta tags and much more. The Typeface Teams app lets users brainstorm, generate content and share ideas within Teams to collaborate with colleagues using Typeface's advanced AI-based editing!
Typeface is your go-to tool for creating professional and personalised content right from within Teams!
So, there you have our top August Teams updates, which will you try?
If you're looking to get started with Teams, then look no further than Changing Social. As a Microsoft Gold Partner, we help organisations make the most of their Microsoft licencing. Whether you need custom-built apps, bespoke training, personalised adoption strategies and more – we do it all! To find out more, fill out the form below, or email us at [email protected]
Share
Related Posts