Now available in public preview, the new Microsoft Loop app is here! In one of their most collaborative platforms to date, Loop allows users to share and create together with ease.
If you're looking for a way to work in real-time with your team, then look no further than Loop! With three key essentials– components, pages and workspaces – Loop is the place for accessible creation.
So, let's learn about Loop!
Staying Organised with Loop
When working across multiple documents, files and platforms it can be hard to keep track of key pieces of work. To combat this, try using a Loop workspace!
Just create a workspace title, adding any other pertinent keywords, and Loop will suggest the most relevant files to add to your workspace. Choose from your documents and files, and organise all your work into easily visible pages within the workspace!
Loop workspaces are incredibly flexible, allowing you to tailor the space as your project evolves. Users can easily start new pages with pre-set templates, and drag and drop pages or blocks of content to shape your workspace to suit your needs.
The insert menu is integral to your workspace, helping you execute multiple functions with simple commands. Don't want to disrupt your flow? Simply type "/" to add a live date, label, emojis, images, checklists, images and more! You can also type "@" and select from the suggested files and people based on the context of what you're writing. With these easy commands you can quickly fix problems, approve decisions and contribute ideas!
Sharing With Your Team
Need to share one key part of your work with someone outside of your team, but not the whole thing? Loop has you covered!
Users can break down the content on a page, sharing only what's necessary to colleagues outside of your team. You can turn any type of content on a Loop page into a Loop component, then copy and paste that information across the Microsoft 365 apps. This includes Outlook, Teams chat, Whiteboard and will soon be available on Word for the web.
If you want to share more than a Loop component, you can also share entire pages as a live page or a link. This allows others to respond to you in real-time, whether they're editing the page in an email or in a Teams chat. Any changes to the page or component automatically update across all the places it's been shared.
Keeping Track of Progress
Collaborating with your team is always rewarding, but multiple people working on different things, it can be tricky to make sure you're all progressing towards your goal!
With features like custom labels and progress trackers, Loop keeps your team on track across multiple platforms. Tasks assigned within the Loop app and the task list components will sync across ToDo and Microsoft Planner, so you're always up-to-date with what needs doing. You can even praise, react and gently nudge your team with comments, nudges and reactions!
Loop helps you keep on top of ever-evolving projects, and gives you the tools to make sure your team are aligned with your targets.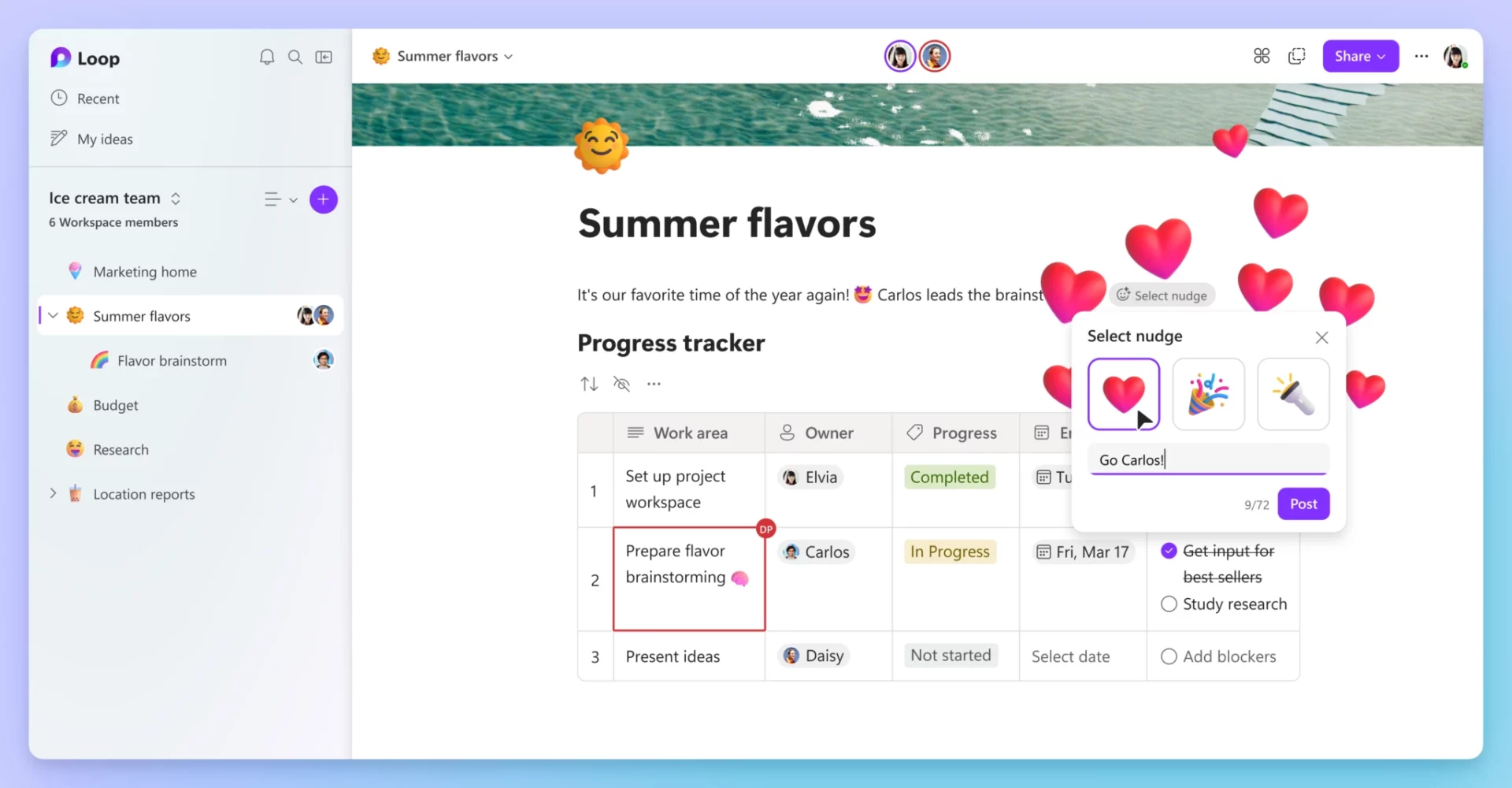 Tailoring Notifications for Loop
A dedicated notification feed helps updates on a project feel manageable and stops you from getting overwhelmed!
Keeping track of your assigned tasks, replies and mentions, the notification feed allows you to respond to pressing matters straightaway.
Just like the other M365 apps, you can control security and permission settings for Loop. Users can easily see who has access to certain pages and components, and where they've been shared to.
Additionally, you can find pages and components easily with the search function within the Loop app. As Loop is integrated with Microsoft365, you can set up a custom filter to search for Loop pages and components, letting you find what you need as quick as can be!
Access Your Work From Anywhere  
Work doesn't just happen when you're at your desk; be it your living room, your commute home or in the supermarket, the Loop app travels with you.
You can access all the necessary content from the Loop app on your mobile! The Loop app is your dedicated hub for working on the go. Move across workspaces and pages with simple icons that offer a visual map of your work, snap a quick photo that sparks an idea and add it straight into a workspace, continue to nurture and grow ideas when inspiration strikes – Loop lets you be creative wherever you are!
Copilot within Loop
After the recent announcement of Microsoft's exciting new AI-powered software Copilot, Loop will also become integrated with Copilot!
Users will receive smart, AI-generated suggestions to help ignite creation and collaboration in response to your simple prompts. Try typing "help me write a project proposal" or "turn these notes into action points" and see how Copilot can help! You can go back at any point to previous Copilot prompts, and add additional language to change and refine the output to use in the present.
Copilot can also summarise lengthy Loop pages, helping you extract the most important information from your work. These summaries are fully customisable, and users can edit them to add detail and context before sending them to others as Loop components.
Getting Started with Loop
As it's already in public preview, you can start using the Loop app today! Whether you'll be using Loop on the web, on your mobile or for your organisation, get collaborating!
If you want to increase collaboration within your organisation using Microsoft Loop, then let Changing Social help you! As one of the leading Microsoft consultancy firms, we help organisations make the most of their Microsoft licences. If you want to get started with digital transformation, Microsoft training, building apps in the Power Platform and more, then look no further than Changing Social! To find out more, fill in the form to the right, or email us at [email protected]
Share
Related Posts