Artificial Intelligence has experienced an exponential growth in recent months, leading to a boom in the production of AI-powered tools and software. Two of the top AI models that have been at the forefront of this revolution are Microsoft Copilot and ChatGPT.  
ChatGPT is often viewed as the catalyst for the recent AI explorations, amazing the market with it's responses to natural language prompts. Large language models (LLMs) have since become very popular, and one such piece of software is Microsoft Copilot. Viewed as your 'Copilot for work', it is a more comprehensive and robust AI tool. 
In this article, we will compare Copilot and ChatGPT, exploring their strengths and how they measure up against one another. 
Understanding Copilot
Copilot is an AI-powered assistant developed in collaboration between Microsoft and OpenAI. It integrates seamlessly with the other applications within the Microsoft 365 suite such as Outlook, Word, PowerPoint, OneDrive and more.
Copilot uses the Microsoft Graph to securely access your business data, and your information is never at risk. Powered by natural language prompts, Copilot can answer your questions, surface relevant content from your files and be the springboard for creativity. 
For more information on Microsoft Copilot, go here.
Understanding ChatGPT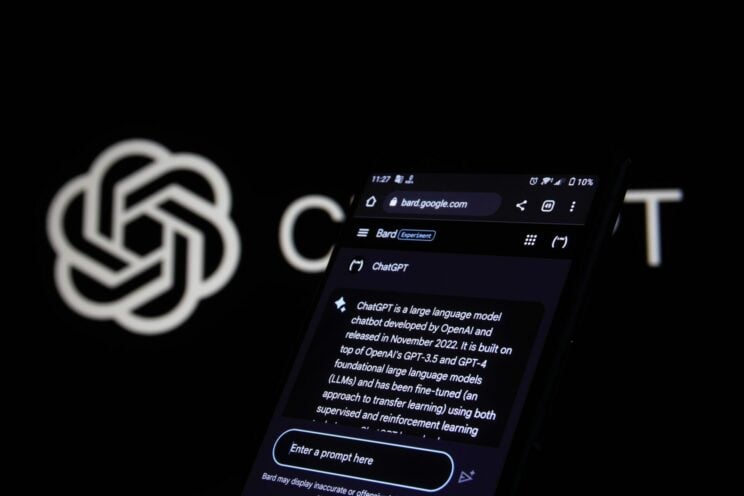 ChatGPT is a LLM solely created by OpenAI, and is designed for natural language understanding and generation. It truly shines when generating human-like text responses to your various prompts and questions. ChatGPT can also be integrated with a wide variety of third-party apps, but unlike Copilot this is not automatic, and would have to be configured by the user.  
For more information on Chat GPT, go here.
Comparing Copilot and ChatGPT
Use Cases 
Microsoft Copilot works across the Microsoft suite to provide support at every turn. Not only does it answer your questions, but it also acts as your dedicated assistant. From creating ai-generated images, drafting contracts, creating sleek presentations and more – the possibilities are endless!  
ChatGPT excels in tasks such as drafting emails, answering user queries, generating content and even in creative writing. ChatGPT's main focus is natural language communication and generation, and therefore cannot – at this moment – create image based content, or design presentation. 
We feel that Copilot pips ChatGPT to the post in this case, largely due to its incredibly versatile capabilities! 
Security 
One of the most common concerns when starting to use AI technology is around data security.  
Microsoft take their security controls very seriously, and adhere to both the 'Responsible AI Principles' and 'Responsible AI Standard'. Copilot access your data via the Microsoft Graph, which in itself is a secure platform, and you can further control Copilot's access by making sure your governance is tightly controlled.  
ChatGPT was created by the tech giant OpenAI, who take cybersecurity very seriously. ChatGPT was tested rigorously before its release to the public, and continues to go through testing to be able to answer current user demands.
It must be noted that when ChatGPT is used with other third-party apps it's security may be compromised, and users should be careful to share as little sensitive information as possible.  
To keep your data fully secure, we would choose Copilot. 
Conclusion
Microsoft Copilot and ChatGPT are both powerful and revolutionary AI models, with distinct applications and versatile capabilities. Copilot is your assistant throughout the Microsoft 365 suite and is a springboard for inspiration, while ChatGPT shines when generating human-like text responses and helping you present your best-self online.
Choosing between the two is entirely up to you, and what suits your organisation best. Ultimately, software like Copilot and ChatGPT represent how far we've come in the world of artificial technology, and what exciting things lie ahead!  
Share
Related Posts