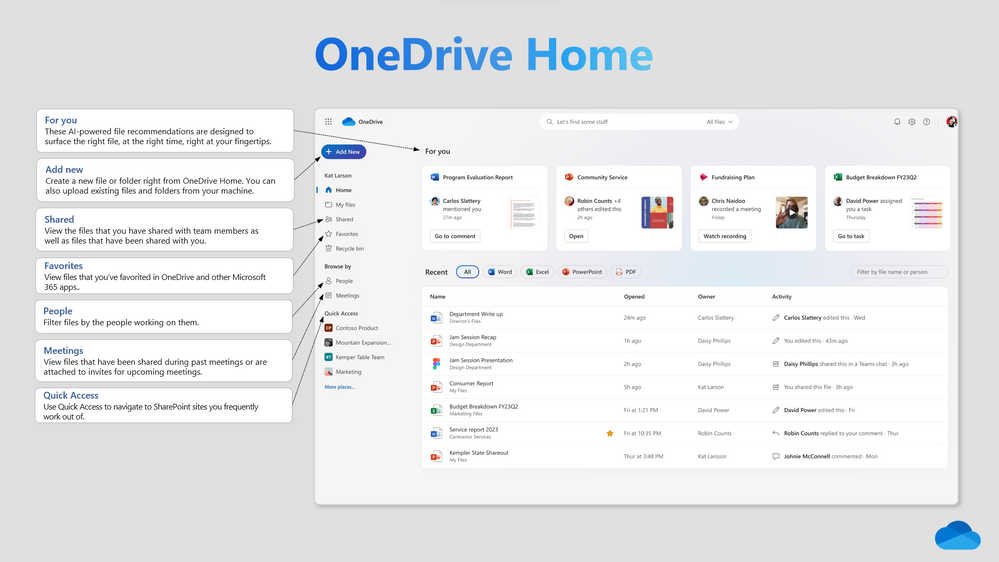 OneDrive is the file management platform we all know and trust, and now it's been enhanced to adapt to your needs like never before!
This new, incredible version of OneDrive brings your files to your fingertips, letting you work flexibly without sacrificing the information you need. Not only has OneDrive itself received this amazing update, but it will also work seamlessly across your favourite Microsoft 365 apps such as SharePoint, Teams and Outlook.
So, lets dive into the new era of OneDrive!
Flawless File Management
Sourcing your files has never been easier with the new OneDrive update! The re-designed home experience within OneDrive on the web makes finding your files much easier, and coupled with the new 'for you' section that uses AI-powered file recommendations – finding files is a breeze.
Three new OneDrive 'views' let you create a homepage that best suits you. Meetings view shows upcoming and previous meetings, along with any recordings and shared files so you can be prepared. People view gives you all the context you need when you can't remember the name of a file but you can remember who sent it; this view organises your files by the people you work with. Finally, any file that's been shared with you will now appear in shared view, creating a hub for all collaborative documents.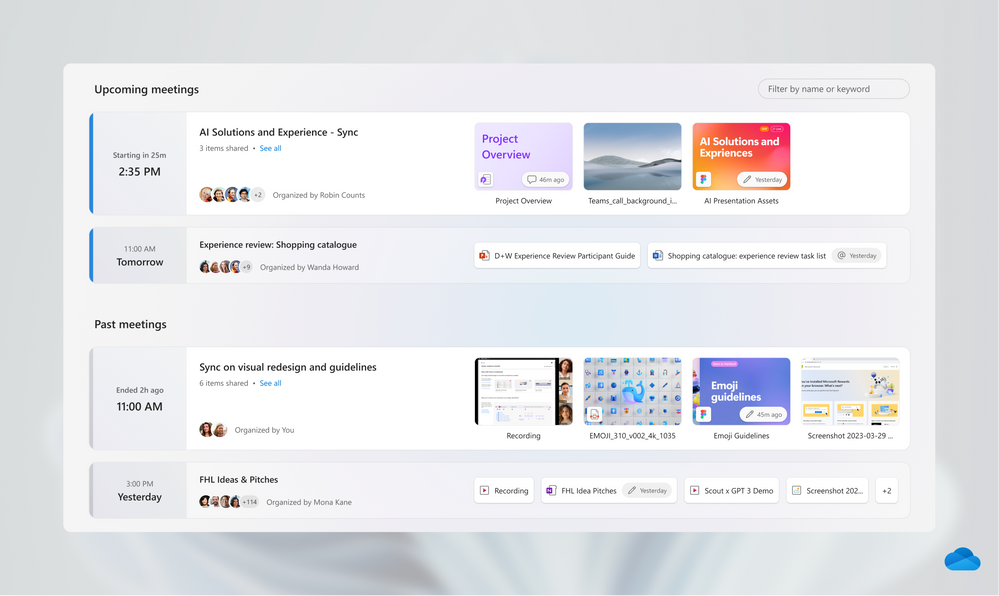 To further tailor your OneDrive experience to be the best for you, Microsoft have introduced a host of simple customisations to make your homepage perfect. Keeping track of your most important files is easy with the new favourites feature, allowing you to mark any files and access it from your favourites list across the Microsoft 365 apps. Additionally, you can create shortcuts to shared files and files in shared locations for quick, easy access.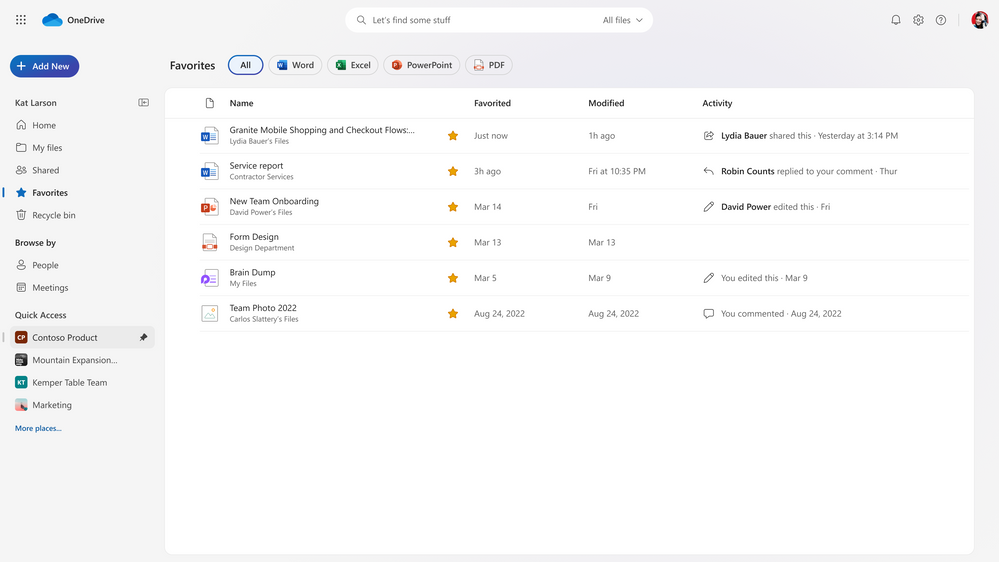 Coming Soon in OneDrive
Open in App
Just as you can open a Word, Excel or PowerPoint file within their desktop apps, you'll be able to do so and the changes will sync across to your OneDrive! You can now edit files like PDFs or CADs from right within OneDrive, seamlessly. This feature is expected to become available by December.
OneDrive in Teams
In December, the files app within Teams will now be updated to the new OneDrive Teams app. You'll be able to access all your files across OneDrive and SharePoint from your flow of work within Teams, bringing together the two powerhouse apps!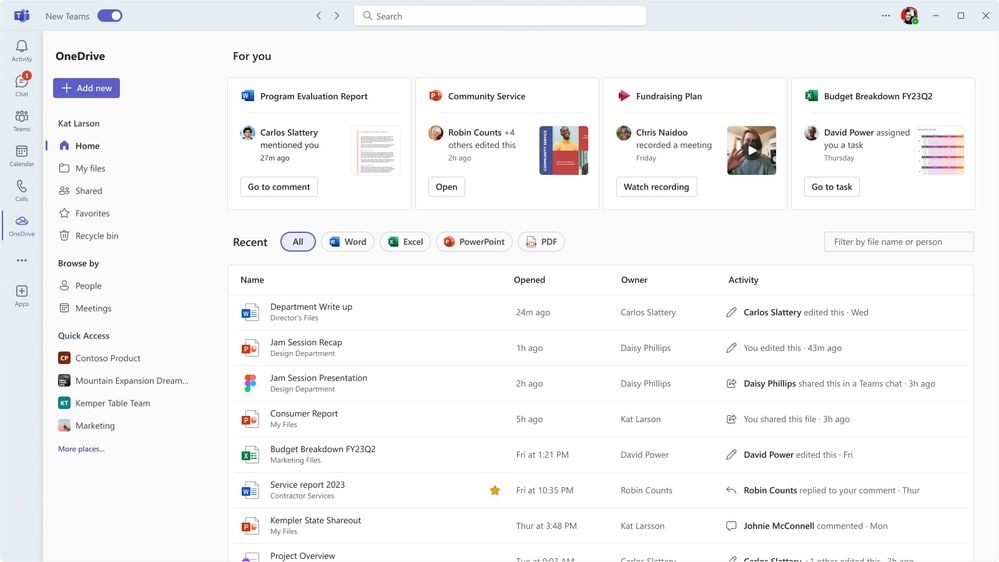 OneDrive in Outlook
Soon, the OneDrive app will be added to the left-hand navigation within the new Outlook for Windows and on the web. This allows you to copy a sharing link and add it to an email without ever needing to leave Outlook!
Offline Mode
We know that working from anywhere is vital in today's world, and internet access is often a barrier to that. Now, the new OneDrive allows you to access and work on your files within a browser, even when you're offline. When you get back online, all your changes will automatically be synced back across to your OneDrive! This feature is expected to be available in early 2024.
Copilot in OneDrive
Becoming available in December, Copilot will be your ultimate assistant in OneDrive! For example, when you want to share files with others, Copilot understands the necessity of context. Copilot will generate a summary of the content of the file to be included with the sharing link, making sure everyone is up-to-date! Additionally, Copilot will create a short summary – akin to a daily digest – to show any changes to files, new files shared, comments and more!
The natural language search that Copilot runs off is your best tool in staying ahead of your work, and being the most organised you can be! Imagine you've just started working on a project and you need to get updated quickly – that's where a Copilot search comes in. Once Copilot has found the relevant files, it can add them to a new folder and recommend other files related to the project that might also be helpful. Jumping into projects has never been as easy!
And that's the new OneDrive! We're loving the new capabilities, and we hope you will too? If you're looking for help in making the most out of OneDrive, then look no further than Changing Social! As a top Microsoft Gold Partner, we're here to help you with all things Microsoft related! To find out more, fill out the form below, or email us at [email protected]
Share
Related Posts