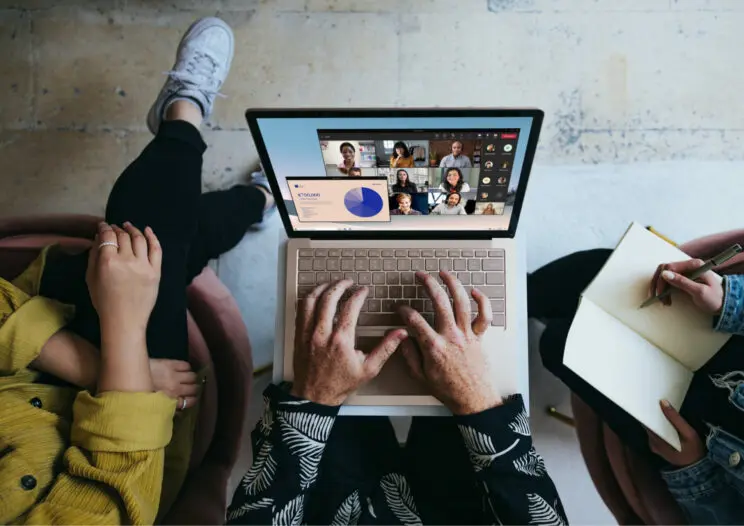 The Microsoft Teams October update is here, and we're super thrilled to share Microsoft's new integrations, awesome announcements and new features.
We know you're busy—so let's get right to it!
Pop out shared content into a separate window
This new feature is designed for individuals who want to be able to easily share content from within a meeting without interrupting their current task or workflow.
You can now open the shared content in a separate window by selecting 'Open in new window' from the sharing menu.
The new window will open on top of your current window but will not be pinned there; you can move them around as needed. This feature also works with voice calls so that you can continue chatting while watching the shared content.
Assign seats in Together mode
We've got a great new feature for you: now you can assign seats to participants in Together mode!
If you're an organiser or presenter, you'll be able to see all of your participants' avatars in their seats. You can even move them around the room if they aren't where you want them to be.
Microsoft hope's this makes virtual meetings feel more like face-to-face ones.
Detailed call history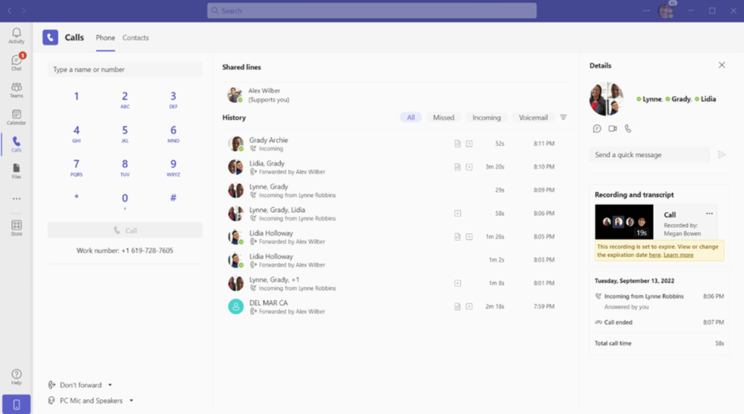 We know you're busy, and sometimes it's hard to keep track of all of your calls.
That's why Microsoft have made it easier for you to see the big picture with the new call history feature. Now, when you open a call detail screen, you'll see a complete list of all incoming, outgoing, transferred, and forwarded calls—including when they were made and how they were controlled once received.
With this detailed call history combined with the ability to access call recordings and transcriptions from within call details, you can get a more comprehensive view of your calls that will help you be efficient and productive!
Microsoft 365 connected templates
You can now create a new team from any SharePoint site template and still have the team management apps applied to it.
The Manage a Project template is the first example that combines the best of Microsoft Teams templates with SharePoint site templates. When you create a new team using the Manage a Project template, the project management channels and apps, and the connected SharePoint template gets applied automatically.
Adobe PDF experience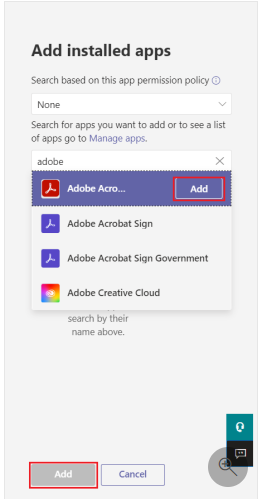 Have you ever had to send a PDF to a team member, only to have them respond with "Hey, is there an easier way to view and edit this?"
Well, now there is!
Adobe Acrobat is now available as the default app for viewing and editing PDF files within Microsoft Teams. You can set up your tenant admin account as the default app and let end-users view, search, comment and annotate PDF files without an Adobe ID or subscription.
This feature is in public preview right now, so if you'd like to try it out, just follow these steps:
-Go to Settings > Apps > Default apps (under Admin).
-Click on the '+' icon at the top of the page.
-Choose Adobe Acrobat Reader DC from the list of apps that pops up.
Learn how to set up Adobe Acrobat as the default app.
Suggested Replies in Group Chat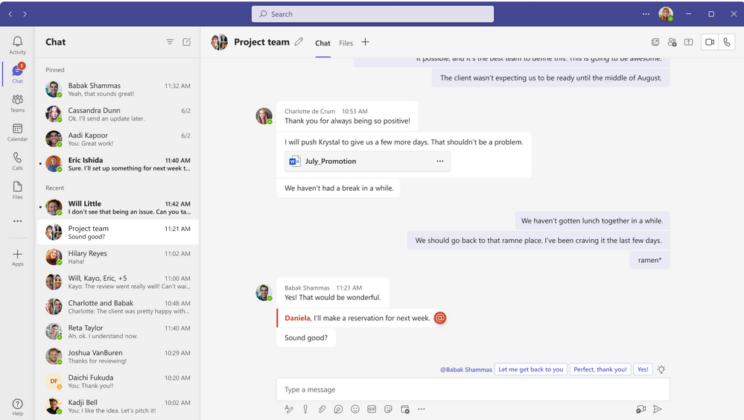 When you're in a group chat, you often have to write the same response over and over again. Sometimes you just don't have time to type out all those words!
Microsoft has the solution: Suggested Replies. Now whenever someone sends you a message, one click is all it takes to send them your most-used responses. So if they say "What's up?" you can reply with "I'm good" or "Not much," or whatever else is most relevant to that moment.
Video clip
With Video clips you'll be able to easily create short, lightweight video clips that allow you to express yourself and deliver a more personal touch.
You can share these videos directly in chat with someone, or even just send them as regular messages. The recipient will be able to easily reply with a chat message or a video clip of their own.
This feature will be generally available on desktop before the end of the year and will be in public preview on mobile by then as well.
We hope you love it as much as we do!
Teams calendar now includes scheduling form pop-outs
You can now pop-out an existing meeting in your Teams calendar!
If you're a user of the Teams calendar you'll know that it looks like to schedule a meeting.
What Microsoft have done is add a little pop-up icon so that when you click on it, your existing meeting will pop out into its own window.
So instead of having one big window where all your meetings are visible at once, now each meeting has its own window where it's still viewable while creating another one!
This feature will allow users to view multiple meetings in separate windows while also being able to check their chats or edit their files without the need to switch apps.
Keeping it Evergreen
Would you like to know more about the Microsoft Teams October update? Or are you interested in keeping your organisation up to date with everything Microsoft 365? Then we have the service for you.
Changing Social's monthly evergreen update service takes the time, administration and hassle out of staying up to date and utilising Microsoft's latest features.
From feature set development to brand new functions, let Changing Social trawl the updates and package the information and present it back to you monthly.
We even offer prepared and templated communications for you to distribute across your organisation informing others of the change.
For more information on our brand new Evergreen Service, fill out the form below or send an email to [email protected]
Share
Related Posts