Microsoft says that both Microsoft Planner and Project can be used for project management for those with small or large business needs.
Both these products are competent, but each has different strengths (and weaknesses), and only one has a free, albeit basic, version available.
So, which one is right for you and your business?
History
Microsoft Project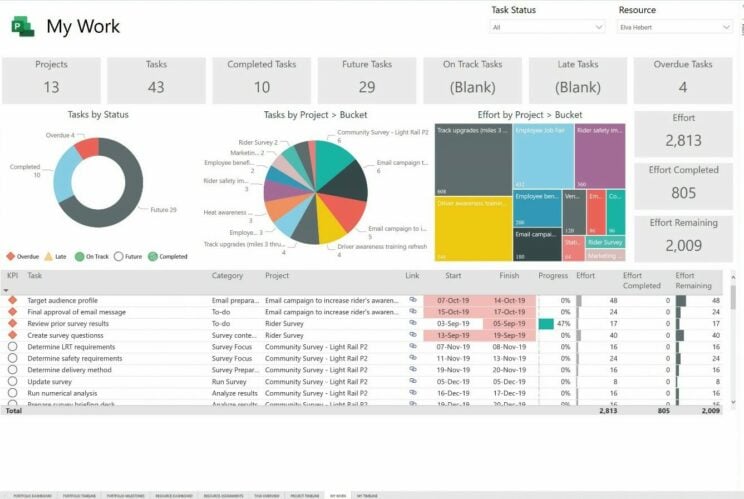 Microsoft Project has been a mainstay of the Office family for as long as most people can remember. Although it has never been included in any of the Office 365 suites and Microsoft Project has always been sold separately. The first version was released 38 years ago (at the time of writing) as a DOS application.
Widely regarded as the 'gold-standard' of project management software, it's a bit of a "sledgehammer to crack a nut" for many people. However, its integration with other Microsoft products might make it attractive, depending on your use case.
There's no free version, although you can try the online version for 30 days but
With numerous features and a steep learning curve, many business cases would benefit from a less intense product.
Microsoft Planner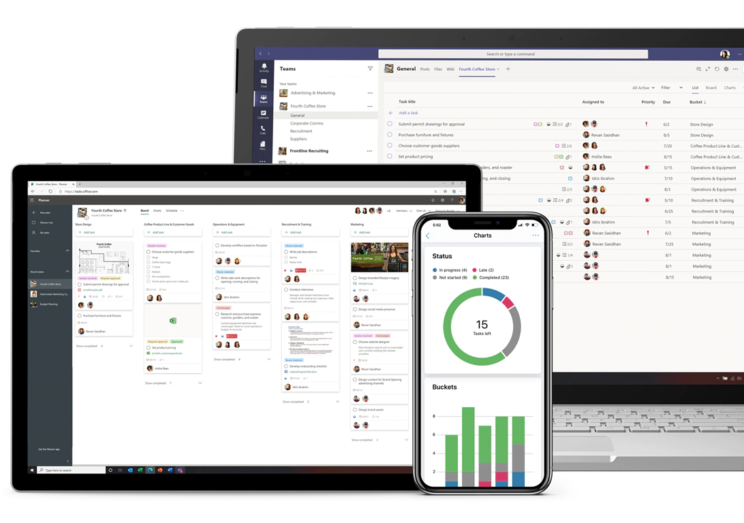 Microsoft Planner is an online tool that even offers a free version named Microsoft Planner Basic. This version is perfect for those new to project management who want a less daunting introduction to its benefits. It was first released in 2016 and the application is available to premium, business, and educational subscribers to Microsoft 365. It can be downloaded online and is available via the Apple App store and the Google Play store.
Interface
Any software only makes you productive if you can a) find what you need and b) use it effectively. The interface is the most significant part of this.
Microsoft Project
Project's interface instantly shows its complexity because it allows users to manage massive projects. Despite using wizards, templates, and prompts, it still feels like you must have studied project management in depth to make it useful.
Microsoft Planner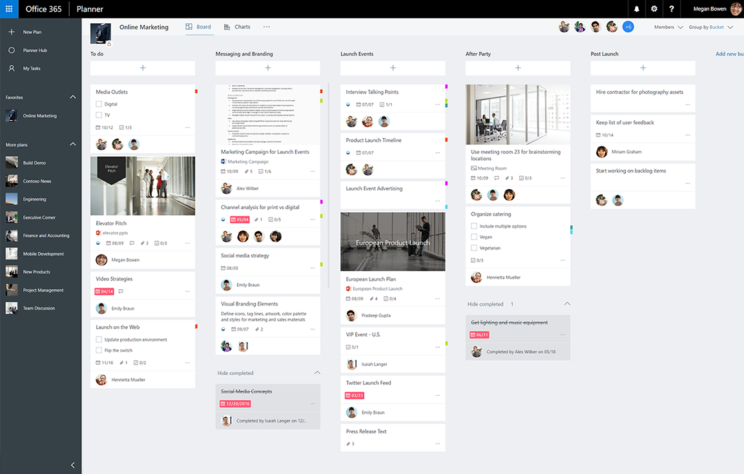 The interface is easy on the eyes, making it simple to manage tasks and get things done. It feels clean and uncluttered. The Planner Hub is your friend, and it will be the first thing you see
Microsoft Planner vs Project – in action
Unlike Project, Planner has mobile versions for iOS and Android devices – handy for people who need to manage information when they're out and about. Both products have online versions as part of M365 (formerly Office 365), so in a tight spot, you COULD use Project over the web if you weren't at your desk, but it won't offer you some of the desktop experience.
Planner relies on a system using boards, buckets, and cards to hold your tasks.
Boards give you an overview of the current plan; within that board, you have groups of tasks, aka buckets.  Your buckets can be called whatever you like: 'Not started', 'In Progress' and 'Completed', for example.
Within the bucket, you'd have individual tasks.
Having created your tasks, you can drill down to enter the detail, as much or as little as you like – including allocating the task to a co-worker.  The process is intuitive and somewhat satisfying because you don't have to fight to find your way around to achieve results quickly.
One of the nicest features is the easy access to charts offering a wealth of statistics about what has and hasn't been done, plus an overview of the plan schedule. Finally, some sharing options include Excel, Outlook or creating a Notebook in OneNote.  If you have access to SharePoint, then Planner becomes even more useful because you can make plan websites where everything can be accessed in one place.
It seems that if you need to work while on the move, in the battle between Microsoft Planner and Microsoft Project, there's only one clear winner: Planner, which is purely down to the availability of native mobile apps. The interface in Planner is much nicer. Project, if you look hard enough and for all its power, shows its heritage.
Collaboration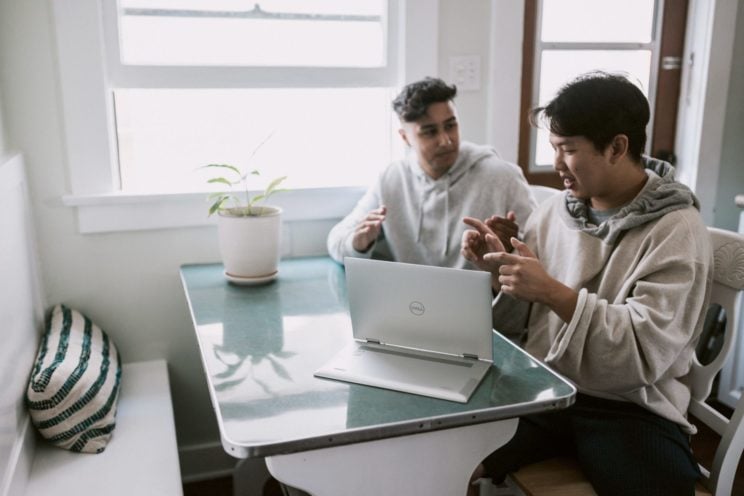 In this round of Project vs Planner, the big hitter wins.
Microsoft Project can aid in working together in many ways, especially as it's so tightly integrated with its Office siblings like Outlook, Teams, Skype, and others to make achieving complex goals easier.
Collaboration isn't the forte of Planner – but it was never intended to be.
If you need that level of functionality, then you'd already be considering Project rather than Planner.
That said, Microsoft Planner offers some form of sharing, and if you don't need to work that closely with your team or don't need the hassle, then Microsoft Planner is for you.
Support for Project Management Methodologies
The short answer here is that if you need to adopt a formal methodology for your project other than Waterfall, for example, Project is your go-to. However, as discussed earlier, if you knew that an Agile methodology was what you needed, you probably wouldn't be looking at Planner as your tool of choice.
There's a lot to love about Planner for a simple top-down process because its simplicity allows you to work without getting too bogged down in all the software's options.
Price
You can't get better than free, so if only for that reason and your budget is a little tight, then Microsoft Planner wins. As with most things, though, there will be a trade-off because you get what you pay for. For most, it will be a very worthwhile investment going for the much more modern Microsoft Planner.
Conclusion
So, in the battle of Microsoft Project vs Microsoft Planner, who wins? Which should you choose?
Of course, you can switch between the two products depending on your needs – but the short answer is it depends on what your requirements are at the time but;
for ease of use,
availability of mobile app versions
simplicity
having the option of a free version
a pleasantly intuitive interface
You won't need anything more than Microsoft Planner for most smaller teams, businesses, or individuals.
Get in touch
For more articles like Microsoft planner vs project or to understand more about the Microsoft 365 applications Changing Social specialises in Microsoft Adoption, Implementation and Change Management. We work with our clients to help them adopt Microsoft 365 in days, not months. If you would like to find out more about our services or receive training on Microsoft 365 please get in touch via the form below or email us at [email protected]
Share
Related Posts