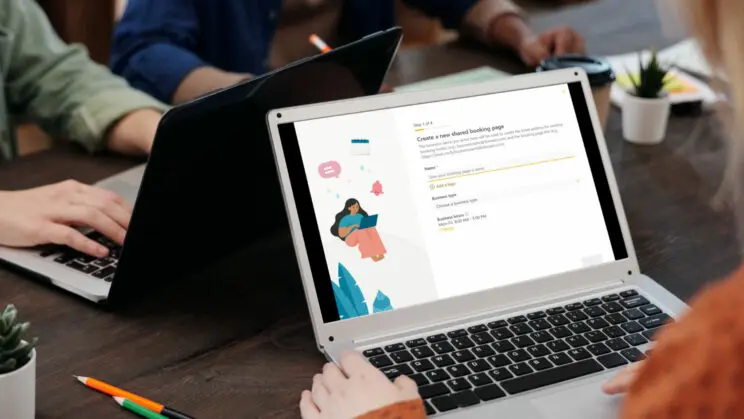 Why Microsoft Bookings for your business?
Microsoft Bookings is suitable for all service-based businesses, whether you're a law firm, hair salon, doctor or consultancy firm. If you're a business that provides services to customers on an appointment basis, Bookings is the tool you need to help organise, schedule and manage appointments effortlessly. Previously, managing and scheduling bookings took endless hours of spreadsheets, emails and phone calls. With Microsoft Bookings you can keep your, and your staff's schedules organised and up to date, and receive appointment bookings around the clock with minimal admin. You don't even have to be in the office, as it's fully accessible on all devices so that you can work from home or whilst you're on the go. With a customisable web page, you can keep your bookings in line with your company branding and allow customers to book appointments at any time, ultimately bringing in business 24/7. 
When customers book appointments through Microsoft Bookings, both the customer and your employees receive an automated email of confirmation, as well as reminders of the appointment made. It's also easy for customers to cancel or reschedule appointments without having to phone you, and you can set suitable advanced notice for any cancellations. Handy, right? Bookings is an efficient tool to keep you and your team organised with just a few clicks. What's not to love? 
What is Microsoft Bookings?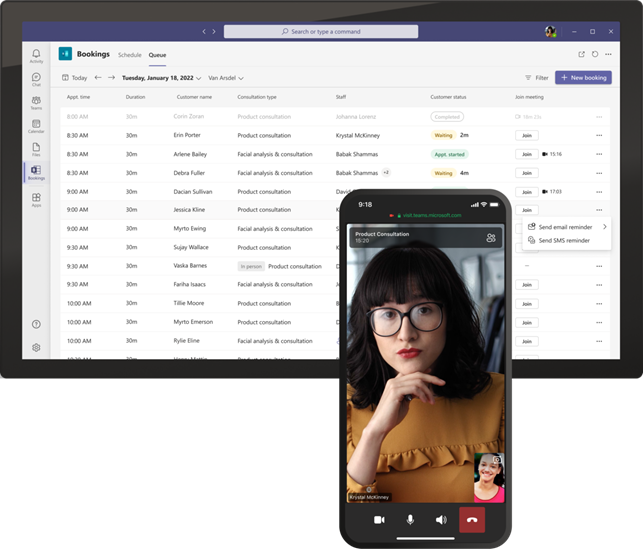 Microsoft Bookings is an app within Office 365 that helps make scheduling and managing appointments efficient. With Bookings, you can organise your staff's calendars with the integration with Outlook and manage day-to-day schedules within the Bookings app in Microsoft Teams.  
Microsoft Bookings includes a Web-based booking calendar that allows customers to book a time for your services that suits their schedules; they will receive automated confirmation and reminder emails regarding their booking. You can also hold virtual appointments via Teams, and attendees can access the virtual appointment by phone or desktop either from the confirmation email of the appointment or via a text reminder. 
How Does Microsoft Bookings Works?
Microsoft Bookings works in two ways: customers book their own appointments via the web page, or your staff can manually enter booking information. 
If customers are booking their own appointments, they will access your booking web page to select the service, book a day and time you or a staff member have availability for, and then finalise the booking by entering their contact information. Shortly after booking, they will receive a confirmation that includes the booking details and links to either cancel or change the booking should they need to. Once the booking has been made, your staff will have it automatically added to their calendars. 
The Microsoft Bookings web page can be used as a standalone page, or it can be embedded into your company website. You will be able to access the backend of Bookings to view and manage appointments, staff lists, services, pricing, and schedules. Microsoft Bookings is accessible on all devices, meaning you can track and manage your appointments on the go, making everything simple and convenient. 
If you're manually creating a booking, you can start by creating an appointment type and a confirmation message that attendees will receive once the booking is confirmed. You can allow the attendees to access the booking via a mobile device if it's a virtual appointment.
When should you use Microsoft Bookings?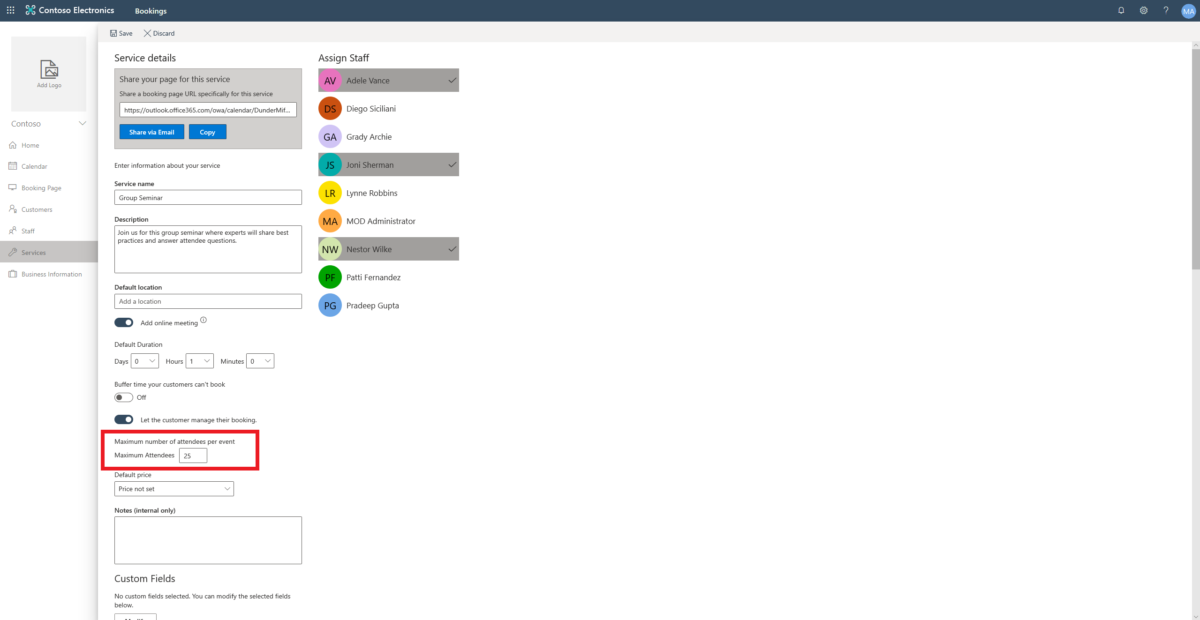 Microsoft Bookings is suitable for businesses of all sizes and in all sorts of sectors. Let's give you a few examples of when you should use Bookings to suit your business. 
HR Departments: you can use Microsoft Bookings to conduct interviews, onboard new staff, and provide any training the staff may need. 
Education: If you provide school counselling for students, parents evenings, and tutoring, you can do virtual appointments using Microsoft Bookings and Teams. 
Design Companies: Initial client introductions and updates on projects. 
Healthcare: Patient visits, Doctor-Patient calls or video consults. 
Financial Services: Consultations and tax filings. 
Retail: Service appointments, assisted shopping, or supplier meetings.
Bookings is the perfect tool to declutter your desk from post-its and calendars, and provides an all-in-one access point for staff schedules, work hours, and availability. It organises all of your appointments, with fully automated email reminders for both staff and customers, so you don't have to worry about a thing. It also enables flexibility in the workplace for those who participate in hybrid or remote working.
Where is Microsoft Bookings Data stored?
All the data that comes through your Microsoft Bookings is stored within the Microsoft 365 platform and Exchange. All apps within Microsoft 365 follow the same policies, ensuring that all data is safe, secure and compliant. The Bookings app uses shared mailboxes in Exchange to store all of your customer, staff, appointment and service details in one safe and secure place. 
Is Microsoft Bookings Free?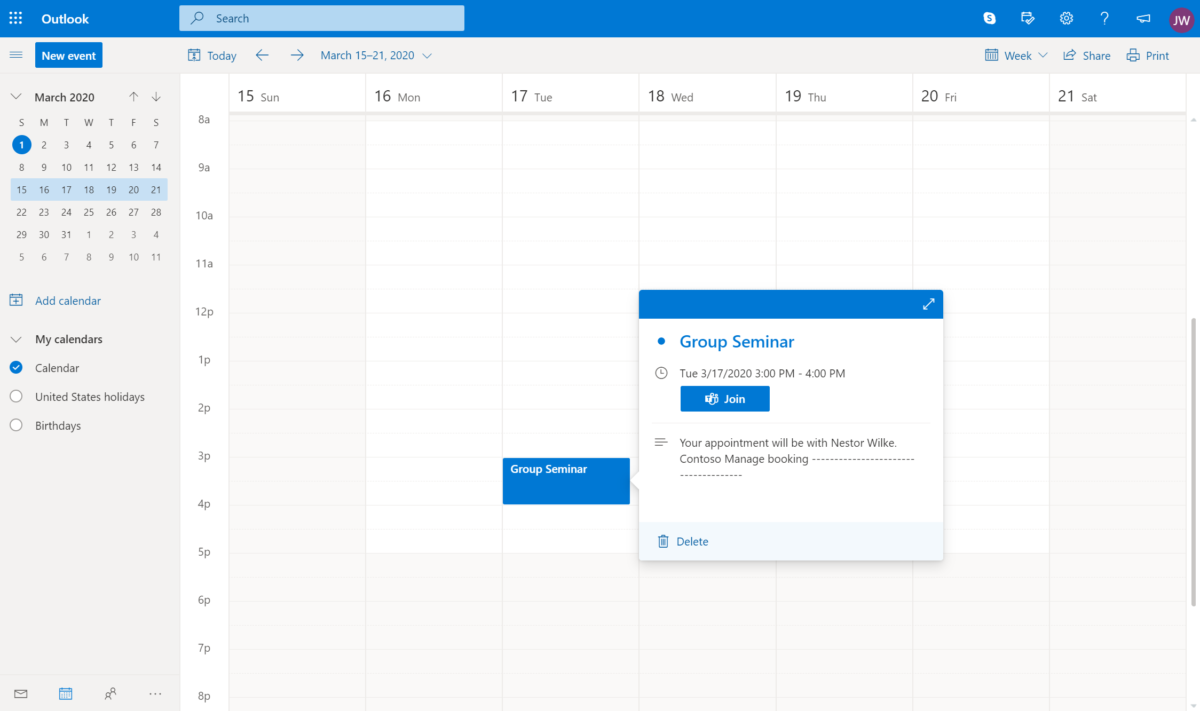 Microsoft Bookings isn't a standalone app; you can, however, purchase a Microsoft 365 business premium or business standard plan. Currently, at £16.60 per month per user, the Microsoft 365 business premium includes all Microsoft apps, including Microsoft Bookings, for you to use and has everything you need. If you already have the Microsoft business premium or business standard plans, then Bookings is already in your plan; you can start implementing it within your business straightaway. You can also download the mobile app so you can access everything you need, no matter where you are or what you're doing.
Why should you use Microsoft Bookings?
Microsoft Bookings is an easy-to-implement app within the Microsoft 365 stratosphere, allowing you to keep all your business dealings in one place. With easy integration to Teams, Outlook and other Microsoft products, you'll find that it will boost your company's efficiency and productivity.
Like many platforms,  Microsoft Bookings has been accelerated due to the pandemic over the last few years, which resulted in working from home and hybrid working, making these platforms a sought-after tool to enable flexibility in the workplace whilst keeping business needs a priority. 
If you're already in the world of Microsoft, choosing Bookings is the most logical choice, as it's convenient and more cost-effective due to its compatibility with other Microsoft products and services. 
To learn more about Bookings, and all the other apps in the Microsoft365 suite, please get in touch! For teams training, change management and Microsoft updates, fill in the form below or email us at [email protected]
Share
Related Posts