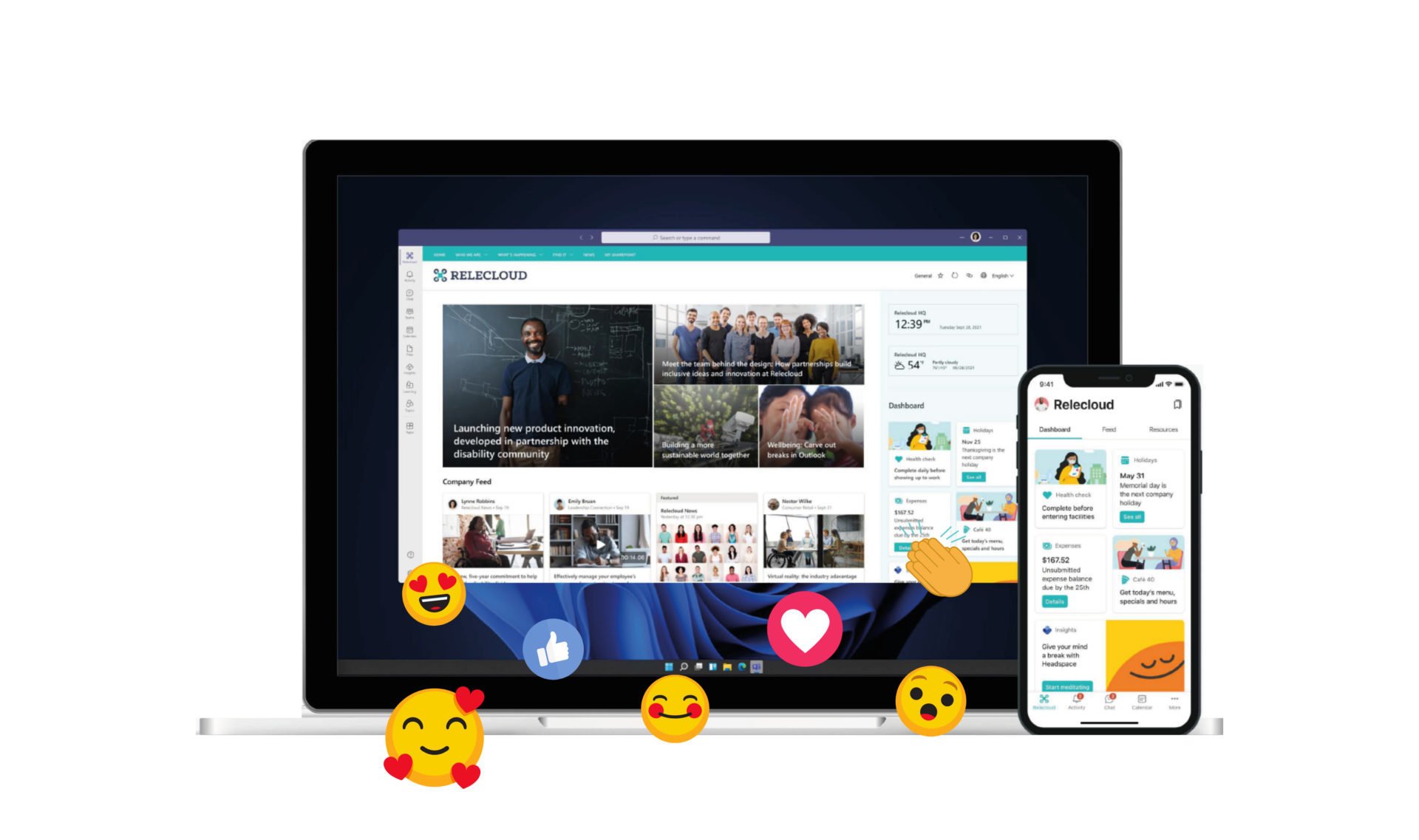 Everyone wants to ensure they get the best out of their employees, right? And employees want to have the best employee experience tools available to them to make sure they feel prepared, organised and happy in the workplace – whether working from home or in the office.  
If employee experience is not high on the priority list, it can lead to lower motivation and confidence, which can in turn affect work.  
Some of the best employee experience tools include: 
Delivering excellent communication – use Microsoft apps! 
Focusing on employees and their

wellbeing

  
Promoting

diversity and inclusion

 

Providing meaningful work – encouraging autonomy and creating great teams 

Ensuring management is supportive, offering feedback and coaching 

Creating a positive work environment to increase productivity, health and job satisfaction 

Offering growth opportunities 

Cultivating trust in leadership – be honest, transparent and inspiring 

Using the right tools – Microsoft community apps for example 
Some of these tools, like Yammer, SharePoint and Microsoft Viva can aid your organisation in boosting both communications and wellbeing. Read on to find out more…
Yammer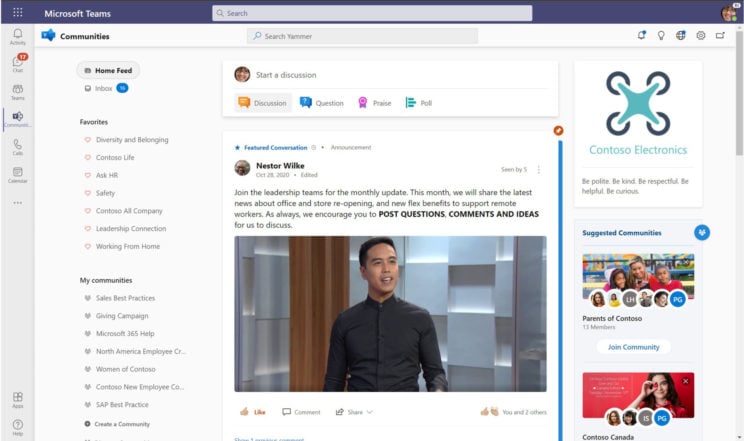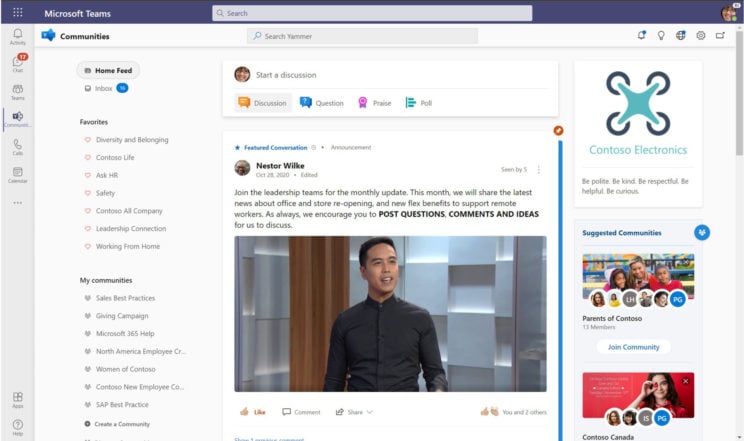 Yammer is a social media app for your internal communications. It is a great way to garner employee engagement and connect with one another. It can be used via the app, on a browser or within Teams, SharePoint and Outlook. 
Building communities of interest – for instance, music, tv, gaming and even dogs, or simply related to business tactics and goals – or gather ideas and feedback to keep everyone informed, aligned and moving forward. Why not ask questions or run a poll? It's a quick and easy way to gather information or start a conversation with co-workers. 
The home feed lets you stay on top of what matters, tap into others' knowledge and build on existing work. Praise allows you to celebrate the successes of individuals or teams, or simply say thank you to someone. And why not hold a virtual event where your community can ask questions, participate live or catch up with afterwards via a recording? 
Bring all staff together for a positive experience across the organisation, all via social media.  
SharePoint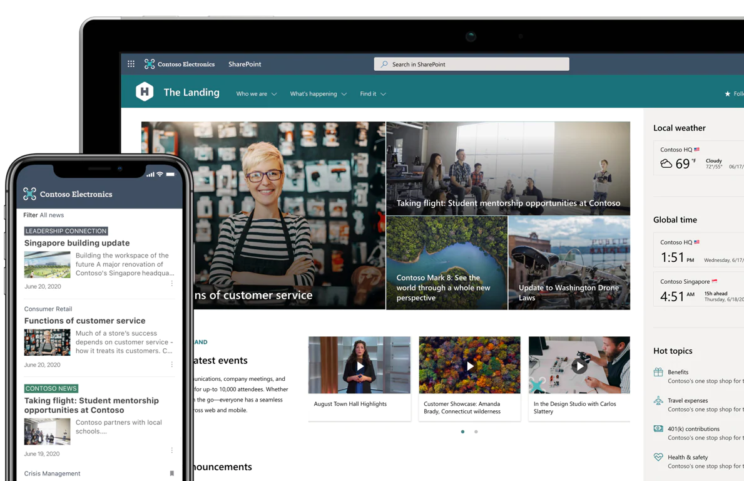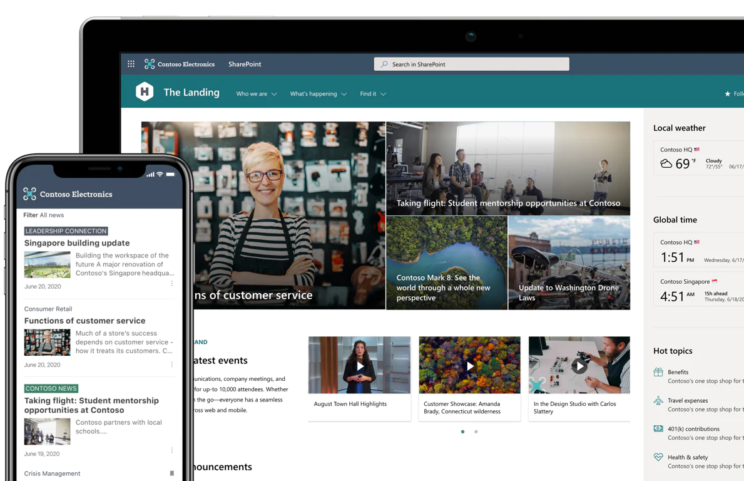 SharePoint is your internal website that can be built out to whatever requirements you need – you can customise it to suit your organisation and intentions. 
With SharePoint, you can share and manage content, knowledge, and applications to empower teamwork, quickly find information, and seamlessly collaborate across the organisation. 
Dynamic and productive team sites can be created for any team, department or division which allows for file sharing, data, news and resources, as well as easy collaboration with one another. 
The SharePoint mobile apps ensure all employees can access content from anywhere, making their experience with work smooth and straightforward, ensure work is easy to find and that the relevant colleagues they need to be in contact with can be found.  
Microsoft Viva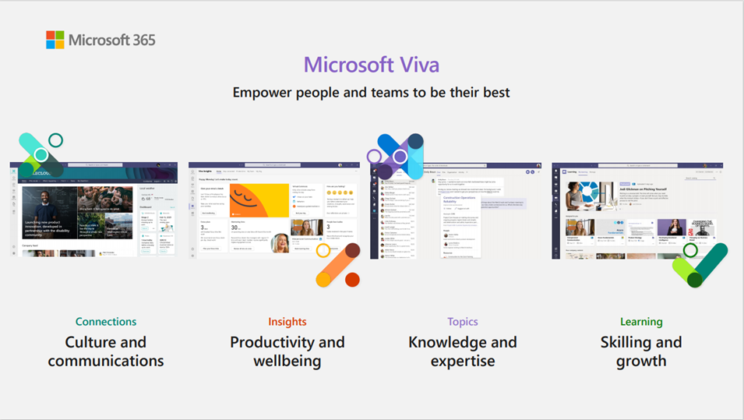 Launching very soon, Microsoft Viva will be the prefect collaborative software as it reimagines the employee experience and includes Viva Connections, Viva Topics, Viva Learning & Viva Insights. Viva Connections builds on SharePoint, allowing organisations to integrate their dashboard and relevant apps into Teams. 
Each individual's Viva Connections will be personalised to them, providing the best employee engagement tools as only relevant information, news, tasks and updates will appear.  
Want to find out more about Microsoft's apps and how they can boost employee engagement? Considering transferring to Viva and want to know more about our other employee experience tools? Contact us at [email protected] or fill in the form below.  

Share
Related Posts