In the hybrid world, every business is looking to ensure that their business is as efficient and profitable as possible, whilst also keeping employee experience at the forefront. Microsoft's Business Process Automation Services can help with this, so read on to explore more about what it means and the different ways to automate business activities.
What are business process automation services?
Business Process Automation consists of utilising software applications to automate repeatable business activities and services. This will improve the accuracy, efficiency, visibility and compliance of processes within an organisation by eliminating the need for workers to manually perform these tasks. Thus, the risk of error is reduced.
This can ensure workflows are more cost-efficient, streamlined and transparent. It can be done alone or as part of the overarching business process.
Microsoft 365 has built in software that allows an organisation to explore business process automation services and put relevant ones in place – both simple and complex.
Microsoft Viva

With Microsoft's new employee experience software, Viva, businesses can automate certain processes with ease, in particular thanks to built-in AI. For instance, Viva Topics utilises AI to provide information on certain terminology, offering definitions, further information, documents and organisation specialists who can provide further information. Topics' AI searches the system for you and builds out wiki cards so you don't have to.
At the same time, Viva Connections will automatically stay up to date and push important company information to the forefront of the dashboard. Serving as a more streamlined and personalised intranet, every users homepage will look slightly different, with relevant news, conversations, updates and more automatically coming to the forefront.
Microsoft Power Automate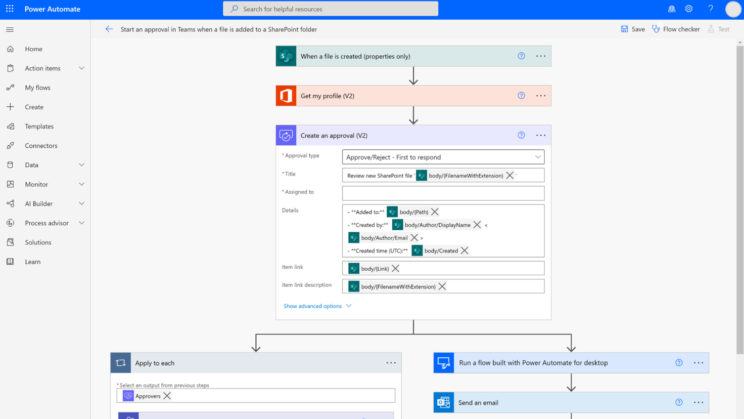 Quickly automate your workflows, enable business logic to simplify app building, and model your processes across connected data sources and services.
The simplicity and speed of Power Automate allows everyone to build automated processes with flows thanks to low code, drag and drop tools, and hundreds of pre-built connectors that automate repetitive, mundane tasks with ease.
Record and visualise your end-to-end processes with process advisor, providing guided recommendations for creating flows and deep insights that take the guesswork out of what to automate.
Microsoft Power Automate allows you to make your business process automation smarter with AI builder, which quickly processes forms using document automation, process approvals, the detection of images and text, plus the option to create with prebuilt models.
Instead of having to write code, the simple flow designer can help build business logic and users can run flows in the app with buttons, actions and data inputs. There is also the option to help guide users through the process with multi-stage business process automation flows.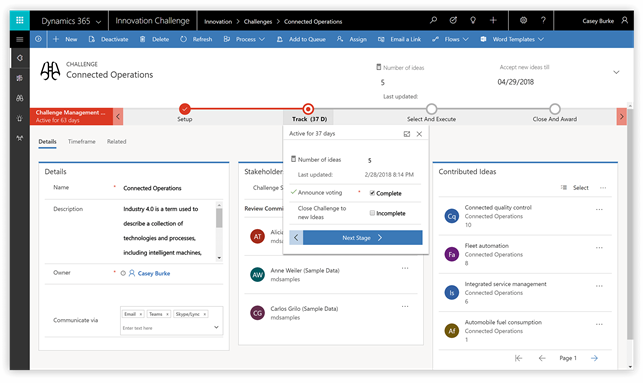 Data can be connected to create automated workflows enabling collaboration and productivity – and these task automations can be shred across your team thanks to its integration with SharePoint, OneDrive and Dynamics 365.
As well, Power Automate can be utilised on desktop, mobile, web and MS Teams.
Examples of business processes that can be automated
There are a number of business processes that can be improved through automation services within Microsoft, including:
Updating key business policies

Monitoring mandatory reads (e.g. annual leave policy)

Archiving content and data

Updating employee profiles

Requests and approvals (annual leave etc.)

IT and facilities performance monitoring

Logging support calls

Centralising notifications from different systems

Financial reporting and monitoring

Document building

Project management

Meetings

Knowledge management (i.e. Microsoft Viva Topics)

And much more
There are so many possibilities around business process automation services, so give it a go or let Changing Social support you in building out whatever you need.
Interested in business process automation services? Want to know more about the different processes outlined above and how to automate them? Whether you want to put some processes in place or simply want to find out more, fill in the form below or email us at [email protected] for more information on getting started.