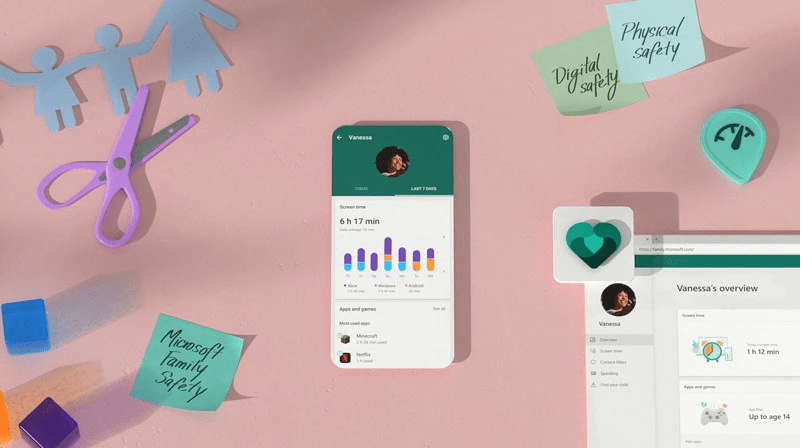 So much of our work is relationship-based so how do we stay connected from a distance, and maintain relationships with our colleagues, managers and stakeholders? In part one we discussed people management and how Microsoft apps could help support you to manage your people, stay connected and maintain focus. Part two of our insight into Microsoft Teams apps looks at keeping you connected, regardless of where and when you're working.
So, try out these Microsoft apps for size. We think they'll fit!
Icebreaker is a Teams app that helps your team connect by pairing up colleagues at random every week to meet, either in person or virtually, for coffee or lunch. The Microsoft app finds a new person to meet each week, and automatically suggests free times that work for both members.
As well as encouraging and strengthening personal connections across your team, the Microsoft app can also build interest groups to help ideas and best practices organically spread across your organisation.
Another common use is helping new employees learn more about their colleagues. The Microsoft app can be likened to a buddy system where new hires get a peer acquaintance to show them the ropes, answer their questions, and help them get to know the team.
In-office celebrations may currently be off the cards, but you can still make a colleague feel special on their birthday or work anniversary by celebrating them online.
Celebrations is a Teams app that helps team members celebrate each other's birthdays, work anniversaries and other recurring events. It remembers special occasions of all team members and sends a friendly message in all the teams selected at the time of event creation.
The Microsoft app provides a simple interface for all team members to personally add and view their events, and allows them to select the teams in which the events gets shared.
During the current change and uncertainty, this Microsoft app can help maintain a level of normality by coming together and finding cause for celebration. From wishing a colleague well on their birthday to recognising them for their company service and tenure, it helps them feel a valued and connected member of your team.
As organisations rely more on Teams to collaborate and do work, there is a need to connect leaders in an organisation with their team members. A way to do this is to conduct Q&A (Question and Answer) sessions.
Although questions can already be asked and answered in a Teams chat or channel, they are messy. Hosts don't have a way to track questions, and attendees don't have a way to upvote/like questions.
Enter the new Ask Away app. The app makes it easy to conduct a Q&A session in real-time by enabling hosts to collect questions during a Teams meeting or call from within a chat or channel.
Team members can submit questions and upvote/like others shared by colleagues. This results in everyone being able to view all questions and associated upvote counts, with personally asked and top questions organised in the leader board.
With many organisations experiencing financial strain, changes in their processes, furlough programs or changes in headcount, its crucial employees are given a chance to 'ask away' – you can be sure they'll have questions!
Giving your employees an opportunity or forum to ask questions is important. Even more important, is making sure all questions receive an answer!
Managers and HR teams still face challenges and increasing disconnect, as the move from offices to virtual workspaces continues. It pays to have a finger on the pulse of your organisation to understand how employees are feeling and coping, if they're still aligned to the business and their immediate teams, and how to support them.
The Survey app enables you to do just that by creating a survey in a Teams chat or channel to gather data and gain actionable insights. It lets you add as many survey questions as you want, set a due date, and restrict who can see the results.
Full survey results include the list of participants and their individual responses, as well as the list of people who didn't respond to the survey.
The app is a simple and valuable tool that can be used to tap into staff sentiment and determine how engaged, aligned and supported your workforce is.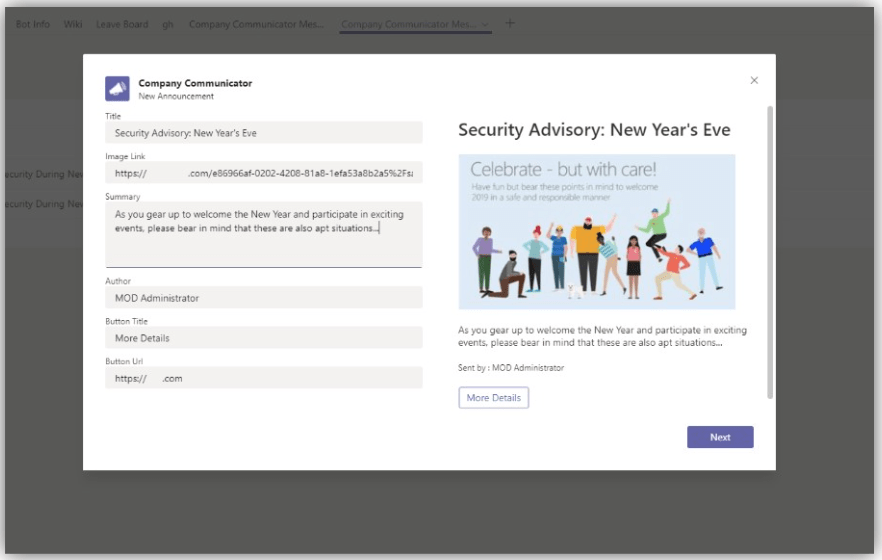 The Company Communicator app enables corporate teams, especially suitable for Communications and Facilities departments, to create and send messages to multiple teams or large number of employees over chat.
This allows organisations to reach employees right where they collaborate – on Teams.
The easy to use app can be used for multiple scenarios, such as letting staff know about the achievement of company milestones, new initiative announcements, office relocations, safety notices or company-wide broadcasts.
The communicator can also download how many users read or interacted with a message. This provides an insight into how successful a message was in reaching and connecting with a target audience, providing useful information for future message planning.
We'll be taking a deeper dive into Company Communicator in a forthcoming blog, so stay tuned.
If you want to know more about how Microsoft 365 tools & Microsoft apps can help you stay connected, please contact us and we'll work through a great solution for you.
Changing Social is a certified Microsoft Adoption and Change Management Partner. We specialise in Microsoft Adoption and Change to help our clients adopt Microsoft 365 in days, not months. If you would like to adopt Microsoft 365 in your organisation and find out more about our services, including Microsoft 365 & Microsoft Apps training, please contact us via the form below or email us at [email protected]
Share
Related Posts