The benefits of taking a break are well-documented, so why do we continue to join virtual meetings one after the other, leaving our brains literally fried? It's time to give your brain a break.
This year's Mental Health Awareness Week is all about nature and understanding the positive benefits it plays on our mental health. It's about taking a break and getting out and about, slowing down the pace, breathing in the fresh air and connecting with the outdoors.
In this blog, we'll cover:
Why it's so important to take a break

What other companies are doing to encourage their employees to take a break

What you can do to maintain a healthy work-life balance
Why your brain needs a break
Back-to-back virtual meetings, longer working days and weekend working have become a hallmark of the pandemic for some people. There's no time in between meetings any more to take a refreshment break or stretch your legs as you jump from one call to the next.
In Microsoft's 2021 Work Trend Index, 54 percent of respondents said they feel overworked, while 39 percent described themselves as outright exhausted.
Microsoft's Human Factors Lab wanted to take the Work Trend Index study even further to show the negative impacts that endless meetings have on the brain. Researchers from the lab, which examines how humans interact with technology, asked 14 people to take part in video meetings while wearing a cap to monitor electrical brain activity. On one day, they attended four hours of back-to-back meetings with no breaks, and on another they took breaks and meditated between each meeting.
The findings were quite astonishing.
The 'hot' colours on the day the researchers took no breaks shows a higher level of beta wave activity, which is associated with stress, compared to the day when they took breaks in between their meetings.
The levels of stress also have an impact on how well we engage in virtual meetings so it can have a huge impact on our productivity.
The answer seems pretty straight forward then…we need to take regular breaks and let our brain reset and refresh.
So, what are companies doing to encourage this?
There's been so much focus and talk on burnout, work-life balance and mental wellbeing recently, even more so since the pandemic. It's not just something that companies need to be aware of, it's something they need to be addressing now to ensure the wellbeing of their employees and secure a sustainable approach to hybrid working and virtual meetings in the future.
In January this year, CEO of Channel 4, Alex Mahon announced 90-minute meeting-free lunchtimes and no meeting Fridays.
Mahon's concerns focused on 'pandemic fatigue' with the hope that the new policy would give people "meeting-free time to think, breathe and catch-up."
Banking giant HSBC are also trialling 'Zoom-free Fridays' in their commercial banking unit in an effort to tackle the stress of home working and burnout.
American investment bank Citigroup has also urged its people to observe 'Zoom-free Fridays' to promote better work-life balance and they've announced a company-wide days holiday as a 'reset' day.
Even the CEO of Zoom, Eric Yuan has acknowledged that 'Zoom fatigue' is a problem and something he suffers from. He's even stopped booking back-to-back meetings himself (maybe he's seen Microsoft's research!).
What you can do to give your brain a break
Some companies are starting to address the issue of 'Zoom-fatigue' and the effect it's having on employee wellbeing. But we're all responsible for our own wellbeing. Here's just a few tips and also some of Microsoft's clever features to make sure you're not just powering through and running on empty.
1. Create space for breaks with Microsoft Outlook – Using the settings in Outlook, you can customise your day to ensure that you have the opportunity between meetings for downtime. For example, you could choose to have a five-minute break before every 30-minute meeting or a 15-minute break at the end of all hour-long meetings. Once you've set the parameters, when someone schedules a meeting, the meeting start or end time will be adjusted to suit your settings.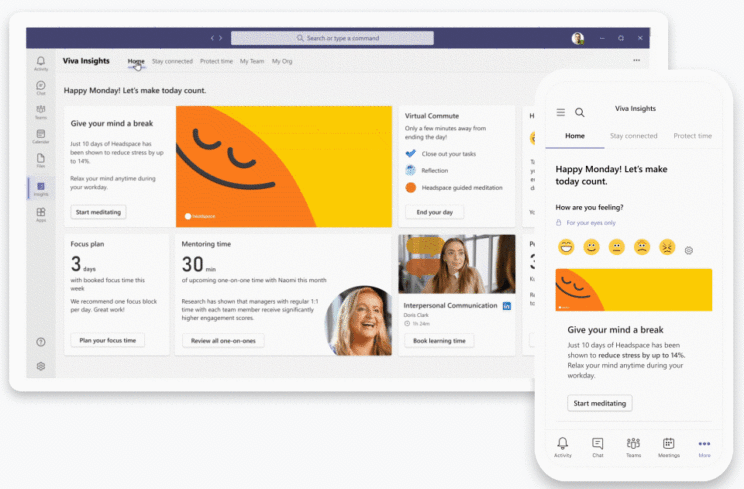 2. Do something you enjoy during your break – whether that's getting out and about for a walk, putting on some music to dance, some form of exercise or relaxing method…do something that brings you joy. Microsoft are integrating Headspace into their Teams platform to help employees unwind and relax before, during or after their working day. As the global leader in meditation and mindfulness, Headspace will help by giving your brain the break it needs to reset and rid itself of those toxic beta waves.
3. Create boundaries and stick to them – whether that's setting yourself regular reminders to take your breaks or using the Virtual Commute to carve out time at the beginning of your day for prep or the end to unwind, make sure you stick to 'your rules'. Let people know if you've chosen not to do meetings between 12-1pm so they don't try and sneak a meeting in there.
Although the brain isn't a muscle, we need to treat it like one. Give it the exercise it needs to remain strong and active but allow it the chance to rest and reset. We don't go running for eight hours a day (ok, some crazy people might) so why would you allow your brain to sit in a heightened state of 'always on' for eight hours? Give it the break it needs and you'll reap the benefits of a brain that is engaged, productive and ready to perform.
If you want to learn more about what Microsoft features you and your teams can use to work more productively, please get in touch. Contact us at [email protected].