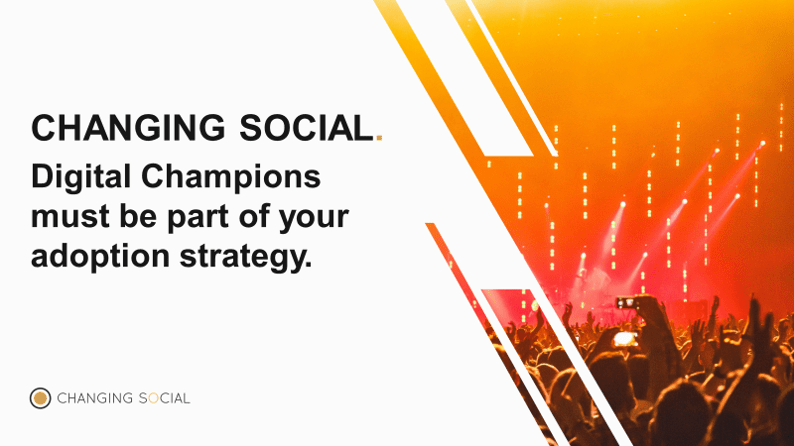 Getting your workforce to adopt new technology is not easy. Though senior management might see the big-picture benefits and be enthusiastic to, rolling out across all spans and layers is another challenge entirely. The role of Change Champions is crucial to embedding change within your organisation at all levels.
Change Champions do what they say on the tin. They are employees who champion the changes you want to make in your organisation, believing that they will have a lasting and positive impact on the way you work. They are not trained change management specialists, but people who know your business inside out, living and breathing it every day, who can relate to your workforce and tailor your adoption strategy to specific circumstances. Their impact can be manifold: they influence and empower those around them, they feedback on the progress of adoption organically and most importantly they give your adoption strategy the best chance of success.
Change Champions are engaged and influential employees at all levels of the organisation. They support their colleagues to embrace new technologies and though individually they might have small networks, collectively they should penetrate a sizeable cross-section of your business. They can communicate and engage their peers in a way that outsiders cannot. They may be very senior leaders, in middle management or even amongst your frontline workers. What unites them at all levels they have is a mind-set for growth and an ability to lead. They must be seen as the 'go-to' people who will bear the standard for change.
It is often the Change Champions amongst the frontline workers – the backbone of your organisation – who are the most vital for your overall adoption strategy. These are the people who are closest to your customer and for whom the adoption of new technologies can often prove most effective. They are the people who might be responsible for collecting raw data or handling your end business product. They have an insight to your operational processes that nobody else can. Enabling them to better use technology for collaboration and communication back up the organisation will pay most dividends. Implementing a Change Champions programme at the level of the first worker is crucial to your overall adoption gaining any significant traction.
Change Champions might provide informal training to their peers one day and feedback on the progress of the adoption programme the next. They are able to be the catalyst which translates your strategy into a reality for the way you work. Secondary to this, a Change Champions programme allows you to empower certain individuals in your company and encouraging this kind of bottom-up management also has the added benefit of fostering a stronger sense of responsibility for the change programme itself.
Fundamentally, Change Champions are people who want to drive change for those around them and in any kind of adoption strategy, these individuals are indispensable. For those who are interested to find out more, contact us by saying, [email protected].
Share
Related Posts