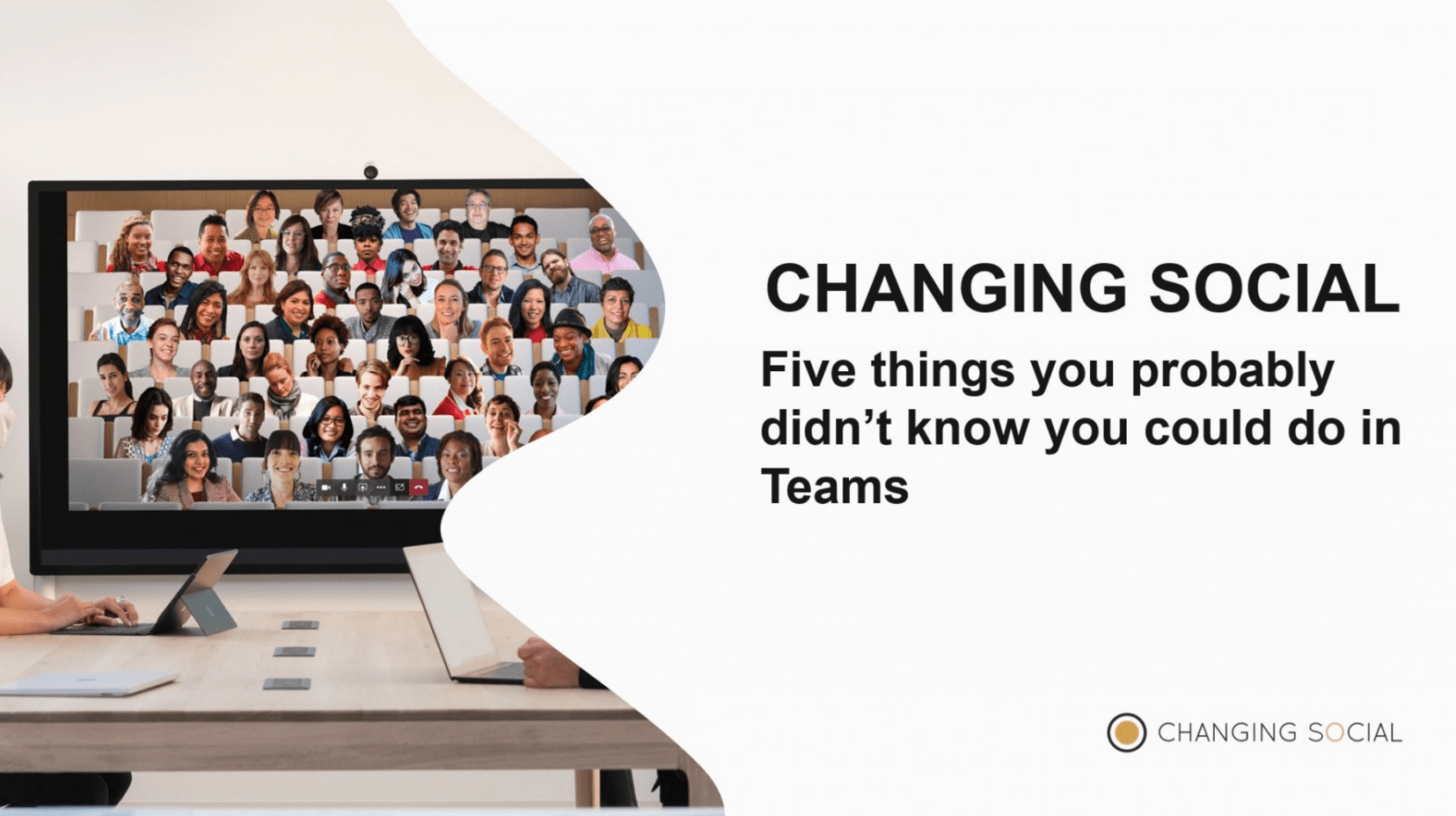 There's so much you can do in Teams; the problem is knowing where to start!
To save you time pouring over information, we've highlighted five great features we think you'll want to know about.
1) Use Live Events to broadcast to people outside your organisation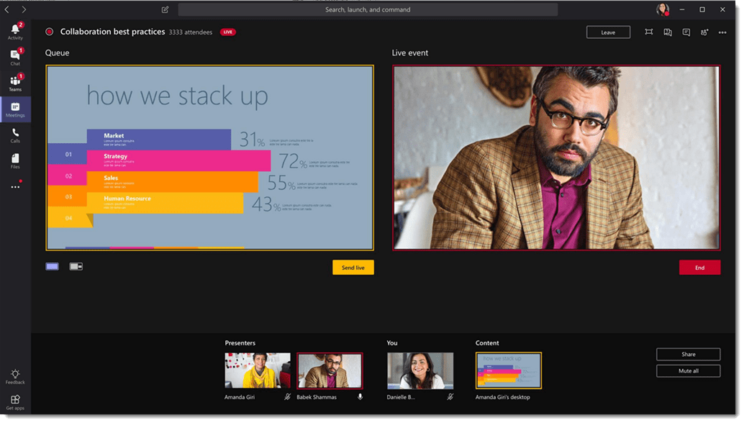 Live Events allows you to broadcast a live streamed event for up to 10,000 participants, allowing you to hold online events from anywhere in the world at any time, regardless of where your presenters or audience are based.
This great new tool is perfect for organisations that want to share their video and digital content, as well as live presentations, during these uncertain times.
Schools and universities are some of the groups that have made use of this technology in recent months, using Live Events to broadcast open days.
Instead of physical tours for prospective parents and students, Live Events have given schools and universities the opportunity to stream virtual open days providing parents and children with an online tour of the school, opportunity to ask questions and learn more than simply reading the prospectus.
2) Use the Shifts app to manage shift patterns and keep employees connected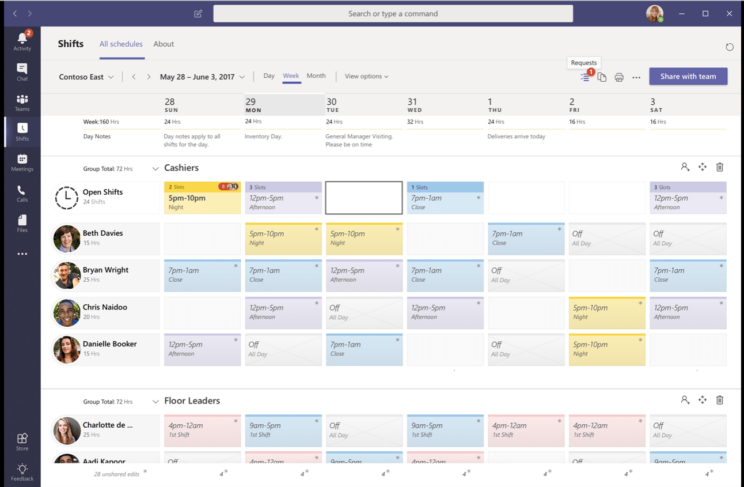 The Shifts app in Teams is designed for employees in roles that typically don't have access to workstations and computers, such as retail store assistants, factory and field workers.
The app helps to keep this employee group connected. It lets workers and their managers use their mobile devices to manage work schedules, and collaborate to achieve the best shift patterns for both parties.
Managers can create, update and manage shift schedules for their teams. They can send messages to one person or the entire team. They can also send policy documents, newsletters and videos.
Employees can then view their upcoming shifts on their mobile devices, see who else is scheduled for the day, request shift alterations and request leave. This saves time for managers, and gives employees some level of autonomy over their shifts.
3) Use Phone System to replace your desk/office phone

If your organisation still uses desk phones, you may have had some issues managing your phone's voice mail and inbox while you've been working remotely.
Teams can help you get around this. You can probably already make and receive voice calls in Teams between all users within your organisation. But did you know you can also use Teams to make and receive calls from mobiles and landlines?
By configuring your settings in the background, your organisation can now migrate all phone traffic across to Teams. This will allow you to:
Switch on voicemail and set your out of office hours, meaning calls received outside of these hours will automatically click over to voicemail
Take calls on your mobile when you're away from your desk by setting forwarding rules
Transfer the call from your computer to your mobile if you have to step away from your desk.
Having this flexibility with Teams as your phone provider could be really beneficial, especially as it's unknown how long this hybrid way of working will continue.
4) Feeling together with your colleagues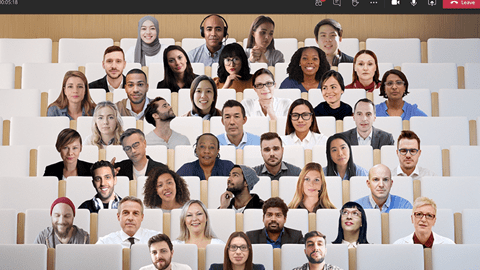 Teams has developed at a rapid rate over the past six months as the world has adapted to working remotely.
One of the major advancements has been the number of people that can now be seen on the screen. We can now see up to 49 participants in a video chat, in a 7×7 grid.
There are also advancements coming where you can position your team around a board table or in a lecture theatre style. Known as Together Mode, the idea is to help presenters and listeners feel that they are in the same room, and can see each other's reactions.
These changes are gradually being rolled out by Microsoft, so may not be available on your licence yet, but keep an eye out. To find out more about Together Mode, read this insightful article from Microsoft
5) Translate messages or chats to another language and live captioning
One of the best things about technology, is we can now more easily engage with people across the world. One challenge to this is overcoming any language barriers that may exist.
Naturally, Teams has this covered. In order to support cross-border teams and customers, the Microsoft Translate tool can be used to translate written and verbal content in real time.
This really comes into its own in Teams, especially when someone is presenting in another language. The audience can go to the Microsoft Translate website, download the plug in their desired language, and follow along with real time captioning.
Of course, it won't always be as accurate as human translator, but as the tool is sophisticated and based on AI, it is learning all of the time.
To find out more, visit the Microsoft Translator website.
Changing Social is a certified Microsoft Adoption and Change Management Partner. We specialise in Microsoft Adoption and Change to help our clients adopt Office 365 in weeks not months. If you would like to adopt Office 365 in your organisation and find out more about our services, including Office 365 training, please contact us using the form below, or email us at [email protected]
Share
Related Posts