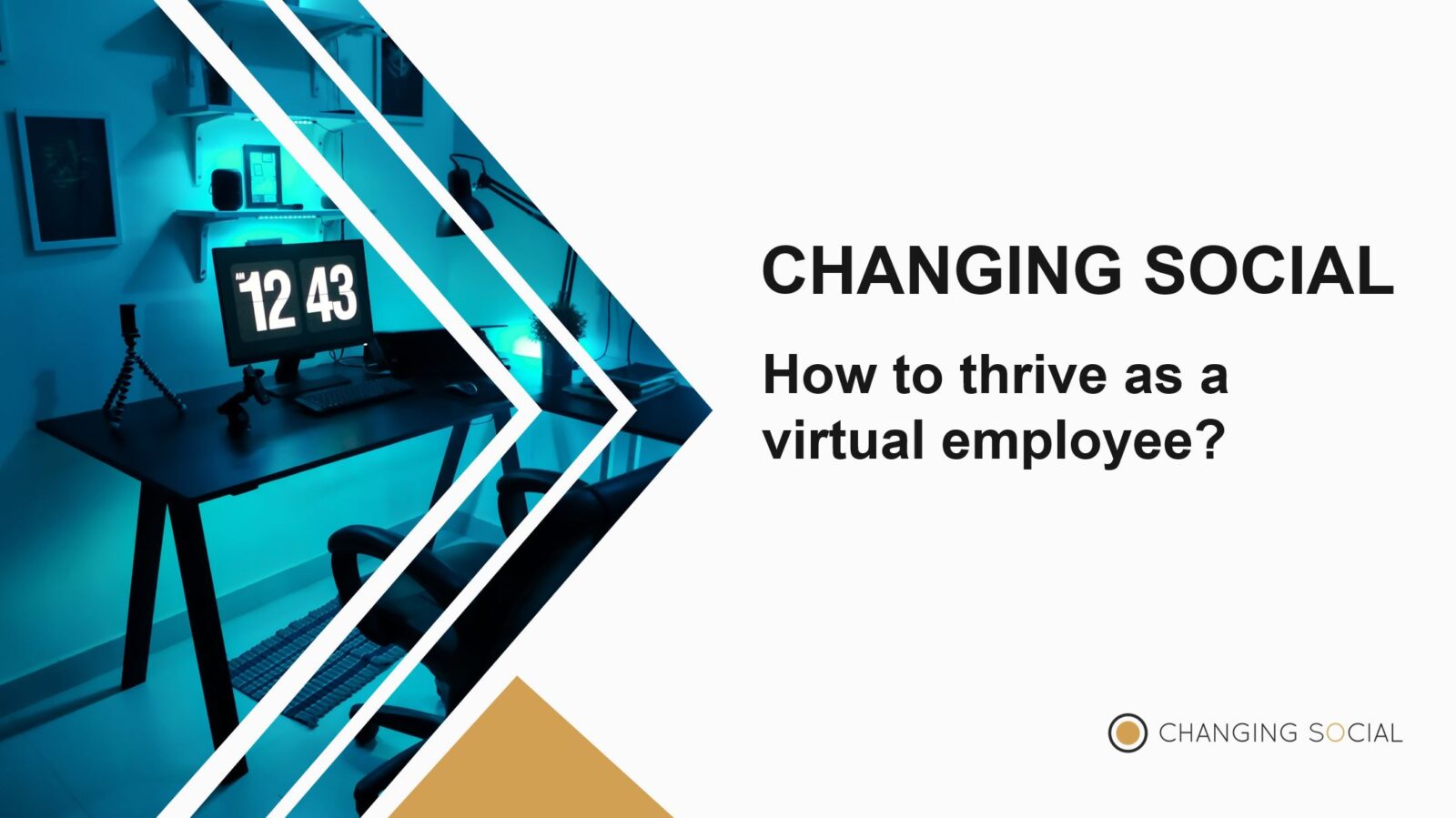 This is the second part of our blog series on managing and working in virtual teams.
As lockdown comes to an end in the UK, the government advice remains that for those who can work remotely should. There is talk of this continuing until at least the Spring, so with homeworking here to stay for some time to come, we look at how employees can flourish in these circumstances.
For many employees, working from home has not only come with the challenges of juggling family commitments and finding a quiet place to work, but many have reported working longer, harder and perhaps with less feedback or direction than they had in the office.
While it's easy to let this disillusion us, it's important that we think about what we can do to make the most of the situation.
We believe all employees need to consider how they stay connected to their team, organisation and colleagues when working remotely, how they stay focussed on their work and achieve great results, and stay balanced by achieving a healthy work-life equilibrium.
The good news is, there are lots of tools available to help you and support you to flourish as a virtual employee, so what are you waiting for?
Staying connected as a virtual employee
Check in with your team daily
Talking to your teammates everyday via Microsoft Teams is easy. Whether it's adding your thoughts to a thread in a channel, having a quick catch up with a colleague via a video call or dropping a friend a message in Chat, it's a great platform to stay connected.
Even if you don't want to post, you can like other people's posts and show you've read them by giving it a thumbs up (or down).
Give feedback
As humans, we crave feedback and want to know that we're doing a good job. Remember this and give your colleagues a healthy dopamine hit with some nice praise.
Again, you could do this in Teams and give them a praise sticker. Or if you'd prefer to do it more discretely, the check out the Culture Amp Teams plug in to allow you to do this one on one.
Sing your successes from the rooftops
This is not always a comfortable thing to do, but when we're working in virtual teams we have to be prepared to shout about our own successes. Let people know about your achievements and successes you've had.
Whether you do this in your one on ones or in the team meeting, that's your choice. Just don't let your hard work go unnoticed. Your team will be happy to share in your success and it'll no doubt give them a much-needed boost too.
If you want to share it with the broader business, Yammer can be a great place to do this. And if you feel uncomfortable about it, ask one of your colleagues to post a message on your behalf. Success needs to be celebrated now more than ever.
Two minds are better than one
No one should be sitting at home struggling with a problem on their own. If you're stuck and you don't know where to turn for help, jump onto your enterprise social network like Yammer and ask for some support.
You'll be amazed at how quickly your colleagues will come to your rescue. And while you're getting your issue solved, you might also be helping out someone else who's also been struggling with the same problem.
Protect catch-up time with your manager
You should ringfence time in your diary every week to catch up with your manager. It doesn't have to be long but it's worth having at least 15 minutes a week for a quick check in. There you can deal with any emerging problems, get advice and see how each other are getting on.
What's more, you should both protect this time so it doesn't get bumped for other meetings (except emergencies of course).
Teach yourself the tech
If video calling, online collaboration and social networking is all new to you, then virtual work has probably been a steep learning curve for you. While it's important you embrace the technology, it's equally important that you ask for help if you don't understand it.
Many Microsoft clients have access to a Learning Hub that contains videos and guides on all of the Microsoft applications. If not, you can usually find what you need by going to microsoft.com
YouTube is another great resource for finding your way around technology, as are the courses available on LinkedIn Learning.
Investigate and be curious. And if you get stuck, ask for help.
Staying focussed as a virtual employee
Work to your strengths
We talk a lot about digital empathy at Changing Social, and that can include having respect for the different ways people work. For example, you may be an early riser, so may choose to do a good portion of your working day before midday, but then you struggle to be productive in the afternoons.
Remote working can therefore work in your favour. But to do this, you need to explain your preferences to your team. If they understand you are most focused first thing, it's likely they'll be empathetic and plan meetings you need to be involved in around you.
Block out focus time
Have you ever got to the end of the day and thought, where did the time go? In a sea of calls, meetings and catch ups, we can lose sight of the work and before we know it, we've missed a deadline.
A great way to manage your time, is to create blocks of focus time in your diary. This is protected time where others can't set up meetings or interrupt you. Your Teams or Skype notification will appear busy so people will most likely not bother you with calls or chat messages.
Tools like Cortana can help you to understand when you're most productive, and how much time you spend doing work, calls and browsing.
Set up a digital task management tool
If you're not yet using one as a team, find a task management tool that works for you and propose your colleagues start to use it too. In-built MS tools like Planner and To do help you plan your work and keep your motivation up. They also allow others to see how much capacity you've got, and where you may be able to get some additional help.
These apps can also support you to be more focused by showing you what you need to dedicate your time on today to meet your deadlines. If prioritising work is not your forte, then it's time to get one of these apps and start using it.
Keeping balanced as a virtual employee
Set out your boundaries
The blurring of home and life is a problem for many people nowadays. With the phone pinging at all hours and the laptop readily available, it can be a temptation to respond to messages late into the night.
If you want to keep to your office hours, you can do things like imputing your working hours into your diary, listing when you work (hours and days). This can also be updated on your Teams status info as well as an automatic out of the office.
Tell people if you don't want to be disturbed or if you're not available. This is especially important if you work flexible hours and aren't always available 9-5.
Equally, if you prefer to deal with your emails late at night, make sure you have a note in your signature that explains this is your preferred working style but you do not expect a response from others at this time.
Look after yourself
Take care of yourself physically and mentally. Being empathetic is about being kind and this includes to yourself.
Find time every day to get outside and take a walk or sit in the sunshine. Why not try to take a call outside in the garden, or stick in your headphones and go for a walk on your call.
You're also entitled to lunch break, so make sure you take time away from your screen to replenish and recharge.
Be the best virtual employee you can be.
For more information on how to thrive as a virtual employee, check out the rest of our blogs or get in touch.
Share
Related Posts