*Editors note 01/05/23: Yammer has been rebranded to Microsoft Viva Engage*
Founded by Dave Fortier, One World Strong is an organisation with connection at its core.
As a survivor of the Boston Marathon Bombings, Dave understood first-hand the importance of survivors of trauma coming together to support each other, and set up One World Strong to help facilitate this mission.
Later teaming up with Stephanie Cinque – founder and executive director of the Resiliency Centre of Newton, Connecticut – the foundation was fully realised in 2018, with the aim to help survivors of trauma events heal by connecting them with a network of people who had experienced the same thing. In order to build those networks, Dave reached out to Changing Social and through our continued support and collaboration, One World Strong are using Yammer to reach survivors across the globe.
Nina Watson sat down with Dave Fortier and Stephanie Cinque to find out more.
How and why did you start One World Strong?
The story really started on a couch in 2012. I was actually with my dog at the time and we were both probably watching TV, I remember a bag of chips being there and both eating the chips. There's a friend that I have that worked out every day of his life and was diagnosed with leukaemia roughly in about 2011, we worked together and we were just really close. We were talking on the phone about stress and he said, 'you're so stressed, you know what? Just go for a run.' And I did. I grabbed my dog and I think the only pair of sneakers I had and we went for a run, we made it about a mile before we both sat down and I realized we were probably going to walk back to the house. We kept going after the next day and into the following weeks.
In 2012 I joined a running group and in that running group I had a chance to do a 5K or 10K and then I was talked into doing 1/2 marathons – I did not read the instructions! I just went out and tried to do it and failed, didn't eat right, didn't hydrate properly. I had called my friend and I said, 'hey, you know the organization that's been helping you, if I'm going to do this running stuff, maybe there's a way I can help raise money – I can do something', and he got me connected with the founder of that organization. All that gentleman heard me say was that I was from Boston and I wanted to run and help raise funds, he then connected me to Dana Farber from the Cancer Institute in Boston. They were kind enough to place me on the team for 2013 and all of a sudden, I found myself training in the winter of 2012/2013 for a marathon.
As I was about to complete the Boston Marathon, that's when the first bomb happened, and it was an absolutely beautiful day leading up to that. I was adjacent to the first bomb, so I had some shrapnel damage in my right foot and I've lost some hearing in my left ear. For me, it was really what I saw happen that day. My injuries were minor compared to many others but I saw a city rushing in to help others: I saw people coming together in the medical tent, in the hospital, people that were coming in to see what we all needed. Then many of us were visited in the days, and the weeks, and even the months after the bombing by veterans of the Iraq and Afghanistan wars from an organization called the Semper Fi & America's Fund. That was the first time that many of us knew we'd be ok, when we had a chance to connect with somebody who'd been through something similar.
Without really knowing it at the time, that was kind of the beginning of what would become One World. We were working with people we didn't know, but they had a similar form of trauma and we were able to connect. The city did a wonderful job in bringing the survivor community together in Boston. So we had a chance to meet others that had been through that day because many of us didn't know each other. We would constantly hear questions. When did you know you'd be OK? Or, when did your son or daughter know they'd be OK? And it was when they were visited by somebody who had experienced something similar.
We started doing some things even in 2000 and probably late 2014, 2015, we started to reach out to other communities. One of the first  was Stephanie in Newtown. We had a chance to connect with families there that actually lost children, families that had folks that were injured.
We looked for a year for an organization that worked without regard to race, religion, ethnic background, borders, politics – none of that stuff matters. Just people connecting with people.
Then in 2016, my phone lit up like a Christmas tree. It was the night of the nightclub shootings in Orlando, at Pulse nightclub. There were folks in Boston that wanted to go to Orlando to help those people, like the veterans had come to help us. In Orlando, at that hospital and at that rehab centre, we saw those same bonds form that we had experienced ourselves. Now we were doing that with somebody else, and it became really clear leaving Orlando that this was something we needed to figure out how to expand.
I had already had my own business and knew nothing about the non-profit world, but we looked for a year for an organization that worked without regard to race, religion, ethnic background, borders, politics – none of that stuff matters. Just people connecting with people, and we couldn't find one. So in early 2018, we actually formed One World Strong to work with folks across the globe that experienced something different.
Why Yammer instead of other enterprise social networks?
In 2000, in the wake of the marathon bombings – there's actually a survivor of the  7/7 bombings in London that worked with Microsoft – they sent over Yammer to Boston and said 'please use this, this would be a way for everybody to be able to connect in a secure private environment'. City of Boston did a lot of things really well after the marathon – getting Yammer in place was not one of them. They didn't understand it and in the wake of an event like this, things like connection weren't really a focal point for organizations.
I learned about Yammer probably more than a year after Boston happened. I have a lot of concern around privacy with a lot of the apps that are out there, and a lot of the software out there. That was always an issue for me and when I learned about Yammer and what Yammer is and what Yammer does – you're a self-contained network. There's no advertising, there's no data mining – connection, pure and simple, in my world. Bringing Yammer into what we do in One World, making it a part of the connection and making it a part of what we do every day, has become so important to us as we're moving toward a mobile application.
So that's why we went with Yammer. It was pure and simple. There was no data mining and privacy, and you've got the backing of Microsoft where we're not going out to build something on our own and have to maintain it. It always brings a smile to my face when I see an update for Yammer come through on my phone because I know they're taking care of it. I know it's secure and that's a really good feeling as a survivor, or as a family member of somebody who's gone through this, that you've got that privacy in check.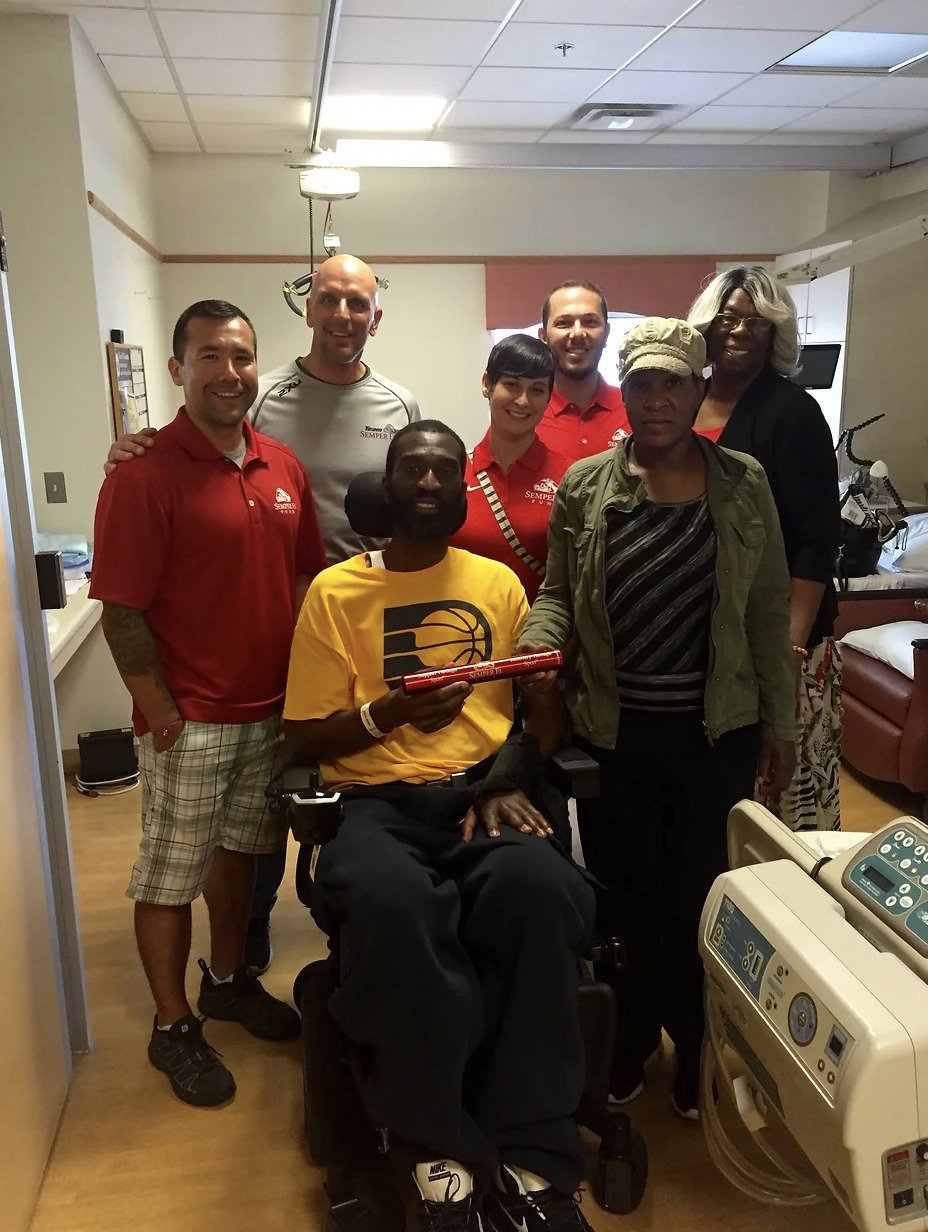 How has Yammer helped your organisation coordinate and collaborate on outreach efforts?
It's incredibly easy to use. It's one more different thing that you've then got on your phone or on your computer. The ease of creating a library, creating connection within a certain group, being able to broadcast out messages, being able to search for things that you need – it's incredibly useful, especially for survivor communities that have been through events.
We've had a lot of learning experiences as you do with any organization that gets started as a non-profit, but where we're going – I'm really excited about how Yammer will be used in that. We've built One World off essentially four pillars, connection is one of those, and a piece of what we do is Yammer. Yammer is one of the pillars of what we're building and you guys are a big piece of that with us.
What specific features of Yammer did you find most valuable in your efforts?
The ease of implementation. The connection factor is high, the security factor is high. Searchability, or calling out if you've got questions on something to a community, is really easy to use. The communities that we work with don't really want to become a part of an algorithm by searching I'm not sleeping or I'm concerned about this, or I'm concerned about my son, my daughter, my nephew, my niece. When you search on Google, all those things you type in become part of an algorithm, right? On Yammer they don't, and again, that comes back to that biggest security factor. You can genuinely ask some questions and get feedback without something being pushed at you, and that's incredibly important.
How has the use of Yammer impacted the way your charity works, both in terms of efficiency and efficacy?
I've mentioned this, but I love to see an update come out for Yammer and when you look to see what's in it, it's all things that are building on something.
It makes it very efficient to go to one place to find the things that you need, around an event that you've been through, without having to go and create something on your own in every different community across the globe.
The other part of this is the language function. We now have access and I'm remiss that I don't have the actual answer, but I believe it's 128 or 138 different languages in Yammer right now, which for us operating as One World globally makes all the difference in the world! We don't have the ability as a non-profit to hire 130 different interpreters to do what we do. So Yammer allows us that efficiency to be able to connect with people that may not speak the same language but we can still connect through Yammer, which is fantastic for what we do.
There are a lot of other wonderful organizations out there that we work with now, and I think Yammer is a great place for them to connect and we're starting to work toward that, but not in the way that I think we can. I think we can all grow more using this network and it makes it really easy. You guys, and Yammer, make it really easy for us to do that.
How has the use of Yammer impacted your organisations ability to respond to crisis situations or provide timely assistance?
We have a wonderful relationship with our US State Department as well as other countries governments, but we can connect with events that happen around the world, almost in real time. Setting up Yammer is not a hard thing to be able to do, and we're learning more about it all the time. Since our connection to Changing Social, I have learned more about Yammer in the last several months than I have in the in the years preceding that. It's refreshing to be able to work with a team like yourselves that can help us with that connection.
We didn't anticipate something happening in Ukraine, we didn't anticipate a phone call from the Bosnian diaspora spread around the world, looking to reconnect from the wars there in Bosnia and Herzegovina. Those are survivors of terrorist extremists and mass casualty events, and that fits our bill to help them reconnect with people globally, and Changing Social and Yammer are a huge part of that.
Have you used Yammer to connect with other charitable organisations or non-profits for the purpose of sharing best practices or coordinating on joint initiatives?
Absolutely, there is. There's also an organization called Strong Cities Network that we're working with. We're working very closely with them, they work with communities to help stop things from happening. They're in the prevention space and we realized something very quickly within One World as we started to connect with survivors, we knew the importance of stories and – Stephanie might be able to touch on the importance of stories as well – but the those stories of survivors coming together to talk about these events can make a huge impact. When we realized that we could play a role in stopping something and not having to respond to a community, that's when we started doing more in the prevention space.
With One World, the work that we're doing and the work that Yammer is helping us do in all these communities that Strong Cities is already connected with, we're helping those cities grow. We're providing those things to those cities that Stephanie and I originally wanted to do with One World around things that build resilience within communities, giving people access to those things now can stop something from happening down the road.
"I think the importance of using Yammer, is that relationships heal people, ultimately" says Stephanie Cinque, founder and executive director of the Resiliency Centre of Newton. When people go through events or need to find each other, Yammer can connect people no matter where they are. Especially globally, events happen and they're not all necessarily centrally located in one spot. We can use Yammer to make sure everyone is still able to connect and those relationships are then what heals people. People start to think, is this normal? Am I the only one going through this, who survived something? Like Dave said when the people were in the hospital not knowing, doctors could only tell them medically, but to see people show up having been through something similar is really what gave them hope. So, Yammer is a way to connect people and make sure we give people hope for their future.
Have you encountered any challenges while using Yammer, and if so, how have you addressed them?
Kind of like when I used to run on my own and thought I knew what I was doing in training – very similar!
Then we reached out to Microsoft support which was helpful originally with us. We tried to do a lot of things on our own. I think a former Met Police officer from London has been instrumental in helping us grow this organization, the survivor of the 7/7 bombings that I mentioned that originally told us about Yammer has been instrumental in this, and together we started to build this network that we had originally wanted to put together four years ago.
So I went through a lot of bumps and bruises in the beginning with Yammer because I tried to figure it out on my own. When we started to branch out and work with others that had worked with it previously, that's when things really started to change and we really started to get better at what we do and more efficient. And then along the way, we met Changing Social when we started to incorporate Yammer into the application.
Your team was critical, and still is to this day in making this happen. We've got more things happening now with Yammer, with the mobile application, then we would have without you all being involved in this. As a founder of this organization, I'm thankful every day that you guys are a part of this team.
What advice do you have for other charities considering implementing Yammer?
I guess the big one for me would be reach out early to Microsoft, reach out early to Changing Social – organisations that know how to use the product as opposed to trying to learn by trial and error.
When you're doing 50 other things and you don't have somebody specifically focused on Yammer, you will end up like we did, not knowing how to do a lot of things. I have to say, Microsoft has been fantastic in that I would point any charity, any foundation to the Microsoft products in a heartbeat.
Can you provide any specific examples or anecdotes that illustrate the value of Yammer in your organisations charitable work?
I'm actually going to use the example there in the UK after the Ariana Grande bombing. The folks there in the UK had extensive experience with Yammer through 7/7 and they were able to take that learning experience to Greater Manchester and help implement Yammer there in a very quick, efficient way to educate people on how to use it and bring people into it very quickly – and still it's used today. We work with a lot of those survivors within that community.
Now, some of those survivors have travelled with us halfway across the world to connect with other survivors. Some of those folks have actually come here to Boston to visit us, we've had the mayor of Greater Manchester, Andy Burnham, actually come here to run the Boston Marathon with us and brought survivors of that event over to Boston to meet other survivors. Some of those connections are still in place today and I can attribute a lot of that to what Yammer does in bringing a community together.
My example was sitting on the couch with the bag of chips – that's not the best way to learn how to run 1/2 marathon. Once you connect with the tools that can help you do something properly in this space, helping people move forward and building resilience and communities – Yammer is a tool for that without a doubt.
Why Changing Social?
Wow, that's an easy one! So when we were going through the challenge of wanting to build this mobile application to reach more people, we can't be everywhere all the time – it's just not financially feasible to do that. Virtually we can be, and as Stephanie mentioned earlier connecting with people virtually has become an OK thing. It's something that people use, are familiar with, are more comfortable with now than they would have been three years ago.
As we began to integrate Yammer into the mobile application that we were building we had lots of questions coming up, like, how best do we do this? How does Yammer do this? I was reaching out to the 7/7 community and also a Microsoft employee, and that person said, 'yeah, we need to get you connected with what you're trying to build' and Changing Social was that connection.
The very first phone call I had was with Steve and I knew within the first 15 seconds that OK, this is it. This is the right organization for us to move forward with, prior to that we were going to the help desk, ad hoc. So you really never get the same people, there's no way to really form that team there which is frustrating. You can have notes on what a problem might have been or what an issue might have been, but it's the challenge of having to go through and read all those notes for the next person you get. It's not very efficient, and it's not conducive to a small organization trying to move forward.
So meeting Steve, meeting Hannah – it was really clear. It was really clear that, this organization are not only are good at what you do, you want to do good. For what we're trying to do, I can't even imagine us trying to build this right now without you guys as a partner. I would probably be looking for my bag of chips or running a lot – one or the other!
That was really how we came in contact with you guys, at the beginning and then you've been there for us as what was starting to happen in Ukraine, with what we want to do to build that community. You helped us structure a way to present Yammer to Ukrainian officials. I still look at that those slides that Changing Social helped us put together and how now we're still moving in the direction of helping the Ukrainian diaspora that are now spread around the world.
A lot of that has to do with the language piece, that we now have that ability to connect but doing it in the right way, and doing it with foresight to see what's coming next with this product. That's where Changing Social plays a huge role and literally in the first 15 or 20 seconds of meeting Steve, and then meeting each one of you, it becomes clear who you all are and what you want to do.
How did Changing Social initially get involved?
This was us coming to you guys saying help! We were probably typing help at the time and then had the conversation with Steve! But it was evident, and I'm pretty good at knowing when we're out of our game, that we just didn't know what channel to go with and the questions that I was asking Mark and others at Microsoft is what really led us to you.
You were that organisation that could put this together, as I mentioned the first 15 seconds it was clear to me like, 'wow, these guys – not only are they going to help us with this, but they're going to provide a channel for us to grow in.' It wasn't just a 'here's a Band-Aid'! It was let's make sure we've got that covered, we're going to help you get to this bigger piece because now we understand what One World is trying to do. You all went out of your way to understand what we were trying to build and have been an incredible partner in that ever since.
How has Changing Social supported you throughout your journey?
So Hannah has become a very focal point for us with what we're doing. They have really gotten to know the challenges as well as the places where we're working across the globe, not only in response to something, but on the preventive side as well in helping us build out what we're doing with Strong Cities Network. That network that we're connecting to allows us to be in communication with people in countries that have lots of challenges, we don't have to go out and try to find these people anymore – they're in our network. If something happens in East Africa, West Africa, North Africa, the Middle East, parts of Europe, South Africa, parts of Asia – we now have connection points through this network that never existed.
Hannah has been key in helping us put that together and that's the vision that Changing Social has, of not only just helping us with a problem, but what's that bigger piece that we want to build? That's where I continuously am impressed every day that I get to connect with you guys, and how you have helped us in that direction.
You guys have those skills and those talents, and in particular, working with Hannah and working with Steve has been incredible. Just really amazing to see what they can do.
What does the future of One World Strong look like?
If you've got a crystal ball, let me know! I think the future for us is really in tech. Building resilience, connection, education, prevention. Those are the four pillars that were built on. All of those are tied to tech and when we look at where we're headed, we want to be able to connect with more people that have been impacted.
We also want to be able to connect with more people where we can help prevent something from happening. We'd much rather not have to visit a community than go through visiting.
We don't want people to go through what others have been through and that was one of the big reasons we started One World, was so that people didn't have to go through this alone. It's one thing for a doctor, a nurse, a therapist, a family member to tell you that you're going to be OK. It's quite another when somebody that's been through something similar says the same thing to you, and here's how they know. Now we can make those connections in 100 plus different languages across the globe, so as we expand that, that's where I see us really going and building this network out. There's no way that we could do what we're doing without Yammer and without Changing Social being partners in this with us.