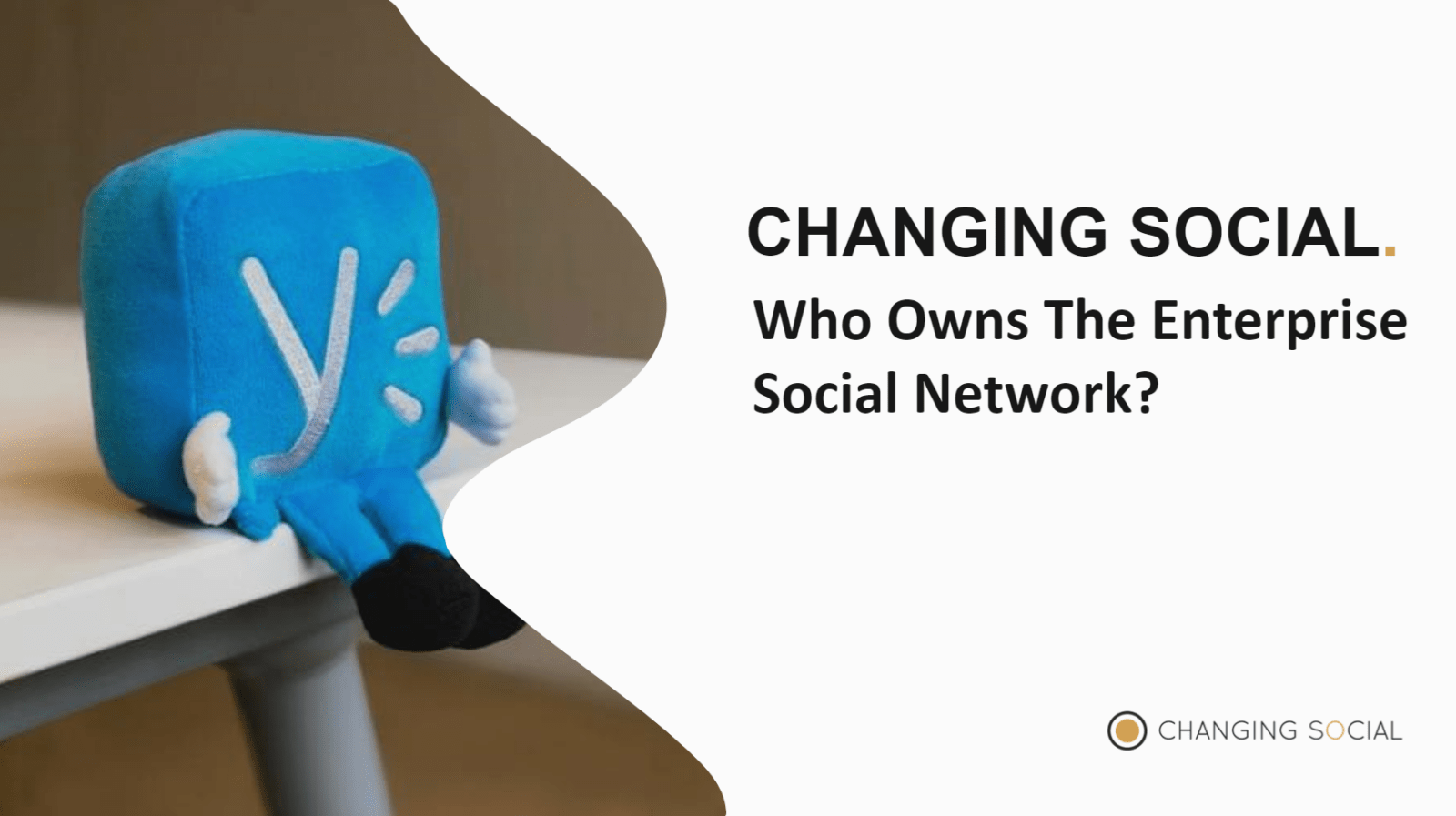 There's no debating that over the past twelve months our employees would have been completely isolated and adrift if it wasn't for the use of Enterprise Social Networks (ESNs).  
The surge in remote working cultures has definitely been on the rise in recent years. Even as far back as  2012, a study by McKinsey Global Institute cited that 72% of companies were using some form of ESN. Now Microsoft says that 85% of Fortune 500 companies now collaborate with Office 365 tools, including Yammer. 
But where it sits in the organisation and how it is managed is key.  
Is it an IT platform owned and managed by the tech experts? Is it a collaboration tool owned by HR? Or is it a communication tool and therefore owned by internal communications?  And like siblings squabbling over a much-loved toy, the battle of who owns the Enterprise Social Network rumbles on. 
But what a nice problem to have. Surely the attention these platforms are getting is only a positive outcome as so many departments look to leverage the value of social networking.  
The dilemma arises due to the broad scope and span of the platform across an entire organisation. It's a powerful tool and one which has been paramount in recent months, connecting employees and ensuring businesses can continue to operate in the virtual world. 
But its focus has been on more than just connecting employees. Businesses have seen the added benefits of using the systems to collaborate, celebrate, promote wellbeing and check on employees' mental health.  
Very often it's a political debate and one that should remain in the C-suite. So, let's play devil's advocate and see if we can uncover who the real ESN owners should be? 
IT…makes sense. After all, it is an IT platform. They have the technical expertise and knowledge of what's happening in the tech world. They also have the power to buy and deploy the platform.  
IT departments are usually the first to trial a platform before it's rolled out to the wider community and will most certainly help build a business case. Or they might even be the only ones using it as the appetite to launch such a tool isn't there, or they just aren't being heard by the business.  
But what then? There's no point having an all-singing, all-dancing platform and no-one using it. So, you need someone who understands the employees and how to communicate with them.  
Internal Communications. A perfect fit, right? It is a tool to communicate and collaborate with people after all. 
They understand what employees want and need and how best to engage them. They also understand the trends in comms channels and what works for their audiences. They've been screaming out for a tool that they can use across an entire organisation as well as send targeted messages. It also provides an opportunity for people to have a voice with two-way engagement thus, breaking down silos.  
For comms to own the platform seems like a marriage made in heaven. But do they have the necessary IT skills to manage the platform and know what to do when Microsoft brings out a new update? Or do they have the resource and budget? Internal Comms might be able to win the hearts and minds of the people using it and will certainly know how to channel the right content but there are still some things missing. 
So, what about HR? Again, the people function owning a people tool seems to work.  
They'd certainly have an investment in how managers are using the tool to communicate with their people or how they can use the tool for areas such as learning and development. There's an abundance of apps that would help HR functions understand where their people were at, especially in a remote working environment where it's not just as easy to drop in to see them.  
However, they're less likely to be the instigator of the platform. They may not initially see it as a HR tool but definitely see the value they might benefit from using it. For example, once the right apps and tools are in place, they could send payslips out to people, raise awareness of new policies and use it for training events which can't currently be done face to face. These seemingly simple activities are actually a really powerful driver for people engaging with the tool. Get people's payslips on there and they're in and then engage with other parts of the tool.  
And there's still so many other departments that may feel they have a stake on the ownership. 
Legal may be concerned with breaches of data or codes of conduct and therefore may want to have some control over it. Employee Relations may have a view on people using their own devices to access content outside of work hours. The Innovation team (if you're lucky enough to have one) may feel it should be a place to generate ideas. Or even Customer Service or Operations who'd benefit from reaching frontline teams easily.  
It seems pretty clear that to make an Enterprise Social Network a real success, it's not just one department who should own or be responsible for the platform, it's a joint relationship.  
It's about collaborating and knowledge sharing internally between various stakeholders to make sure it's set up correctly and managed well. It needs to be fed with good content and supported by people at all levels of the organisation. It cannot just be the job of IT or Comms or HR – it must be everyone's responsibility. 
If you're thinking about how an enterprise social network like Yammer could work for your organisation, and you're not sure where it should sit or who should own it, let us help. Email hello@changingsocial.co.uk to arrange a chat today. 
Share
Related Posts