Our Power Platform Mastery Roadmap
Are you ready to push your organisation's digital capacity to the next level? Welcome to our Power Platform Centre of Excellence (CoE). We're here to partner with you and provide a personalised and strategic roadmap to kick-start your digital capabilities.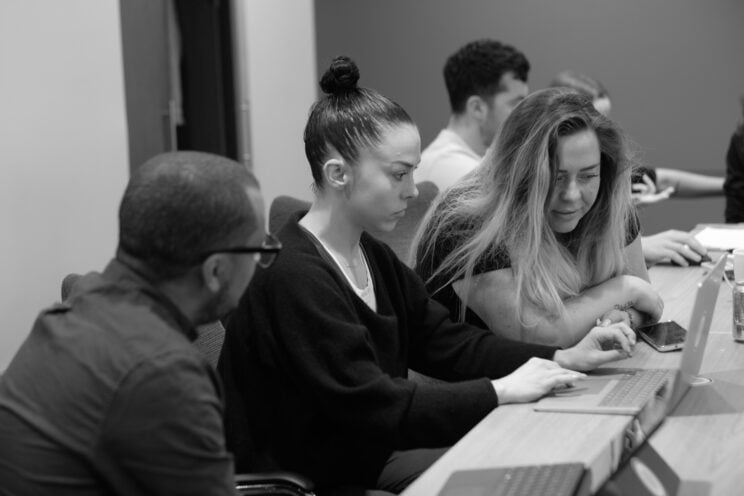 We help you to scale Power Platform adoption across your organisation. Through inspiration, ideation and executive sponsorship we'll make sure that it's is fully embraced by your business. 
We know that some organisations may already have in-house support teams to help implement Power Platform adoption. Our versatile approach allows us to complement your progression towards success.
After our comprehensive period of discovery to best understand your needs, we move forward with a fully customisable strategy that aligns with your existing adoption of the Power Platform. 
How Power Platform CoE Helps
The Power Platform is one such suite of tools that can significantly enhance an organisation's capabilities, offering a range of features from app creation and automation, to data analysis and virtual agents. Here's why this service is crucial to your success: 
CoE helps organisations define a strategy and create a roadmap tailored to their specific needs, making the process more manageable and effective.
Organisation-Wide Adoption
CoE ensures that everyone, from executives to end users, understands and embraces the Power Platform strategy.
We empower organisations to become self-sufficient, equipping them with the skills and knowledge.
CoE provides ongoing support to ensure that organisations can continue to progress and adapt their Power Platform strategy sustainably. 
CoE ensures that organisations are making the most of their Power Platform tools, helping them achieve their business goals more efficiently and effectively.
Here Is The Most Frequently Asked Questions.
We know that investing in the Power Platform is a significant decision for your business. That's why we've put together a list of frequently asked questions about our service. We've got your queries covered. If you have further questions, feel free to reach out to us — we're here to help!
Our Capability Maturity Model
At the heart of our Power Platform Centre of Excellence (CoE) is Microsoft's Capability Maturity Model (CMM), spanning five transformative levels. Let's take a quick tour of these exciting stages: