Clifton Coffee Roasters is at the forefront of the United Kingdom's booming coffee industry. It provides high-quality coffee, machinery, service, and training to coffee shops and has recently undergone a digitization to help it compete successfully with larger companies.
The company replaced a range of unconnected communication and collaboration tools with Microsoft 365 and has already built bespoke workflows to make life easier for its field engineers and roastery staff, saving thousands of pounds in the process.
Britain is famous as a nation of tea drinkers, but in the last 10 years, it's fallen in love with coffee, too. Brits drink 95 million cups a day, up from 70 million just 10 years ago. Innovative, independent coffee businesses like Clifton Coffee Roasters contribute to this surge in popularity. 
The Bristol, England–based company was founded in 2001 as a "support system for coffee shops." Back then, says Clifton Coffee's Director of Coffee Josh Clarke, the industry had begun to shift toward quality but lacked expertise in training baristas, servicing coffee machinery, and sourcing beans—all of which Clifton Coffee readily provided. 
Today, the company has grown to serve 850 wholesale customers in the United Kingdom and mainland Europe. In the four years since Clarke joined Clifton Coffee, the staff has more than doubled from 12 to 27 people, but it's still run by James Fisher, its founding director. Clifton Coffee offers not only specialty coffee and machinery, but also servicing and training. The backbone behind some of the nation's most successful independent and chain coffee shops, Clifton Coffee represents more of a value chain than a supply chain, as Clarke puts it.
Where great coffee comes first.
Twenty-four Clifton Coffee employees work at the main site in Bristol. They run the business, look after finance, order coffee beans, run the roastery itself, and service and sell machinery. The company also has three remote locations serving customers in Liverpool, west Wales, and on the south coast of England. 
As with any passion project, the people at Clifton Coffee come to work each day because they love coffee. And this focus on their core business meant that many of the support systems—like communications and collaboration tools—got adopted on the fly as the company flourished. Clarke says, "As we grew, we added new staff here and there to maintain the same level of service. But we reached a critical point in our growth curve and started to lose a lot of conversations in the confusion caused by using multiple communication tools. We knew we needed a consolidated approach to handle the expanding size of our customer base." Scaling to meet the demands of larger customers meant rethinking how the business operated. 
Since 2017, Clarke and Miles Lenthall, Operations Director at Clifton Coffee, have led a project to make operations more efficient both through organizational changes and smarter use of technology. This included a new finance and enterprise resource planning system and the goal of going fully paperless by mid-2019. An overhaul of Clifton Coffee's collaboration and communication tools was the next logical step. 
The pair got in touch with Steve Crompton from Changing Social, a Microsoft Partner Network member that had advised Clifton Coffee during its previous digital projects. "We told Steve about our communication problems, and he was excited to show us Microsoft 365, particularly Microsoft Teams and what it could do," says Clarke, who was quickly sold on the idea of one set of tools for everyone in the business to use on any device. "And I was confident that we could use Microsoft 365 to help keep our data safe," he adds.
From zero to live in two months
The timing was perfect—Clifton Coffee's subscription to its old file-sharing service was running out. Following initial conversations in early September 2018, the company switched to Microsoft 365. The deployment quickly progressed as Changing Social and Clifton Coffee built the structure of the Teams environment, and Clifton Coffee's IT partner migrated the company's physical Exchange server to the cloud. Designated Clifton Coffee employees led the drive by helping move everyone's files to the new system and discovering new uses for Teams within the company. By November 5, Changing Social had replaced all of Clifton Coffee's previous collaboration and communication tools with Microsoft 365.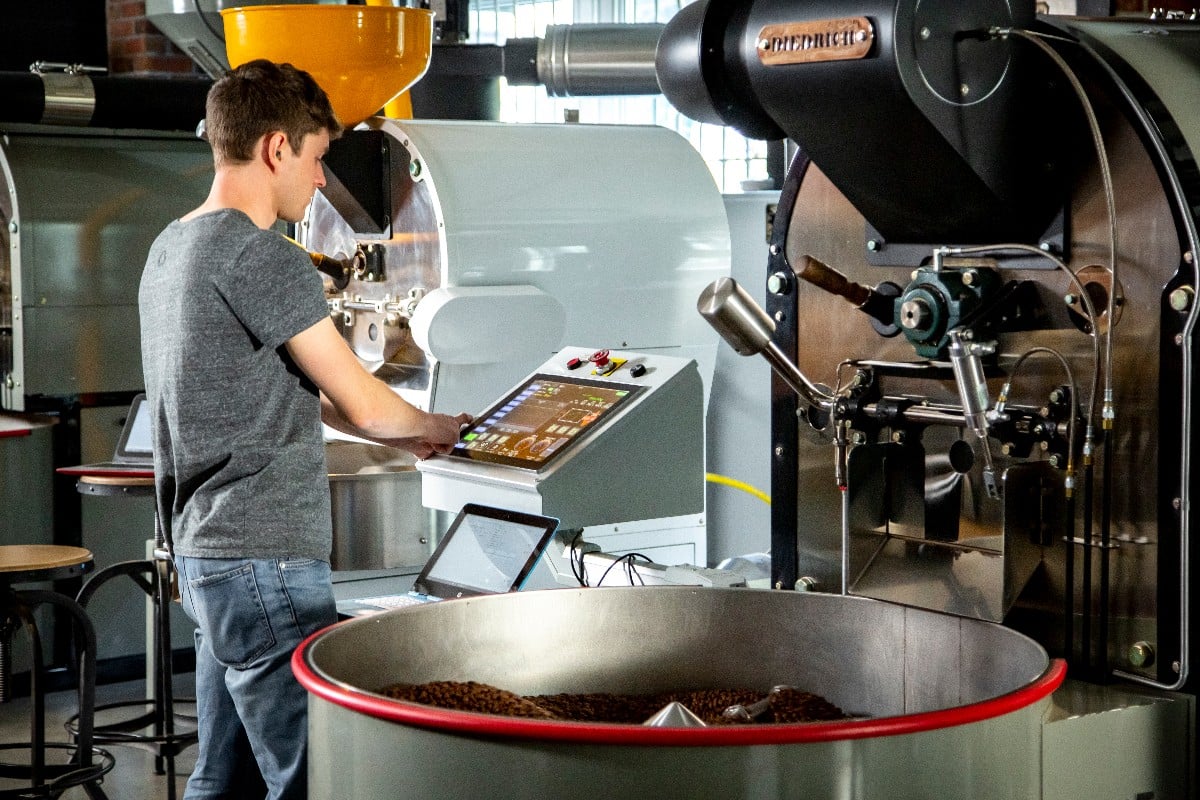 Cutting through the noise
With Changing Social's support, Clifton Coffee could instantly adopt new ways of working. Clarke says, "With Teams, we immediately felt the impact of having channels where you get a fast response because your question is relevant to that channel rather than something that could get lost in a giant group chat on WhatsApp." Now, most employees keep three windows open on their devices to cover everything they need: Outlook, Teams, and the company's financial system. 
In addition to using Teams to communicate on both their laptops and smartphones, employees at Clifton Coffee use SharePoint Online, OneDrive, and Forms to share files and media—and to request leave, file expenses, and collect feedback on coffee trading. Clifton Coffee also gathers feedback from customers about its training sessions, sending forms out automatically along with invoices, which is already helping improve customer service levels. 
The new tools have delivered tangible savings. Getting rid of Dropbox has saved Clifton £2,500 alone, but the benefits go beyond having fewer software licenses. When Josh goes on trips to source coffee, he used to make tasting notes on paper and share them with the website manager in person or via WhatsApp—a process that would take around 30 minutes. Now, they share notes via video in 10 minutes, saving 20 minutes per coffee. And with 58 coffees to look after, this works out at £1,000 they can put back into the business.
Bespoke workflows for better coffee
Clifton Coffee had more plans for its new tools, reaching beyond the initial efficiency gains. Within a couple of weeks of Microsoft 365 going live, the company had already developed two exciting use cases. The first involved putting QR codes on each piece of coffee machinery in the field. Previously, it kept all documentation—invoices, delivery notes, quotations, engineering logs, and callout forms—on paper. Staff would print copies, fill them in while onsite, then scan them once back in the office and save them on a server. 
"It was an archaic method of data management that left too much potential for human error," says Clarke. Now, when engineers visit a customer, they take a picture of the code with their device and a form pops up in Microsoft Forms where they can enter the service data.
This gets automatically saved in the cloud for anyone who needs to access it. And easy ways to log data result in higher-quality input. Clarke adds, "Having a more reliable record of machine usage means that we've been able to sell 30 percent more water filters since the move to Microsoft 365." 
Clifton Coffee has rolled out a similar system in its roastery, where whoever opens up in the morning needs to complete a checklist to comply with food safety regulations. Now, that person just takes a picture of a QR code, logs the data, and gets on with the day. Clarke has worked out that these digitized checks save employees about one hour a week and deliver further savings of more than £500 each week by removing inefficiencies and inaccuracies in the process. 
Stepping up to the big leagues
Clifton Coffee's newly digitized business puts the company in a great place to move to the next phase of growth. After working with a developer to create a bespoke operations package, it plans to implement Microsoft Power BI for clear insights into its business. Clarke says, "Some of our customers have grown to 50 or 60 sites now. Over the past couple of years, we've had to up our game to serve larger customers—in part by moving to Microsoft 365. We're now in the same league as larger engineering or roasting firms. And because we offer both those aspects, we're well placed to compete at this level."
Would you like to know more?