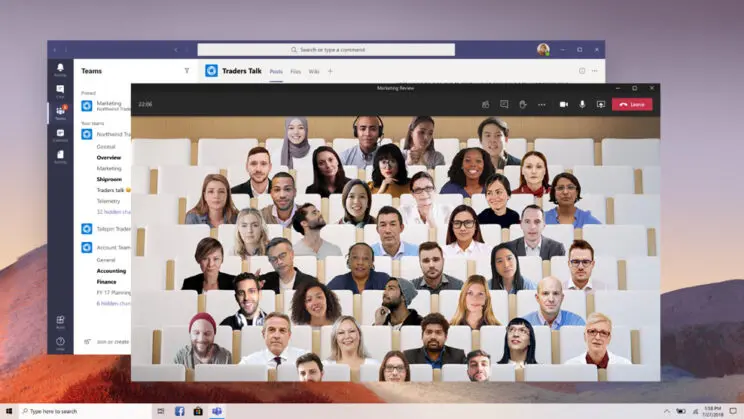 The February Teams update aims to further collaboration capabilities, and provide the perfect meeting place for business-to-consumer meetings.
With Teams calling now accessible from different devices, updates to Virtual Appointments that allow businesses to present a streamlined experience for clients and new Viva Insights capabilities within Teams chat – the February update has some exciting new features!
So, let's see what's new!
Meetings
Users will now be able to send targeted in-meeting notifications to specific people in a meeting via a bot. Now you can reach certain people without disrupting the whole meeting!
Meeting Templates for Virtual Appointments
Virtual Appointments has taken the ease and familiarity of a Teams meeting and added customisable fields, tailored for personalised business-to-consumer (B2C) meetings.
Users don't have to set-up and learn a new set of tools, and can enjoy a stress-free appointment experience!
External meetings can be created using the Virtual Appointments Teams meeting template directly from a Teams Calendar. The template displays a routine meeting flow with key B2C features such as a tailored meeting invite for external guests, the ability to join on any device without having to install Teams and a pre-appointment lobby that guests can enter before their meeting starts.
These streamlined and hassle-free external meetings can be created by going to your Teams Calendar, selecting the dropdown menu and selecting 'Virtual Appointment'.
Picture in Picture Mode for iOS
Need to open another app while in a Teams meeting? Don't worry, you'll still be able to see the meeting window!
Picture in Picture mode for iOS allows users to adjust their Teams meeting window on an iPhone or iPad with their fingers, changing the size or location of the window to whatever suits them.
The option becomes automatically available when you navigate away from the Teams app whilst in a meeting. Multitasking is easier than ever with Picture in Picture mode!
Breakout Room Management
Co-organisers can now create, manage and easily move between Breakout Rooms to monitor what's going on. Previously only available for meeting organisers, this feature helps meeting admins share the management of Breakout Rooms.
Presenter Window
The new Presenter window has controls located at the top to ensure active speaker's face are clearly visible during screen sharing. Additionally the 'raise hand' notifications will be surfaced for more awareness, meaning presenters won't miss questions and comments from other users in the meeting!
Improvements to Authentication
To help reduce the impact of outages, Microsoft have improved the sign-in reliability for Teams.
Not only will this ensure the accurate online/offline status of a phone is shown in the Teams admin centre, but further improvements mean that detailed error messages around authentication failures will also be displayed.
Survivable Branch Appliance
When a network outage strikes it's imperative that services can continue, and Microsoft are combating this with continued investments into their Survivable Branch Appliance.
In the instance of a network outage, users will now have access to call controls using Survivable Branch Appliance, and will also be able to use contact search, dial by name and initiate a call from their history.
Start a Chat with Distribution Groups, Mail-Enabled Security Groups and M365 Groups
Distribution, Microsoft 365 or mail-enabled security groups are used by organisations in order to communicate, collaborate and share internal knowledge at scale.
Reaching these groups can sometimes be a lengthy process, but not anymore!
Using a Teams chat, users can search and select the appropriate group and start chatting with them instantly! Administrators can disable this feature within the Teams admin centre.
Viva Insights Schedule Send Suggestions
A lot of organisations have a workforce spread across the globe, all with different time zones. It's very important to maintain a healthy work-life balance, and to have protected rest time away from work.
If you need to send a message to a colleague with different work hours, Viva Insights is here to make sure they get it at the right time!
Simply start typing your message in the chat box, and you'll automatically receive scheduled send suggestions with Viva Insights. With a single click you can send a chat message and res assured that it will be delivered at the beginning of your colleague's work hours.
So useful, right?
Mention Everyone in a Chat
Just as you would @ mention individual users in a chat, you can now notify everyone within a group chat!
If you type @ everyone, all users within the chat will receive a notification at once!
Missed Calls in Activity Feed
Users can now return a missed call straight from the activity feed in Teams by clicking on the 'call' button!
Delete or Rename Files within a Channel and OneDrive Folder
Deleting and renaming files has never been easier with this Teams update!
To delete or rename a file within a channel, go to the files tab and find your file then select 'more options' and either rename or delete your file.
From your OneDrive, select 'more' at the bottom of the app and then 'files', and find your file. Once you've found it, select the three dots and either delete or rename your file.
To learn how your organisation can make the most of these Microsoft Teams updates, get in touch with Changing Social. We're a top Microsoft Partner firm specialising in all aspects of the M365 suite, helping companies make the most of their Microsoft licencing. If you want to learn more about how Changing Social can help you, fill out the form to the right, or email us at [email protected]
Share
Related Posts