As the workplace has transformed over the course of the pandemic, organisations have been looking for new ways to unlock better connections and collaboration for their employees. As hybrid working becomes more and more prominent, and regardless of whether people return to the office to work, stay at home or do both, work culture has permanently changed.
To keep up with this change and ensure that all employees – whether on the front line, in the office or working from home – feel engaged and supported, Microsoft launched its new software – Viva.
Viva empowers people and teams to be their best, no matter where they're working. Microsoft Viva includes four modules that bring together communications, knowledge, learning, resources, and insights into an integrated experience that empowers people and teams to be their best from anywhere.
Wellbeing is key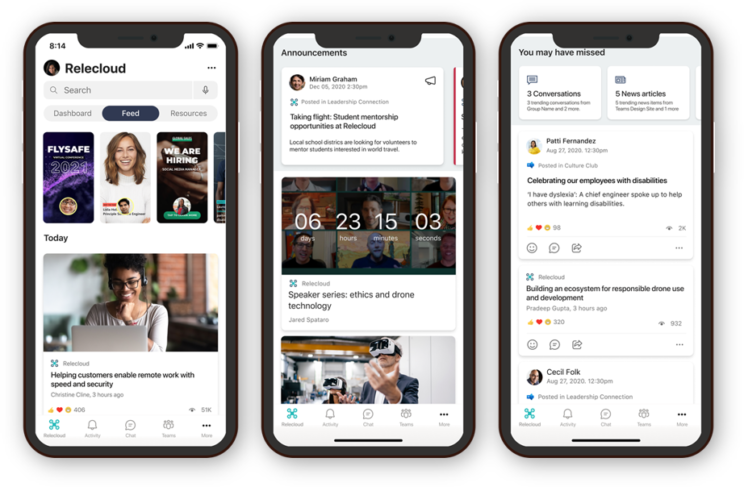 Wellbeing is of huge importance to organisations, now so more than ever. It is vital that employees feel happy not only to decrease the risk of burnout, but also ensure a business is successful.
Around 60% of people feel less connected to their teams since moving to remote work, and if feeling isolated, this can make them 20% less productive. Organisations need to ensure the workforce is both successful and has a strong sense of wellbeing, especially as hybrid working is here to stay.
Wellbeing apps such as Headspace can be built into Viva Connections dashboards to encourage more focus on personal development and to encourage sufficient mental health breaks. As well, having access to company-wide social media channels, such as Yammer, more easily will help boost your employee engagement and willingness to contribute in discussions – whether they are business related or light-hearted.
As well, improving internal communication can help employees feel part of the team regardless of where they are located. Four key focuses for all organisations are:  
Communities – enabling people to engage, build relationships and share knowledge across teams and the organisation.  
Diversity and Inclusion – Create an environment that brings the power of diversity to life – where people with different backgrounds and experiences thrive in both their personal and professional lives.  
Interest groups – promote cultural awareness by creating communities and interest groups across the organisation for career development, mentoring, support, or networking opportunities.  
Team Cohesion – Build cohesive teams of people within the organisation to share their wins and successes. Then, each team member feels valued and appreciated and works towards achieving business goals.  
What is Viva Connections?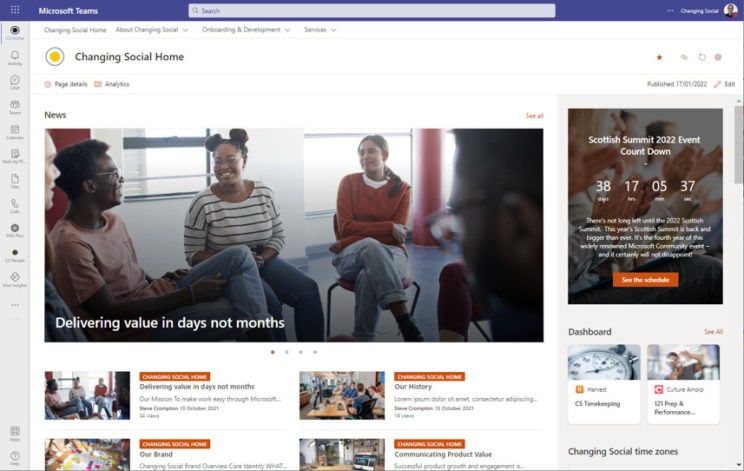 Viva Connections is a new employee experience platform based in MS Teams that brings together relevant news, conversations and resources for users. It is the digital gateway to creating a rich, modern employee experience to keep your entire organisation engaged and informed, giving everyone access to the tools they need. It makes it easier to connect to one another, keep on top of things and motivate employees to be their best selves.
In a nutshell, Viva Connections is:
A branded app experience in Microsoft Teams that is optimised to enable experiences for information workers and frontline workers.

A gateway to employee experiences – personalised to the end user – with curated content and tools an organisation will want to deliver through quick access to data and tasks, relevant news, communications, people, and resources.

A way that everyone can connect and feel empowered to contribute their valuable thoughts and ideas.

Built on existing capabilities in Microsoft 365 like SharePoint,

Teams

,

Yammer

, and

Stream

.
Why Viva Connections?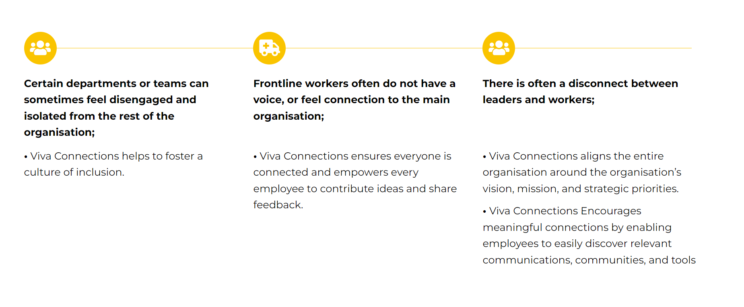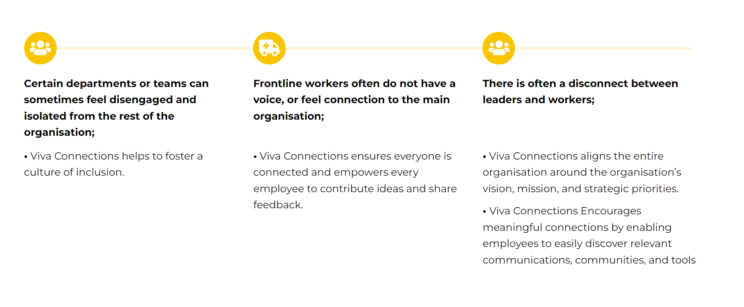 The most successful companies out there are those that share and build on the contributions of their employees. With Viva Connections, you can engage the entire team wherever they are, from any device, sharing news, conversations and tasks so they can stay on top of workflows.
It is easy to find the information you need through Connections, as well as share unique perspectives, expertise and ideas. Video and live events can showcase important moments and campaigns, while sharing stories and messages in the organisations authentic voice can help provide a more bespoke experience for your teams.
The app is easily customisable to your organisation's branding, goals and style to further unite users around your organisation's vision, mission and strategic priorities.
Microsoft Viva Connections is a curated and branded destination for your people and teams to keep them connected and engaged. Whether they are a leader who wants to communicate with employees via company town halls or an employee who wants to access everything from company news, policies to benefits on resource groups or communities.
Viva Dashboard Cards: what are they?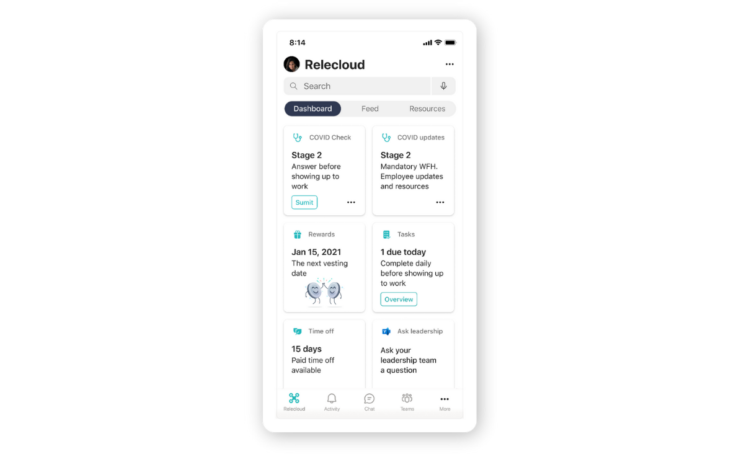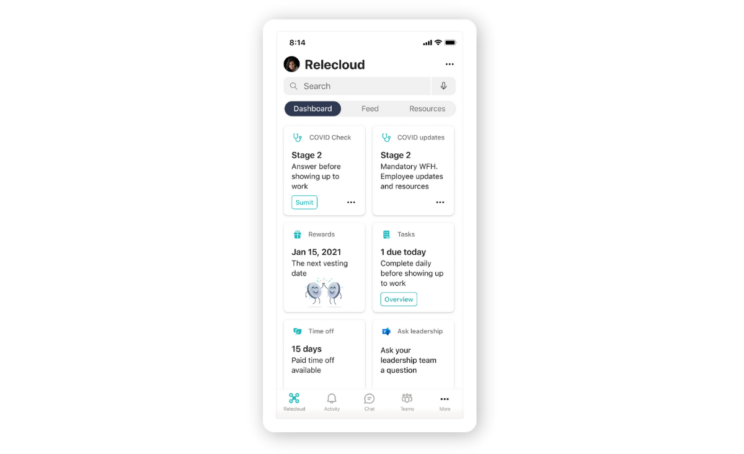 Viva Dashboard cards can be accessed via your smartphone. They show you a feed, such as your Yammer social feed or news feed etcetera.
With dashboard cards, you can add in your critical line of business apps, such as timekeeping apps. So, if you have frontline workers, for example, add in any COVID screening apps that your business might have. Or, add in any tasks that might be assigned to you – either your personal tasks or those that are assigned to you from Planner.
As a bonus, if you get redirected to a different site at any point, you can always head right back to your Viva Connections intranet thanks to its global navigation.
Click here for more information on Viva Connections.
Want to learn more about Viva and what it can do for you? We are happy to support you with the transition, launch, training and more. Fill out the form below or email us at [email protected] – we look forward to hearing from you.
Share
Related Posts