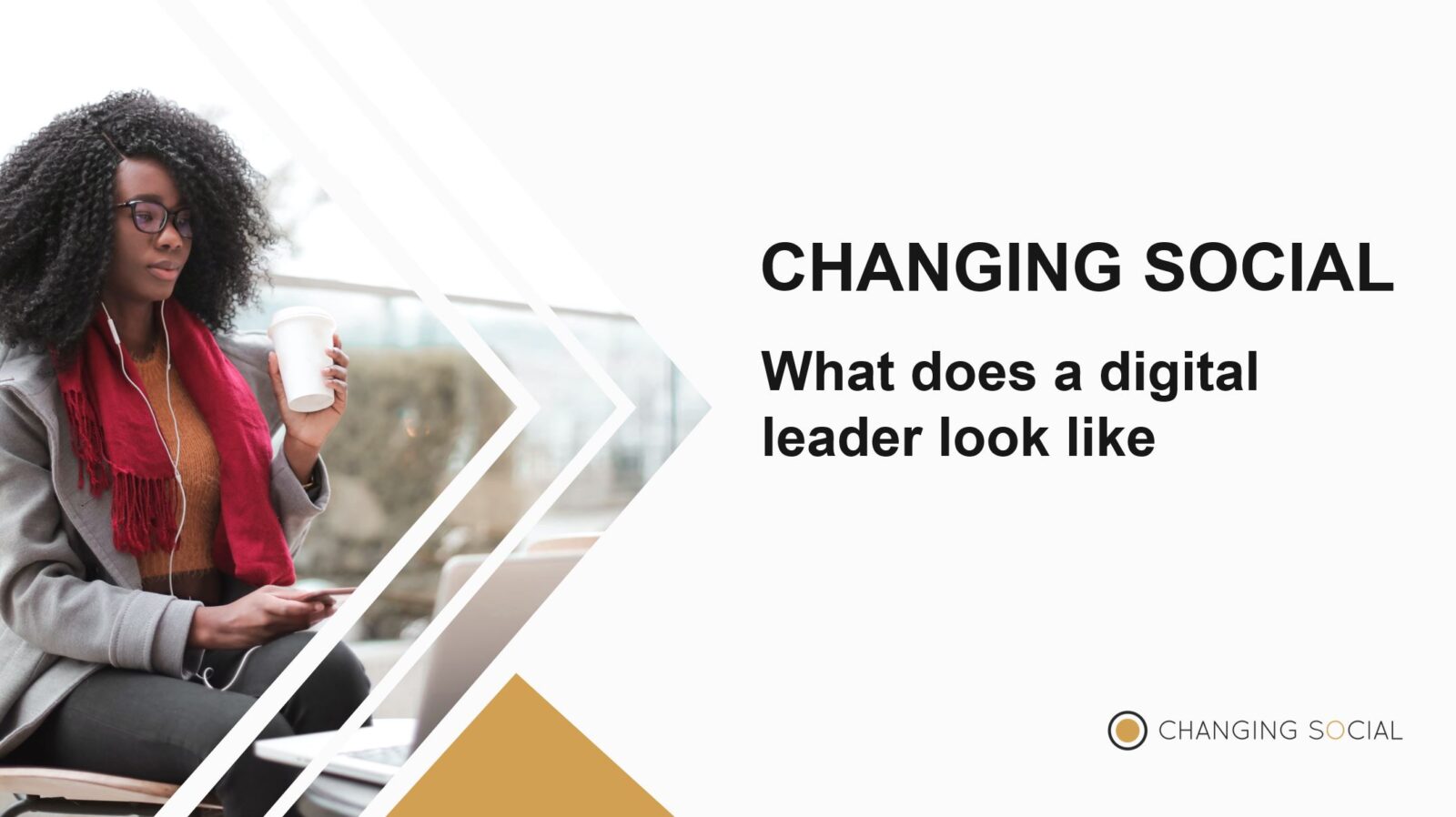 Like it or loathe it, it looks like virtual working is here to stay.
In the UK we find ourselves in our second national lockdown with many people being asked to work from home again. As winter advances, it's likely that this pattern will be repeated here and around the world until a vaccine is found and administered on mass.
While some people love nothing more than snuggling up in the home office on wintery days, for others adjusting to working remotely can be a challenge. We get it.
Over the next few weeks we are going to be looking at how we can both manage teams and work as part of a team remotely.
This mini series will look at some of the leadership skills and qualities we need to role model, and some of the technical tools that can help us as we navigate this new world together.
For us at Changing Social, it's a healthy combination of the two that will see us flourish in the virtual world.
What should a Digital leader look like?
This is the good news. A digital leader needs to be the same as a 'real-life' leader; competent, communicative and compassionate.
They need to be able to do their job, support their people to do theirs and provide an encouraging environment where people can fail and flourish.
How do you display competence virtually?
Be in control
Show up to meetings on time and be informed. Share what you know with your team and work together to solve issues. They will follow your lead, so if you're calm and collected, they are likely to be the same.
Own the tech
While you may have had on-hand support in the office, it's now your time to shine with technology. You're setting the tone for your team, so if you want them to use the tech, they need to see you using it too.
Doing small things like being the first to turn on your camera on every call and responding to Teams posts with a thumbs up will show you're engaging in the tech and the topic.
And don't be afraid to ask for help and get trained up to feel comfortable hosting a video call or participating in a Teams chat.
How can you communicate effectively in the virtual workplace?
A place for your team to call home
Working from home can feel isolating so make a point to encourage project work that allows team members to work together. This way, your team will feel more connected to each other and benefit from shared ideas and greater communication.
A dedicated Teams channel is a great way for groups to work together. It ensures that everything is captured in a single channel conversation for everyone's reference. All the documents, all the chats, and the meeting recording is in one place. Channel meetings are especially useful for recurring meetings, where keeping track of a project's status, for example, is crucial.
As a leader, you need to drive use of this channel. Show you're interested by liking comments, posting updates and asking questions.
Don't be afraid to show a bit of vulnerability and give away a bit about you as a person. Share what you did at the weekend, your holiday plans or a picture of your cat. People connect with people, and this is even more important in the virtual world.
Make frequent contact
You're probably used to running monthly 1:1s with your direct reports in the office. But without the chance to run into each other in the kitchen, or having a chat at the photocopier, a month between catch ups may feel like too long.
Consider splitting up your hour into a 15 minute check in once a week. Set an agenda for the meeting and keep to the key points. It gives you a chance to keep in regular contact and then schedule a more in-depth conversation if it's needed.
And use Chat in Teams to drop someone a note. A little 'Hi, how are you?' can go a long way when people are working remotely and feeling isolated. These connections are invaluable for keeping in sync with the team. It's the frequency, not the length of these connections that's important.
How can you show compassion in the virtual world?
More than any other leadership competency at the moment is the ability and willingness to show compassion to each other as human beings. 2020 has been an emotionally charged year for us all on so many levels. The ability to demonstrate that we 'get' each other is more important than ever.
And right now, with so much uncertainty in the world, people want to feel safe at work. Creating a safe space is not only important for individual well-being but also encourages a healthy workplace.
When the amygdala registers a threat to our safety, it triggers our fight-or-flight response. When we're experiencing this state, our limbic brain and the prefrontal cortex functions become suppressed, limiting our creativity.
Scientifically speaking, creating a safe environment is therefore crucial for business. So how do we do it?
Let everyone move at their own pace
As adoption specialists, we know that everyone learns differently and at a different pace.
As a Digital leader, you need to understand how your people take up technology and how they feel about using it. Teams, for example, has been a revelation to many people but to some, it's yet another piece of software that they need to learn to use and understand how they can incorporate it into their daily lives.
Showing awareness of this is something we at Changing Social call digital empathy. We're keen to support people at every stage of the adoption journey but recognise we all walk our own path.
Creating a safe place where people can learn about new technologies and are supported to use them will really help show your compassion as a Digital leader. Check in on those who are struggling, offer them additional training and empathise with them on their learning journey. knowing you're in it together and you have their backs will be a huge comfort.
Ask 'How are you doing?'
An emotional check-in feature is coming in early 2021 to Teams, where you will be able to tap into how your team members are feeling. Similar to apps like Calm, they will be able to register how they are feeling every day.
Knowing how they are feeling that day will enable you to adapt your leadership style to suit their mood. It might also explain why a piece of work is late or isn't quite hitting the mark. Without visual clues in the office, it can be tricky to gauge how people are doing from an email or Chat, so this new functionality may really help us stay in tune with one another.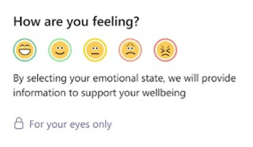 Closing thoughts
As Microsoft 365 adoption and change management specialists, we see first hand the important role of a Digital leader and how they help their people progress to successful virtual working.
While we are massive fans of the technology that enables us to collaborate and stay connected when we're physically distanced, it's the people skills that we believe are most important.
Here at Changing Social, we focus a lot of our time in our adoption strategies understanding the people who will be using the technology and tailoring the solutions to meet their needs.
We hope if 2020 has taught us one thing, it's the importance of caring and being empathetic towards others. Whether this means running training sessions in the middle of the night, having a sign language interpreter in the calls or providing ongoing assistance as and when people need it, we find a way to lead that is digitally empathetic.
Share
Related Posts