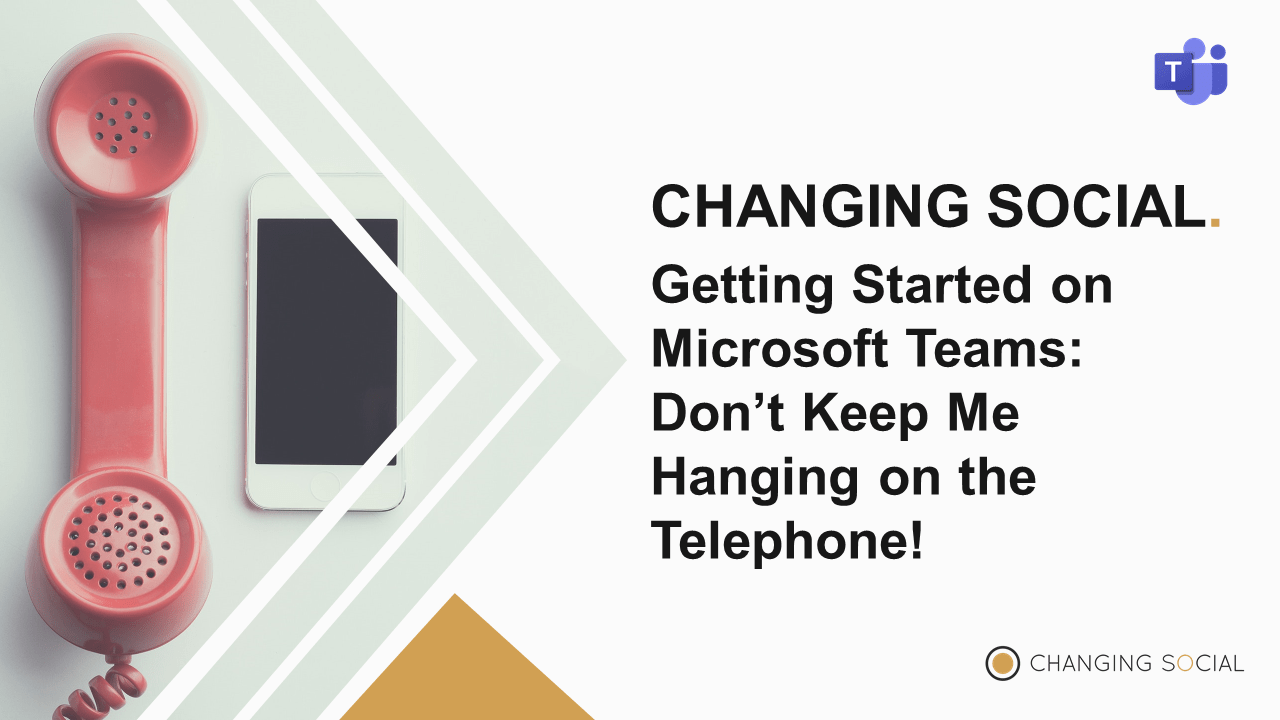 As part of our Getting Started on Microsoft Teams blog series, this blog is all about making calls in Teams.
As your communications hub, Microsoft Teams can be used to send and receive voice and video calls. And as Skype for Business is being phased out by Microsoft by the end of this year, Teams is fast becoming the go-to app in the Office 365 suite for calls. 
What's more, due to the Coronavirus global pandemic making remote working the new normal, Teams gives you a company phone wherever you are, making the old desk phone a thing of the past. 
Using Teams to make calls 
All users of Teams should be able to use the Call function to voice or video call anyone else within your organisation. This voice over internet call will give you a really high-quality call experience that you could expect from a mobile phone. 
Teams becomes even more useful if you have the Public Switched Telephone Network (PSTN) functionality enabled in your organisation. This then gives you the opportunity to dial a telephone or mobile number directly from Teams. So, you'll no longer need a desk phone and can make all of your calls with Teams. 
How do I get started? 
Making calls is really easy and there are a couple of ways to do it. 
Calls: Click on the Calls icon on the left-hand navigation and then select the 'Make a call' button in the bottom left-hand corner. You just need to type in the name of the person you want to speak to and select either the phone icon for a voice call (we all have bad hair days!) or the video camera icon (on better hair days) for a video call.  
Chat: If you're writing a message to someone and think this would be easier to talk to them, then give them a call. You can do this directly from the Chat function by clicking on the phone or video icon in the top right-hand corner. 
Some nifty tricks for making calls on Microsoft Teams 
If you like to regularly catch up with the same people, you can add them to your speed dial. To do this, click on Calls then 'Add speed dial' in top right-hand corner then type in their name. 
If you have a standing meeting with a group of people, one way to contact them all at the same time is through a Group. To do this, click on Calls then 'New group'. You will need to type the name of the group, then add the people you want to be a part of it. 
You should also consider setting up a voicemail on Microsoft Teams. This time click on your photo in the top right-hand corner and select 'Settings'. The select 'Calls' and 'Configure Voicemail'. There you can record your voicemail and set up all of your call preferences, even your ring tone! 
Sounds great, how can I get started? 
Changing Social is a certified Microsoft Adoption and Change Management Partner. We specialise in Microsoft Adoption and Change to help our clients adopt Office 365 in weeks not months, and we'd love to help you. 
We've recently been working as the Microsoft adoption and change partner to help a number of our clients change their telephony systems over to Microsoft Teams. By adopting Office 365 in this way, they can save money and make the most of your existing technology. Read our case study on Suffolk County Council to see how we helped them to do just this. 
 If you are thinking about making the switch to Teams or would like to adopt Office 365 in your organisation and would like to find out more about our services, including bespoke Office 365 training, please contact us at [email protected].
Share
Related Posts