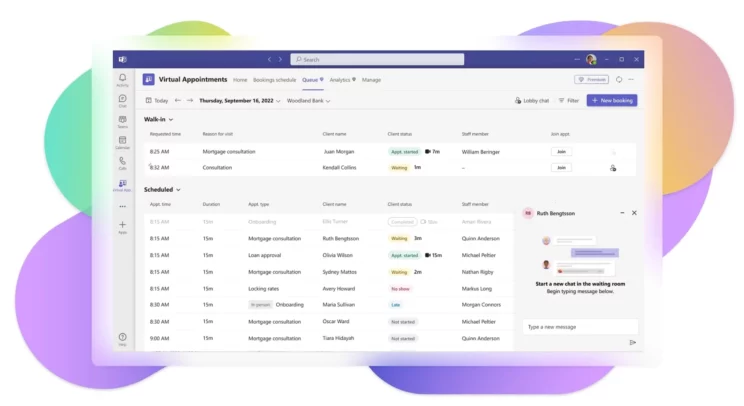 Microsoft have released updates focusing on webinars and virtual appointments within Teams Premium, and we're excited to learn about the new features.
Ensuring organisations can present a cohesive and elevated online presence, Teams Premium is offering key meeting capabilities and an enhanced virtual appointment experience for customers.
So, let's dive into all the updates for Microsoft Teams Premium from February!
Custom Organisation Backgrounds and Together Mode Scenes
Want to set your company apart with a strong online presence during meetings? Teams Premium has you covered!
During a meeting, users can enable organisation backgrounds approved by your brand, allowing you to represent your organisation at all times. This will also be available when in Together Mode.
Who Can Record
If a meeting veers into a sensitive discussion, rest assured that it will remain private.
With the 'who can record' feature, users can limit and control who has access to recording a meeting, giving you all the protection you need.
Registration Waitlist and Manual Approval
Is your webinar registration list full but still have people wanting to attend? Try using a registration waitlist and manual approval!
Once registration has been set and invitations have been sent to attendees, users can enable the registration waitlist and manual approval to manage the registration process. Using the waitlist enables users to keep the webinar registration open after the event has reached the capacity set by the organiser, allowing additional people to register and be added to the list.
If someone can no longer attend and a new place opens up, people from the list will automatically be moved to the pending approval state, allowing the organiser to review their registration information and manually accept or reject new registrants.
Enhanced Virtual Appointments
Tailored for business-to-consumer meetings, virtual appointments is a new Teams meeting facility that offers a professional meeting space for people outside of your organisation.
When using virtual appointments, guests will receive a meeting invite including any important appointment details to make joining via SMS or email as easy as possible.
Customers don't have to install Teams and can join from any device, where they'll be directed to a virtual pre-appointment lobby until they're ready to start.
Virtual Appointments App
Providing a single location for professionals and administrators to create and manage appointments, the Virtual Appointments app is essential for management. Allowing admins to create and manage scheduled or on-demand appointments, the app features a comprehensive dashboard that gives a quick view of a user's schedule.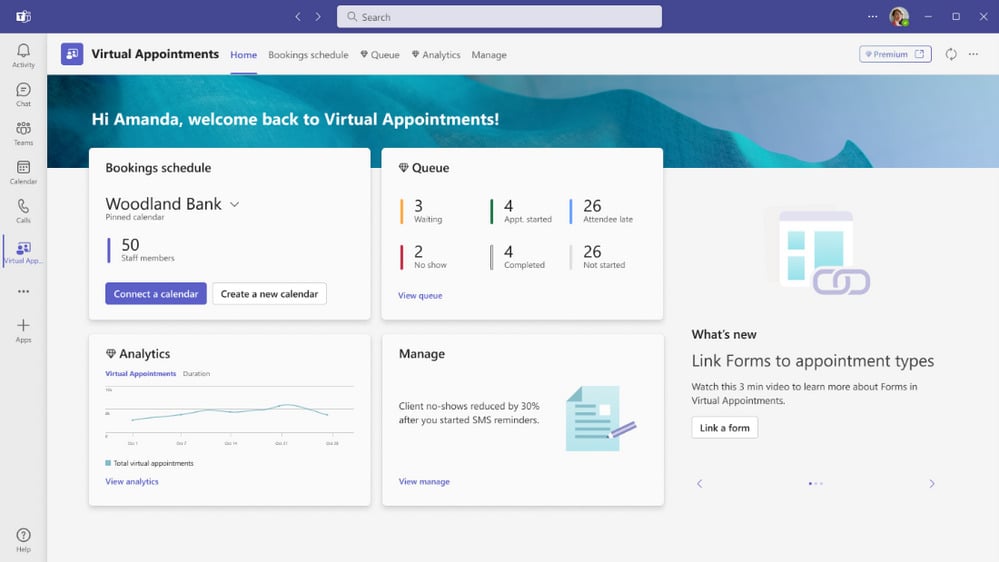 Queue view of scheduled and on-demand appointments
Administrators and staff conducting virtual appointments can now easily monitor and process incoming requests.
Within the Virtual Appointments app, users can manage and service appointments in one centralised location with updated capabilities around tracking wait times, checking on the status of a meeting and more.
Admins can also set-up an on-demand entry point for clients to request appointments and services through a hosted, self-service website with organisation branding.
Individual and Departmental Analytics for Virtual Appointments
Need appointment data to help you improve customer experience and reach KPI's? Say hello to Virtual Appointments analytics!
Focusing on key metrics such as no-shows, wait times and calendar-level analytics, these reports will include trends from over time and allow users to dive into individual appointment data.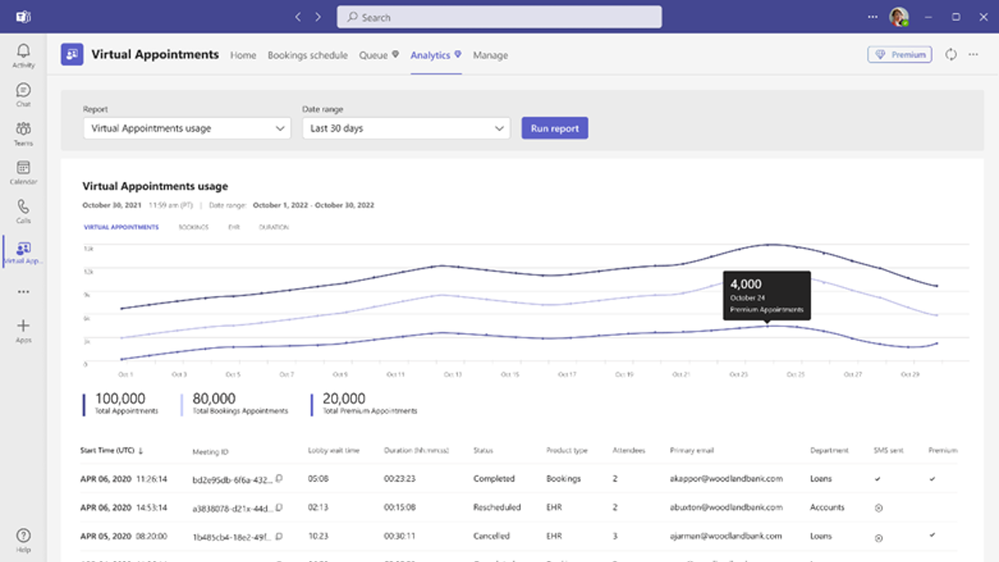 Organisational Level Analytics for Virtual Appointments
Virtual appointment administrators and operations supervisor can view aggregated analytics across departments and the entire organisation.
Users will be able to see detailed activity for appointments through various scheduling entry points and date ranges. The reports will also include active user information such as SMS, two-way waiting room chat, queuing and more.
If you want to get started with Teams Premium, and all it has to offer, get in touch with Changing Social! We're one of the top Microsoft consultancy firms, specialising in all things Microsoft: from digital transformation, to training programmes, to apps on the Power Platform – we do it all! To find out more, fill in the form to the right, or email us at [email protected]
Share
Related Posts