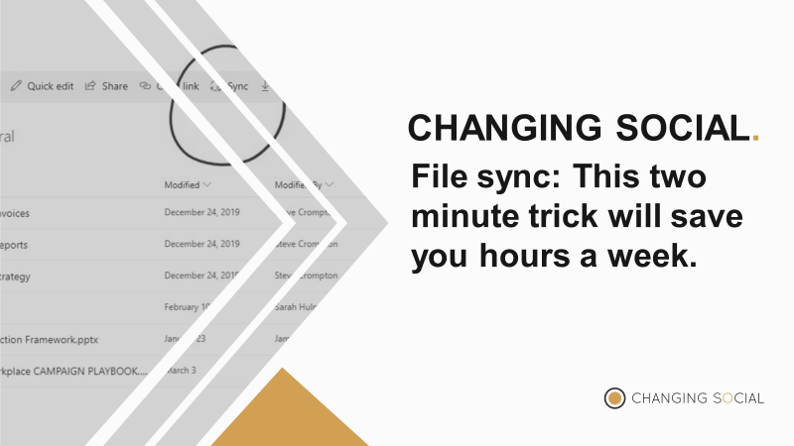 In the example below I am looking to have all of the files in my Changing Social Oil Rig Team synced back to my File Explorer to enable easy access to them.
Step 1, Click on the Changing Social Oil Rig team and open the General Channel. Step 2, Click on the files tab to open the files. Step 3 Click on the three small dots to the right of Add cloud storage (also know as the three bread crumbs) and then click open in Sharepoint

This will land you in the Sharepoint site associated with the Changing Social Oil Rig team but it will only land you within the General Team folder. Note each Channel has a folder associated with it.
If you then click on Documents (step 4) above you will then be taken up to the next level in the file directory structure. This means you will then have all the folders for each of the channels in your team in this case you can see the four folders associated with the four channels in the team see below.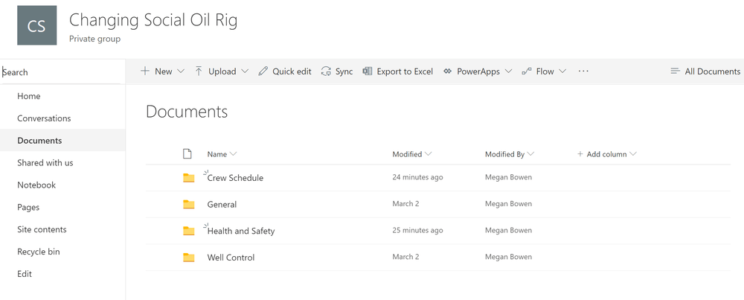 The next step is click on the Sync button to enable the files to appear in your file explorer. See Step 5 below.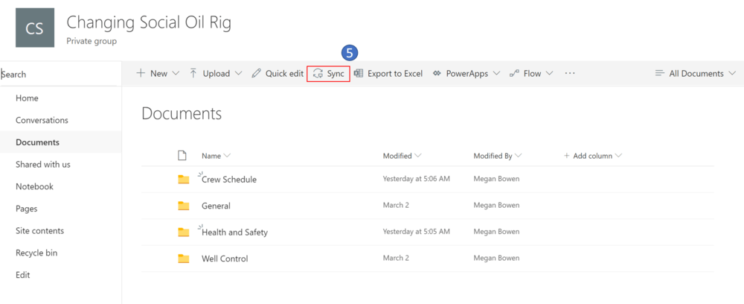 You will then receive the two messages below as things are being set up for you.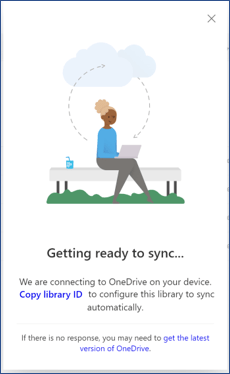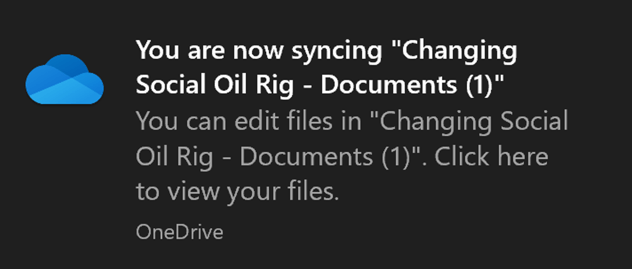 When you open File Explorer you will now have the name of your organisation and a small office block to the right of the name indicating it is from your organisation. You will also see all the folders associated with each of the Channels in the Team you have synced.
You also have the ability to switch off syncing and chose which folders you would like to have synced. If you right click on the small OneDrive icon in the task bar step 6 and select settings you are able to stop syncing altogether and or select to turn off folders steps 7 and 8 below.
If new Channels are added you will need to repeat the whole process.

I hope this helps and makes your Teams collaboration experience even better.
Changing Social is a certified Microsoft Adoption and Change Management Partner. We specialise in Microsoft Adoption and Change to help our clients adopt Office 365 in days, not months. If you would like to adopt Office 365 in your organisation and find out more about our services, including Office 365 training, please contact us via the form below or email us at [email protected] 
Share
Related Posts