Change is a constant factor in large organisations but employees are often wary of it and what it means for them. In the current landscape – characterised by ongoing unpredictability in professional and personal lives – employees have a lower tolerance for change. This means 'change fatigue' is a real risk to the implementation of essential projects, as beleaguered staff simply can't take on any more uncertainty.
However, thanks to interactive communication tools, optimised for remote working, Microsoft 365 can help.
How can Microsoft 365 support change communications?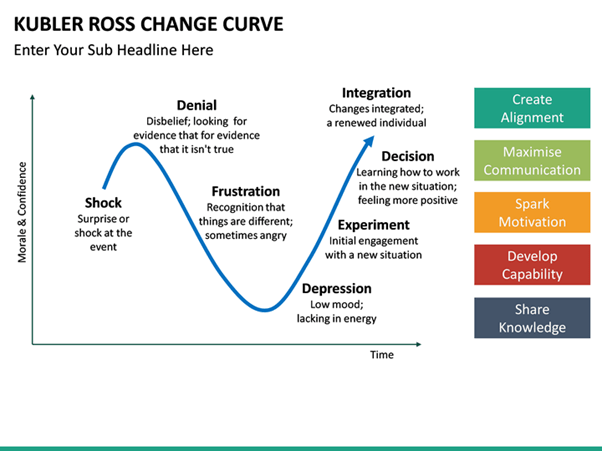 Effective communication is essential at all stages of the change curve.
Whether that's announcing and informing staff at Stage 1 when they are experiencing Shock, listening to their concerns when they are going through frustration, or training them when they have bought into the decision, the Office 365 tools play a role along the change journey.
Here are just some ways employers can communicate change effectively in the 'new normal' and smooth employees' journey through the change curve.
Engaging meetings
Interactive features in Teams make it easy to communicate with up to 250 colleagues at a time, with up to 49 in a single screen. Not only can you speak directly with participants, you can also interact and collaborate with them, to engage them in the change process.
For example:
polls to test sentiment in real-time
chat functionality to field questions
shared whiteboards for collaboration and brainstorming
breakout rooms to discuss and air concerns
Live and on-demand events
Live events in Teams and Yammer let you run broadcast-style events to communicate with up to 10,000 employees at a time.
Moderated Q&A functionality lets your audience pose questions to presenters, making this a perfect way to run town hall events and 'Ask me anything' sessions remotely.
Transparent two-way communication with senior stakeholders can help employees feel heard and recognised during the change process. This can build employee trust and confidence, as well as break down barriers to accepting change.
Information sharing
Now more than ever, employees need information without feeling overwhelmed by it. Microsoft 365 offers lots of ways to provide employees with easy access to additional information on their terms.
Instead of emailing documentation, training manuals and business cases to colleagues, create a self-service portal in SharePoint that staff can visit if they need to. Or create a community in Yammer to house content and encourage discussion about the change process.
Use an integrated workspace to streamline communication, reducing the time and frustration associated with tracking down information across multiple applications.
Training and presentations
Training and upskilling can help staff adapt to new working practices and processes. There are a range of options within Microsoft 365 to get staff up-to-speed quickly and easily. For example:
Live and on-demand events like webinars through Teams
Interactive presentations using PowerPoint Live or Stream
Demonstrations using screen share in Teams
Self-service training manuals in SharePoint.
The value of two-way communication in change communications
One of the major benefits of using Microsoft 365 for change communication is that it allows for two-way conversations. This is especially important in the early stages of the change curve when staff feel anxious and unsure.
At this point, you can anticipate and answer potential questions. But without a crystal ball, you can't  foresee every problem that an employee might experience. That's why listening is so essential.
Monitoring conversations in Yammer, receiving questions during events, and taking polls in Teams can help you hear staff concerns. This means you can provide enhanced and tailored information to reassure staff, as well as gain valuable insights for the rest of the rollout.
If you're still not sold on Yammer, read our blog on why Yammer during COVID 19 
The importance of trust and team cohesion to change management
Although Microsoft 365 can be used for interactive and engaging change communications, it shouldn't be reserved for it.
Research from Gartner suggests it isn't just change communication that makes the process go more smoothly. They found that businesses that already have strong team cohesion and trust in senior leaders are more resilient to change.
Which means enhancing communication and collaboration through Microsoft 365 is an everyday essential, not just a tool for effective project implementation.
At Changing Social, we're adoption and change management experts. Let us use our extensive knowledge of O365, combined with our Microsoft Accredited Partner status, to help you get the most of O365 in your organisation. Please contact us via the form below, or email us [email protected] to arrange a chat today.