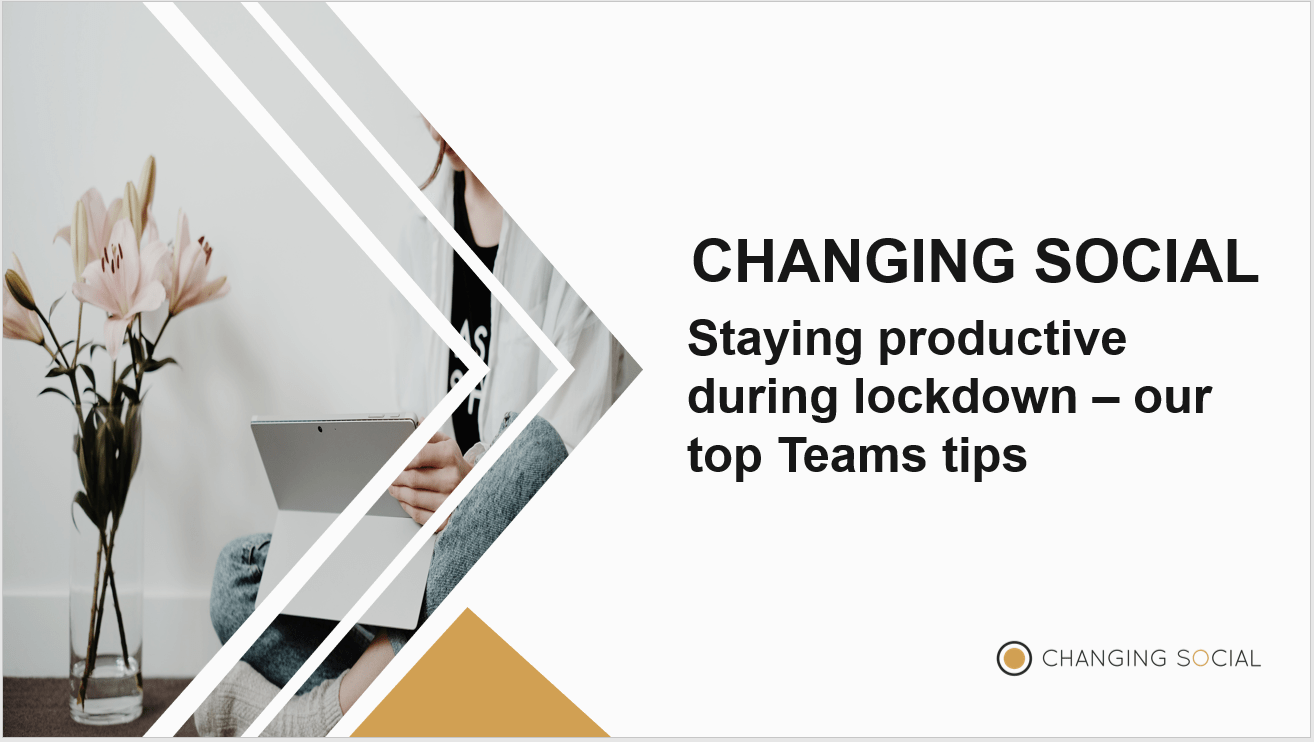 This remote working business was pretty exciting week one. I set up my home office, bought loads of houseplants and started to get settled into this new way of working.
Fast forward 196 weeks, and it's fair to say the novelty has somewhat worn off. The plants have dried up and died, and so has my work mojo. I'm struggling to focus, with many distractions making my mind wander my productivity has certainly waned.
So I decided to look to Teams to see how I could be more productive during lockdown, and this is what I found.
I need to better manage my notifications.
If, like me, you are a member of a lot of teams, you may find it useful to review your notifications. For me, there are a number of projects I need to look in on once or twice a week, but can live without the updates every time someone posts. This simple modification has really reduced my notifications and now I know when a notification pops up that it must be for something important (not just that Beryl has posted a new picture of her cat, again!).
Live in Teams.
I spend loads of time searching for information that I know I've seen, but can't put my hand on. So I've decided to stop using email for internal messages and instead, I've moved all of my conversations, messages and correspondence across to Teams. I can use the search bar and find documents in seconds. It's transformed the way I work, and while there is still a need for email for communication outside of the team, I'm now living in Teams.
Working out loud.
I'm the kind of person who sits on an idea until I have the solution. This can lead to many lost hours staring into space, and much frustration for those around me. Teams has taught me that by sharing my issue and inviting other team members to come up with ideas, I'm getting the answers 10 times quicker. The simple act of asking what others think and working together, has really helped me to be more productive.
Using my status settings.
I always maintain an open door policy – anyone can ask me anything at any time. But in the office, people can see if I'm busy and often decide not to disturb me if so. It's not as easy to read those cues in the virtual world. So I've decided to use the status settings in Teams to let others know if I'm busy, available or have just stepped away from my desk. Often if I'm writing something, I will turn it to busy so I can get my head down and concentrate on the task at hand.
Just implementing these few things has helped me be more productive during lockdown, have more time dedicated to work without regular interruptions, and encouraged me to share problems with others for a quicker resolution.
What are you doing to stay productive during lockdown? Share your tips in the comments below.
If you need some help kick starting your work mojo, and want to understand a bit more about how Teams could help, we'd love to help. Drop us your details at [email protected] and we'll arrange a virtual coffee catch up and demo for you – no cost, no obligation.
Share
Related Posts