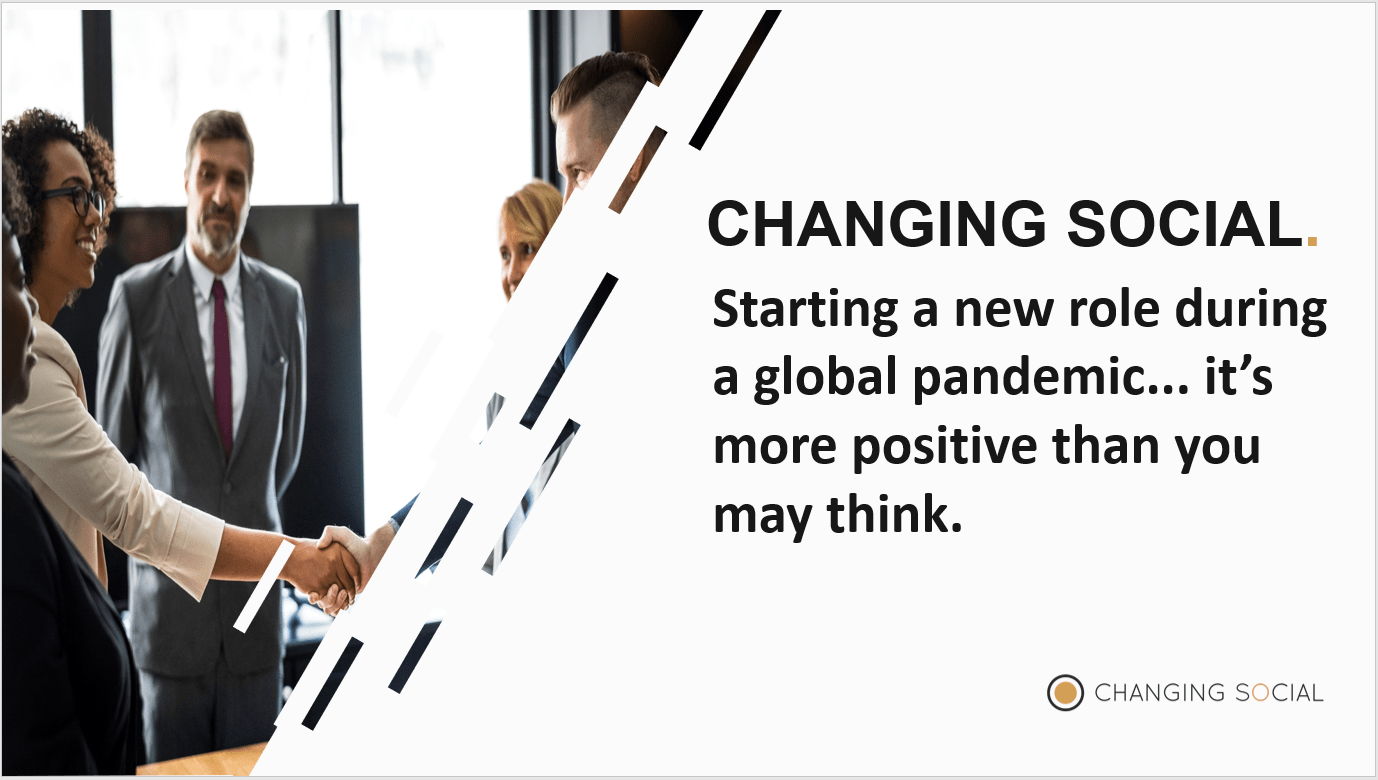 Imagine being given an amazing new job opportunity, accepting that offer, handing in your notice and a week later the Prime Minister appears on TV to say, "You must stay at home".
Well that's what happened to me and I'm guessing quite a few others out there too!
Fortunately for me, I had enough reassurance from the team that all would be fine and Changing Social were not about to furlough any staff. However, this did not change the fact that completing an onboarding process for a new role during a global pandemic is never something I expected or thought I would view in a positive light… thankfully I was wrong!
It's very easy to dwell on the negatives of the current situation so let's talk about the positives. Keep reading for 3 quick wins I have gathered from my first few weeks since joining Changing Social completely remotely.
1) Meeting the team whilst working from home
Traditionally, new starters could be working in a business for weeks before meeting all their teammates. A benefit of Covid-19 is that everyone is working remotely from home, this made it far easier to schedule introductions with the rest of my new team.
I was able to meet all the members of my team within the first two days. When you are a new starter and colleagues are travelling extensively and working on client sites, you could have been waiting weeks to schedule introductions with existing team members in the past.
Utilising remote introductions within the first few days was a great starting point, as by the end of my third day I had spoken to everyone within the Changing Social team. Meaning I knew who I could go to for help and support on certain topics.
2) Taking time for your own wellbeing
Working from home allows you to have your creature comforts around you, and due to my commute only being a matter of steps to my home office, I was able to focus on my mental health more during this period of typically intense mental exhaustion/burnout.
I was able to use the time typically spent on commuting to exercise, meditate or have a cup of tea in my garden. This meant I was able to clear my head each day, reduce my stress levels and give my all to my new role.
3) Early access to my work account
I was kindly given my devices and access to my Changing Social account prior to day one. Understandably, this is something that every company would not be able to do for obvious reasons, but during these extraordinary times thinking outside of the box is a must!
Having access to my account ahead of time allowed me to get the hang of how Changing Social used the tools at their disposal. Something people often forget is that you know what applications are capable of and you may have used them before, but each company and team find their own ways of using them together and the earlier you can play catch up the better.  I hope that those of you who are facing starting a new role or changes being made to your existing role, can benefit from knowing that it is possible to take on these challenges and still have a very positive experience.
Be sure to communicate with your colleagues and make the most of remote working tools available. If you need any further help to improve the onboarding process for an entirely remote team then do please get in touch today.
Most of all stay safe.
Share
Related Posts