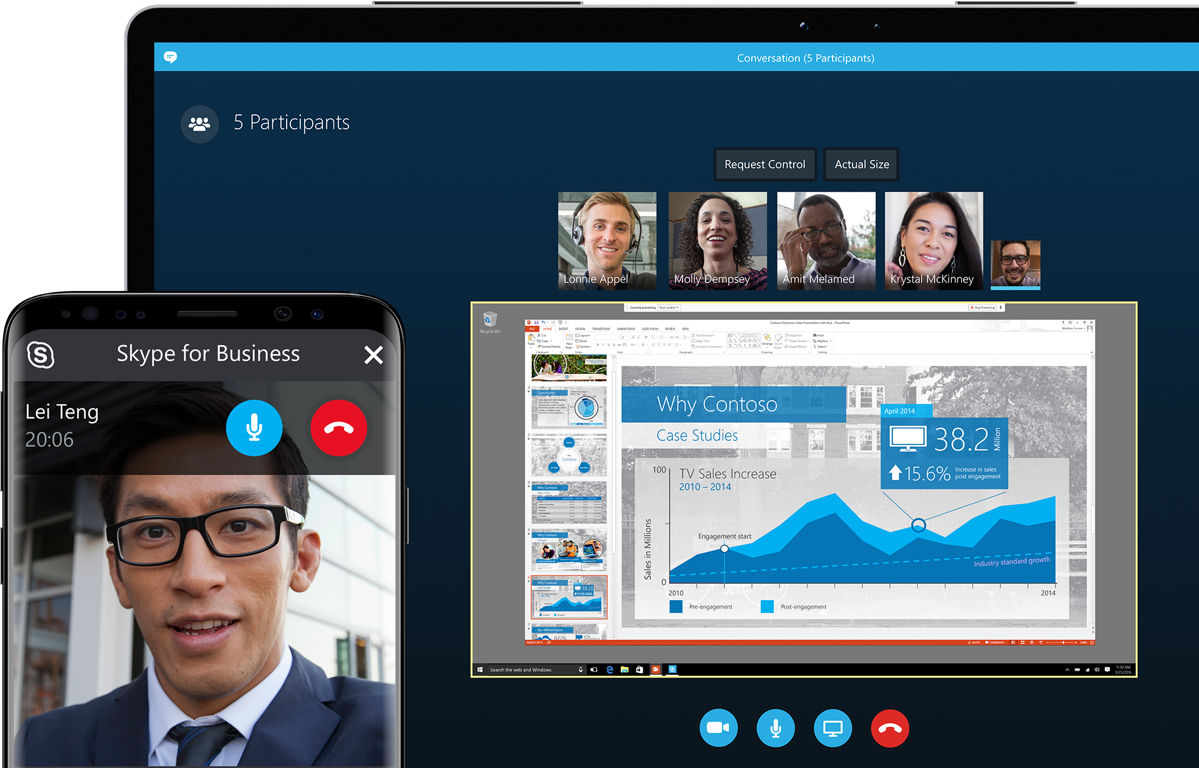 It should come as no surprise (Microsoft has sent a fair few reminders) that Skype for Business Online is officially on its way out. As of 31 July 2021, Skype for Business Online will be putting its feet up and gracefully retiring from the world of Microsoft.  
But fear not, Microsoft isn't leaving you empty-handed…Microsoft Teams is not just your replacement…it's a definite upgrade!  
To help you get prepared for ditching Skype and switching to Teams, this blog will cover: 
A bit of background on Skype for Business 

Why is Microsoft retiring Skype for Business Online.

What are the benefits of using Teams? 

How you can get started 
A bit of background on Skype for Business 
The Skype platform has been dominating the corporate communications space since its launch in 2003. Microsoft purchased Skype in 2011 but it wasn't until 2015 that it released Skype for Business as a replacement for Microsoft Lync, the corporate comms tool at the time.  
Two years later, Microsoft announced the launch of a new, exciting tool for chat, calling, screen sharing and document collaboration…Microsoft Teams.
It was clear from the start that Microsoft Teams would eventually replace Skype for Business but while they worked on some of the technical capabilities of Teams, the two have co-existed offering similar and overlapping capabilities.  
Why is Microsoft retiring Skype for Business Online? 
Since the launch of Microsoft Teams in 2017, Microsoft has focused its time and resources to building the Teams platform to be the gold standard in workplace collaboration. They wanted something that would work seamlessly with the other M365 applications and although Skype had evolved over the years, there were only so many upgrades and improvements that could be made to its aging architecture.  
And it's certainly achieved that! Microsoft Teams was one of the fastest growing apps of the pandemic with Microsoft adding 95 million users in 2020. It is estimated that more than 500,000 organisations use Microsoft Teams as their default messaging platform. 
So, while Microsoft recently said it's "getting a bit nostalgic about what's going away" it really is a no-brainer in its efforts to streamline its enterprise solutions.  
It also demonstrates Microsoft's dedication to making sure Teams stays ahead of the game.  
Microsoft added: "It's easy to see how much more organisations can do with Teams – staying connected and accomplishing more together across work, school, and life. And that has us excited about what's ahead." 
Why is Teams such a big hit? 
Microsoft Teams has been hailed as the future of corporate communications. 
Even before the pandemic and the rapid changes to remote working, Teams was focused on ensuring colleagues could connect and collaborate from anywhere. It is designed to provide an all-encompassing collaboration hub for a business and its employees – it's so much more than a video conferencing and chat tool.  
Let's look at some of the reasons why Teams is the 'top dog' of collaboration platforms: 
Everything you need, in one place 
Chat, meet, call, collaborate – all within the same platform. Teams integrates seamlessly with other M365 apps, giving users easy access to Excel, Word, PowerPoint, Outlook as well as cloud storage solutions like SharePoint, Power BI and Delve.  
The omnichannel collaboration hub allows employees to switch between video chat, instant messaging, email and document collaboration. The aim is that in the future, Teams will be the interface of all activity. As well as the M365 applications, Teams also works with many third-party apps such as Github and Salesforce, and many more. 
It's easy to use  
The aim of Teams is to help people work smarter. It's designed to simplify the way you work with one user interface that lets you integrate with other M365 applications without leaving Teams. You can create multiple channels where you can have conversations and share and collaborate on documents.  
A great function of Teams is the chat capability. The threaded conversations mean everything is recorded in one place. This avoids the need to hunt through emails and the bombardment of email threads.  
You can have audio and video chats as well as integrating your phone system using Microsoft Teams Calling.  
Teams is being updated all the time 
Not one to stand still, Microsoft is always looking for new and exciting ways to help people work better and smarter. And like all Microsoft technology, Teams is an ever-evolving solution adding more apps, better features and further improvements all the time.  
Just this year, Microsoft announced the launch of Microsoft Viva, an employee experience app built for the digital era. Viva brings together communications, knowledge, learning, resources, and insights into an integrated employee experience that empowers people and teams to be their best, from anywhere. Viva has been integrated into Teams helping employees to have a better experience without having to leave the Teams platform. You can read all about Viva in our recent blog.
Microsoft Teams really has come along and changed the way people collaborate and communicate. It's taken Skype for Business and added an extra layer of ease, collaboration and productivity to transform the workplace through improved teamwork, employee engagement and seamless communications. At such a critical time, Teams has bridged the gap to show that people can have the flexibility to work from anywhere, at any time.  
How can you get started? 
So, although it's always hard to say goodbye to something that's served us so fondly (Skype for Business), it's time for the new guys in town (Microsoft Teams) to show us what they can do. And we're here to show you how to do it… 
Changing Social are an expert in Microsoft 365 and helping organisations to adopt Teams. Our proven adoption approach focuses on the people and business needs to embed sustained change.  
Using Prosci's ADKAR (Awareness, Desire, Knowledge, Ability, Reinforcement) model, we provide communication strategy and planning to create the awareness and desire to support the business and its people. We're also extremely proud of our Digital Champion Programme which upskills engaged employees within your business to help embed and adopt M365's tools and applications.  
We also offer specific Teams training to businesses looking to improve their user productivity and maximise their return on investment. The training provides users with a clear, practical and in-depth understanding of the key capabilities of the Teams platform.  
Our mission is to deliver sustainable change…change that really sticks and improves the way you and your people work.  
You can learn much more about Teams by visiting our extensive resources. We have blogs about Teams top tips, new features within Teams, getting started on Teams and the Chat and Live Events features…and much much more! 
Do you need help to embed and adopt Teams across your organisations within days, not months? Do you want to build a digital workplace for today and tomorrow. Then Changing Social can help. We can support you with all elements of adoption from communications and engagement, through to training and reinforcing. Contact us at [email protected] to learn more. 
Share
Related Posts