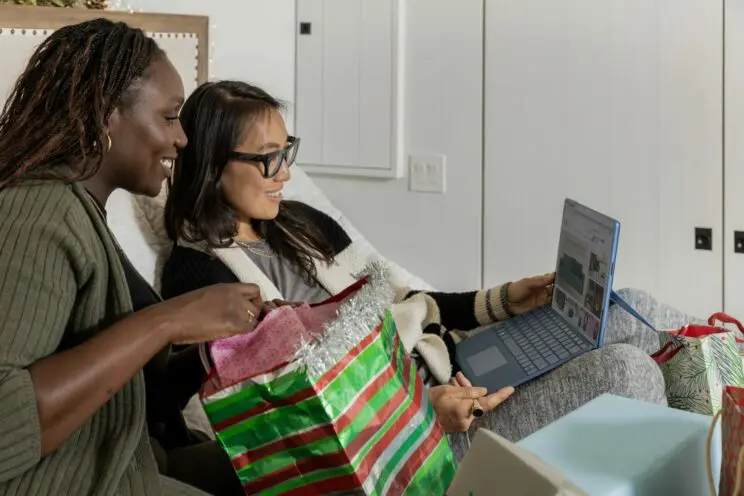 Whether you want to party in-person, virtually or a bit of both, Teams has you covered! With workforces spread across the country, it can be hard to coordinate an in-person party that everyone can attend.  
However, by using the fun features on Teams, you can guarantee a Christmas party that everyone can get involved in. A Teams Christmas party is a stress-free, accessible and fun way to get everyone together this holiday season.  
Check out our top tips for games and virtual partying on Teams below!  
Games to Play at your Virtual Christmas Party 
Charades  
Charades is a firm favourite at Christmas time, and luckily it works just as well virtually as it does in-person!  
It's a basic visual game in which players silently act out the title of a film, tv show, book or song for others to guess the right answer. The titles can either be pre-chosen or the player acting out can decide on the spot.  
Players can watch the person doing the charade on camera, and when they think they know what the charade is, they can make a guess via the 'raise your hand' button in the top bar.  
The rules are very straight-forward: no speaking from the player acting, breaking down the title into syllables is allowed, and you can use 'sounds like' to help describe the word. If someone is close to guessing the word or gets a word right, the player acting can tap their nose to let them know they're almost there!  
Once a player has guessed the correct answer, it moves on to them to act out the next charade, and continues like this for the rest of the game.  
Use the Games for Work App in Teams  
For a truly hassle-free party, why not try the Games for Work app in Teams?  
You can search for the Games for Work in the app section of the top bar of any Teams meeting, right next to the reactions button. Once downloaded, you have access to Ice Breakers, Solitaire, Wordament and Minesweeper.  
Wordament is a fun word-search game, giving players prompts to help them find words and score points! 
Icebreakers offers mini-games such as Would You Rather and Never Have I Ever, with questions to choose from like 'would you rather be a rockstar or a famous scientist' and 'never have I ever flown in a helicopter'.  
Just launch a game and everyone on the Teams call can join and play!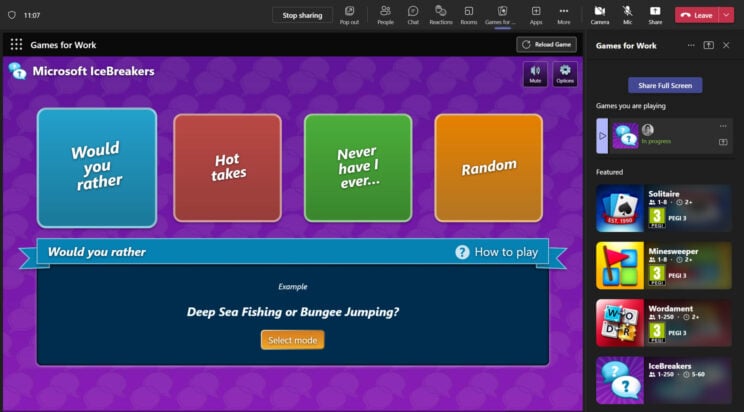 Christmas Words A-Z 
In small groups, players will be given the task of word association from A-Z, coming up with Christmas themed words for each letter of the alphabet to be put into a list via Forms software.  
Once all the lists are completed, you can create a word cloud of the most common words, the silliest words and words that aren't related to Christmas at all!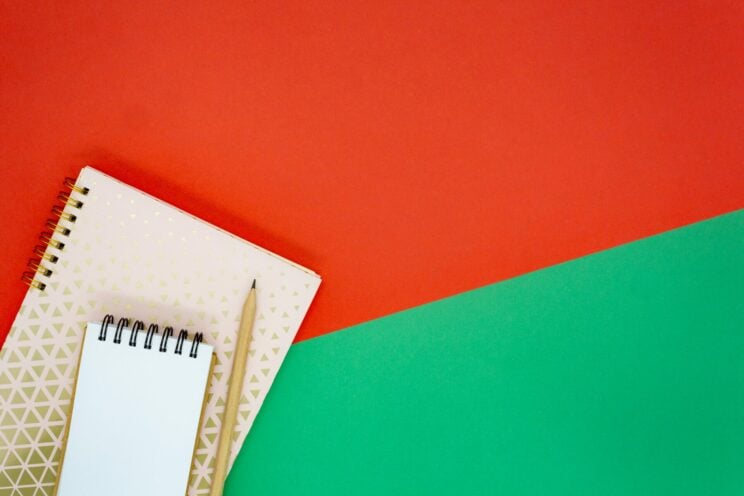 Musical Chairs 
Using some Christmas magic, you can turn any Excel spreadsheet into a game of musical chairs!  
With an unlimited number of people who can take part, each player moves around the purple rectangle until your favourite Christmas tune stops. Then it's time to try and grab a chair!
Each player has to use the arrow keys on their keyboard to try and land on an orange square, securing their 'chair' for the next round!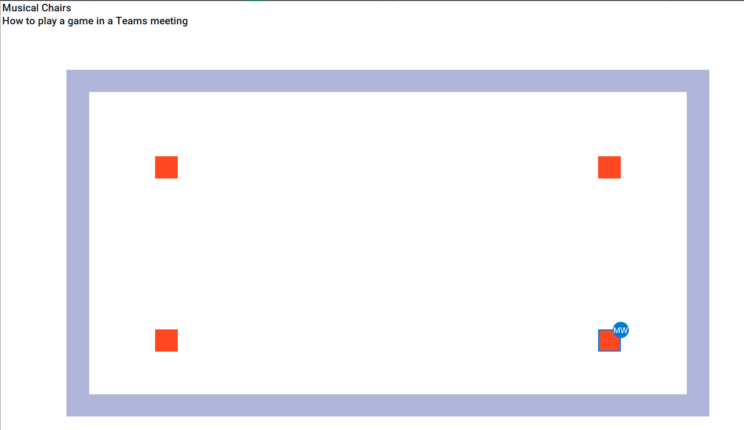 Pass the Parcel  
Don't let your remote party attendee's miss out on the chance for some prizes, play virtual pass the parcel using a PowerPoint based model to ensure everyone can join in!  
One player will start with their slide, adding in either a description of a present up for grabs or positive moments from the year to be 'unwrapped'. Once they have finished writing, they can send the link to another team member to add their own slide.  
Eventually, everyone will have added either a present or a positive! However, anyone with the link can have a peek back at the slides and unwrap a slide.  
As the software allows 99 people in the document at one time, everyone can have fun passing the PowerPoint parcel!  
Guess Who? on Together Mode 
The classic party game, Guess Who? can now be enjoyed on Teams and it's so easy to play! 
By choosing 'Together Mode' on a Teams call, all attendees are sorted into a lecture-hall style seating display, and you can use this to play a real-life version of Guess Who?  
Choose a team member as the 'secret person' – make sure you don't tell anyone who it is – and then players will take turns asking 'yes' or 'no' questions until they know who the person is!  
It's a great way to get to know your colleagues even more! By asking questions like "does this person like cooking" or "do they have facial hair", you gradually discover who the secret person is. Anyone eliminated by the question will turn off their camera, until there's only one person left on screen or a player guesses the secret person.  
Use Guess Who? to test how well you know your colleagues at your Christmas party!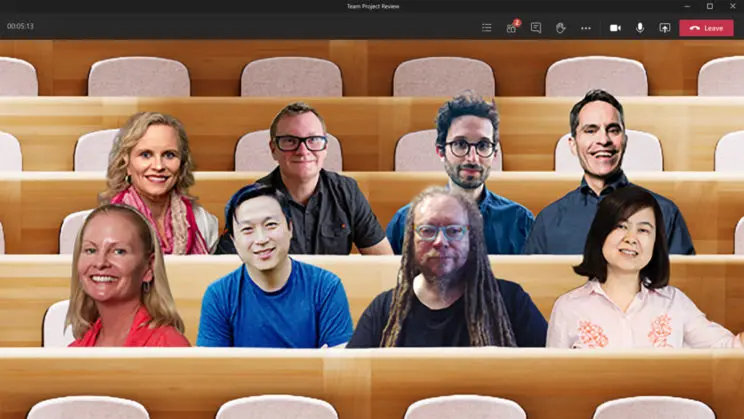 Changing Social are Microsoft Teams experts, and can help you with all you Microsoft needs. Whether it be change management, building apps or organising a virtual Christmas party, we can deliver in days, not months. Contact us via the form below or at [email protected]
Share
Related Posts