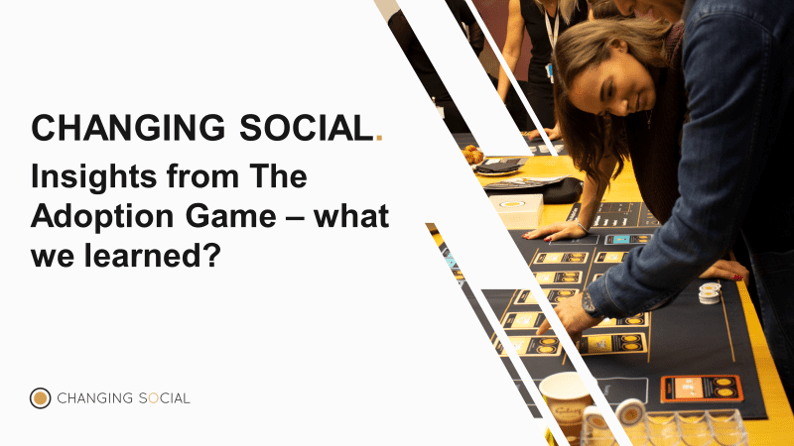 Wednesday April 17th 2019, we hosted our first event showcasing our Adoption Game! Our MD, Steve Crompton, dreamt up the idea of using a game to help others understand adoption and change management principles. It's not easy to simply describe what a Change Manager does and how they design their strategy for success. For Changing Social, the best way possible to explain this process is to fully immerse a player in the role of a Change Manager and take them through an adoption simulation – The Adoption Game.
At the workshop this was achieved with six willing guinea pigs, all with varying levels of change management knowledge (from completely green to experienced within the field).  The group included; three Customer Success Managers, an E-learning Manager, a SharePoint Consultant and a Collaboration Solutions Specialist, who all arrived with different learning objectives. These ranged from; understanding PROCI'S ADKAR framework to discovering how to engage with key stakeholders within an organisation.
Steve Crompton began the session with a presentation about Changing Social, who we are and what we do, followed by a breakdown of change management principles presented by Mark Furr. It was great to see player participation throughout the opening presentations, sharing their ideas and experiences of change management. This early level of engagement set the tone for the rest of the workshop – then we started The Adoption Game!
Three teams were given the objective of creating an Office 365 adoption plan. The aim was to influence and inspire the four personas (Digital Champions, Enthusiasts, Cynics and Resistors) within their organisation to embrace new ways of working. Each team were given resources (time and money) which they were to allocate to adoption activities within Communications, Training, Digital Champions and Engagement. The game was designed to encourage collaboration and the sharing of ideas between players, so it was great to see our vision become a reality.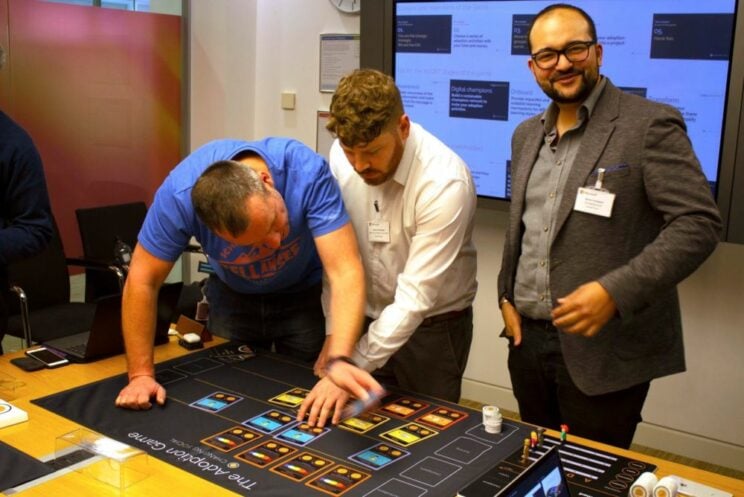 Each team had a Changing Social facilitator whose role was to guide the players through the game, establishing the ground rules as well as setting the scenario. For example, if a team chose a specific activity for their plan they were granted additional resources from the facilitator due to its significant impact on the personas. We found that by creating a fluid, dynamic and adaptable experience within the game the players were able to see how an adoption plan would work in the real world.
Each team came up with a different adoption plan, but they all managed to achieve their goal of motivating the personas to embrace new ways of working. This shows that there is more than one way to engage with and transform a workforce to adopt new technologies. To conclude, the workshop was a huge success! All our players gained new insights into adoption and change management, achieved their objectives and most important of all, had fun.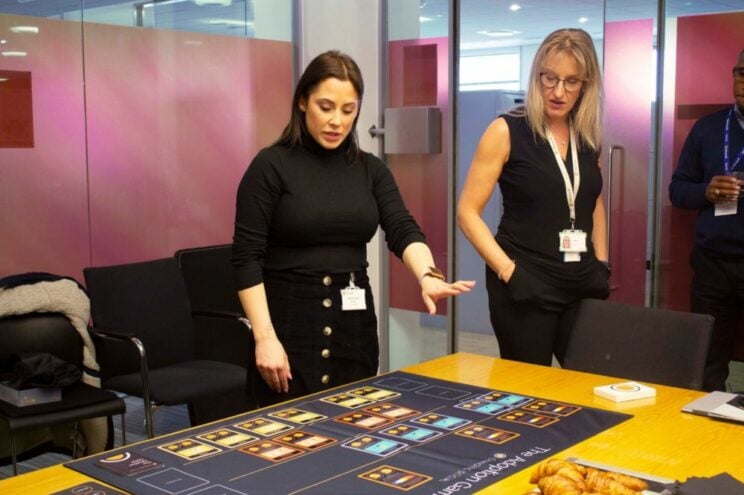 We are set to release new dates for our workshops soon. If you are interested in learning about adoption and change management in a different, fun and engaging way please register your interest here to be shortlisted!
Share
Related Posts