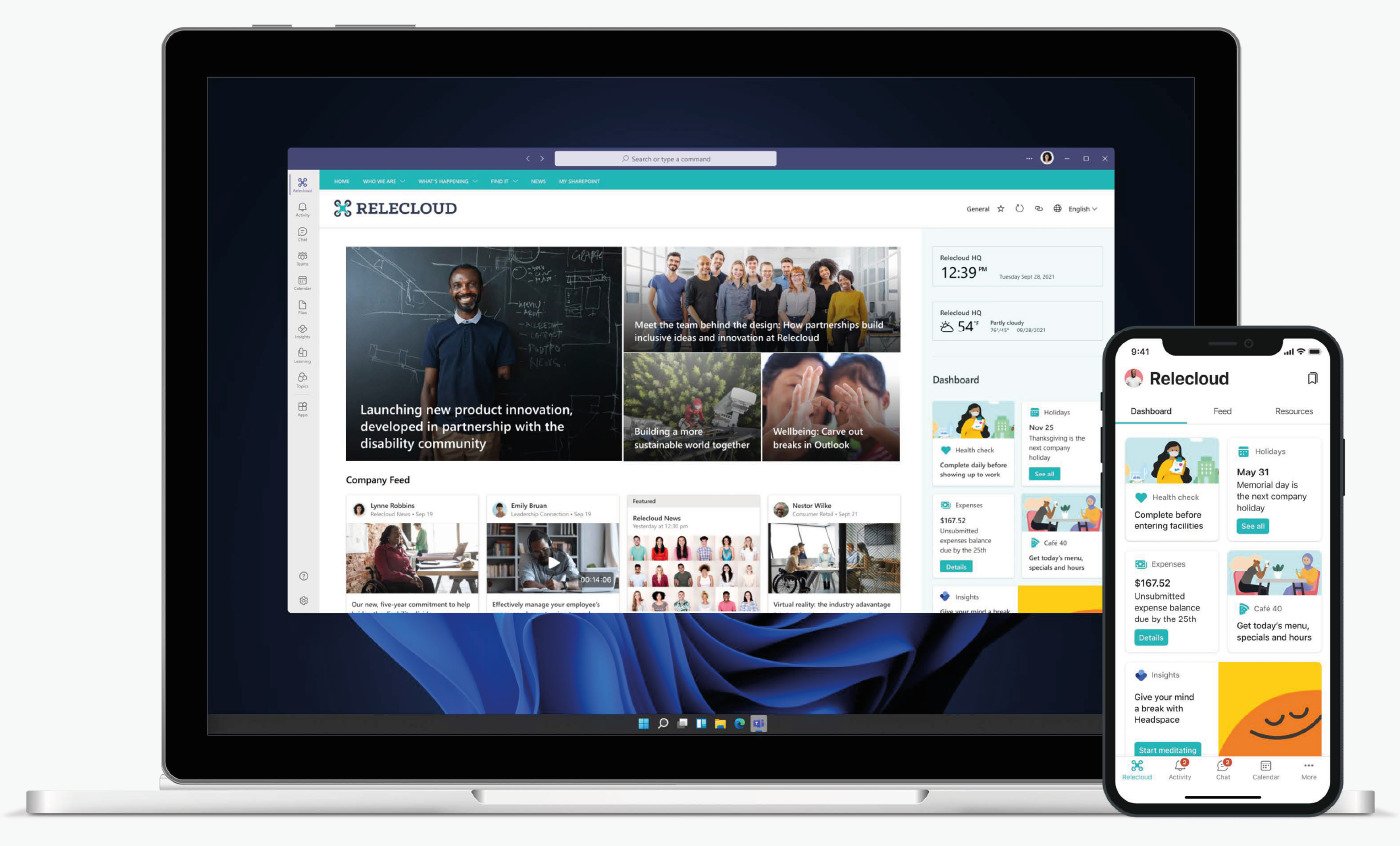 Intranet systems have been used by organisations for years as a place to share information/news, collaborate with one another, host internal services and more. They serve as a focal point for internal communication, but what if they could be even better?
We have completely transformed the way we work over the last few years, so it has been vital that we modernise and utilise technology to ensure everyone is connected, has the right level of accessibility and feels like a productive, valued member of the team.
Many of us may miss important information due to internal structures, clunky newsletters or news that may be seen as irrelevant to team or personal workflows.
Not only that, but in our 'always on' society, everyone is processing huge amounts of information from both internal and external sources whilst juggling multiple tasks. There is also less of a disconnect between work and home life, which can leave us lethargic and burnt out.
This is where Microsoft Viva comes in – it is a response to new demands and seeks to improve productivity, wellbeing, motivation and focus. It's the perfect intranet solution to unite us, regardless of where we work.
What is Microsoft Viva?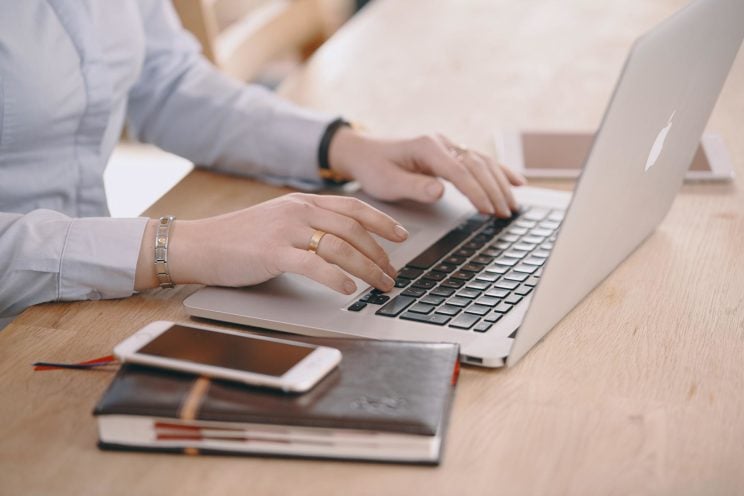 Microsoft launched Viva in April 2021 as a next generation intranet and modernised employee experience platform to help keep everyone in an organisation engaged, informed and productive.
You get your own personalised dashboard to keep up with news, conversations, updates and more. It is built on existing Microsoft 365 capabilities, powered by SharePoint and is accessible via Microsoft Teams.
Not only that, but you have access to learning resources, experts in company-specific topics, wellbeing resources and more. Due to its personalisation, everyone in the company gets their own bespoke Viva experience, which will bring relevant and key information to the forefront of your day-to-day work, all without having to leave Teams.
The four Microsoft Viva apps
The Viva software comes in four apps – Connections, Topics, Learning and Insights – that work together to create the best intranet possible, boosting employee experience, productivity and wellbeing. 
1. Viva Connections
Microsoft Viva Connections brings together relevant news, conversations and resources for users. It is the digital gateway to creating a rich, modern employee experience to keep your entire organisation engaged and informed, giving everyone access to the tools they need. It makes it easier to connect to one another, keep on top of things and motivate employees to be their best selves.
In a nutshell, Viva Connections is:
A branded app experience in Microsoft Teams that is optimised for information workers and frontline workers.

A gateway to employee experiences – personalised to the end user – with curated content and tools an organisation will want to deliver through quick access to data and tasks, relevant news, communications, people, and resources.

A way that everyone can connect and feel empowered to contribute their valuable thoughts and ideas.

Built on existing capabilities in Microsoft 365 like SharePoint, Teams, Yammer, and Stream.
Read more about Viva Connections here and here or watch our video overview.
2. Viva Topics
Microsoft Viva Topics helps you search for business specific terminology quickly and easily, bringing all relevant definitions, documents and experts together without having to leave the page you're on.
Built into SharePoint intranet pages, knowledge can be contextualised, and users can connect with experts on specific topics, as the pop-out topic cards suggest relevant colleagues to reach out to for more information.
A topic will be underlined/highlighted and opening out the topic card provides a subject overview/description, related documents and sites and suggested experts.
This takes away the need for complicated searches, content or tab switching, having to open multiple apps etcetera. as all information is presented immediately in one easy to use place.
Read more about Viva Topics here and how to engage employees with Topics here. We have also produced a handy overview video.
3. Viva Learning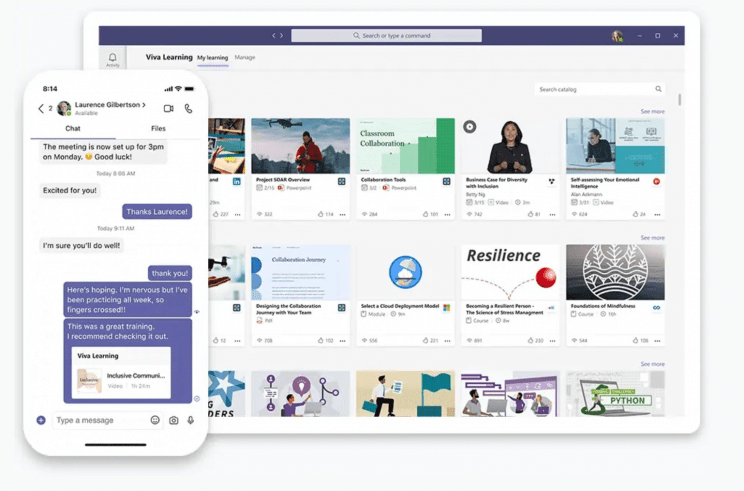 Microsoft Viva Learning is built into Teams and allows you to access a variety of training resources relevant to your learning goals. It brings together courses from LinkedIn Learning, Microsoft, your organisation's training and more.
You will get recommendations based on your previous training and you can share useful courses with your colleagues via Teams chat. Not only that, but your manager can suggest courses for you as well, set a deadline and track progress. It's intuitive and makes learning a natural part of the day.
Read more about Viva Learning here or check out our overview.
4. Viva Insights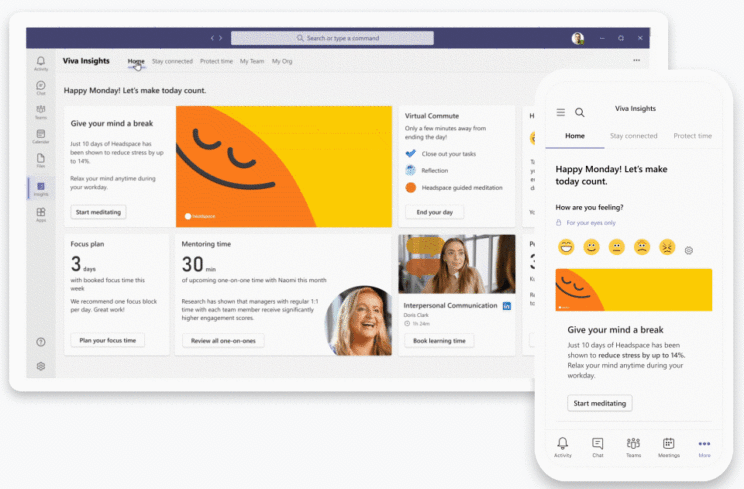 Microsoft's Viva Insights is an employee wellbeing app that you can access from within Teams (you can also get daily updates in Outlook). It enables you to book focus time in your calendar to dedicate to important work and ensure you're not disturbed.
Insights has the option to undertake mindfulness activities with Headspace and flags any outstanding tasks you have not completed. Key team insights will also be shared with managers, so if there are too many long meetings being held, or more 1:1's are needed to allow you to connect better with managers and maintain wellbeing, this can be adapted.
Read more about Viva Insights here or check out our top tips to avoid burnout using Insights.
Combined, the Viva software is the perfect new intranet solution for all organisations, its connectivity with other Microsoft apps makes it easier to use without having to distract yourself or get lost in trying to search for a relevant piece of information as everything is in one place.
That is why Microsoft Viva is, arguably, the world's best intranet software.
Do you think Microsoft Viva is the ideal platform for your organisation? Reach out to us here at Changing Social for a free consultation at [email protected] or fill out the form below.
Share
Related Posts