Microsoft recently unveiled a brand-new platform designed for employee engagement, learning, wellbeing and knowledge discovery to help employee's transform the way they work remotely. In this article I will outline my top 7 Microsoft Viva features and what to expect from them.
Viva Topics 
Content and skills are arranged automatically by Viva Topics around the company, making it easier for people to find information and put knowledge to use. Using AI to automatically identify topical conversations within organisations, curating those topics and allowing you to discover new topics anytime and anywhere.  
Viva Connections 
Maintaining communication and company culture has been just one of the challenges some businesses have faced during the pandemic. With the introduction of Microsoft Viva Connections, it's a new avenue to those crucial interactions aimed at keeping everyone involved and informed. Viva Connections is fully integrated with O365 and Teams, so you don't have to worry about using several different communication channels at once! 
Viva Learning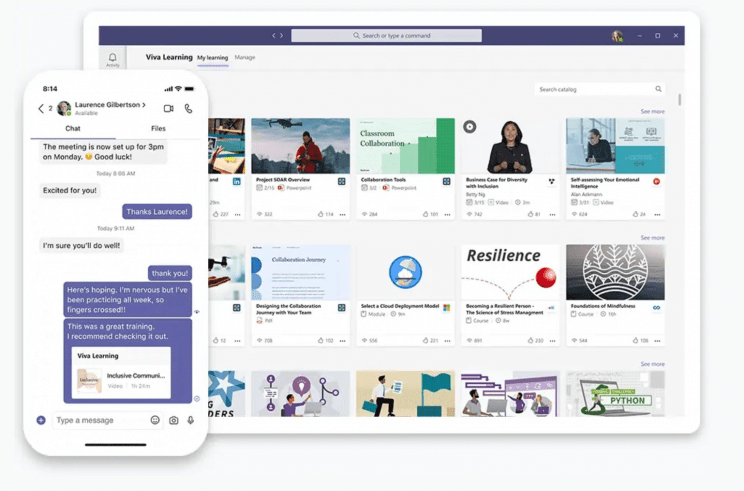 Viva creates a central hub within Teams, allowing users to share, assign and learn from content libraries. Learning has perhaps taken a back seat during the last 12 months, so Microsoft built what they call a 'learning experience' that makes learning available in one place. This includes LinkedIn Learning, Microsoft Learn, third-party content providers, Learning Management Systems and a company's own content. Viva Learning allows workers to get involved with formal and informal learning, making it easier for individuals to continue with daily tasks. 
Viva Insights 
Working from home can sometimes blur the lines between work and leisure. Viva wants to ensure all workers are looking after themselves, hitting goals and achieving personal successes. With data-driven, privacy-protected insights and suggestions to maximise efficiency and well-being, Viva Insights helps individuals and businesses thrive. 
Personal Insights 
Viva gives each individual personal experiences and helps you find ways to improve how you work. With actionable guidelines, such as protecting time in the day for frequent breaks, concentrated work and learning, prioritising welfare and improving productivity. 
Manager and Leader Insights 
Privacy-protected insights for managers and leaders provides much-needed visibility into working habits. Managers and leaders can help their teams balance efficiency and well-being, decreasing the chance of burnout and stress caused by daily after-hours work, meeting fatigue or too little focus time.  
Advanced Tools and Integrations 
Viva uses sophisticated analytical tools and additional data sources to solve unique business issues while protecting personal privacy. This will provide additional context, clarity, experiences and harness integrations such as Glint, LinkedIn Learning and Headspace. 
Want to know more? 
We will be releasing new content surrounding Viva over the next few weeks.  
However, if you'd like to get more out of Teams and think Viva could be of interest to your team, get in touch and we'd be happy to give you a demo. 
Changing Social is a certified Microsoft Adoption and Change Management Partner. We specialise in Microsoft Adoption and Change to help our clients adopt Office 365 in days, not months. If you would like to adopt Office 365 in your organisation and find out more about our services, including Office 365 training, please use the form below, or contact us at [email protected]