In this article, we're reviewing the two leaders in the collaboration software market – Microsoft Teams vs Slack, to uncover which one really is the best tool for the job.
In 2020, the team collaboration software market reached $10.48 billion globally. And with the rise of the hybrid working model changing the way organisations collaborate with colleagues, this number is expected to grow at a rate of 13% from 2021 to 2028. With that said, let's get into it!
A brief history on Slack
Slack was actually born out of a gaming company called Tiny Speck in 2013. It was only intended as an internal tool to connect colleagues in their US and Canadian offices. Slack Technologies is hailed as the fastest growing start-up in history after being valued at more than a billion dollars within just twelve months.
In 2019, Slack had more than 12 million active users and had reached $292 million in annual profit. And in December 2020, Slack was acquired by Salesforce for $27.7 billion. Slack was most certainly dominating the collaboration software market…that was until Microsoft Teams was born and the Microsoft Teams vs Slack battle was on.
A brief history of Microsoft Teams
Microsoft Teams was created during an internal hackathon at the company's headquarters and was unveiled to the world on 14 March 2017.
Microsoft has focussed all its energy on building an all-encompassing collaboration and communication platform. The online collaboration app integrates Microsoft Office 365 with group chat software, a host of productivity tools and works in harmony with SharePoint, Word, PowerPoint and OneDrive.
Microsoft shifted all its attention to Teams, moving Classroom (an online blended learning platform) to Teams in 2018 and announcing it would discontinue Skype for Business in July 2021.
In 2018, Microsoft announced a free version of Microsoft Teams, offering most of the platform's communication options for no charge but limiting the number of users and team file storage capacity. Additional features have since been added, making it an all-in-one communications platform for an organisation of any size.
In March 2020, Microsoft announced Microsoft Teams had hit 44 million daily users, in part due to the pandemic. Microsoft reported that by April 2020, Microsoft Teams had hit 75 million daily users.
So, who wins in the battle of Microsoft Teams vs Slack?
The rivalry between Slack and Teams rages on as they both compete to be the best collaboration tool on the market. But in the Microsoft Teams vs Slack battle, which tool has the upper hand and wins the collaboration tool crown?
User Experience and Design
Microsoft Teams has an easy, accessible left-hand navigation bar which has tabs for Activity, Chat, Teams, Messages and Files. The activity dashboard is a Yammer-like feed of everything going on in the business.
If you directly @mention someone in Teams, they'll receive a red flag or exclamation point next to the message that calls for their attention.

Slack's user interface has become the industry standard and is intuitive and easy to use. It has a step-by-step onboarding process with tutorials for new users. Slack also has the same functionality as Teams with the @mention.

The messaging feed is also very similar to that of Teams and you can also customise your user experience with a long list of different themes. However, developers of Microsoft Teams have put a lot of focus on building a tool that's more robust and user-friendly. The tabs have been built to allow users to differentiate types of content so everything is easy to find. 
A tough one to call but in round one of the Microsoft Teams vs Slack battle, Teams seems to have the edge.
Integration
Integration is what Teams was built for. It comes with the advantage of seamless integration with the Office 365 suite. It prides itself on being a hub which links all Office 365 tools, increasing productivity as users don't even have to leave the app. And if you require access to your files, you don't have to upload or download them. They're right there in Teams.
Beyond that, it comes with 530+ Microsoft Teams-related apps and integrations available in the AppSource store.
However, Slack's integration is not to be sniffed at. Slack has integrated apps for all the important Office 365 applications, including Outlook, Calendar, OneDrive, and SharePoint as well as more than 2,000 other apps and integrations. Slack is also improving its integration capabilities with Google Suite.
However, while Slack offers collaboration via integration and features, Slack's biggest downside is it doesn't naturally integrate with any capabilities beyond file storage and chat. If you're working on an Excel file, you need to download the file to work on outside the platform. Companies need to pay extra for email services or if they want to edit or organise collaboration content.
Microsoft Teams played it smart by bundling its offering with Office 365 especially making it available for free as a part of Office 365 plans. They may have just pipped Slack to the post on this one.
Communication and collaboration
That's what we're here for right…to find out the winner of the Microsoft Teams vs Slack battle and which is the most effective communication and collaboration platform?
Chat is at the core of both Teams and Slack so it's no surprise that both offer intuitive chat functionality.
A Slack chat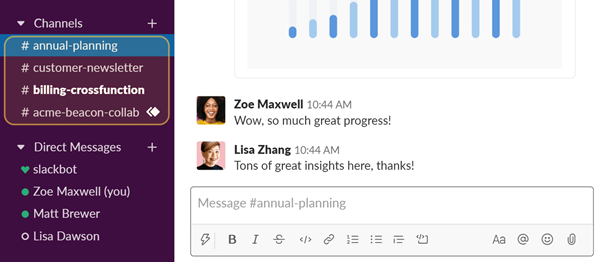 A Teams chat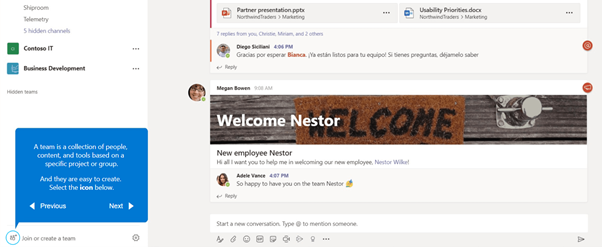 The two platforms are pretty evenly matched when it comes to chat functionality. You can tag other members with @mention, start private chats with them, and jump between channels.
The threads can be added to both the teams and the channels within them and run consecutively making them easy to follow. They also both have search capability so you can quickly navigate to the message you need. However, Slack's searchable message history is only up to 10,000 messages with the free plan whereas Teams is unlimited. Both are unlimited with the paid plans.
Microsoft Teams does provide more comprehensive built-in options for formatting making it look more visually appealing.
We touched on it above, but the collaboration element is where Teams comes into its own. In terms of productivity and ease, people can co-create and collaborate on files without leaving the platform. During the pandemic, these small but significant capabilities have seen teams work more productively and smarter.
Teams also makes it easier to start a call with specific teams or with other users with its dedicated Calls tab in the sidebar. Slack does not have a Calls tab. Teams has a built-in survey and polls option while Slack requires a plug-in.
Seems to me that Teams has the edge when it comes to communication and collaboration.
Meetings
Again, both platforms deliver when it comes to online audio and video sharing, but who does it better?
The free version of Slack provides one-to-one calls which then upgrades to 15 participants with screen sharing included in the paid plan. This is where Teams definitely has the edge. Large organisations who want to connect with their colleagues using webinars, training, announcements, virtual town halls simply can't do that using Slack.
A huge advantage for Teams is the number of people who can join virtual meetings. With the free plan, Teams lets you host a meeting with up to 100 people (currently extended to 300). And with the paid plan, you can host a Teams live event with up to 10,000 attendees within or outside your organisation.
Teams also includes features such as meeting recording, scheduled meetings and clever and aesthetically pleasing screen share.
With years of experience with Skype for Business, Teams has really taken the meeting features and created an inclusive experience for all users. With remote and hybrid working looking like the new norm, features like live events are what keep an organisation connected.
Another win for Teams in the Microsoft Teams vs Slack battle!
Security
In a world where cyber attacks are becoming a daily occurrence, organisations need to be aware of the risks to their security.
Both Slack and Teams offer essential security features like two-factor authentication, however, Microsoft goes one step further as Teams is governed by security guidelines guaranteed by Microsoft. Teams is categorised as Tier D-compliant, meaning it's at the highest level of compliance commitment and all services are enabled by default.
Though Slack is compliant with many regulatory requirements including GDPR, it just can't compete with Microsoft's security features offered by Office 365. Slack doesn't offer a default data protection capability to prevent data leakage and has been vulnerable to data hacks in the past. Teams, on the other hand, comes with in-built data leakage prevention capabilities and offers extensive admin controls.
When it comes to security, Teams is the clear choice and wins another round in the Microsoft Teams vs Slack battle.    
Pricing
And last but by no means least…pricing. Both platforms offer generous free plans which is great for the smaller organisation but if you're a large organisation and want to unlock the real potential of these tools, you'll need a paid plan.
For paid plans, the Slack Standard Plan (named Pro) – currently priced at £5.25 per user per month – gives users unlimited message history and unlimited integrations, with file storage at 10 GB per user. This plan also provides the additional 15 people for video calling.
Microsoft Teams Business Basic Plan, priced at £3.80 per user per month – offers 1 TB per user for OneDrive personal file storage, file attachments in chat, and file sharing within teams and channels. The plan also adds on security and compliance and administration capabilities, as well as additional Office 365 services including SharePoint, OneDrive and Exchange.
So, even having to buy into the Office 365 plan is more affordable than Slack's basic paid-for plan. Seems a no-brainer.
And the winner of the Microsoft Teams vs Slack battle is…TEAMS!
It's fair to say that these two platforms have really changed the way organisations work and have enabled businesses to continue to connect, collaborate and keep the culture alive during a very difficult period.
Whichever tool you choose will depend on your business strategy and maybe what tech you're currently using (whether that's Google Suite or Microsoft) but if you're starting from scratch, Teams certainly looks to be the clear winner of Microsoft Teams vs Slack collaboration battle.
With its superior collaboration features, better and highly secure capabilities, cheaper plans and the ability to integrate natively with Office 365 tools, Teams takes the crown.
And with the future looking hybrid, the fact that Teams offers an unrivalled virtual meeting experience, makes it even more appealing.
Microsoft Teams makes collaboration effortless.
We're Microsoft Teams experts and can answer all your questions as well as help your organisation to embed Teams in days, not months. Contact us via the form below or at [email protected]
Get in touch