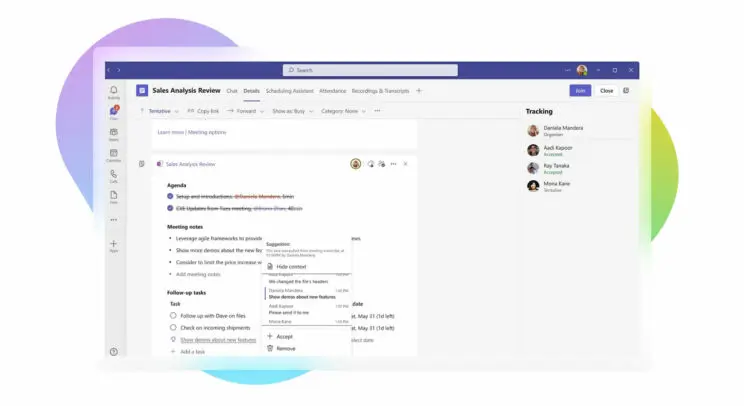 As the hybrid-working model becomes a standard practice for many businesses across the globe, it's important for organisations to continue to make the most out of their IT investments, and Teams Premium is here to help! 
The instability of the economic climate and the continually changing work pattern highlights the need for organisations to make cost-effective choices that help them adapt, improve their business practices and work more productively.
Microsoft Teams Premium is now generally available, taking the familiar experience of Microsoft Teams and adding the latest technologies to make working more collaborative, intelligent and personalised than ever!
Invest in the Software You Already Have
Microsoft Teams is committed to equipping users with helpful new features and updates, with 400 improvements added to Teams in 2022 alone!
While Microsoft Teams already provides a fully-rounded meeting, calling and messaging service, some organisations need more advanced capabilities. Not only do many businesses pay for meeting services, but they also purchase costly add-on products for hosting webinars, virtual appointments and meeting intelligence.
Teams Premium helps consolidate software investments to reduce costs by boosting productivity and efficiency across the workforce, offering all this for the low cost of $10 US dollars per user per month. For a limited time, Teams Premium can be purchased for just $7 US dollars per user per month!
Enhance your meetings with Teams Premium using Intelligent Recap
Despite the return to in-person working, it's clear that virtual meetings are here to stay: they're efficient, encourage collaboration, and allow us to work from anywhere. However, it can be quite time-consuming taking notes, deciding key takeaways and getting down the next steps during a meeting.
That's why Teams is threading AI throughout the meeting experience to help boost productivity, introducing Intelligent recap to Teams Premium! Intelligent recap – powered by OpenAI's GPT-3.5 AI model – will automatically generate meeting notes, recommended tasks and personalised highlights to make sure you have all the key information, even if you miss it in the meeting.
Meeting Chapters in Teams Premium
Spending time reviewing meetings that you could use for pressing tasks? With Intelligent recap you can easily itemise meeting content!
AI-generated chapters can divide the meeting into sections, making it easy to find and choose the content that you're looking for. These meeting chapters will be automatically generated based on the meeting transcript, making reviewing meeting content much faster!
Personalised Timeline Markers
If you want to revisit particular points from a meeting, personalised timeline markers are just the thing!
Visible only to you, timeline markers display when you joined and left a meeting in the recording, so you can easily jump to the parts you missed. Personalised timeline markers will soon expand to display when your name was mentioned and when someone shared their screen.
Additionally, personalised meeting highlights will soon expand to include speaker timeline highlights, showing you who spoke and when during a meeting, allowing you to jump to that moment in the recording.
Live Translations
Microsoft Teams allows people to meet and collaborate all around the world, but this can come with some costly translation services. Live translations for captions is now available in Teams Premium and offers AI-powered real-time translations in 40 spoken languages!
Meeting attendees can read captions in their native language, saving you from purchasing additional translation software, and ensuring meetings are accessible and effortless for everyone. This feature will no longer be available on Microsoft Teams and will transition to being a Teams Premium-only capability. Only the meetings organiser needs Teams Premium in order for all meeting attendees to have access to live translations.
Branded Meetings
When engaging with customers it's important to be put together, both professionally and visually. In order to establish brand authority, embodying your company brand and values is key.
Teams Premium offers you that extra level of professionalism by allowing users to set brand-approved organisation backgrounds and together mode scenes (although the together mode scenes will become a Teams Premium-only feature)!
This level of customisation is furthered by the ability to create custom meeting templates for different kinds of calls, be it a client call, a whiteboarding session or a service desk call. These custom meeting templates will automatically include the correct settings for the type of call, saving you from manually sifting through the settings.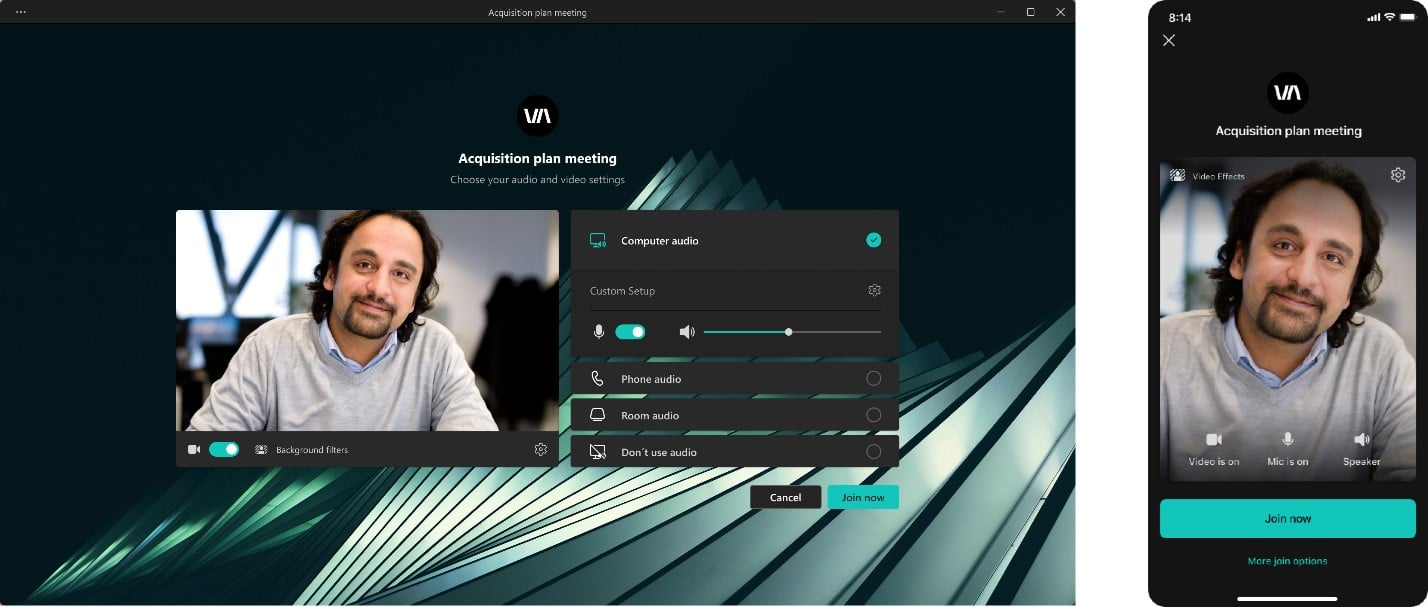 Customisable User Policy Packages
We all know that not every company or department will have the same Teams policies, some will be more restrictive than others. That's why with Teams Premium, IT professionals can create custom user policy packages for different departments, tailored to their specific needs.
This feature is essential for streamlining and simplifying policy management across your organisation!
Keep Meetings Confidential
As important meetings have shifted into the virtual sphere, information protection is even more crucial than ever before. With Teams Premium's advanced meeting protection, users can easily upgrade safeguards for sensitive and confidential meetings, without being detrimental to the meeting experience.
New options such as watermarking and limiting access to meeting recording tools ensures that meetings can remain private.
In cases where an extremely confidential meeting needs to take place, IT-enabled users can apply end-to-end encryption (E2EE) in order to disable some of the core meeting features for more advanced encryption.
Microsoft 365 E5
Meetings can often change topics, veering into discussions that are far more sensitive than originally planned. Business-sensitive information requires an extra layer of protection, and Microsoft 365 E5 customers with Teams Premium are now able to enable Microsoft Purview Information Protections labels for Teams meetings.
These sensitivity labels will be automatically applied to the most relevant and important meeting options, based on the sensitivity of the content. Compliance admins will be able to configure this integrations within Teams meetings in the Microsoft Purview compliance portal, in order to determine which meeting options should be enforced when a sensitivity label is used.
Virtual Appointments
Connecting with clients virtually is easier than ever with virtual appointments in Teams Premium!
Whether it's a virtual design consultation, giving real estate advice or selling directly to a customer, virtual appointments allow you to engage conveniently from anywhere.
Impress your clients with a seamless experience, including joining a branded virtual lobby via text or email, without them having to download any apps.
Scheduling administrators will be able to set up and manage on-demand virtual appointments all in one place, with easy to use features like appointment queuing.
As with other enhancements, virtual appointments will soon move to a Teams Premium-only feature. 
Hosting Webinars
To save you spending time and money using alternative software for virtual events, Teams Premium will include webinar hosting capabilities!
Presenters can join a virtual green room to prepare for their webinar and access better controls on what attendees can see, hosts can deliver their webinars far more effectively with the Teams Premium features.
The enhanced webinar features begin with the registration experience, as hosts are able to customise registration start and finish times for easier event management.
Teams Premium also helps hosts build excitement for their virtual events by sending out automated reminder emails for upcoming webinars! These emails can be customised with branded-headers, webinar details and a link to join the event.
Microsoft eCDN
For further improvements to your live event experiences, the Microsoft Enterprise Content Deliver Network (eCDN) is now included in Teams Premium!
Microsoft eCDN allows businesses to securely and seamlessly live stream global meetings, town halls and all-hands meetings, and distribute organisation-wide training using Teams Live Events. This helps massively reduce the workload on the corporate network, and ensures global events have superior streaming quality!
Teams Premium is the software that responds to your advanced meeting needs. With AI intelligence at its core, Teams Premium gives you the capabilities to elevate key areas of your virtual business practices. Invest in what you already have and are comfortable using, and unlock features that can take your organisation to the next level.
If Teams Premium sounds like something your organisation needs, contact Changing Social to help you get started! As Microsoft specialists, Changing Social are adept at all things digital transformation, Microsoft training, utilising the Power Platform and much more. To learn more, fill out the form below, or email us at [email protected]
Share
Related Posts