In July, Microsoft launched some incredible new updates and enhancements that can make your meetings more collaborative.
Microsoft have announced new ways you can connect with anyone on your team and updates on Teams Rooms, LinkedIn Integration & Forms.
Discover the new Microsoft Teams July update that you may have missed…
Chat and Collaboration
LinkedIn integration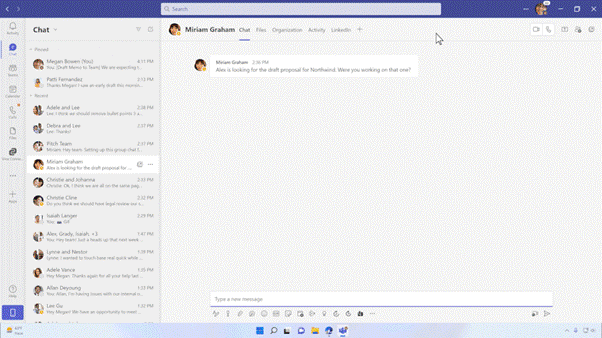 Utilise LinkedIn profiles, which are now linked with Teams, to get to know your colleagues, interact with them directly, and develop stronger bonds.
You can now access your colleagues LinkedIn profile within Teams chat, channels, calls, or meetings to learn more about their current position, prior experiences, and other details.
Find out how to maximise your LinkedIn integration.
Automatic groupings available for channel posts
Users no longer need to name team owners specifically when making a message post in a team channel because they may now alert all of the team owners at once by using the hashtag "@Team Owners."
The group "Team Owners" is created automatically and doesn't need to be maintained manually.
Meetings
Microsoft Forms enhancements in Teams meetings
A new tool called "Polls" has replaced Teams' "Forms" app, making it much simpler for users to locate and include polls in their chats and meetings.
The "Polls" app will be shown when you search in the Teams app store (from the meeting's sidebar or top nav bar) or via the message extension flyout menu.
You may now see a list of your most recent polls, allowing you to reuse earlier surveys from previous sessions and save time.
People can dynamically confirm that their votes have been successfully submitted by viewing a fresh poll animation after they've entered an answer.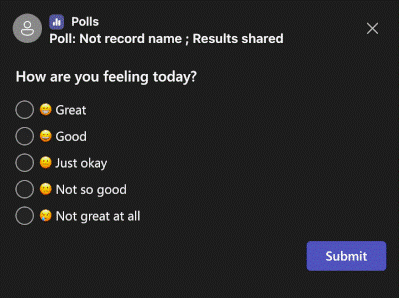 Additionally, Microsoft has added a new poll question type called "Rating," which enables you to respond by rating the scaled symbols.
Call recording announcement played in your default language
For Teams calls to or from a phone number, call recording announcements will now be played in your default language.
In both the normal recording scenario and the compliance recording scenario, both parties will simultaneously hear the announcement in the same language.
Check out for Microsoft Teams panels

Using the new "Manage" button on a Teams panel, the reserved Teams Room can now be checked out of, or released, directly from the panel with the touch of a button.
By using this feature, the room reservation will be cancelled and returned to the room inventory.
Phone and Calling
Remove a call from your history
On Teams for desktop and mobile, you may streamline your view by hiding calls from your call history list.
Read more here about the rest of the monthly updates, which cover devices, governance and frontline workers.
With extensive knowledge of everything Microsoft 365, Changing Social is a pioneer in Microsoft adoption. We can assist your organisation with training, app development, messaging, and more.
Would you like to know more about the Microsoft Teams July update? Would you want to schedule a free consultation? Fill out the form below or send an email to [email protected]